Transit Trends
In East Metro Atlanta, everyone's talking the T-word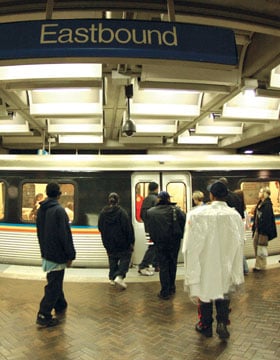 It wasn't that long ago around Metro Atlanta when the word transit was met with the same disdain and disapproval as any four-letter word uttered by a toddler. How times have changed.
In December, Gwinnett County adopted a comprehensive transportation plan that was more than two years in the making and creates a spinoff study focusing specifically on the county's transit-oriented future. In neighboring DeKalb County, approval by the Atlanta City Council to annex Emory University and the Centers for Disease Control and Prevention is a move the county's CEO hopes is the first step in creating a regional transit transportation network.
"People would ask me, 'Michael, why do you want to give away a piece of the county,'" says DeKalb County CEO Michael Thurmond. "The hope is Atlanta will use some of its T-SPLOST [Transportation Special Purpose Local Option Sales Tax] money to extend the Clifton Road corridor. DeKalb couldn't fund that line and finance the extension to Stonecrest. To me, that was the first step forward for a regional transportation system."
The Clifton corridor has been targeted for light rail that would serve one of the county's biggest job centers and most congested areas, including Emory University and its medical complex, the Centers for Disease Control and Prevention, Children's Healthcare of Atlanta and the Veteran's Administration Hospital. If the Clifton extension does happen, Thurmond says DeKalb County can then finance an extension from the Indian Creek station to Stonecrest, which is one of the areas attempting to attract the new Amazon headquarters.
"You have to work across county and city lines," Thurmond says. "You can't be every county for itself. That makes any transportation system ineffective."
This isn't the first time DeKalb County has taken the lead in creating transportation solutions. In 1971, 52 percent of county voters approved funding for MARTA, while the measure failed in Cobb, Clayton and Gwinnett counties.
"Opposition to MARTA was based on race and class, but in DeKalb, it was different," Thurmond says. "We were the only suburban county to embrace MARTA, and that was because of the visionary leadership in DeKalb at that time."
Thurmond credits people like Roy Blunt Sr., then-chair of the MARTA board, former state senators Ben Johnson and Bob Bail and former county commissioner Clark Harrison with laying the groundwork for one of the most robust multi-modal transportation networks in Georgia, and perhaps, the Southeast.
"Because of them, DeKalb is 40 years ahead of the other suburban counties who more recently have embraced the idea of mass transit," Thurmond says. "We had a 40-year head start."
Today, DeKalb serves as the backbone of the current MARTA system, is home to the second busiest airport in the state (DeKalb Peachtree Airport) and has more interstate highway lanes than any other county in Georgia – I-20, I-85, I-285 and I-675. In November 2017, 71 percent of the county's voters approved a SPLOST that will raise $100 million annually during the next six years for transportation, public safety and infrastructure projects.
---
Maximizing MARTA Stations
"Proximity to mass transit is the driving force in economic development in Georgia and Metro Atlanta right now," Thurmond says. "This is fueled by the preferences of millennials, who want to live, work and play in an area that's convenient to mass transit."
In turn, that trend is fueling the creation of TODs, transit-oriented developments. The three goals of TODs are: increase ridership by creating new uses at MARTA stations; generate new sources of revenue by selling and leasing land near the stations to developers; and support local community and regional economic development.
"We were looking for creative sources of revenue that weren't generated at the fare box," says Amanda Rhein, senior director of TOD and real estate at MARTA. "Proceeds from the fare box don't cover the cost of operations."
Currently, MARTA has three TODs under construction, including the largest at its Avondale station, says Rhein.
"Through our transit-oriented development plan, we're looking to put that land to higher and better use," Rhein says.
Plans for the $120-million development at Avondale call for 500 residential units, including apartments, condos and affordable senior living, and 22,000 square feet of retail space. Construction on the 7.5-acre site began in November 2016 and is expected to be completed this fall. The leasing office opened this past month.
"We think there is a lot of interest in living and working near MARTA," Rhein says. "The last couple of years we've seen that trend play out."
With high-profile corporate locations or relocations, such as Mercedes-Benz, NCR and the potential of Amazon selecting DeKalb for its HQ2, making access to transit is now a top priority. Transit agencies across the country are embarking on TODs, according to Rhein.
The other two TODs under construction in DeKalb County are at the Edgewood-Candler Park station and the Chamblee station. The Edgewood-Candler Park development is a mix of residential and commercial uses on 6.5 acres. The first phase of the development cost $40 million and includes 224 apartments, which were move-in ready in February. MARTA will offer residents of the TODs a special incentive program to encourage ridership.
"We're offering a 20 percent discount on a MARTA pass, which is the highest discount we offer," Rhein says. "We're providing this discount to incentivize them to use the system."
The $25-million development under construction at the Chamblee station began last May and includes 80,000 square feet of office space and 13,000 square feet of retail at the street level. Phase one is expected to open this May.
"This will be the first Class A office building in the city of Chamblee," Rhein says. "We're really excited about this project because it complements the development of retail and residential that's already underway there."
While each TOD is similar in nature and purpose, they also have something else in common: They're all located in DeKalb County.
"Without the train stations, you don't have TODs," Thurmond says.
Despite the county's many transportation-related successes, Thurmond concedes there is something missing.
"What we have to do in DeKalb County is we need to develop a more comprehensive transportation plan for our county," he says. "Without a comprehensive plan, it is virtually impossible to craft a vision for the future of transportation in DeKalb. It's No. 1 on my priority list for 2018."
Thurmond says any transportation plan needs to include better coordination of existing bus routes so they are more aligned with the needs of the people using MARTA to get to work. The plan should also look at ways to coordinate, connect and align with Gwinnett County next door and throughout Metro Atlanta.
"We have to work collaboratively with our neighbors to build out a regional transportation system," he says. "The decisions we make will impact the quality of life for the next 50 years. I would challenge us to embrace the vision and forethought and genius of those who came before us, because their decisions have been proven right."
---
Leveraging Land
Gwinnett County's newly adopted transportation plan is expected to guide the county for the next two decades, going through 2040. The transit study that was an offshoot of the county's transportation plan is the first of its kind.
"Many of the projects in the transportation arena are long term, and we learned a long time ago we needed to look ahead and have regular updates," says Charlotte Nash, chair of the Gwinnett County Commission. "This is the first time we've looked at transit in as broad and deep a fashion as we have."
Growing density in some parts of the county, coupled with increasing diversity and congestion, has made transit more palatable to residents.
"Transit makes more sense where you have greater density," she says. "We've got to take a look at all different options that we give to the public to travel as it has gotten more difficult to travel the roads.
"Many people have moved here from areas with more robust transit systems," she says. "My objective is to create a [transit] project list and put a referendum on the November ballot. I believe the timing continues to be right for such a referendum."
Nash says the county is in the midst of the public participation part of creating a long-term transit project list and that the "most feasible and affordable projects would be the first phase."
She thinks some projects will be identified by summer.
As for the love transit is expected to get in this year's legislative session, Nash says, "There's a lot of conversation going on in the state legislature around transit, and I'm very hopeful that something will come out of the legislature that will make it easier for the transit system in Atlanta to be expanded."
As for the larger transportation plan, it includes long lists of short-, medium- and long-term projects, including most, if not all, of the projects approved by Gwinnett voters in a 2016 SPLOST.
Among the projects are widening I-85 from Pleasant Hill Road to the DeKalb County line, upgrading several intersections on Sugarloaf Parkway and investigating "the development of a major transit hub."
"Companies are now asking, 'Tell me about transit in your community,'" says Joe Allen, executive director of the Gwinnett Place Community Improvement District (CID).
That "major transit hub" referenced in the transportation plan will be at Gwinnett Place Mall, according to Allen. Details are still to come, but 10 acres on the Macy's side of the mall have been earmarked for a "robust transit center."
"The existing hub that's there, there's not much to it," he says. "There are some benches. The new robust transit center will be the heart of transit moving forward for Gwinnett."
Gwinnett will soon be the most populous county in Georgia, with an estimated 1.5 million residents. The county also happens to be one of the most diverse in the Southeast.
"A lot of people are moving in from New York or Seoul, and transit is part of their everyday lives," Allen says. "They're used to transit and they expect transit, and businesses expect transit. Millennials and baby boomers also want mobility choice."
Allen says mobility choice is the key to future economic development.
"Gwinnett County is the poster child for the auto-centric, 1980s big-box parking lot model of development," he says. "Forty percent of the CID land mass is parking space. That's a lot of land that's not being utilized to its full potential, making it a great opportunity for redevelopment. Get some of these transit stations in here, and the transit development that comes with it, and the dominoes begin to fall."
The Gwinnett Place CID is among the county's densest employment centers, with an average of 6,049 jobs per square mile, compared to 800 for Gwinnett as a whole. As Gwinnett's center business district, the area represents more than 1,900 companies with a combined payroll of $1.3 billion. Representing only 1 percent of the county's land mass, Gwinnett Place has 7 percent of all the jobs in Gwinnett County, says Allen.
"The infrastructure is already in place to transform this area into a dense, walkable, green community that people want today," he says. "Mobility is key to retaining and attracting talent today and in the future."
---
Optimizing Traffic Flow
While everyone seems to now agree on the importance of transit in planning for the transportation needs of today and in the future, it is no magic bullet. Roads and bridges still need to be built and maintained, and the flow of traffic seems to always need to be improved.
Diverging diamond interchanges (DDIs), which shift vehicles to the opposite side of the road to make left turns easier and improve traffic flow, are one of the tools being used to keep cars moving faster – and more safely. The Jimmy Carter Boulevard DDI at I-85 opened in October 2016 in the Gateway85 CID (formerly the Gwinnett Village CID). Since then, more vehicles are traveling the route but taking significantly less time to do it, according to Gateway85 Executive Director Marsha Bomar.
Following on the heels of that success, the CID "recently won a grant from the Atlanta Regional Commission to do a freight study in our area," Bomar says. "We will be coordinating closely with Gwinnett and Georgia DOTs in anticipation of the county's overall look at the I-85 corridor."
The study is necessitated by the recent expansion of the Panama Canal and the deepening of the Georgia ports to allow for larger ships – carrying more freight.
"We will be looking at the part of our district that is flourishing with manufacturing, warehousing and distribution facilities to understand their mobility needs," Bomar says. "The study will look at short-term fixes such as intersection redesigns, as well as long-term projects such as improved access to the surrounding interstates. Another important aspect of the study is to understand the needs of the employees or potential employees, to ensure that the businesses have an abundance of the skilled labor that can travel by all modes to their facilities."
The Gateway85 CID isn't the only organization in Gwinnett County looking at traffic.
"The core of our CID is Mountain Industrial Boulevard, which is part of the next ring out from 285," says Emory Morsberger, president of the Stone Mountain CID. "Traffic in that corridor has increased dramatically over the last three years as 285 has become even more congested."
Morsberger says if he wants to go from Dunwoody to the airport, GPS sends him via Mountain Industrial Boulevard, where the CID is working to improve the timing of traffic lights by replacing broken or defective sensors.
The Stone Mountain CID has also received $250,000 from the Atlanta Regional Commission to investigate improvement in freight movement through the area.
"Our roads were built for tractor-trailers in the '60s and cannot accommodate today's 76-foot-long tractor-trailers," Morsberger says. "There's also a new federal law on tractor-trailer drive times that will require drivers to stop and find a parking place much more urgently than in the past. There is not adequate parking off 285, 85, 20 and 75, including DeKalb and Gwinnett. I don't know what the solution is going to be. That's what we're digging in on."
As Gwinnett and DeKalb counties work to meet evolving demands in transportation, officials agree attitudes are changing toward transit and regional transportation solutions.
"We all see the importance of transit to the continued and future success [of] each of our areas," says Allen. "There was a time you didn't talk a lot about transit, and now it's on everyone's lips. In November next year, there will probably be something on the ballot in Gwinnett as far as funding for transit. If you would have said that five years ago, you'd probably have been run out of town."
---
East Metro CIDs
DeKalb County
East Metro DeKalb CID, eastmetrocid.com
Little Five Points CID, l5pcid.com
Perimeter CID – DeKalb, perimetercid.org
Stone Mountain CID, stonemountaincid.com
Tucker-Northlake CID, tuckernorthlakecid.com
---
Gwinnett County
Braselton CID, braseltonlifepath.com
Evermore CID, evermorecid.org
Gateway85 CID, gateway85.com
Gwinnett Place CID, gwinnettplacecid.com
Lilburn CID, lilburncid.com
Sugarloaf CID, sugarloafcid.org