Lady Be Good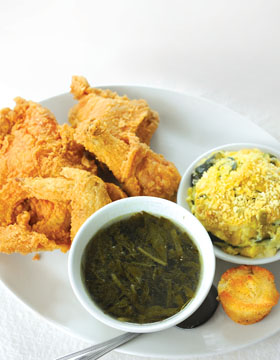 Yes, Mary Mac's. Despite the new restaurants cropping up all over the state, I want to be sure you know about this 72-year-old Atlanta institution, famous for fried chicken and peanut butter pie. Because sometimes you need to know where you've been before you know where you're going.
Start with some potlikker (the broth from cooking turnip or collard greens) and cornbread – free if you're a first-timer. Contemplate this intoxicating elixir as you mull the dirt-poor origins of Southern food. Most of it came from subsistence farms, but it was fresh. At Mary Mac's, the vegetables are still washed by hand, the corn cut from the cob.
If you're a longtime Atlantan, you may remember that there were once several "tea rooms" that, like Mary Mac's, were actually full-service restaurants, usually serving up old-fashioned Southern favorites like trout and shrimp and grits with a level of gentility that included linens and tablecloths. The other most famous example was the Frances Virginia, on Peachtree Street downtown, established in 1928.
The term "tea room" allowed women, some of them struggling war widows, to own and run these establishments. At one time, Atlanta had as many as 16 of these dainty-sounding female-owned establishments, black and white back in the segregated day, that fed patrons heartily. The term "tea room" also served to signal a welcome to women who wanted to dine without male escorts – forbidden in some spots until the 1950s. (It's worth noting that the 1964 Civil Rights Act that ended racial segregation in restaurants and other public places also resulted in the closure of gender-specific restaurants like Rich's "men only" restaurant, the Cockerel Grill.)
The original Mary Mac, Mary McKenzie, sold her one-room restaurant to Margaret Lupo in the early 1960s, and she operated it until selling it to the current owner, John Ferrell, in 1994. Lupo expanded the restaurant to six rambling rooms that are now covered with murals of the Atlanta skyline and The Carter Center, as well as photographs of famous guests – the Dalai Lama, James Brown, Robert Duvall, Justin Bieber – and a phalanx of Georgia politicians and athletes. Some of the staff have worked here for decades, and they know how to grease the skids for you, even if you don't know your way around.
A few tips: It will be crowded at peak times, even on weekdays. The parking lot fills quickly; a line forms early. Go early or late if you can. (Note: You may find faster seating in the bar.) You check off your own order on the paper form in front of you. And yes, that potlikker is free for newbies – ask for some. And unlike the old-school "tea rooms," Mary Mac's serves up potent cocktails, like its signature Whiskey Lemonade.
While the menu is updated, now including gluten-free and vegan options, this is baseline Southern fare. You're going to want the fried chicken or the grilled trout. But have a big wedge salad first, with a whole green onion beside the blue-cheese drenched iceberg slice, crumbled with bacon and hard-boiled egg. The deviled eggs are also a must-have, with plenty of mustard and diced pickle. The pimento cheese is particularly noteworthy, served with saltines and celery.
But you're going to have to have a mess of fried okra, and pop them in your mouth still hot, with a little dab of horseradish sauce. Among the sides, skip the hoppin' john (unless you like just plain black-eyed peas with rice) in favor of the squash casserole, some collards and the cornbread dressing with gravy. The tomato sauce-drenched meatloaf was unremarkable, as well as the blandish bread pudding. Get the rich-as-sin peanut butter pie, with an Oreo cookie crust. The massive menu offers an almost bewildering slew of options.
Mary Mac's is beloved by a devoted corps of regulars who pack the place daily. But honestly, I don't go here so much for the food – although the pimento cheese, deviled eggs, fried okra and yes, the fried chicken, are very good. I go here for the experience – of being in a place that defines Atlanta, past and future. Where an opportunity arose for people who weren't supposed to be able to pull off what they did. Where the food is tied to the ground, just like the people who work here. Where the dining room is filled every day with one of the most racially and socially diverse clienteles you are likely to see in our state – or, for that matter, in our country, or in any other country in the world. And everybody looks happy.
You might get better food somewhere else. But where else are you going to get that?
---
Mary Mac's Tea Room
224 Ponce De LeonAve. NE, Atlanta
404.876.1800 or marymacs.com
Hours: Lunch and dinner daily (11 a.m. -9 p.m.)
Parking: Limited metered street parking and free designated lot behind restaurant. (Beware parking in nearby residential neighborhoodsthat require permits.)
Dress Code: Come as you are – or wish to be.
---
A Fish Out of Water
Cartersville's Maine Street Coastal Cuisine takes its inspiration from an unlikely source for a northwest Georgia restaurant – the Pine Tree state of Maine. And it takes its lobster roll seriously, with a pile of claw and knuckle meat in the traditional split bun, with melted clarified butter ($16). Even my Mainiac husband was impressed. Daily "fresh catch" specials also often include such Maine specialties as haddock, available for blackening, grilling or sautéing.
24 W. Main St.,
770.334.3813,
maineonmain.com