Szechuan Chef D'oeuvre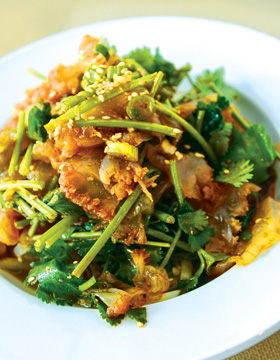 My first visit to Masterpiece in Duluth, nearly two years ago, was one of those double-take moments. The strip mall outside was nondescript, the windows blank, the restaurant spotless, but beyond its sunny wall color, unremarkable. A talk show droned on a flatscreen TV, and families huddled around the tables, kids glued to their devices. You easily could have been in almost any suburban restaurant anywhere in the country. A few notices – critical raves – hung framed on the walls, but you'd have to look closely to see them. Our waitress was hesitant to help, her English limited.
But the food – oh my word, the food. It spoke. It punched. It danced. When the first dishes arrived, I felt the spice and heat against my eyes. I heard the sizzle against a cast-iron plate, a snappy little rap about unexpected pleasures. Then a wave of aromas – chicken, onion and pepper against cumin, cilantro and jalapeño; dry-roasted green beans with garlic. Next, the tastes and textures – complex and contrasting, as layered as the array of brilliant greens, reds, browns and translucent whites on that sizzling plate, or as supple and languid as the steamed dumplings. Finally, the Szechuan peppercorns in the kung pao chicken, their infamous numbing quality causing a forced blush.
So yeah – a double take.
Still, it was some time before my next visits. By then, Masterpiece's windows were covered with accolades. The restaurant had achieved national attention, including Chef Liu Ri earning a bid last year as semi-finalist for the James Beard Award for Best Chef: Southeast. Inside, however, little had changed: The egg yolk-yellow walls, the spotlessness, the families with phone-zombie kids. The staff's English skills were better. And the food was still stellar.
Atlantans have long known Buford Highway as the international street of food dreams. From Salvadoran to Laotian, it's all there, in mom-and-pop shops with linoleum floors, silk flowers and pocked parking lots. In recent years, this uppermost section of BuHi, in Duluth, has become known as a nexus of next-wave, more creative, affluent and even hipster-ish Asian restaurants, most notably Korean barbecues like Honey Pig and Iron Age.
For a while, however, it seemed the serious-minded, sit-down Chinese restaurant had fallen out of fashion – perhaps in part driven there by the flood of mediocre, American-style all-you-can-eat buffets. It had been a while since the heyday of Chinese critical darlings, like Marietta's Tasty China during its Peter Chang days a decade ago – where Chef Ri also worked.
Although I expected more on the next visit, those expectations were still surpassed. The menu can be challenging if you're not well-versed in Szechuan cooking, known for its complex heat. I was intrigued by some of the more exotic choices – jellyfish with black vinegar sauce; stir-fried pig feet skin; Hunan-style ox tripe. But Ri shows his skill even in more familiar dishes like hot and sour soup, thick with tofu and cabbage, topped with a mess of fresh cilantro, its bright sour flavor like lemon in iced tea. (But don't expect the American addition of fried noodles.)
The Chairman Mao's braised pork featured tender pork in brown sauce; big slices of crisp-soft bok choy and ginger; studded with star anise. My favorite might have been the boiled fish fillet with ash powder and chili – tender white fillets with a fiery red sauce and pepper-like ash powder, both cooling and hot. As we ate, sampling each other's dishes on our small plates, the sauces commingled in a peppery, gravy-like pool. "Kinda makes you wish you had a biscuit," said my companion mournfully.
If there's a weakness, maybe it's the thick-skinned dumplings … but you know, I really liked them, too – the Zhong-style white dumplings filled with pork, or the beautiful spinach dumplings, their green skins dotted with sesame, filled with vegetables and glass noodles.
Prices for these incredible flavors – large entrees, with plenty for leftovers – ranged from $10 to $18. When you think of other Beard nominees' restaurants and their eye-popping prices, it reminds you that the paintings we today consider masterpieces, the ones that sell at auction for millions or multi-millions, often originally fetched modest amounts – or languished unsold in artists' garrets.
Make sure you take the opportunity to appreciate this dining masterpiece of our place and time.
---
Masterpiece
3940 Buford Highway, Duluth
770.622.1191
Hours: Lunch and dinner daily
Parking: Plentiful in attached lot
Dress Code: Come as you are
---
Speaking of new-school Asian …
Double Dragon
Decatur
Old-school Chinese dishes and new-school tiki-style cocktails, with local, seasonal and sustainable ingredients.
doubledragonoakhurst.com
---
Little Duck Diner
Savannah
Pretty, new diner-style eatery with Asian twists boasts burgers, tacos and bibimbap.
littleduckdiner.com
---
Donna Chang's
Athens
Named for a Seinfeld faux-Chinese character, this proudly Americanized menu features crab rangoon, chow mein and kale-and-Brussels sprout salad.
donnachangs.com