Talent Search
Programs at the state and local level aim to boost workforce readiness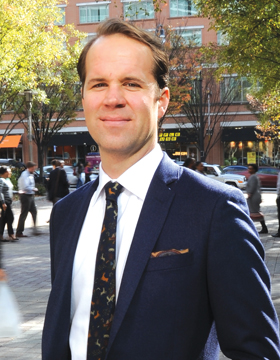 Economic development officials talk of an "imperative" for the state's continued economic growth: making sure Georgians are workforce ready. How that translates across the state is unique to each region and community, but one thing is certain. There's a workforce crunch that has businesses struggling to find the workers they need.
"What we're trying to do is connect our economic development efforts with workforce development initiatives job market by job market around the state," says Ben Hames, deputy commissioner for the Georgia Department of Economic Development's Workforce Division. "Businesses are having a hard time finding talent, and that's been the case for a few years now. The workforce gets a little bit tighter every year, and we've got to do everything we can do to find those individuals and make sure they're workforce ready to meet those business needs."
In response to the need for a consistent, trained and reliable workforce, Gov. Nathan Deal created the High Demand Career Initiative in 2014, which has developed an infrastructure of communication and collaboration between the public and private sectors.
"What we have done is create a $3-million grant program to invest in sector partnership efforts going on around the state," Hames says. "It's all about understanding workforce shortages area by area and trying to make sure we have the right programs to produce the well-trained job-ready individual. Every area is different. What are the jobs in your area? In the coastal area, there are incredible opportunities in logistics; in Atlanta, it's IT jobs; in northwest Georgia, it's flooring and automotive."
Using federally provided workforce development funds, 11 of the state's 12 economic development regions received between $200,000 and $250,000 to determine their workforce development needs and ensure adequate supply relevant to demand. The 12th region is currently working on a plan.
"What a lot of the areas are doing is working with consultants who can pull folks together to put the local infrastructure in place – educating, training, workforce development, you have to map all that together," Hames says. "Where are the redundancies? How many welders do we produce? IT professionals? What's the demand? It comes at a great cost when companies can't find an adequate workforce to take advantage of business opportunities."
However, the decades-long push for kids to go to college rather than learning a trade has resulted in a growing skills gap. To help bridge that gap, five years ago the governor launched Trade Five, a statewide training initiative focused on in-demand jobs in the manufacturing, logistics, construction, telecommunications and energy sectors.
"People don't understand or appreciate them – plumbers, electricians, carpentry, construction. These are good jobs, and there is an incredible demand for skilled individuals who can do these jobs well," Hames says. "We just have incredible examples of people making great incomes and inordinate demands for those skill sets."
A five-year certified plumber in Metro Atlanta can earn $80,000 a year, while six-figure salaries can be had in the commercial trucking industry, according to Hames.
"We're trying to change perceptions," he says. "We're trying to let people know about careers we know are misunderstood and people don't understand the earning potential. We want to reach kids in high school and people just out of school, so they can explore these careers themselves."
---
Secret Weapon
One percent of the average state's population are serving, or have served, in a branch of the armed forces. In Georgia, that number jumps to 9 percent, giving the state access to an enviable talent pool.
"The idea was we have this tremendous human resource, and the state of Georgia would ideally like to retain them," says Patricia Ross, chief operating officer of the Georgia Veterans Education Career Transition Resource (VECTR) Center. "Fourteen thousand service personnel are separated [the military term for people leaving the service] from one of our bases every year, and these men and women have tremendous soft skills, tremendous technical skills. If we can help translate those skills, top off their education with certification or help get them into employment, the idea was they could stay and we could keep this talented workforce."
The Warner Robins-based center opened in August 2016, initially offering an eight-week commercial truck driving program followed by 15-week courses in CISCO networking, welding and, this spring, HVAC (heating, ventilation and air conditioning).
"Part of the advantage of gearing these toward high-demand careers for the state of Georgia is there are valuable jobs at the end of this," Ross says. "The way our space is laid out, especially the industrial labs, it's completely flexible. The intent is, say we've saturated the market with welders 24 months from now and we don't need any more, we'll just take equipment out and bring in another program. The building was designed to do that."
The first center of its kind in the nation, the VECTR Center is serving as a model for the states of Kentucky and Tennessee, which are teaming up to create a similar program to be located outside the gates of Fort Campbell on the state line.
"By using the HOPE career grant or funds from the local workforce board, our tuition is usually free and the service members don't have to touch their GI Bill [benefits]," Ross says. "They can knock a couple of these certificates out on the state of Georgia and save their GI Bill for family or to earn a degree one day."
As of October, the VECTR Center had served more than 11,000 individuals helping with everything from emergency housing, medical assistance and sometimes even basic needs such as food, in addition to education and employment. More than 1,100 veterans have been placed in a certificate training program or a college degree program. The center boasts a 100 percent job placement rate for the veterans who have gone through their training programs and reported back.
"In the original concept, we were not meant to be a social service agency, but we're the connective tissue to so many other agencies," says Ross, herself a 25-year veteran of the Air Force. "When you get out of the service, you don't really know where to go and which organization is valid, and there are organizations out there that prey on veterans. If a vet needs help and you ask and you get turned down once or twice, you don't ask anymore. And then that causes this spiral that we see so often, which wreaks havoc on the veteran and his or her family."
---
Local Resources
While these initiatives only scratch the surface of all of the workforce development going on at the state level, there is just as much happening at the local level from Cobb to Carrollton to Savannah.
CobbWorks Inc. is Cobb County's one-stop shop for employers and job seekers, offering work experience programs, job training and development. Cobb is one of 19 areas across the state that administers federal workforce development funds aimed primarily at people who have been laid off, but also offers skill enhancement assistance to low-income workers.
"We've almost achieved full employment from a statistical standpoint," says John Helton, executive director and CEO of WorkSource Cobb/CobbWorks. "Our work is completely reflective of what's happening in the economy. We're a supply and demand function, and right now there's a deficit of employees."
With a labor force of 428,726, in September there were 15,405 unemployed workers in Cobb, resulting in an unemployment rate of 3.6 percent.
Under the auspices of WorkSource Georgia, another initiative of the Georgia Department of Economic Development, WorkSource Cobb is working with local businesses to inform workforce development needs.
The High Demand Career Initiative Metro Atlanta, which includes WorkSource Cobb and other regional organizations, is focusing its efforts in the healthcare, information technology, and transportation, logistics and distribution sectors.
"We work both singularly in our local communities and collectively on a strategic basis on issues that affect our entire region," Helton says. "We work with our economic development, education and philanthropic partners to connect talent with opportunity."
Using federal Workforce Innovation and Opportunity Act (WIOA) funds, WorkSource Cobb can offer up to $5,000 toward earning an industry-recognized credential.
"We braid funding streams together to maximize the financial assistance that an eligible person can benefit from," Helton says. "If a person who has been laid off has no relevant skills to today's market, we work with third parties, like KSU [Kennesaw State University] and Chattahoochee Tech, to get them the skills they need."
The College of Continuing and Professional Education at KSU offers 35 different professional certificates. In FY 2017, the college had approximately 15,000 enrollments and offered 2,239 events, classes and conferences.
"The landscape of the market is ever-changing," says Barbara S. Calhoun, dean of KSU Continuing and Professional Education. "Employers are seeking individuals who not only have the knowledge required to do the job, but also the skills and hands-on experience that will ensure their success."
The Department of Education predicts the number of nontraditional-age students will outpace the number of traditional-age students in the coming years, making the value of professional certificates crucial to growing the workforce and Georgia's continued economic development. According to the Georgia Continuing Education Department's economic impact report, classes, conferences and seminars hosted by continuing education units result in a $637-million dollar boost for the state's economy.
"Professional development programs provided by continuing education units contribute to the economic development and professional advancement of individuals in the state," Calhoun says. "Our strategic partnerships with employers provide vital training, which enhance the overall value of the organizations."
---
Cultivating Careers
Despite changing workforce needs, there's another gap in Georgia's workforce that needs to be addressed long before college courses or professional certificates, according to Chris Clark, president and CEO of the Georgia Chamber of Commerce.
"Our bigger issue is the lack of career skills," Clark says. "Career skills like how to interview, how to dress. It's getting the basics right first that's absolutely critical."
Toward that end, the chamber is working with UGA's Carl Vinson Institute of Government to provide career skills training during school terms in K-12 schools in Moultrie and LaGrange.
"If you wait to introduce these skills in college, it's almost too late," Clark says. "You have to get these kids early."
Clark says successful communities, especially rural communities, have to take a three-pronged approach to workforce development: educate residents on opportunities in their local communities so they'll be more likely to stay after graduation; recruit back those who left; and make sure future workers are job-ready when they enter the workforce.
Local businesses also need to take an active role.
"Everywhere I go, students are completely unaware of what's in their own backyard," Clark says. "We need to build partnerships between businesses and K-higher ed. Businesses need to engage, mentor and offer apprenticeships, be in the schools."
Clark offers two examples of businesses building successful talent pipelines in their communities: Southwire Co. in Carrollton and JCB in Savannah. Each actively recruits locally, and both pay for a technical college education. In addition, at Amazon's recently announced Macon fulfillment center, the company plans to offer to pay up to 95 percent of tuition for full-time employees taking courses in in-demand fields, regardless of whether the courses relate to Amazon careers.
"We want to engage these kids early," he says. "The school systems in those communities get it. We need more of those kinds of partnerships throughout the state."
---
A Match Made at City Hall
Offering its own spin on public-private collaboration, the city of Savannah began a summer internship program to take at-risk kids off the streets and give them jobs. Carolyn Bell was a first-term council member in 2011 when she noticed a disturbing trend. As in other metro areas across the country, during the summer months there was an uptick in youth violence in Savannah.
"So I began doing research on summer internship programs," says Bell, who now serves as mayor pro tem. "The key one that I really was attracted to was Chicago. Chicago was targeting at-risk kids and designing jobs across the city government and placing these young people in those kinds of jobs."
Fast-forward to 2016, and Bell found a partner in Mayor Eddie DeLoach. That partnership would create Savannah's "Summer 500" program.
"After this mayor was elected, we were fortunate in that he's a businessman. So he has lots of contacts in the business community, and he was determined to approach city government with a business perspective," Bell says. "He leveraged his contacts and skill set and reached out to the business community. [He] asked them to help us and the local police department to combat this problem by offering constructive activities while students had some idle time."
Students are given a full week of soft skills training before ever stepping onto the job site. The students are paid $2,500 for an eight-week internship, which includes the soft skills training. Summer 500 launched in June 2016 with 308 students and 112 businesses participating. Bell estimates the numbers for last summer were about the same.
"We wanted to teach them soft skills that would last a lifetime and possibly provide a career path," she says. "Many of the participants have been given the opportunity to work part time or on the weekends after their internships have ended."
Crime has since come down more than 50 percent in the targeted 16- to 18-year-old population, and while Bell credits many other community-based summer programs for helping curb youth violence in the city, the Summer 500 program is quickly being recognized as a best practice. "It's the largest public-private partnership in workforce development for teens that we have knowledge of," she says. "It has exceeded my expectations."
Overall, Georgia's efforts to train more individuals for high-demand jobs across the state are being viewed as best practices to address workforce readiness. But the impact is being felt on a more personal level, too.
By providing people the chance to learn new skills, says KSU's Calhoun, "we give people opportunities to change their lives."