Hospital Mergers: The Wheres, the Whys and the Hows
Changes in ownership reflect the realities of modern-day healthcare. And there are more to come.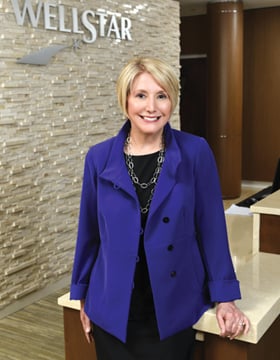 If you are looking for reasons behind the spate of hospital mergers in the state, start with money and mission. A successful merger has to make business sense, and it has to further the partners' care and service goals.
"First and foremost, we make sure it is a good cultural and strategic fit with the organization," says Kevin Brown, president and CEO of Piedmont Healthcare, an eight-hospital system. "We spend a lot of time thinking about and talking about whether there is a common view of the future, where we think we're heading, where healthcare is heading, and most of all, is there a common commitment to patient-centered care that puts quality first?"
Candice Saunders, president and CEO of WellStar Health System, which has 11 hospitals in and around Metro Atlanta, including the flagship Kennestone Hospital in Marietta, puts mission at the top of her list of considerations in mergers or acquisitions.
"As we look at potential new partnerships, we ask can we improve the individual and community health that's part of our mission? As a community asset, our job is to improve the health and welfare of individuals and the community we serve," she says. "The other factor we look at is cultural compatibility. Is it a good cultural fit on the ambulatory side or hospital side?"
Not-for-profit hospitals, like those operated by Piedmont and WellStar, must meet community benefit requirements to retain a tax-exempt status. These include providing a certain amount of charity care and addressing specific needs of the communities they serve.
---
The Wheres
Georgia has seen a lot of merger and acquisition activity of late, most of it involving larger hospitals and systems in or near Atlanta that have been acquiring smaller facilities fairly close to their home bases.
Piedmont, WellStar, Northside Hospital, Emory Healthcare and Gainesville's Northeast Georgia Health System, all not-for-profits, have significantly expanded their holdings. Piedmont's agreement with Columbus Regional will bring its total to 10 hospitals. WellStar hospitals include Atlanta Medical Center in downtown Atlanta, formerly Georgia Baptist, and six smaller facilities acquired from Tenet Healthcare Corporation. Northside has three hospitals and is in the process of merging with Gwinnett Medical Center.
Emory has seven hospitals; it acquired Crawford Long, now Emory University Hospital Midtown, several years ago and, more recently, purchased a controlling interest in St. Joseph's Hospital of Atlanta. Northeast Georgia hospitals are located in Gainesville, Braselton and Winder. In November, Emory and DeKalb Medical Center signed a letter of intent to develop a partnership.
In Middle Georgia, Navicent Health now has three hospitals in Macon and others in Byron, Eatonton and Warner Robins, and announced in November that it's exploring a collaboration with Houston Healthcare. The for-profit Hospital Corporation of America (HCA) is in the game, too, picking up generally smaller facilities, but creating a footprint that extends from Augusta to Middle Georgia to Savannah
Earlier this year, HCA purchased Memorial Satilla Health in Waycross, after that hospital's much-touted 2015 integration agreement with the Mayo Clinic in Florida was terminated. Mayo backed out of the deal to concentrate on specialty care for complex cases and affiliation relationships.
Rural hospitals have been pretty much left out of major acquisitions. The big players, says Jimmy Lewis, CEO of HomeTown Health, which serves rural healthcare facilities, "haven't yet bought a rural hospital. They've bought smaller hospitals in urban settings," places like Paulding and Douglas – more exurban than rural.
For rural hospitals, he says, "the rules have completely changed. The ability to stay stand-alone is remote at best."
Several have closed in recent years, and others are likely to follow, Lewis says, without some changes – mergers, perhaps, but certainly collaborations on things like hiring specialists who might work at more than one hospital. Smaller places have to realize healthcare facility numbers are going to shrink as populations decline, potentially a blow to local economies, local identities and even local pride.
"Somebody has to give up [on] the fact that Hospital A's county beat Hospital B's county in football in 1922," he says. "Healthcare can no longer be defined by county lines. It's all about service areas."
---
The Whys
Georgia hospital mergers are in line with national trends, says Christopher E. Press, founding partner at Morgan Healthcare Consulting, who is a former hospital administrator and an adjunct professor at Emory University's Rollins School of Public Health.
Conditions that make for favorable mergers in healthcare mirror those in other industries, he says. "It has to do with market forces. There's something in the marketplace that is different – a decline in demand or a change in the balance of power that disadvantages the seller."
He describes two "buckets" that drive hospital acquisitions and mergers: "One is the market; the other is the operational bucket," he says. "As far as the market, a small hospital that wants to be acquired is seeking a better brand, better access to [resources] and better access to talent. The market thing is outward looking.
"On the operations side, it's about reducing costs, improving the product and access to capital."
It is also a matter of size and scale: "If a system is bigger, it can be more efficient and in a better position to deal with vendors. Smaller hospitals may ride larger hospital's coattails." Press says.
"When organizations get scared, they seek safety," he adds. "Faced with uncertainty, they get nervous. If they feel they are at risk, they want to get big enough to be able to [overcome] risks. If they're big enough, they can weather everything."
Certain provisions of the Affordable Care Act (ACA) have affected the merger trend, he and others say, like the need to automate medical records; the costs of technology, equipment and compliance with governmental regulations come into play as well.
"Some of the drivers and motivation for mergers and acquisitions were initially sparked by the ACA with its increased regulatory focus," says Saunders. "Every time a new regulation came down, hospitals had to put processes in place."
Press notes that Georgia is one of the states that did not expand Medicaid. "Some hospitals in other states have been helped by [Medicaid] expanding," he says.
Most mergers involve a larger hospital or system taking over a smaller one; occasionally there are marriages of equals – like the impending union of Northside Hospital and Gwinnett Medical Center.
But money pressures on small hospitals are mounting, ER costs among them; by law hospitals cannot turn away patients seeking emergency care, regardless of their ability to pay. Uncompensated care takes a toll on hospitals; so do high numbers of Medicare and Medicaid patients, for whom a facility receives reimbursement less than the cost of care provided.
Larger hospitals are better able to absorb these costs, especially those with tertiary services – heart, neonatal, neurologic, orthopedic – that are more profitable for the systems and can offset other costs.
Lewis calls them "for-profit not-for-profits," meaning the hospitals with such services "can make enough money on them to not be overwhelmed by indigent care patients."
In many mergers, he believes, "Large hospitals made the decision to absorb known losses in exchange for gain of tertiary services."
His research indicates that some 65 percent of the state's net hospital revenue is generated by five systems: Northside, WellStar, Emory, Piedmont and Northeast Georgia, all with tertiary services for specialized care, usually by referral.
Whatever the size, whether or not mergers work depends on expectations, Press says. "Generally, the goal is to improve care or make sure levels of care don't diminish over time. If the expectation is to sell the hospital to somebody and still exert local control, that may not work."
Many smaller hospitals resist giving up local autonomy; purchase agreements may include specifications that the facility can't be closed or sold without the former owner's approval.
Things like board memberships, names and buildings can prompt hiccups, Press says; but if key factors are aligned, the lawyers and business people can usually work out the details.
He recalls hearing a colleague say that the only benefits of a merger are those you can monetize.
"I remember thinking that was harsh," he says, "but [if you think about it,] if you provide better quality of care, there's an economic benefit.
"Mergers can be hard," Press says, "but the pressures aren't going to abate. I don't believe the forces that drive consolidation are going away. We'll be seeing more and more."
---
The Hows
Cultural compatibility is a big factor in a merger, specifically how the acquired institution fits into the new owner's plans.
For Piedmont, Brown says, those plans include strengthening the system's presence in Georgia.
"Piedmont has a definite Georgia strategy. We want to have a presence across Georgia. We believe very strongly care needs to be provided close to home, and we look for organizations [that share our view] and that provide an opportunity to take care of a community we are not already serving.
"For an entity to join the Piedmont family, we look at [whether] it add[s] value. We look to increase access to care, to reduce the cost of care, enhance the talent of the organization," he says. "By bringing organizations together, can we enhance our desire to serve Georgia? We also look for partners where it's a long-term commitment."
He says with pride that Piedmont has never acquired another hospital or merged with one and not made it work. "We have passed on probably 17 or 18 opportunities in the last 18 months because we felt the cultural or strategic fit wasn't there. We've been very selective. We're not getting bigger just for the sake of getting bigger."
Piedmont's acquisition of Athens Regional and its recent partnership agreement with Columbus Regional Health are part of the focus on Georgia. "If our intent is to have a strategy in Georgia, we have to be in other metro areas" besides Atlanta, he says.
He says the medical staff is key to the fabric of Piedmont, which was founded in 1905 by two doctors. "It distinguishes Piedmont in the marketplace."
As part of evaluating partnerships, clinicians are involved formally and informally. "A lot of them know each other, they trained together here locally. There's a lot of interaction."
WellStar's Saunders says access to care and services for the patient populations is a key driver in expansions, but location and opportunity play a part.
"We look at geographic location. Is it contiguous or aligned with our service areas and the community we serve, or can we bring something with this partnership to strengthen the healthcare delivery in that community or service area?"
She says WellStar also looks at things a potential acquisition has that may be needed within the system. "Are there some synergies between existing clinical services or capabilities that would streng-then overall care delivery across all of our care sites throughout the system?"
Saunders is confident of WellStar's ability to efficiently integrate new acquisitions. "We have a very strong shared services model. As an integrated health system [one offering more than just hospital care], we do have a model. We have corporate services that work hand-in-hand with the local care sites and hospitals. We do believe there are some economies of scale we can bring to a partnership because of our experience in delivering shared services.
"In a not-for-profit, every dollar we invest or spend is a community asset that needs to be put back into the community – services to the community to meet access needs and to our people and to investment in technology and new facilities."
Each merger is different, she says. The one with West Georgia Health System was helped by the fact that it, too, was a community health system with similar values and structure. "There were a lot of commonalities. Still, they had their history, their traditions, their culture."
When WellStar acquired six hospitals from Tenet, a for-profit organization, there were considerable differences in the process. "WellStar always operated as a very integrated health system," Saunders says. "We worked to share best practices and worked together. Tenet facilities operated very individually. They weren't a system, if you will. This was a change for the hospitals. They were used to operating pretty much on their own."
Of particular benefit to all WellStar hospitals and the patients they serve, she believes, is the shared electronic recordkeeping that will unite all facilities and should be finalized in the first quarter of 2018.
Of course, not all proposed mergers pan out. WellStar was in talks with Emory, clearly a very different kind of health operation centered on an academic institution. Despite discussions with Emory officials and leaders in the larger community, the merger did not work out.
"We made the decision that it wasn't the right time," says Saunders, who herself spent several years working in the Emory system.
"There was probably some cultural alignment consideration, too. We were looking for a merger [to] bring together two very strong health systems. I think there was still some need for sorting out on both parties' side, but probably a little more on the academic side."
Nonetheless, she says, WellStar will continue to look for additional partnership opportunities.
---
What's Ahead?
Like Saunders, healthcare experts see more mergers, fueled by technological advances and patient demands, especially where there are natural adjacencies or affiliations.
Morgan Healthcare Consulting's Press thinks some mid-tier hospitals and even smaller rural facilities may combine into networks. More interestingly, he suggests there may be different kinds of alliances on the horizon, not just hospital to hospital or health system to health system.
"We're going to see more mergers of hospitals with big physicians' groups and hospitals with big home healthcare groups, maybe hospitals with insurers – so it eventually feels like an HMO. One question is, when is the market right for different partnerships?"
Despite changes and challenges, many who are involved in hospitals view the future with enthusiasm. "It's a great time to be in healthcare," says Brown. "It's the hardest but the best time, because so many pressures on the system allow it to move forward."
"It's an exciting time," Saunders says. "I'm blessed to be involved in an industry that has such purpose."
---
A Marriage of Equals
The proposed Northside Hospital/Gwinnett Health System merger, which has been in the works for several months, could take effect early in 2018.
Lee Echols, vice president of marketing and communications for Northside, says the largest single factor in the decision was the growth of population in the market areas.
"If you look at the principal service area of the Northside Hospital system and of Gwinnett, they are precisely adjacent to each other," he says. "From a geographical standpoint, it could not make more sense."
This is key to Northside's expansion strategy, he says. "Rather than dot around the region, we are going to combine two very healthy systems. We believe health benefits to the combined population will be very consistent over the long term."
The effort has been deliberate and thoughtful, he says. "We recognize this is a very significant evolution of healthcare in this region. It's all about the future, the future of meaningful healthcare in a rapidly expanding geographic [area] and demographic."
He describes the process as collaborative, paying particular attention to the communities involved.
"The larger community we will be serving has been part of the decision-making process," he says. "We believe the diversity of our community service area will be a significant driver of success. Gwinnett is as diverse a region as there is in the state of Georgia."
Unlike some acquisitions, this is not a rescue effort, but a joining of two strong systems. Both are leaders in a number of different areas, Echols says. Northside in cancer care, surgery and women's health, and Gwinnett in cardiovascular and sports medicine.
"It's an ideal blending of very strong medical expertise that will benefit the patient population of Northside and Gwinnett," he says.
Northside also has hospitals in Cherokee and Forsyth counties. The Gwinnett addition will create an arc of some of the fastest-growing counties in the state, he says.
"We're not looking to be a bigger healthcare system, but a better healthcare system," Echols says. "It's all about clinical quality, patient satisfaction and patient access." – Susan Percy
---
Georgia's Top Hospitals 2017
In 2017, hospitals and health systems continue to plan for possible changes in regulations as various proposals and legislative agendas are discussed. The main tenet focuses on creating an environment to improve patient outcomes and lower costs. As hospitals strive to meet their goals, evaluating and measuring their performance is a difficult task.
Georgia Trend groups hospitals of similar size and mission to include Teaching Hospitals, whose primary mission is teaching regardless of size and are certified by the Association of American Medical Colleges Council of Teaching Hospitals and Health Systems; Large Hospitals (250+ patient beds); Medium Hospitals (100 to 249 beds); and Small Hospitals (less than 100 beds). The American Hospital Directory provided the hospital bed size.
Hospitals in Georgia Trend's ranking include those that participate in the Centers for Medicare and Medicaid Services (CMS) Hospital Value Based Purchasing program. CMS does not include VA medical centers, children's hospitals, critical access hospitals and long-term care facilities. A Total Performance Score was used to rank the hospitals in each group using information on clinical process, patient experience, outcome and efficiency. The hospital rankings are based on CMS data downloaded Aug. 13, 2017. Analysis of the data was completed for Georgia Trend by a team of independent consultants from the Hull College of Business at Augusta University.
While hospital rankings can assist consumers in providing valuable information on overall hospital performance, there are many factors that an individual should consider when deciding where to go for hospital services. Consumers should consult their doctors or other healthcare professionals before making a decision. – Mark A. Thompson
---
TOP TEACHING HOSPITALS
Hospitals whose primary mission includes teaching and are certified by the Council of Teaching Hospitals (COTH), regardless of size*
1. Emory University Hospital, Atlanta
2. Emory University Hospital Midtown, Atlanta
3. Grady Memorial Hospital, Atlanta
4. WellStar Atlanta Medical Center, Atlanta
5. Memorial University Medical Center, Savannah
6. Augusta University Medical Center, Augusta
7. The Medical Center, Navicent Health, Macon
*Does not include VA Medical Centers or Children's Hospitals
---
TOP LARGE HOSPITALS
Hospitals with 250 or more patient beds
1. WellStar West Georgia Medical Center, LaGrange
2. Piedmont Athens Regional Medical Center, Athens
3. Northside Hospital, Atlanta
4. Piedmont Hospital , Atlanta
5. Hamilton Medical Center, Dalton
6. Memorial Satilla Health, Waycross
7. Eastside Medical Center, Snellville
8. Northeast Georgia Medical Center Inc. , Gainesville
9. Southeast Georgia Health System – Brunswick Campus, Brunswick
9. South Georgia Medical Center, Valdosta
10. WellStar Cobb Hospital, Austell
11. Doctors Hospital, Augusta
12. John D. Archbold Memorial Hospital, Thomasville
13. Coliseum Medical Centers, Macon
14. Floyd Medical Center, Rome
15. University Hospital, Augusta
16. WellStar Kennestone Hospital, Marietta
17. Piedmont Henry Hospital, Stockbridge
18. Gwinnett Medical Center, Lawrenceville
19. Southern Regional Medical Center, Riverdale
---
TOP MEDIUM-SIZED HOSPITALS
Hospitals with 100-249 beds
1. Donalsonville Hospital Inc., Donalsonville
2. Washington County Regional Medical Center, Sandersville
3. Appling Hospital, Baxley
4. Northside Medical Center, Columbus
5. Union General Hospital, Blairsville
6. Emory Johns Creek Hospital, Johns Creek
7. Emanuel Medical Center, Swainsboro
7. Redmond Regional Medical Center, Rome
8. Memorial Hospital and Manor, Bainbridge
9. Fairview Park Hospital, Dublin
10. Oconee Regional Medical Center, Milledgeville
11. Cartersville Medical Center, Cartersville
12. Crisp Regional Hospital, Cordele
13. Houston Medical Center, Warner Robins
14. Piedmont Newnan Hospital, Newnan
15. Tanner Medical Center Villa Rica, Villa Rica
16. WellStar Paulding Hospital, Hiram
17. Tift Regional Medical Center, Tifton
18. Upson Regional Medical Center, vThomaston
19. Tanner Medical Center – Carrollton, Carrollton
20. Emory Saint Joseph's Hospital, Atlanta
21. Wayne Memorial Hospital (current bed-count 85), Jesup
22. St. Mary's Hospital, Athens
23. Northside Hospital Forsyth, Cumming
24. Trinity Hospital of Augusta, Augusta
---
TOP SMALL HOSPITALS
Hospitals with fewer than 100 beds
1. Evans Memorial Hospital, Claxton
2. Gordon Hospital, Calhoun
3. Piedmont Mountainside Hospital, Jasper
4. University Hospital McDuffie, Thomson
5. Coffee Regional Medical Center, Douglas
6. Perry Hospital, Perry
7. Grady General Hospital, Cairo
8. Phoebe Sumter Medical Center, Americus
9. Elbert Memorial Hospital, Elberton
10. Fannin Regional Hospital, Blue Ridge
11. Colquitt Regional Medical Center, Moultrie
12. Meadows Regional Medical Center, Vidalia
13. Northeast Georgia Medical Center Barrow, Winder
14. Stephens County Hospital, Toccoa
15. Southeastern Regional Medical Center, Newnan
16. Coliseum Northside Hospital, Macon
17. Northside Hospital Cherokee, Canton
18. Southeast Georgia Health System – Camden Campus, St. Marys
19. Dodge County Hospital, Eastman
20. Dorminy Medical Center, Fitzgerald