Transportation Tools
Three middle-Georgia regions are seeing big benefits from sales tax funding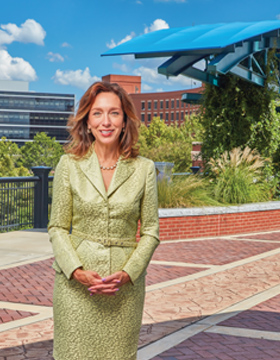 It's called T-SPLOST envy. And, it's real.
"When I go to conferences and gatherings of other elected officials, many of them say they wished their citizens had passed T-SPLOST [Transportation Special Purpose Local Option Sales Tax]," says Columbus Mayor Teresa Tomlinson. "It certainly makes life easier, because it's a long list for these types of projects and there's never enough money."
It's been five years since voters in three middle-Georgia regions – River Valley, Central Savannah River Area (CSRA) and Heart of Georgia Altamaha (HOGA) – approved a 10-year, 1 percent sales tax to fund regional and local transportation improvements. Over a decade, the Transportation Investment Act (TIA), as it's officially known, is expected to raise a total of $1.5 billion in new revenue dedicated to transportation improvements in the River Valley region, which includes the Columbus area; the HOGA region, which includes Dublin, Jesup and Vidalia; and the CSRA region, which includes the Augusta area.
Each region has its own Approved Investment List, and there are 871 projects on the approved lists. Prior to the vote, regional commission roundtables of local elected officials solicited public input and selected the projects for each region's approved list.
"TIA has allowed for huge improvements in the transportation infrastructure in those regions where it passed," says Michael "Sully" Sullivan, president and CEO of the American Council of Engineering Companies of Georgia. "There's no better barometer of how successful those projects have been than to look at the local officials who opposed it in 2012, who have now come around to being champions for what TIA has done for their regions."
---
Local and Hyper-local
Sullivan was part of the coalition that pushed for passage of legislation in 2010 that paved the way for the 2012 vote in 12 regions across the state. That group then transformed itself into an advocacy organization promoting voter approval in 2012.
"Before TIA, we were 49th in transportation spending in the country, per capita," Sullivan says. "Tennessee was the only state per capita that spent less than we did."
And TIA was just the beginning. In 2015, Gov. Nathan Deal signed into law HB 170, which will raise about $1 billion a year for transportation needs across Georgia.
"With the passage of TIA and House Bill 170, which enables the local T-SPLOST, all of those tools and funding mechanisms are being brought to bear," Sullivan says. "We're finally taking care of our infrastructure at the level we needed to be."
The funds raised by HB 170 are earmarked to deal with the state's mounting backlog of maintenance projects like repaving roads, fixing potholes and shoring up bridges. The bill allows coun-ties, either alone or in groups, to ask voters to approve up to a 1 percent sales tax hike without first going through the state legislature. That's the major difference between HB 170 and the larger, predefined regions of TIA.
"I think the lesson from those two investments [TIA and HB 170] is that there's no silver bullet to our transportation challenges," Sullivan says. "Some of our challenges are local and should be funded by local governments, some are regional where tools like TIA can be used to fund projects that cross city and county boundaries, and some of our transportation challenges require a statewide approach and statewide funding."
In 2016, Fulton County became the first to call for a single-county T-SPLOST vote, according to Seth Millican, executive director of the Georgia Transportation Alliance. Last November, voters approved a three-quarters of a penny sales tax hike for transportation purposes in Fulton County outside the city of Atlanta that is expected to raise approximately $570 million over five years.
Also in November, city of Atlanta voters overwhelmingly passed two transportation funding tax increases. The first, a T-SPLOST, will generate approximately $300 million over a five-year period to pay for things like purchasing all of the remaining right-of-way to close the 22-mile loop of the Atlanta BeltLine, street projects, Phase 2 of the Atlanta Bike Share program, pedestrian improvements in sidewalks and traffic signal optimization.
The second measure will fund MARTA transit expansion and enhancements in the city, including high-capacity rail improvements, new infill rail stations, new buses and other services. That tax is expected to generate $2.5 billion over 40 years.
"The attitudes toward these types of funding mechanisms have changed in a very positive direction," Millican says. "T-SPLOST envy is very real, and it's not a negative vibe, but for whatever reason the measures didn't pass in 2012. Five years later, other communities can see what's been accomplished and are saying, 'I wish we could do that.'"
While there were three regions that adopted TIA in 2012, nine others did not.
"It was really death by a thousand cuts," Millican says of the failed measures. "I think there is a greater awareness now of the need for T-SPLOST revenues. And in the elections over the next 18 months, there are probably half a dozen individual counties and at least one region planning to put this before their voters.
"From our perspective, T-SPLOST is a great tool for local governments who have infrastructure needs – and they all do – to address those challenges in a cost effective, efficient and accountable way."
---
Communication is Key
In Columbus, transparency was key to the successful passage of TIA in 2012, the mayor says.
"We embraced the controversy very much and acknowledged this would make us a donor county, and we addressed that," Tomlinson says about how some of the taxes raised would go toward other TIA recipients. "I think we were successful because we didn't just talk about rainbows and sunshine, which are the end projects and jobs. We also talked about the fact there is a cost to this, and that gave it credibility."
All the revenue generated by the TIA goes into a "giant pool of money" that's administered by the Georgia Department of Transportation. Seventy-five percent of collected TIA revenue in each region is used for construction of approved projects, while the remaining 25 percent is disbursed monthly to the regions' governments for discretionary use on other local transportation-related efforts.
"If we would have passed a local SPLOST, we would have been $81 million better off over 10 years, but this is what was available," Tomlinson says. "Some of the TIA money, $31 million, goes to the other counties over 10 years, making us a donor county in that regard, but I think because we were so forthright with that conversation, there was no suspicion. The citizens vetted and debated the issue and then made a decision as to whether it affected their vote."
Over 10 years, Columbus' piece of the TIA pie will total more than $300 million. Seven major projects worth more than $200 million are already underway in the River Valley region, as well as road and bridge maintenance and repair projects.
"We have made great movement on all of our Tier 1 projects," Tomlinson says. "First, we revamped our public transit system and added three shifts, which we needed for our workforce down here. We've increased ridership by 10 percent in the first three months."
A pedestrian and bike bridge over the eight-lane Victory Drive is under construction and should be completed this month. The bridge will connect two sections of the "Follow Me Trail," which links Ft. Benning with the RiverWalk downtown. Construction of a two-mile multi-use trail in South Columbus, connecting that part of the county with the RiverWalk and the rest of the 60-mile "Follow Me Trail," is already complete.
"I think all counties and communities have struggled to keep up with demands for repaving and bridge repairs, and this has allowed us to really move down that list," Tomlinson says. "It's a very frustrating position of having demands from our citizens that we could not meet before."
With 159 counties in Georgia, the TIA provides an incentive for counties and cities to work together, Georgia Transportation Alliance's Millican says. And, while the public's appetite for these taxes seems to be growing, Millican encourages local governments to take advantage of the opportunities offered by TIA and T-SPLOST.
"We're one of the fastest-growing states in the country, and to the extent that governments can and will work across political boundaries, we think that's a really positive thing," he says. "If a community wants [a T-SPLOST], go after it; don't be scared. If a local community wants this tool, we're here to help."
---
2012 Transportation Investment Act (TIA) by the numbers
Voters in three Georgia regions approved the 2012 TIA, a 10-year, 1 percent sales tax to fund transportation improvements – everything from multi-million-dollar road repaving and bridge repairs to five-figure bike and pedestrian projects – in those regions. As of presstime, here's how the projects are progressing:
Heart of Georgia Altamaha Region
(includes Dublin, Jesup and Vidalia)
• 10-year revenue projection for approved projects: $256 million
• Total projects: 764
• Projects completed: 376
• Projects under construction: 52
• Tax revenue collected: $131.4 million
• Total expenditures: $72 million
---
Central Savannah River Region
(includes Augusta)
• 10-year revenue projection for approved projects: $539 million
• Total projects: 84
• Projects completed: 25
• Projects under construction: 28
• Tax revenue collected: $296 million
• Total expenditures: $121 million
---
River Valley Region
(includes Columbus)
• 10-year revenue projection for approved projects: $381 million
• Total projects: 23
• Projects completed: 2
• Projects under construction: 7
• Tax revenue collected: $208 million
• Total expenditures: $78.4 million
---
For information about specific projects, visit the TIA website: ga-tia.com