Record-breaking Success
Increased traffic, bigger containers, better rail connections and refrigerated storage contribute to a banner year for Georgia's ports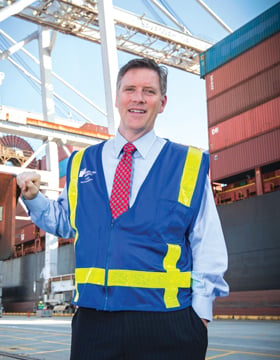 Apples from Chile. Pears from Argentina. Avocados from Peru. Seasons for fresh fruits change every eight to 12 weeks, so in order for local grocery stores to stock their produce aisles with citrus in August and grapes in January, they look to South America to meet their customers' demands.
While that may seem obvious to the average consumer, a fact that may not be as well known is that 90 percent of all out-of-season fruit coming into the United States came through the ports in Philadelphia and Miami. These fruits then have to be trucked sometimes thousands of miles to their final destinations, including grocery stores across Georgia.
That was until April, when PortFresh Logistics opened its 100,000-square-foot refrigerated warehouse in Effingham County, helping the Georgia Ports Authority (GPA) become an even bigger player in the state – and nation – as a key driver of business.
"This past year Griff [Lynch] and his team have really gone after produce from foreign countries, which is a new market for us," says GPA Board Chair Jimmy Allgood. "The two other ports, Miami and Philadelphia, that brought in most of the produce, we found we can turn transportation time around so much faster when it comes into the Savannah port, meaning we can get the fruits quicker to Kroger or Walmart by using the Savannah Port."
---
A Pretty Good Year
Lynch wrapped up his first year as GPA's executive director in July, and by all accounts, it was a banner year.
"When you end the first year with the largest year the ports authority has ever had, it's a pretty good year," Allgood says. "It just shows how successful the port is and how fortunate we are as a state to own it."
The Georgia Ports Authority, which is comprised of deepwater ports in Brunswick and Savannah, along with barge operations in Bainbridge and Columbus, closed out a record-breaking fiscal year with its busiest June yet, moving 337,710 twenty-foot equivalent container units (TEUs), which is a 17 percent increase for the month over last year. In FY 2017, the GPA moved an all-time high of 3.85 million TEUs for more than 21,000 businesses.
"We brought in 33.4 million tons of cargo, an 8.3 percent increase," Allgood says. "That cargo represents the tools you use, the clothes you wear and the food you eat in some cases."
TEUs are the standard units for describing a ship's cargo carrying capacity or a shipping terminal's cargo handling capacity. At 1,200 acres, the Port of Savannah is the single largest geographic container terminal in North America and ranks as the fourth-busiest container port in the U.S. The efficiency with which the ports are handling the growth has also led to an increase in the number of shipping lines that call on Georgia, ports officials say.
"What's unique about Georgia ports is we are lock-step together with the governor and his team," Lynch says. "The key piece here is the Georgia ports are an instrument of the state, which owns and operates them. It's a different model than the state just leasing the facility to various private terminal operators as in other places. The Georgia ports and the state of Georgia are much more nimble and have greater ability to react to the market."
Lynch, who graduated from the State University of New York Maritime College, has worked in the three big east coast ports, Virginia, New York and Georgia.
"In New York, the ports are a little fish in a big pond and they get lost, quite frankly," he says. "The state attention and the state support we have in Georgia is greater than you find in other places."
Georgia's deepwater ports and inland barge terminals support more than 369,000 jobs throughout the state annually and contribute $20.4 billion in income, $84.1 billion in revenue and $2.3 billion in state and local taxes to Georgia's economy. Nationally, the ports provide $4.5 billion in federal taxes.
Not content to rest on its laurels, the GPA has big plans for the future.
"Rail is an opportunity for growth in our market," Lynch says. "One of our charters is to create economic development that eventually leads to jobs. We are building the single largest on-dock rail terminal in the country."
In March, the Georgia Ports Authority Board approved the design of the $140-million "mega-rail" facility, the Savannah Multimodal Connector, which will give distributors greater inland access to places like Memphis and Chicago. The first phase of the facility is expected to open in 2019.
"We've received a federal grant of $44 million to help us build it, because the government believes it's important to the U.S. economy," Lynch says. "For our customers, it's all about transit times and cost. The faster we can connect with the end user, the better off we are."
Last year at its State of the Port Savannah event, the GPA asked developers to build more warehouses to hold the record volumes of cargo coming into the port. According to Lynch, 97 percent of the warehouses in Savannah are full, and the Atlanta market is "getting a little tight."
"There are 50 million square feet of warehouses in Savannah, and we have less than 3 percent vacancies," he says. "We now have millions of square feet of warehouse under construction in the local market of Savannah, but that call for help still exists. We're excited to see the growth we have, but we need that support outside of our gates."
---
Sustainable Investments
With all of that growth comes environmental concerns, but according to GPA, the authority has made significant investment in several initiatives as part of its commitment to sustainability.
Those efforts include:
• Directing runoff into 9 acres of protected wetlands at the Savannah port's Garden City Terminal, which removes multiple types of pollutants while providing flood control and habitat protection
• Investing in 16 silt suspension units at the Garden City Terminal that produce a low-velocity flow to keep water moving and reduce siltation that would otherwise need to be dredged
• Treating runoff from 1,000 acres through its storm-water system, which captures sediment and pollutants
• Converting all 27 ship-to-shore cranes from diesel to electric power, saving 1.8 million gallons of fuel
• Developing a single-stream recycling program that allows for a variety of recyclables, keeping products out of landfills
The GPA also sponsored a study by the Caretta Research Project that led to the release of 212,000 turtle hatchlings into the ocean. The Caretta Research Project is a hands-on research, conservation and education project that has been protecting loggerhead sea turtles on Wassaw National Wildlife Refuge since 1973.
"We've done a lot to be environmentally responsible," Allgood says. "In addition to converting all of the ship-to-shore cranes to electricity, we're in the process of electrifying all of the yard and container cranes as well. Environmental sustainability is a legacy GPA has been committed to for nearly a decade now."
---
Harbor Expansion
In an effort to more efficiently serve even larger container ships expected to call in greater numbers after the expansion of the Panama Canal, the Savannah Harbor Expansion Project (SHEP) is underway. The project will deepen the 18.5-mile outer harbor to 49 feet and the Savannah River channel to 47 feet. The project is 20 percent complete, and dredging is expected to be completed by 2021.
In his budget, President Donald Trump included a $50-million budget item for the river deepening. Though the budget had not passed as of press time, this is the largest amount of money appropriated to any harbor in the country – even if it's only half of what SHEP backers say is needed to keep the project on track. To date, Georgia has put up $266 million toward the total $973 million needed for the project.
"Logistics today is a very important factor in business location, and the port becomes an important tool to achieve larger economic goals," Allgood says.
Also underway is a joint venture between the Georgia and South Carolina ports authorities. Late in 2015, the two signed a joint venture agreement for the development of the Jasper Ocean Terminal (JOT). The terminal, located on 1,500 acres of land, will be situated 10 miles upriver from the entrance to the Savannah Harbor and 15 miles downriver from the GPA Garden City Terminal in Savannah.
The Jasper Ocean Terminal is expected to take a decade to build at an estimated cost of $4.5 billion, and it will increase capacity for the Southeast corridor by 7 million TEUs.
"The JOT has the potential to create thousands of jobs, bring in millions in tax revenue for local governments and ensure the region's future capacity for decades to come," Allgood says.
A board member of the Dublin-Laurens County Development Authority, Allgood says his community has benefited greatly from being located less than 100 miles from Savannah and the port.
"We see more prospects because of the port of Savannah being 90 miles from Dublin," he says. "We have five or six prospects looking at our town, representing hundreds of millions of dollars and thousands of jobs, and a lot of that is port driven."
With the companies the town has already landed, including auto parts supplier Valmiera Glass, Allgood says the former "sleepy little town" has sprung to life in recent years as a result of the cash infusion.
"Our whole economy has changed," he says. "We're a rural Georgia community that's not losing population."
---
Maintaining the Cold Chain
It's not just Dublin benefiting from the port's success. On the east coast, Effingham County – the new home of PortFresh – is reaping the benefits of being just 20 minutes from the Savannah port.
"We've been working for three years to bring this dream to reality," says PortFresh CEO Brian Kastick. "We're fulfilling the need for people's desire to eat fresh fruit year round."
Because the U.S. Department of Agriculture controls the import of fruits and vegetables into the country, rules and regulations had to be changed to allow fresh fruit to come into the Savannah port, Kastick says.
"We're just trying to take cost and time out of the supply chain," he says. "Every day of transportation is important with produce. An extra day or two is a big deal."
Because of its perishability, fruit has to be kept at temperatures ranging from 34 degrees to 55 degrees Fahrenheit. Over the last several years, the GPA has invested $10 million to upgrade its capacity to store refrigerated containers and increased the number of refrigerated containers it can store to 3,000, but PortFresh is the first temperature-controlled warehouse capable of maintaining the colder temperatures necessary to store fruit. Its customers are importers who sell the imported fruit to local grocery stores.
"We help maintain the cold chain from the field to the table," Kastick says.
When PortFresh opened for business in April, it had just 20 employees. By the end of July, that number had jumped to 45; by August, the company was employing 66 workers and handling more than 800,000 cases of fruit arriving in more than 300 containers brought by cargo ships to the Port of Savannah. Plans call for more than 100 employees servicing at least 150 containers a week of imported fruit a year from now. In addition, PortFresh will develop another 162 on-site acres into other logistics warehousing.
"Quick Start helped us with recruiting and training," says PortFresh President Rebecca George. "You could not get better partners than the Georgia Ports Authority or the state of Georgia."
Georgia Quick Start is the Technical College System of Georgia's workforce training program available to companies in sectors like advanced manufacturing, automotive and the food industry at no charge.
"Savannah will be a major hub for imported produce," Kastick says. "Right now we're serving 10 states, primarily in the Southeast, but it's possible to serve the Midwest and upper Midwest just as cost effectively."
With many integrated pieces in place, Georgia's ports are on track to become a national leader in transportation and logistics. If this year is any indication, their future success is as certain as the tides.