Georgia Trend's 2017 40 Under 40
For the 21st year, Georgia Trend honors the state's best and brightest in business, government, politics, nonprofits, science, healthcare and education.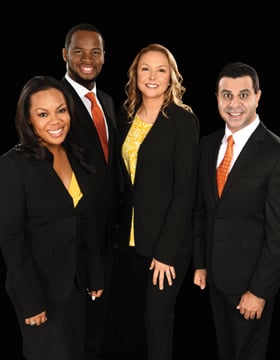 This year marks 21 years Georgia Trend has honored the state's best and brightest under the age of 40. Over the last two decades, many of our 40 Under 40 honorees have gone on to great success and have had a tremendous impact on the lives of Georgians across the state.
The 2017 40 Under 40 represent business, government, politics, nonprofits, science, healthcare and education. The 40 were chosen from nominations made by readers throughout the state. Final selections were made by the Georgia Trend editorial staff. We're proud of our selections and glad we can share the stories of these Georgians and their achievements.
Four representatives from this year's group, pictured here and on the cover, were photographed by Jennifer Stalcup. Clockwise from the left, they are Patrice Basanta-Henry, an Atlanta physician; Mario Burton, Lost-n-Found Youth, Norcross; Jennifer Reynolds, an educator in Cherokee County; and Michael J. Solomon, Senior Citizens Inc., Savannah.
Individual profiles were written by Anna Bentley, Mary Anne Dunkin, Karen Kirkpatrick, Michele Cohen Marill, Patty Rasmussen, K.K. Snyder, Bethaney Wallace and T. Wayne Waters. – Karen Kirkpatrick
---
Qaadirah Abdur-Rahim 39
CEO
Future Foundation
East Point
Like many people, Qaadirah Abdur-Rahim worries about the future – especially of children living in poverty. What sets her apart is her devotion to changing their life trajectory.
As CEO of Future Foundation, Abdur-Rahim transformed an after-school program in College Park and East Point into comprehensive services that include a teen center, learning centers and parental support. A sign of success: For the past 10 years, 100 percent of Future Foundation participants graduated from high school. For comparison, the community's graduation rate is about 70 percent.
Under her leadership, the Future Foundation recently won a five-year, $4.4-million federal grant to create an intensive model that gives children in poverty a "second family" of resources.
Abdur-Rahim grew up in the community and understands the challenges. "If someone is slipping or falling through the cracks," she says, "we're going to catch them." – MCM
---
Bhagelu Achyut 34
Assistant Professor, Department of Biochemistry & Molecular Biology
Augusta University
Augusta
Originally from India, Bhagelu Achyut came to the U.S. in 2009 for post-doctorate work and now conducts cancer research at Augusta University. He is currently seeking funding for a research lab focused on preclinical modeling of malignant brain and breast cancers.
"One of the main reasons I continue in cancer research is that so far we have not found the best treatment for cancer. But that just makes it more challenging," he says. "For the future, I am focusing more on pre-clinical cancer modeling using patient-derived genetic materials and collaborative efforts that could serve as a business model for a lab at Augusta University."
Achyut is also involved in volunteer teaching at Augusta University and manages to find time to participate with Augusta's Arts in the Heart Festival and The Color Run 5k, and he established the Augusta Cricket League. – TWW
---
Patrice Basanta-Henry 39
Physician
Atlanta Maternal-Fetal Medicine
Atlanta
By the time Patrice Basanta-Henry became a doctor, she had already helped bring healthcare and education to people in Africa, the Caribbean and at Grady Memorial Hospital in Atlanta. As a maternal-fetal medicine specialist, the Jamaica native now cares for women with high-risk pregnancies in five medical offices around Metro Atlanta.
The work can be emotionally and physically exhausting – but at the end of a long day, Basanta-Henry is just getting started. As director of community projects for the Junior League of Atlanta, she will organize and participate in up to 80 service events annually. She also volunteers with the Frank Ski Kids Foundation and GiGi's Playhouse – Down Syndrome Achievement Centers.
"There is a lot of work out there that needs to be done," says Basanta-Henry. "If there is any time in the day that I'm not occupied seeing patients, that's time when I can make an impact in someone's life." – MCM
---
Phil Bonelli 33
Vice President, Middle Market Banking for North Georgia
Wells Fargo Bank
Gainesville
When Phil Bonelli speaks to a room full of teenagers, he imagines they see him as a boring banker. Then he begins to rap. He knows how to connect with young people and motivate them – and there's nothing Bonelli loves better.
In 2014, Bonelli ranked as Wells Fargo's No. 1 business banker in the Southeast. But his roster of volunteer work is even more impressive than his resume: 2015 Volunteer of the Year for Junior Achievement of Northeast Georgia, 2017 chair of the Young Leaders Society of United Way of Hall County and a member of the boards of Boys & Girls Club of Lanier, Greater Hall Chamber of Commerce and Kiwanis Club of Gainesville.
His message to young people stems from his own passion for community work. "Take your unique talents and experiences and use them," he says, "not just vocationally but to serve others." – MCM
---
Mario Burton 32
Youth Center Program Manager
Lost-n-Found Youth
Norcross
Mario Burton has spent his career in the nonprofit world, focusing on grassroots, community-based activism and social justice advocacy.
"I have a passion for serving marginalized populations whose voices are muted, ignored or lost," he says.
His work at Atlanta-based Lost-n-Found Youth centers around providing services to homeless LGBTQ youth and their allies, and he serves as executive director of Grandma's Hands International, a social justice activism organization he founded three years ago. He also partners with nonprofits like Peacebuilders Camp to further serve and support these communities, and as a consultant at Free 2Be International, a nonprofit that addresses violence within the LGBTQ community.
"I don't know how long I will exist in this body, so I want to spend a good chunk of my waking life in service to a better world," he says. "My goal is to positively impact the lives of marginalized folks as much as possible." – AB
---
Brian Clowdus 36
Founder & Executive/Artistic Director
Serenbe Playhouse
Chattahoochee Hills
Artistic director Brian Clowdus is renowned for his theater productions in site-specific locations – a street corner, a field, by a waterfall or under a canopy of trees. But his genius began by chance with what others might have considered a hardship – starting a theater in a small community with no physical theater.
A professional actor in New York and Japan, Clowdus fell in love with the Serenbe community on a visit to the Atlanta area and wanted to call it home. So he fired off an email to the contact address on Serenbe's website and researched how to write a business plan.
Nearly eight years later, Clowdus has since built Serenbe Playhouse into a company with a $1.2-million budget. Last year, he launched Brian Clowdus Experiences, a theatrical company that produces site-specific work.
It's his way of proving that theater can happen anywhere. "You don't need a building," he says, "to make art happen." – MAD
---
Brittany Curry 30
Owner
InkyBrittany
Savannah
For Brittany Curry, doodling during a meeting is not a distraction or sign of boredom, but a way to keep participants and their ideas on the same page – literally.
A compulsive doodler, Curry was working with the Disability Advocacy Office when she was introduced to graphic facilitation, which allows people to communicate without words or language. Last fall, she made graphic facilitation her full-time business, helping people see their thoughts from meetings, brainstorming sessions and workshops through visual imagery.
Curry practices her craft at conferences, meetings and retreats throughout the U.S. While other practitioners have gone digital, Curry uses butcher paper and markers to bring conversations and ideas to life. Her job in a meeting is to get a clear message that can be communicated to multiple audiences, she says. "The actual pen and paper can accomplish that without fancy technology." – MAD
---
Sherricka Day 39
Regulatory Compliance Research Coordinator
Aflac
Columbus
When Sherricka Day bought a painting on Craigslist and discovered that the artist was just 10 years old, she began to think about talented children who had no place to display or sell their work.
So Day created Crayons, Crafts and Kool Kids, planning it as a one-time vending fair to provide that outlet. Three years later, Day still nurtures her "kidpreneurs," who sell their work twice a month at summertime Market Days in downtown Columbus.
"This just really encourages them to be creative and to pursue their passions," she says.
She also works in schools and organizes workshops to teach kids about the importance of marketing, saving and giving back to the community – all while holding down a full-time job at Aflac.
She sets the example by volunteering with the Greater Columbus Georgia Young Professionals and other organizations. Day's message is simple but powerful: "There's nothing you can't do." – MCM
---
Matt Dubnik 36
Chief Engagement Officer, Forum Communications
State Representative, 29th District
Gainesville
When Rep. Carl Rogers retired from a 22-year career serving Georgia's 29th District in 2016, Matt Dubnik saw an opportunity to give back. He ran for the seat uncontested, largely due to being well-known for serving the Gainesville community in a number of organizations, including Ducks Unlimited, United Way, Junior Achievement, the Georgia Tech Alumni Network and the North Georgia Hunting Retriever Club, which provides dogs for wounded military veterans.
What's the biggest takeaway from his first year in the House? "At the end of the day, we all realize that regardless of where you're from or what party you're a part of, we're all there for the same reason," he says, "and that's for the betterment of the state of Georgia." – AB
---
Kristi Estes 39
Co-owner and Occupational Therapist
In Harmony Pediatric Therapy
Canton
"I always wanted to be an occupational therapist," says Kristi Estes, co-owner of a Canton-based outpatient pediatric therapy clinic for children with developmental delays. "My grandmother was an occupational therapist – one of the first occupational therapists in World War II."
Estes founded In Harmony in 2007 to address the area's lack of therapy options for kids. In August, Estes closed on a new 4.2-acre plot of land perfect for the growing business and its future programming, like a vocational program for teenagers.
"I always had a passion for running my own business. I always had a passion for helping others," she says. "I just felt like I could make change in this community and make a change with the kids that we serve." – AB
---
John Fuchko 39
Vice Chancellor for Organizational Effectiveness
University System of Georgia
Marietta
Charged with upholding accountability and integrity for the University System of Georgia, John Fuchko has held 20 different leadership positions.
But that's just the start. As a major in the Georgia Army National Guard, he serves as senior intelligence officer, 560th Battlefield Coordination Detachment. Deployed multiple times, he's the recipient of a Bronze Star, a Defense Meritorious Service Medal, two Meritorious Service Medals and three Army Commendation Medals.
Fuchko is the father of 11, yet makes time to remain active in his church and for community service. "We don't have a television, which might be why we have so many kids," says Fuchko, with regard to his time management skills. That dedication allows him to serve at organizations including The HOPE Center, a medical clinic specializing in pregnancy diagnosis and decision support. – KKS
---
Cicley Gay 38
CEO
The Amplifiers
Roswell
Cicley Gay is CEO of The Amplifiers, a for-profit company providing services to support and accelerate growth or to amplify the good, as she puts it, in nonprofits and startups. In 2016, she was named one of 15 participants in Mayor Kasim Reed's Women's Entrepreneurship Initiative, which works with wo-men business owners through early- stage growth.
Ninety percent of The Amplifier's business comes from referrals, which is how they won a contract to assist the WACO Theater Center in Los Angeles, a nonprofit operated by Beyoncé's parents.
Gay "fell into service" as a young mom, serving with Hands On Atlanta through AmeriCorps while earning an educational grant to complete college. "I found myself empowered when I was able to take what I learned or what I've been through," she says, "and translate that into a way to give or help someone else." – PR
---
Donja Gordon-Eubanks 38
Director, Energy Solutions Operations
Allconnect Inc.
Sandy Springs
In a quick 11 years at Allconnect, Donja Gordon-Eubanks has gone from sales agent to director of the company's rapidly expanding Energy Solutions Operations division. She manages teams in Georgia, Kentucky and Utah, helping customers simplify the process of setting up utilities.
A firm believer in giving back, Gordon-Eubanks has participated since high school in activities that raise awareness of domestic and sexual violence. A freelance photographer, her next project will be a pictorial essay.
"I'm merging my passion for photography with my desire to tell the stories of survivors of violence, particularly women of color," she says. "On the entrepreneurial side, I'm all about empowerment. I've started a group with other women of color who are entrepreneurs. We get together, talk about our endeavors; we are the support for each other." – PR
---
Brandi Griffin 38
Senior Marketing Associate of Commercial Energy Efficiency Programs
ICF
Fairburn
When she's not applying her public relations and marketing savvy at ICF, a global consulting and technology services firm, Brandi Griffin serves on the board and as vice president of programs for Women's Transportation Seminar. It's an organization that helps women develop opportunity and find recognition in the traditionally male-dominated transportation industry.
She also serves as volunteer coordinator for Girls on the Run Atlanta (GOTR Atlanta), which promotes the confidence, health and fitness of young girls age 5 through 14 by teaching them the importance of exercise and helping them overcome challenges including negative body image and bullying.
"I wanted to give back to a sport I loved, but more than that I wanted to be around young girls and help them build confidence through exercise," says Griffin, who ran on the track team during her own school years. – TWW
---
Babs Hall 36
Corporate Compliance Officer
Aspire Behavioral Health & Developmental Disability Services
Dawson
Babs Hall's longstanding passion for community service is evident in her career and her volunteer activities. As corporate compliance officer, Hall makes sure Aspire meets strictly defined policies and procedures to best serve 15 counties in Southwest Georgia.
A community volunteer since age 14, she's a founding member of the Southwest Georgia Suicide Prevention Coalition, facilitates mental illness support groups and serves as treasurer for the Georgia Gerontology Society. She also volunteers with Meals on Wheels, Habitat for Humanity and other organizations.
"Giving back to the community has always been a passion of mine," Hall says. "My personal and professional goals are centered around educating our community and providing support resources for those in need." – TWW
---
Venkayla Haynes 22
Student, Spelman College
Student Advisory Committee Member, It's On Us
Atlanta
Venkayla Haynes is proof that experiences do indeed shape your life for years to come. Childhood sexual abuse and a rape in college led her to become an active member of It's On Us, an organization launched by former President Barack Obama and VP Joe Biden to end sexual assaults on campuses. Her leadership landed her an invitation to the White House, and she introduced Biden at a local event.
"It's important to educate people about what's going on in their communities," she says about her advocacy, "so we can figure out ways to improve their lives."
Her experiences also guided her career goal to be a forensic pathologist specializing in rape and sexual homicides. And, when she grows up a bit more, she wants to be U.S. president. – KK
---
Amanda Hollowell 38
Education Specialist
LifeLink Foundation
Savannah
With her job in minority outreach for LifeLink of Georgia, a nonprofit organization that coordinates organ and tissue transplants, Amanda Hollowell helps ensure people get the often lifesaving medical care they need, when they need it. In fact, during Hollowell's tenure (since 2013), LifeLink of Georgia has seen a 20 percent increase in donations.
When she's not educating people about the importance of organ donation, she can often be found donating her time to organizations such as Multicultural Affairs in Transplantation and Girls On The Run. She's also a graduate of the WIN Leadership Academy, a program to develop women leaders in Georgia, and serves as communications director for Georgia's WIN List, the political action committee that recruits, trains and supports Democratic women candidates.
"If you look at [volunteerism] as an experience to feed your soul and yourself, it's a great way to fill that void," says Hollowell. – BW
---
Kaden Jacobs 29
Director of Communications
Richmond County School System
Augusta
Kaden Jacobs grew up with parents who emphasized community involvement and got him started at an early age with tasks such as raking leaves for Habitat for Humanity.
Now a Navy veteran, Jacobs volunteers for the Richmond County Chamber and constantly searches for opportunities to connect the school system and his community.
Recently accepted into Harvard Graduate School of Education's Harvard Institute for Superintendents and District Leaders, Jacobs has a real passion for education. To that end he brought the idea for RPM (Reaching Potential through Manufacturing) to Richmond County schools. Targeting students on the brink of failing, the program joined with an industry partner that provides on-the-job training while students continue coursework toward graduation.
"These were kids that, on paper, did not stand a chance of ever graduating," he says. "We had 24 graduate this year." – KKS
---
Charley R. Johnson 36
Manager, Utilities
Rayonier Advanced Materials
Odum
By day, Charley Johnson manages the utilities department of Rayonier Advanced Materials, manufacturing a chemical used in products people come into contact with every day – "things like LCD screens, shampoo, toothbrushes, pharmaceuticals, paints and sponges," he says.
Away from work, he touches lives in other ways, including serving 17 years as an Odum firefighter, coordinating youth and veterans programs through his local Elks lodge, coaching soccer and softball, and coordinating a national convention for his fraternity alumni.
Johnson, who holds a bachelor's degree (summa cum laude) from Mercer University and a master's from Georgia Tech, says he has always found things he enjoys doing – and has done them. "I am not a person who sticks to myself," he says. "I like working toward a common goal with like-minded folks and making an impact." – MAD
---
Amy Kane 31
Director of Continuing Medical Education
American College of Rheumatology
Brookhaven
Since she graduated from college, Amy Kane has embraced a career in nonprofits, which she has pursued with passion and gusto. In addition to serving as executive director at Ian's Friends Foundation, an organization that supports pediatric brain tumor research, she was with the American College of Rheumatology for eight years in various positions and has recently returned as director of continuing medical education.
She is also active as a volunteer with Junior League of Atlanta, where she's VP-elect of internal operations, and at the Georgia Association of Association Executives, where she is the two-time recipient of the group's top volunteer committee leader award.
In part, her efforts are to be a good role model for her two daughters.
"A lot of what I do is to set a good example for their future," she says. "When they're older, I want to make sure they feel empowered to rule the world." – BW
---
Anasthasie Liberiste-Osirus 35
Associate Director, Alliance for Catholic Education (ACE) Haiti
University of Notre Dame
Lawrenceville
With more than a decade in the education field, Anasthasie Liberiste-Osirus has become a literacy force, first as a K-12 teacher in Georgia, now as a literacy specialist working in Haiti, where she is from.
Through ACE Haiti, a program of the University of Notre Dame, Liberiste-Osirus teaches the teachers in Haiti, with the goal of ensuring more kids learn to read and write.
She also volunteers during the summer months offering teacher training in Haitian schools and orphanages, solicits donations of school supplies and invites other Haitian-American professionals to join her in Haiti.
"Being able to give back to my community in this small way, I'm just so grateful," she says. "It's one of the biggest things you can do in an impoverished community." – BW
---
Carlton G. Maye Jr. 34
Civilian Contract Specialist/U.S. Department of Defense
Instructional Support Coordinator/Central Georgia Tech
Funeral Director/Jones Brothers Mortuary
Macon
Carlton Maye was understandably heartbroken when his score on a science test kept him from graduating high school with his class. But heeding his mother's advice – "giving up is not an option" – he went on to earn his GED, high school diploma and multiple degrees.
Today he holds as many jobs as he does degrees – with the U.S. Department of Defense, Central Georgia Technical College and Jones Brothers Mortuary. His life is one of service, he says, whether he is serving his country, his students or families in his community in their time of greatest sorrow.
When people ask how he does it all, he answers, "God has given me the right task and the right people and the durability to maintain it all. I love what I do." – MAD
---
Christopher McCord 39
Director, Men in Motion
Alumni Ambassador, Moving in the Spirit
Atlanta
Born prematurely to a disabled mom, diagnosed with a learning disability at age six and raised in a drug-infested neighborhood, Chris McCord has had more than his share of struggles growing up. But his life took a positive turn when he saw a performance by Moving in the Spirit, a program for underserved youth that combines dance with leadership development. He was so moved that, despite the taunts of friends, he tried out and was accepted for the troop.
More than 25 years later, McCord holds a business degree from Georgia State University and is paying it forward, serving as an alumni ambassador for the program. He also founded an off-shoot, Men in Motion, for boys ages 8 to 13 with choreography and activities specifically designed to engage that age group.
"I believe in the power of youth development," says McCord. "Anything can happen when you have strong support." – MAD
---
Bob Mikell 32
Attorney
Brown Rountree PC
Statesboro
While serving as board chair of the Downtown Statesboro Development Authority, attorney Bob Mikell led a redevelopment effort for an underutilized corridor of the city, which became known as the Blue Mile.
The plan placed third in an America's Best Communities competition, securing more than $1 million for the project.
Mikell also led a successful effort to launch the Statesboro Family YMCA, which opened just last month, and he serves as the chair of its board of managers. A graduate of Georgia Southern, he was named the College of Liberal Arts and Social Sciences Alumnus of the Year for 2017.
"I consider everyone in Statesboro as kind of my family, so I do what I can to make it the best place possible for everyone to live," he says. "Like a lot of people in Statesboro, we want to create a place that our children will want to come back to after finishing their education." – TWW
---
Keith Miller 28
Program Director, Block by Block Program
Deep Center
Savannah
With his Southern roots, it's no wonder this Savannah native values the art of storytelling.
"A lot of schools and institutions see students needing to be taught to do something: to be smart, to reach a particular goal," says Keith Miller, program director at Savannah's Deep Center, which was founded to counteract poverty's effects on literacy with writing workshops and other programs. "But we think that the youth come to the classroom already full of stories, and our job is to help them figure out the tools of conveying and channeling those stories."
Through Block by Block, the Deep Center's advanced high school creative writing program, Miller helps students think critically about their experiences to both better understand the world around them and re-imagine the change they want to see in it.
The Gates Millennium Scholar and Northwestern University alum also tells his own fearless stories through personal projects like #WeSmileToo and the Pillow Project, which aim to deconstruct ideas about race and masculinity. – AB
---
Roshawnna Novellus 38
CEO
Novellus Financial
Atlanta
Women need to know how to manage money. Roshawnna Novellus remembers that advice from her mother when she was just a child.
She certainly took it to heart. Novellus had a stock portfolio at age 18 and her first house at 23. She applied for more than 200 scholarships, earning $600,000 toward her studies. She has a doctorate in systems engineering from George Washington University in Washington, D.C., and started her own business when she was 30.
At Novellus Financial, she provides financial advice to business owners, but her passion is helping women become successful entrepreneurs. She's a member of the Atlanta Commission on Women; she founded Bootstrap Capital to link startups with capital; and now as founder of EnrichHER, she hosts conferences, pitch competitions and online courses to connect women with capital.
"I would like to give funding to as many deserving women-owned businesses as possible," she says. – MCM
---
Jessica Nunan 38
Executive Director
Caminar Latino
Tucker
Jessica Nunan is dedicated to social justice and increasing awareness about the impact of violence on Latino families. She uses her experience in an abusive relationship as a college student to help Latino families avoid, escape or recover from domestic violence, educating students on healthy relationships. "I had a professor who really encouraged me to use my experiences in a way that could help others," she says.
Nunan is committed to providing opportunities for and helping erase stereotypes of Latino youth. She also serves on an advisory committee for Sesame Street, where she is able to share the voice of the Latino community. In addition, she facilitates a group for Latino youth who've witnessed violence. – KKS
---
Adria Perez 37
Partner
Kilpatrick Townsend & Stockton LLP
Atlanta
At her firm, Adria Perez specializes in government enforcement issues and white-collar criminal defense. In addition, she is the driving force behind the firm's Latin America practice, coordinating diverse teams across the U.S. to help clients with Latin American interests.
Along with volunteering her legal skills, she is past-president and a board member of ToolBank USA, which rents tools like hammers and ladders to nonprofits to help equip their own volunteers. In 2015, she co-founded the Georgia Latino Law Foundation to help Latino students gain career opportunities and internships.
"It's imperative that you're out there in the community learning from others and helping others," Perez says. "Because that's what's going to make you a better lawyer and a better person." – BW
---
Christina Purkapile 37
Cyber Account Lead – Georgia
Booz Allen Hamilton
Evans
When she's not leading her analytics team at Booz Allen Hamilton (BAH), Christina Purkapile can be found supporting civic organizations, veterans and the local computer programming community. A U.S. Army veteran, Purkapile began working for BAH in analytics a decade ago. During that time, she earned her master's degree in counterterrorism and terrorism studies with an emphasis in cybersecurity and extremist organizations.
Purkapile is spearheading efforts to create a hackerspace at the Clubhou.se, a division of Hack Augusta Inc. "I'm supportive of innovation and new thought," she says. "No idea is too crazy, and if anyone tells you no, find a way to make it happen."
She also heads up BAH's Salute Military Golf Association Tournament, raising funds for veterans to learn to play golf around their physical limitations. – PR
---
Jennifer Reynolds 36
Special Education Teacher, Department Chair
and Professional Learning Teacher Leader
Cherokee County School District
Canton
The 2017 Teacher of the Year for Teasley Middle School, Reynolds recently presented her research results on developing collaborative relationships to support parents of children with autism spectrum disorders at a national education conference.
"I think it actually chose me," she says of the special education field in which she's worked for the past 12 years. "I felt I had something that could help those students progress. You really have to have a heart for it."
Last year she helped charter and serves as an advisor for the Canton Rotary Club-sponsored Teasley Middle School Interact Club, organizing middle school students to do community projects, promoting service above self. She is a recognized leader with Service League of Cherokee County, raising money to help children in need in the community. – KKS
---
Jose Rodriguez-Alvarez 38
Substation Department Manager
Burns & McDonnell
Atlanta
At age 32, Jose Rodriguez-Alvarez was selected director of engineering at a small firm. Today he oversees 20 projects at Burns & McDonnell, an international engineering, architecture, environmental, consulting and construction firm. "Since I was a little kid I was interested in engineering and in power, taking things apart to see how they worked," says the Puerto Rico native.
Much of Rodriguez-Alvarez's free time is spent mentoring and emboldening students to pursue careers in STEM (science, technology, engineering and math) disciplines, as a volunteer coach for youth soccer and baseball, and participating in his firm's community projects, including local food banks and the Atlanta Ronald McDonald House. He also helped establish diversity committees within two large utility companies, leading efforts to bring a deeper understanding to and awareness of the importance of diversity. – KKS
---
Wm. Parker Sanders 39
Partner
Smith, Gambrell & Russell
Atlanta
As an attorney, Parker Sanders serves clients at Smith, Gambrell & Russell – where he's worked since he held a summer position in law school. He's in the litigation group, has worked with Atlanta Legal Aid Society to represent low-income clients in civil disputes, and was appointed to the Criminal Justice Act panel for the Northern District of Georgia to represent indigent criminal defendants.
"When you're really surrounded by people who you respect and you feel like they're genuinely interested in doing the right thing by their clients and by you and by the firm," he says of SGR, "it's a wonderful ride."
But as great as his day job is, at the end of it, Sanders is ready to go outside. He's on the board of the Grant Park Conservancy, where he spearheaded the first barbeque festival fundraiser. He also secured grant money for the installation of message centers at the park and designed and installed a tree ID trail. – KK
---
Azadeh Shahshahani 38
Legal and Advocacy Director
Project South
Atlanta
A native of Iran, Azadeh Shahshahani's degrees in Near Eastern and Middle Eastern studies, along with a law degree, led her to her current position with Project South, an Atlanta-based organization working for social justice.
Shahshahani is co-chair of the U.S. Human Rights Network Working Group on National Security and chair of Georgia Detention Watch, which advocates for immigrants who have been detained in the state. She previously worked with the American Civil Liberties Union (ACLU) of Georgia.
"I work on defending and protecting the rights of Muslim, Middle Eastern, South Asian and immigrant communities in Georgia and across the South," she says. "I feel there is an urgent need for this. I draw energy from working with these communities and winning victories as a movement." – TWW
---
Chris Sizemore 36
Co-founder and CEO
Creative Mischief
Smyrna
Despite the rocky 2008 economy, Chris Sizemore and his business partner founded their marketing agency, Creative Mischief, discovering clients were still willing to invest in imaginative ways to get their message out. It's a vision that paid off with more than 280 percent growth over the last four years.
"Sometimes that meant pulling back on traditional advertising," Sizemore says, "But we're a strong digital firm, so we focused on their web presence."
Two years ago, Sizemore began an awareness campaign for the Safe Harbor Fund for Sexually Exploited Children, a state constitutional amendment that passed overwhelmingly in November 2016. He built the campaign's message around the statistic that sexual trafficking of children has been reported in 63 percent of Georgia counties.
"We've won awards for other clients, but to know we made a difference and we continue to fight and help organizations, to me that's awesome," he says. – PR
---
Michael J. Solomon 38
Chief Operating Officer
Senior Citizens Inc.
Savannah
For Michael Solomon, giving back was always a given. So when a work promotion brought him to Savannah, with no friends or family nearby, his next steps were obvious.
"I didn't know anybody," he says. "But the one thing I did know was United Way."
Solomon began volunteering with the organization immediately, pairing his corporate banking career with increasing responsibilities at the nonprofit.
And people noticed. Leaders at a local nonprofit, Senior Citizens Inc., an umbrella organization providing services to older adults, admired his intelligence, diligence and compassion and asked him to join the staff as chief operating officer. He had to choose: banking or nonprofit work.
"I made the absolute right decision," he says. "I get to help people every single day. I get to change their lives, but the reality of the situation is that they change mine more." – AB
---
Travis Townsend 38
Founding and Managing Partner
Townsend & Lockett LLC
Atlanta
Travis Townsend discovered a niche and filled it, co-founding his law firm, Townsend & Lockett, to serve small to mid-sized companies that were priced out of larger firms but still needed solid business representation.
"We allow smaller companies to compete with larger companies using the same legal weaponry at their disposal when negotiating and competing for business," he says. "I do what I can, in any way I can, to put everyone on a level playing field."
Recognizing a need, Townsend wrote his book, When the Cops Come Knockin', explaining criminal law in simple terms. He recently created a nonprofit, Making a Future Defined by Excellence and Thought (MAFDET), to provide opportunities to minority youth and lower-income individuals through education and connection in four key areas: criminal law education and crime prevention, STEM education, corporate socialization and cultural exposure. – PR
---
Bethany Usry 39
Vice President, Economic and Talent Development
Greater North Fulton Chamber of Commerce
Alpharetta
What's an economic development job really like? Well, according to Bethany Usry, in North Fulton it's a marketing/sales and relationship-building job. And that's what makes her good at it. "The part I always liked," she says, "was building relationships."
And she's been quite successful at it. She's part of the team that helped bring Mercedes-Benz to North Fulton, and she has her handprints all over Alpharetta's Avalon development. She's also involved in the community in other ways, including work with the Atlanta Regional Commission, where she's on the steering committee for developing the ARC's next strategic plan.
But, it's in her outside-of-work community service where she really connects with people. Using what she calls her passion for finance, she works with small groups at her church to help people with budgeting and financial planning. – KK
---
William S. Wade 39
Senior Vice President
Southern Bank & Trust
Dawsonville
Long before Will Wade had children of his own, he was an advocate for education. As the son of two former educators, he feels a strong commitment to raising the educational bar in the town where he grew up and attended school.
Wade has served 13 years on the Dawson County Board of Education and is the current president of the Georgia School Boards Association. He is also an active Rotarian and vice chair of the Georgia Mountains Workforce Development Board.
By day, the man who strives to ensure the dreams of Dawsonville's children come true also helps nurture the dreams of their parents. As a banker, he's assisting local families and businesses to thrive.
What drives him to improve his community? "I like to see how things work," he says, "and figure out a way to make them work better." – KK
---
Yvonne Williams-Wass 33
Counsel
Eversheds Sutherland
Atlanta
Yvonne Williams-Wass employs her legal expertise in the areas of corporate investigations and regulatory response work. But it's her pro bono work and community involvement that fuels her passion for uplifting women.
In the past two years, she's served as council on more than 20 pro bono cases, most of them representing victims of domestic violence. She's a director of Planned Parenthood Southeast, the Partnership Against Domestic Violence and Girls on the Run Atlanta, and also mentors others through organizations like Big Brothers Big Sisters and Everybody Wins, which focuses on childhood literacy.
"I have had so many opportunities in life because other people have provided me strength when I needed it," she says. "[I think that] someone who has benefited from any type of assistance or any type of support, you can only ever turn around and lift up the person behind you." – KK
---
Aisha Yaqoob 23
Policy Director
Asian Americans Advancing Justice Atlanta
Duluth
Aisha Yaqoob has a passion for upholding the rights of traditionally under-represented people in the United States. As policy director at Asian Americans Advancing Justice, her goal is to help people fulfill their goals, including becoming a citizen, voting or running for office.
It's a position she earned after starting her own nonprofit organization – the Georgia Muslim Voter Project – to inform and encourage the Muslim community during the 2016 election cycle. Yaqoob also volunteers with the Atlanta March for Social Justice and Women, and Project Hope Atlanta, which offers support to refugees, and works to register voters and help people get to the polls.
"[I] help make sure [our organization is] doing what we can for voting rights [and] economic development," she says. "We work together and really have an impact in our local communities." – BW