The Braves' New World
The $1.2-billion SunTrust Park and The Battery Atlanta complex is a template for stadiums of the future.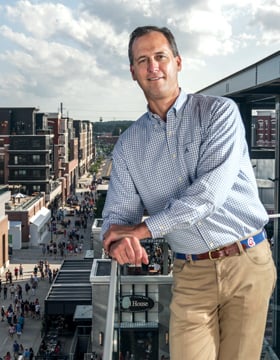 Derek Schiller recalls the moment when plans for the new Braves stadium and the adjacent mixed-use elements – retail, residences, restaurants, hotel, office buildings – all came together.
"We knew the ballpark was going to be fantastic," says Schiller, Braves president for business. He is seated in a conference room with a fine view of the park, which he obviously relishes. "We master planned the layout with all the other parts that make up [The] Battery Atlanta. There was a moment in time when we landed on the location of the ballpark within the real estate as well as how the other buildings were oriented, where we said, 'That's it. That's perfect.'"
It's not surprising that the defining moment happened at the drawing board; nothing about the venture was left to chance. SunTrust Park and environs is far more than a place to watch a game; it is a massive economic development project. The stadium itself represents a $672-million public-private partnership with Cobb County; the Braves and others are privately funding The Battery Atlanta development to the tune of $550 million.
It's baseball, to be sure: "There's nothing here that doesn't fit a baseball stadium," Braves Chair and CEO Terry McGuirk tells reporters a few days before the ballpark opened. "There are no other masters served other than to make it the best that ever was."
Braves Vice Chair John Schuerholz describes the clubhouse, including medical and training facilities, as "state of the art, topnotch" and says of the amenities, "This is all a by-product of input from the players."
But this is business, too. Every aspect was carefully and thoroughly planned, so the result more than meets the team's expectations, from the sightlines in the stadium to the taste of the hot dogs to the relative ease of arrivals and departures.
Timing was a factor: the recession was in the rear-view mirror; the city of Atlanta had committed resources to a new Falcons stadium; and Cobb was ready and waiting for an economic shot in the arm.
"I think all of us are excited, certainly proud," Schiller says. "We have a lot of work to do yet, especially as it relates to the continued development of The Battery Atlanta. But we are thrilled with where we are at this point in time. It's absolutely everything we had hoped for, maybe even a little more."
---
More Than Baseball
The decision to become developers and landlords was a new direction for the Braves organization, which has been owned since 2007 by Chicago-based Liberty Media, a mega-company that also owns Formula 1 motorsports, QVC and Evite.
The team's announcement in late 2013 that it would leave Atlanta for Cobb County and a site at the intersection of I-75 and I-285 was a shock, especially to long-time Braves fans – many of whom felt betrayed. But it was clear to the organization that the fan base was north of the city.
Schiller says two factors drove the decision to move. "First, understand where we've come from at Turner Field. There wasn't a whole lot around Turner Field; although we were close to downtown, it's not really connected. You wouldn't walk from your downtown hotel or business. You'd still have to take your car and drive or take a cab."
Then, he says, "There was the recognition that going to a baseball game is an expanded social experience, so without having things to do before and after at Turner Field, we always knew we were missing something."
SunTrust Park opened March 31 of this year, in time to host a pre-season exhibition game. The new ballpark has 41,000 seats, fewer than Turner Field's 49,586, and 14,000 parking spaces, more than the old facility's 8,700.
"It's just going to change the fan experience a lot," says McGuirk.
The adjacent Battery Atlanta, still a work in progress, has chef-driven restaurants, bars, retail shops – many of them sports-themed, like the Mizuno shop – and a live performance venue, the Roxy Theater. Plans call for 500-plus apartments, condos, a luxury hotel and five Class A office buildings.
"The concept of extending our experience for our Braves games really started about 10 or 12 years ago at Turner Field," says Schiller, "where we longed for having things that permitted people to come earlier, stay later, extend their overall experience, make it better."
The team was unable to fulfill that vision at its old home. "When we were trying to work that deal at Turner Field," Schiller says, "that was one of the first things we were trying to do – acquire the real estate around there so we could build those things – and ultimately not being successful, which led us to go looking around and ultimately landing on this particular deal" in Cobb County.
"The importance of the experience pre- and post-game cannot be understated in what we set out to do at the very beginning of this project," he says. "It was the fundamental goal of our organization to build that."
The team's study of sports facilities, old and new, found the most successful include entertainment and what Schiller calls "unique destination appeal." He mentions Wrigley Field, Fenway Park and Denver's Coors Field.
"All that led us to understand that if we were to acquire a bigger piece of real estate, curate that with mixed-use development, various components, everything from entertainment, restaurants, bars to a live/work/play kind of environment, [we'd have] something that would extend and create a destination for game days as well as non-game days."
Nonetheless, there is considerable risk, Schiller says. "We believe we've minimized that risk because we have a pretty unique and interesting anchor tenant in SunTrust Park. We've made a decision as a business to say we're going to add a new revenue stream in the form of real estate development."
And, of course, there is the game itself and the team that plays it. The Braves electrified Atlanta and much of the Southeast in the 1990s, with five National League pennants and a World Series win. But the last postseason appearance came in 2013.
"The product on the field is the No.1 driver in why fans come out to the ballpark," Schiller says. "Our goal is singular. Our goal is to win the World Series. We have a lot of other business things going on, but the ultimate goal of this organization is a winning team."
---
New Model
A stadium with accompanying development is not a new concept, but the scale and partnership arrangements are different for this one. It is likely to be a model for future sports facilities.
"I would say we've actually taken some of what we've seen done elsewhere and expanded that significantly," Schiller says, "and we definitely do believe it's a template."
He references Busch Stadium in St. Louis, where he says some 120,000 square feet of development was done over eight years. "We've done 1.5 million square feet in under three years. We've basically jumped into the pool with both feet into the full deep end."
He and others say this is changing the way new stadium projects get done – in terms of how teams and communities work together and how projects are financed.
"This is a model any public entity around the country could look at," Schiller says – two models, really, the public-private partnership for SunTrust Park and the privately developed The Battery Atlanta.
"You really have to look at the project as one big umbrella, one big project. There's the opportunity for building a community, building a destination and ultimately a reward – whether tax dollars, jobs or other kinds of economic indicators."
Georgia State University's Tim Kellison is an assistant professor of sports administration who studies public policy and stadium financing and heads the school's Sport and Urban Policy Initiative. He says aspects of the SunTrust Park development make it unique.
"But in other ways, it's reflective of a recent phenomenon," he says. "No longer are teams and organizations and policymakers just kind of assuming that when you build a new ballpark or football stadium or basketball arena that the surrounding development is going to occur on its own or that it's going to happen naturally or that the free market will drive commercial activity around a sports facility."
---
The Deal
The Braves organization and Cobb County negotiated in secret for several months before announcing the move and plans for the new stadium site.
The win for Cobb did not come cheap – the county is issuing $397 million in revenue bonds. Not all Cobb residents, baseball fans or not, were happy about the money or the secrecy. Former Cobb Commission Chair Tim Lee, a prime negotiator, was voted out of office last fall.
Nonetheless, the completed project is a game-changer – for the immediate area, for the county and perhaps beyond. Schiller firmly believes Cobb County taxpayers are getting a good deal.
Though not everyone agrees, as costs to county taxpayers continue to rise. The Braves, valued at more than $1 billion, have billed the county for $14 million in transportation costs that came to light late last year as well as for traffic control outside the stadium on game days, to the tune of $900,000 per year.
But many affiliated with the project say it's all worth it.
"We believe this is going to go down as one of the greatest public-private projects in all of professional sports," Schiller says. "It's acted as an economic engine for this submarket and created a terrific growth for other businesses."
Figures from the Cumberland Community Improvement District (CID), which encompasses SunTrust Park, show $5 billion in total investment within the district from 2013 projected through 2018: $2 billion in public infrastructure funding and $3 billion in private development, including commercial and residential.
Total value of properties sold since 2013 is $2.1 billion, and the growth in real estate/tax digest since 2013 is $673 million.
Kellison sees the county's embrace of the Braves project as driven by some of the same factors that have contributed to the cityhood movement, as suburban communities seek to establish their own identity separate from the city of Atlanta.
"Teams and franchises will be interested in this model," Kellison says. "It's a little unique in the sense of the Braves heavily investing in developing the area around the stadium. That's a good indicator these things don't happen on their own; they require planning on the front end. Obviously they are investing a lot, but they also benefit heavily from substantial public investment, which gave them some room to maneuver a little more."
Kellison, however, has doubts about Cobb's return on its spending for the project, noting that big stadiums in general have a history of unkept promises to their communities. "Obviously, it depends on how much money is invested" beyond the county's and the team's outlay, he says. "I think the important point is that some of this activity would have occurred anyway."
---
Response and Impact
"The most common comment I hear is 'Wow!'" says Bob Ott, the Cobb commissioner in whose district the new stadium sits. "Overall, people are surprised and impressed by what they see. When they get out there, everything is much more than they anticipated and expected."
He and others note that parking and traffic surprised a lot of people who expected the worst.
"We studied this area of town very closely," Schiller says. "We worked closely with a team of experts that included civil and transportation engineers. One of the things we professed from day one is the accessibility of the site. There are 14 ways in and out of here. When the first game happened, everybody said it was so easy to get in and out, and they were kind of surprised. For us it was an affirmation."
What the ballpark project has really done, says Malaika Rivers, the Cumberland CID's executive director, "is accelerated or catalyzed the growth we always knew was coming. The Braves have certainly been the catalyst in terms of attracting development to the market, but something else took place before the Braves even announced – that was getting out of the recession.
"During the recession, no multi-family residential was being constructed," she says. "Because of that pent-up residential demand and the fact that real estate trends had moved toward these more compact, walkable areas, a community like Cumberland that was very job-heavy and office-heavy was ripe for adding a residential component to the market."
With the addition of restaurants and bars, she says, "People are looking at us as a destination – not just where you spend your nine-to-five hours, but a place where you spend your leisure time."
---
Image Changer
David Connell, Cobb Chamber president and CEO, says the county was ready for some excitement. "About 2012, we recognized that the demographics of our community and workforce were changing. Cobb was not a cool place for young people to live. Cobb was a fantastic place for families, but among young people, not a place to hang out with your friends. We needed to change the image of our community – then the Atlanta Braves and The Battery came into our world, and it has never been more different."
In fact, the Cumberland area is becoming something of a millennial magnet; the Cumberland CID says the area has seen a 32 percent increase in its millennial population in the last few years, the highest jump of any community in Metro Atlanta.
Connell is especially enthusiastic about the stadium's effects on Cobb schools. "Over the next 10 years, the project will return $120 million just to public schools," via tax revenues.
The development came at the right time, he says. "It changed everything. Property values since they announced have doubled. Look at what's already been constructed in terms of apartments and condos and what's under construction and what's in the pipeline. Everything in the county is better, but ground zero is around the stadium, within a three-mile radius."
The chamber's senior VP for economic development, Brooks Mathis, says the project and its new office towers are especially valuable for bringing in new business. "We had not had a new Class A office building for more than a decade."
"We needed a momentum generator and something to bring the younger generation back," Connell says. "The Braves were the catalyst to create excitement, energy – it's a marketing project for Cobb County. People are flocking here. They want to invest here. It's just a hot market right now. We've got momentum."
---
Changes Ahead
Most people who are paying attention see big changes coming for Cobb, with the Braves development playing a role.
"Historically," Connell says, "Cobb County was defined by the Bell Bomber plant built in the '40s," the facility that became home to Lockheed-Georgia, now Lockheed Martin. "This might be bigger."
Certainly the population will be younger, more affluent and more diverse – with more challenges to face, like the need for more and better transit options.
Schiller sees possibilities well beyond baseball. "One of the things I believe is that this project will ultimately transform Atlanta and create a sense of a spirit that should exist amongst all the communities that make up all of Metro Atlanta," he says. "We really believe this project will reshape Metro Atlanta and ultimately create a thinking that all of Atlanta needs to work together to create a better community. We believe we are an important component."