Big Ideas in Action
A visionary leadership program is bringing a fresh eye to communities around the state.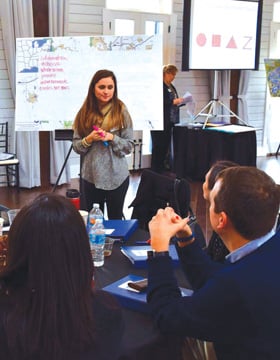 When the group of Young Gamechangers comes to your town, you can bet that good things are going to happen. A leadership program of the statewide nonprofit GeorgiaForward, it's not just about networking and recharging participants' professional batteries – it seeks to strengthen communities across Georgia, unite the state and create a talent pipeline of young, forward-thinking people.
"We are very proud that every community we have worked in has implemented at least one, if not more, of our recommendations," says Kris Vaughn, executive director of GeorgiaForward. "Not only are you coming in and making a difference in the host community, but you're meeting other emerging leaders from across the state and you can't help but find we all have the same struggles throughout Georgia."
GeorgiaForward was founded in 2010, and it initially hosted two-day conferences in communities with both elected and non-elected leaders to talk about the problems facing the state.
"GeorgiaForward was created to talk about commonalities among communities and what was happening in the state," Vaughn says. "The idea was how can we come together as a state and understand that Georgia is so diverse and so unique, and how all the parts fit together and how that makes us successful and stronger. We all rise or fall together."
After two years of conversation, the Young Gamechangers program was created to turn those conversations into action.
"Nobody was having this conversation in a futuristic way," Vaughn says. "We want to be the convener of these leaders who care about the future of Georgia over the next 20 or 30 years."
---
Master Plan Foundation
Young Gamechangers chose Americus and Sumter County to be its first host community in 2012. The program brought 25 young professionals from across the state – half from the community – to the southwest Georgia town to tackle persistent challenges faced by the area. Young Gamechangers are between the ages of 24 and 40, and each class works for six months to generate solutions in the form of "big ideas" and recommendations for the host community.
"We [GeorgiaForward] work with a steering committee from each community to come up with challenge questions," Vaughn explains. "The Young Gamechangers meet three times over the course of the program; two days in opening session so they get a broad overview of the community. We don't tell them what the challenge questions are until the second day because we want them to keep an open mind and learn as much as they can about the community as a whole."
The Gamechangers then rank the topics and divide into groups, with one-third of each group from the local community, one-third from Metro Atlanta and one-third from greater Georgia. The top 10 best ideas are whittled down to the best five ideas halfway through the six-month program, at which point they are shared with community leaders.
Ultimately, the top five ideas are narrowed down to three, then each group works independently to compose complementary reports on the separate questions, the end result of which is a cohesive report with 12 recommendations.
"We're only as impactful as the ideas that are implemented," Vaughn says. "The report includes things like the scope of the project, an action timeline, then potential funding sources, likely partnerships, measures of success and what the impact will be. We strive for these to be big, out-of-the-box creative solutions."
In Americus, the Young Gamechangers recommendations were used as the foundation for a downtown master plan. Community leaders also implemented a bike share program that is active today.
---
Creating a Destination
The changes in Dublin and Douglasville – the second and third cities to host the Young Gamechangers, respectively – have been even greater.
"The Young Gamechangers program is a singular opportunity to gain insight into your own community from the external perspective of incredibly plugged-in millennials," says Kali Boatright, president and CEO of the Douglas County Chamber. "Many times, we are mired in our own challenges and time constraints and can't see beyond our own lenses. Young Gamechangers see beyond the obvious into the 'what if' and allow us to get excited about our own community in a new way."
One of the recommendations Douglasville received from the Young Gamechangers was to capitalize on the county's wide-open spaces, such as Sweetwater Creek State Park, Boundary Waters, Dog River Park and areas donated to the county by the Southeastern Trust for Parks and Land.
"Douglas County has over 8,000 acres of dedicated outdoor recreation space, and that's not athletic fields," says Breezy Straton, one of Douglasville's local Young Gamechangers and Douglas County Economic Development Authority project manager. "It's passive parks, open land, true park-type acreage, and the thing is each of those are owned and managed by various entities and marketed as individual destinations. Our recommendation was why don't we bring all of those entities together and market Douglas County as Metro Atlanta's outdoor destination."
The group coined the phrase Explore Douglas for the new initiative.
In an effort to continue the momentum started by the Young Gamechangers, local participants formed their own 501(c)(3) nonprofit, the DC Gamechangers. Straton serves as the inaugural president of the DC Gamechangers.
"We are the first group that was created whose total mission and focus is to implement the recommendations made by the GeorgiaForward Young Gamechangers," Straton says. "We're working to align the Young Gamechangers' recommendations with the community and economic development strategic plan recommendations, so there's a lot of different folks in our community working toward the same goals with a different perspective."
Last month, the DC Gamechangers held an event officially launching its nonprofit status. The get-together at the Cultural Arts Council also served as the group's first fundraiser.
"Some of the Young Gamechangers' recommendations will require funds in order to implement them, which is why 501(c)(3) status was necessary so we can accept donations," Straton says. "Our goal is to be engaged in what's going on with our community in various aspects, and when something is occurring that aligns with one of our recommendations, then we will champion what's happening in the community in order to move whatever's going on forward. We will take the lead on some projects and be the driving force, while on others we will partner with other organizations like tourism and help when necessary."
Last fall, the DC Gamechangers formally transferred ownership of Explore Douglas, which was renamed Naturally Douglas County, to the Douglas County Tourism Department.
"[Last year], the Douglas County director of tourism came to us and said, 'I love your Explore Douglas plan. Can we partner to implement that recommendation?" Straton says. "Because she had tourism dollars to put behind it, we were able to put fantastic [park land] into one product and market that to the Southeast in regional publications. It's really nice to see our recommendations coming to fruition."
"We could have spent thousands of dollars on research and still not have developed an idea as viable as this one presented by the Young Gamechangers," says Colin Cash, director of tourism for the county.
---
The Ripple Effect
To be selected as a Young Gamechangers host community, there is an application process, which requires a letter outlining the community's challenges signed by five community leaders, as well as a monetary commitment of $50,000, up to half of which can be in-kind donations for transportation, food and accommodations.
"We are looking for communities that are good fits for us, where it's a community that has challenges, but that it's realistic to think a group of people who aren't familiar with it can come in and make recommendations within six months," says GeorgiaForward's Vaughn. "We're looking for a community with challenges that when solved, have a ripple effect throughout the community."
For Dublin, that ripple effect is emanating from downtown to the banks of the Oconee River.
"The Young Gamechangers is one of the best programs I've ever been involved with," says Rebecca McWilliam, director of tourism at the Dublin Convention and Visitor's Bureau. "They took the momentum that existed in Dublin and gave us a game plan."
In April, the city unveiled its new Martin Luther King Jr. Monument Park as a gateway to downtown Dublin. The park features a 54' 7" wide by 10' high mural of a young girl representing Dr. King's vision for peaceable change in the future.
"MLK Monument Park is one of the major gateway projects we've finished since the program was here in 2014," McWilliam says.
Other work completed based on the Gamechangers' recommendations includes the historic preservation of four houses bordering Stubbs Park that are now being used to house city services. One house has even been set aside as an incentive for hiring a bicycle police officer who will live in the home and patrol downtown. Stubbs Park will also be the location for a grant-supported music festival.
Dublin has now completed a master plan that includes the Young Gamechangers' recommendations for a bike path to the river and the creation of a Riverwalk.
"We have no recreational access to the river in the city of Dublin," McWilliam says, noting the passing of a Special Purpose Local Option Sales Tax (SPLOST) in March that will provide funding for the projects in 2018. "As these projects grow, they seem to get even bigger and ever more wonderful. I can't wait to see what happens with the bike path and Riverwalk."
Another recommendation from the Young Gamechangers: a downtown hotel and conference center. The Dublin Downtown Development Authority has since received a $10,000 grant from an anonymous source through the help of the Tourism Division of the Georgia Department of Economic Development for a feasibility study.
"The Young Gamechangers did such a good job here. It's amazing how invested they were in Dublin," McWilliam says. "These were 40 young professionals looking to make a difference, and they did."
Since the first program in Americus, the Young Gamechangers has grown into two programs a year with 50 participants each. The spring 2017 class wrapped up its work in LaGrange and Troupe County in June, and the program heads to Milledgeville this fall, when the spring 2018 host city will be announced.
As the Young Gamechangers continue their successful ways at the local level, this year, GeorgiaForward is bringing back its original forum format to begin those larger conversations once again about the future of Georgia.
"We're about creating and strengthening communities, uniting our state and creating a talent pipeline within Georgia," says Vaughn, of GeorgiaForward, "and the Young Gamechangers alumni are helping lead this conversation."
---
Think your town could benefit from the Young Gamechangers?
Contact GeorgiaForward at 478.550.2185