Columbus|Muscogee County: The Place to Be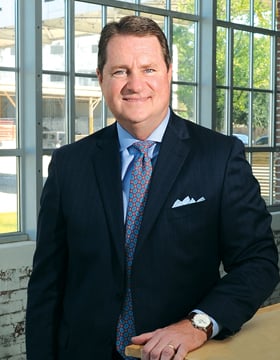 The West Georgia city of Columbus is rolling in opportunities on the banks of the Chattahoochee River and making ambitious plans for the future. It has a bold new initiative that it calls Columbus 2025 to drive economic development, build a well-trained workforce, encourage entrepreneurs and the arts, and reduce poverty.
Here they think big, and many believe there is no better time to do so than now.
"The good news coming out of the research plan is we learned some things that you wouldn't have known without doing it," says Brian Anderson, president and CEO of the Greater Columbus Georgia Chamber of Commerce. "We had not grown from a population standpoint nearly at the rate of our peer cities. We found we had a pretty good school system, but our educational attainment wasn't where we needed it to be to sustain our economy. We found out obviously that like many Southern cities, we have a higher index of poverty that wasn't as well known before the plan as it is now."
One of the biggest goals was to align the city's educational assets – public schools, technical college and university – much more deliberately toward educating workers for the kinds of jobs the region needs.
"A lot of money was spent [in past years] trying to turn the community around, but before we spent any more we wanted to make sure we were putting that investment toward leveraging the best opportunities and the places that needed focus," says Anderson.
---
Investing in Expansions
The need to prepare workers for Columbus and Muscogee County employers was given added impetus by a recent upsurge in both private investment and job creation.
Just last year, new investments by companies totaled $123.8 million and created 870 new jobs, says Bill Murphy, the chamber's executive vice president of economic development and workforce. Of the seven announced projects, all but two were expansions by existing industries. That was good, but 2017 got off to an even better start when longtime local employer Pratt & Whitney announced its own $386-million capital investment and the addition of a whopping 510 jobs.
"Last year was above what we typically see in new announcements of new business," Murphy says. "This year we have blown that out of the water with the announcement by Pratt & Whitney."
The company will expand its existing Columbus Engine Center to increase parts production and maintenance services and reduce costs for new and existing engine programs. The investment includes the purchase of automated machinery, equipment upgrades and construction of two new buildings on the property.
The 215,000-square-foot state-of-the-art facility, which opened in 1984, is located on 300 acres east of Columbus and already employs roughly 1,200 people.
This upsurge in economic activity is a sign that the companies are once again feeling comfortable about expanding to meet customer demands.
"It's a reflection of a new and renewed optimism in the economy both nationally and locally," says Murphy. "For Pratt & Whitney, it speaks to the increased business they're seeing from a new product they've introduced to the market – their geared turbo fan engine. You could lump that in with the fact that companies are feeling confident about the economy and the opportunities that it presented to them for increased business."
In addition to fostering big employers, the community is also turning an eye to smaller businesses. The goal is to help startups and individuals get their ideas to market.
Columbus officials are seeking to develop a one-stop solution for the region's entrepreneurs. This effort will include virtual tools and eventually a center to support entrepreneurial business activity, according to Murphy.
"To be effective, we need a more comprehensive network that not only looks at incubating or accelerating business, but really the continuum of entrepreneurial business activity," he says. "Our goal is to come up with a more comprehensive framework to help them grow their businesses here in Greater Columbus."
That process got underway when locals Frank Braski and David Hehman launched the RiverCity Foundry. In 2014, the two also founded ColumbusMakesIT!, an entrepreneurship center that provides education, tools, technology and mentoring for creatives to turn their ideas into something real. The pair have launched the RiverCity Foundry startup accelerator to provide the resources entrepreneurs need to develop those ideas into a salable reality.
They already have several startup companies going through a very intensive eight-week program of validating what they're doing and helping them launch and commercialize their ideas, according to Anderson.
---
The Military Effect
While the focus of economic development is usually on private business, the biggest economic engine in this region is the military – specifically Fort Benning. The sprawling military post generates an economic impact of more than $4.8 billion annually.
Fort Benning's impact can be felt not just in the post's spending, but also by the more than 38,000 uniformed and civilian personnel, most of whom live in the community not on the post, according to Gary Jones, the chamber's executive vice president of military affairs. Fort Benning also supports an additional 39,000 jobs in the region.
After losing 2,800 soldiers last year due to the Army's reduction in brigade combat teams, Columbus got some good news that more than 600 new soldiers and civilians will arrive as part of the Security Force Assistance Brigade. More than 300 of those arrivals and their families are expected to live in the community. This entity is primarily senior and noncommissioned officers.
Fort Benning will become the U.S. Army's headquarters for the Security Force Assistance mission and the Military Advisor Training Academy. These programs will train, advise and assist security forces of partner nations' militaries.
"They'll be living here," says Teresa Tomlinson, mayor of the Columbus-Muscogee County consolidated government. "They'll be longtime residents of Columbus and not just the typical new solider training with the Army where they come in and cycle out in a period of weeks."
These new long-term residents will join thousands of other military personnel who have become part of the local community. With only about 4,000 living quarters on post, most soldiers end up renting or buying homes in the region. They also get involved with schools and civic and charitable organizations.
"Fort Benning is entwined into the very fabric of this community and this region," says Jones. "They provide our soccer coaches. They provide people to serve on our commissions, our boards, our authorities, and they are engrained in the day-to-day activities of the community."
In fact, 35 organizations on the base provide opportunities for soldiers and their families to become involved with area public schools in ways ranging from reading to kids to umpiring sporting events, says Jones.
---
A Walkable Transformation
With rapid redevelopment of Uptown Columbus as a walkable, entertainment-rich urban enclave, people are once again viewing downtown as the place to be.
"It truly is this incredible transformation that has taken place," says Ross Horner, president and CEO of Uptown Columbus Inc. and the Business Improvement District. "I shake my head because six years ago when I came, you would see people down here if we had an event or concert. Then you'd gradually see them leave. They would come for the activity and spend some money and then filter away. These were mostly on the weekends. Now at 7 p.m. on a Tuesday, it's packed."
The crowds both during the week and on the weekend have been good for local businesses. In fact, over the past few years, gross receipts in Uptown Columbus have grown 43 percent, Horner says.
To meet the demand for downtown living, local powerhouse developer W.C. Bradley Co. has been leading the building of apartments and condos in the area. Recently the company launched the largest real estate venture in its long history when it unveiled plans for a $52-million residential and retail complex along the river in downtown. The project will add 226 new apartments in a five-story building north of the 13th Street bridge. It will also include a restaurant, retail space, park and 313-space parking garage.
The Rapids is the first phase of this multi-phase development on 7.5 acres between the 13th and 14th Street bridges and Broadway along the Chattahoochee River. It will include a park open to the public. The first apartments in the 414,000-square-foot mixed-use building will be available in late 2018 and early 2019.
The new apartments will complement a series of previous residential developments that have converted old industrial buildings into cool living spaces.
"Columbus has emerged as an adventure destination," says Peter Bowden, president and CEO of the Columbus Convention and Visitors Bureau. "It's whitewater, it's zip-lining, it's biking trails, but the adventure is also the cultural aspects of Columbus."
Local leaders see Columbus as a place that offers a wide range of experiences – both indoors and out. That aspect is a big plus when marketing the city to meeting planners and casual visitors alike. Columbus has one of the nation's few urban whitewater courses on the Chattahoochee. There's also an extensive network of walking and biking trails and other offerings that have proven to be a strong draw for those seeking an outdoor experience.
As a result, Uptown Columbus has evolved into a walkable urban environment that appeals to the young – especially millennials and the creative talents that are drawn to these types of environments.
The growth of tourism and the convention business has led to the construction of two new hotels downtown. A Hampton Inn is underway and will be joined by an AC Hotel, a high-end Marriott brand. The property is being developed by Columbus hotel developers RAM Hotels. In addition to the 106-room hotel, the property will include loft apartments, office and restaurant space.
---
Drawing a New Workforce
Columbus is also courting a new avenue of economic development that is already well developed in places like Atlanta – the film industry.
"What a lot of communities are finding in this new era is the millennials are really concentrating on entrepreneurism, creative industry," says Tomlinson. "We wanted to tap into the Georgia film industry and the benefits that the state has provided to encourage those and that creative sector."
One good example of that entrepreneurship is Fun Academy Motion Pictures, which opened an office on 12th Street downtown. The Columbus-based company is seeking to become a major player in animated features.
It's already working on its first animated film to be released in 2018, called Sgt. Stubby: An American Hero. If the company is able to leverage the production into more business, it will be hiring a growing number of highly trained and skilled animation production staff.
While Columbus may not have large studios producing big-budget Marvel Comics blockbusters, it could very well develop a lucrative niche for animation.
"They have a high demand for new animators, and so we have created certificates and programs at Columbus State University [CSU] to provide them with the creative talent they need," says Tomlinson. "They have a couple of projects in the pipeline, and we could be talking about 300 well-paying jobs over the next couple of years."
Ensuring that local colleges are providing the right kind of training for business has become a top priority for Columbus. Just as the city is focusing on animation to capture its share of the movie industry, it's also caught the wave of cybersecurity – protecting vital computer infrastructure from hackers – that has become a focus for Georgia.
In 2015, TSYS, the Columbus-based credit card and payment processor, donated $5 million to CSU – the largest contribution ever given to its Turner College of Business. The gift grew out of a partnership to develop a new cybersecurity program that could provide well-trained experts able to use their skills to protect the financial services industry.
The funds established the TSYS Cybersecurity Center for Financial Services in the TSYS School of Computer Science at Turner College of Business. It represents a unique pairing of business and computer science designed to produce a new kind of multifaceted graduate.
Linda Hadley, Turner College of Business dean, says TSYS expressed the need for computer science graduates to have business knowledge. "We brought computer science into the College of Business. We decided that – given the major employers in this community, including Aflac, Synovus and TSYS, are in the financial service industry – it made a lot of sense for us."
CSU was one of seven institutions selected to develop the University System of Georgia's capabilities in information technology and cybersecurity and ramp up the number of graduates entering the field.
The new degree program has already attracted a number of students who see it as a pathway into business.
"The main focus is to provide the students with a good foundation to be able to move in the industry and hone specific skills," says Justin Sewell, a student in CSU's cybersecurity program. "But overall, the program is a good general foundation to be able to move into the workforce and be able to build on top of that foundation for whatever job you're doing."
Columbus Technical College is another institution playing a big role in workforce development. With more than 5,231 undergraduate students in various programs, the college has also provided customized training for 264 companies and nearly 5,000 employees.
"We support our local employers to make sure there's a good match between the workforce and employers," says Lorette Hoover, president of Columbus Technical College. "Over the past 15 to 20 years, we've gotten away from having a manually oriented workforce because we used to have a lot of cotton mills in Columbus. Today we're a very technically oriented workforce – especially in manufacturing and healthcare. Those are two large employers in this region that are in [need] of a well-trained workforce. They have good-paying jobs, and that's our focus area for the school."
Columbus Tech has been at the center of crafting a partnership that links local high schools to employers. Its partnership with Pratt & Whitney led to the launch of a program with the Muscogee County School District to support apprenticeships for 238 high school students. The program has since expanded to include other local firms such as Swift Spinning, Columbus Water Works and Oneda, says Hoover.
Looking at the big picture, Columbus has plenty of reasons for optimism. The pieces are falling into place, and the city's path to growth and prosperity is clear.
---
LOCAL FLAVOR
Uptown Upswing
While the textile mills that once lined the banks of the Chattahoochee River are long gone, one traditional aspect of Columbus that has come roaring back is its downtown – better known here as Uptown Columbus.
This area had declined like most urban cores in the '60s as businesses and people moved to the suburbs. But 25 years ago, Uptown began a transformation led by local business groups and nonprofits dedicated to encouraging and supporting quality development and redevelopment. Now streets are filled with people – many of them students at Columbus State University (CSU), which has moved several academic programs along with student housing here.
Retail and restaurants have followed, and there are two new hotels under construction. Along with a vibrant arts scene, which includes the RiverCenter for the Performing Arts and the Springer Opera House, has come a flurry of residential developments.
To get the right perspective requires looking back to the early '90s, when the 15-mile RiverWalk park along the banks of the Chattahoochee was built, says W.C. Bradley Real Estate Division President Mat Swift. "That project really was one of the first projects that made everybody feel like they owned part of the river and part of the downtown," he says. "That started a transformation of our downtown."
The RiverCenter for the Performing Arts opened in 2002, the result of a public-private partnership. It gave Columbus State a new home for its growing music program and the city a premier performing arts center.
"The idea was that we can make the School of Music a part of that building so that it would be a living, breathing facility that was occupied all through the week and not just the weekend," says John Lester, associate vice president for university and government relations and special assistant to the president at CSU.
The university's expansion into Uptown has continued with an apartment development for 450 students. Earlier this year, it invested $27 million into acquiring and renovating the Ledger-Enquirer building as the new home for its nursing program. This move also increased the number of students coming into Uptown during the day and has provided another boost to local businesses.
CSU has become a leader in converting historic buildings into new uses.
"It's a nice combination of adaptive reuse and new construction," says Lester. "The interesting part is the new construction is designed to fit into the look and feel that was already there. Our first housing downtown was in a building that used to be a hotel for the state theater of Georgia, the Springer Opera House. That's [now] spectacular loft apartments with exposed bricks."
New construction has included a mixed-use development with student apartments and retail on the ground floor.
"It adds students into the mix and opportunities for retail as well," says Lester.
All told, CSU has channeled $110 million in new investment into what it calls its RiverPark campus. Located in the historic downtown area, CSU RiverPark includes dining, a bookstore and CSU's Coca-Cola Space Science Center in addition to student apartments, the nursing program and the art and theater complex.
For Uptown Columbus, the rising tide of redevelopment continues to lift all boats. – Randy Southerland