Economic Homeruns
From Smyrna and Marietta to Emerson and Rome, cities are hitting it out of the park with new sports developments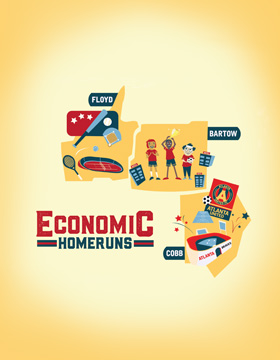 They call it "the LakePoint effect." Since the first pitch at the 1,300-acre sporting community in 2014, Bartow County is enjoying a renaissance of sorts.
"In 2013, there was one flashing light in Emerson," says Ellen Archer, executive director of the Cartersville-Bartow County Convention and Visitors Bureau. "Now there are two elevators, red lights and sidewalks." Back then, she notes, there was a Dollar General store, an Emerson Mini-Mart and Doug's Place, a popular "meat-and-three" restaurant. But with LakePoint Sporting Community now in full swing, four new hotels have opened in Bartow County – two in Emerson – seven new chef-owned restaurants have opened in Cartersville and more than 2 million people have visited LakePoint since it opened three years ago.
Billed as a year-round "stay and play tournament hub," the property includes eight baseball fields, 10 beach volleyball courts and three cable wakeboarding pools along with three on-site hotels and four restaurants.
Archer says there was a 64 percent growth in hotel revenue in Bartow County between July 2013 and July 2016 as a result of the sports facility, which boasts venues for more than 15 sports. "LakePoint has to be a big piece of that pie," she says.
LakePoint is also smack dab in the middle of a sports corridor running northwest out of Atlanta and into the North Georgia mountains along I-75 – from the Atlanta Braves's new SunTrust Park in Smyrna and the Atlanta United FC training facility in Marietta to LakePoint in Emerson and both the Rome Braves and the Tennis Center of Georgia at Berry College in Rome. As more people come to play or watch a game at these facilities, the surrounding communities are hitting it out of the park when it comes to drawing investments and dollars for the region.
---
Baseball-boosted Business
Almost four years after announcing they would be moving from downtown Atlanta's Turner Field and heading to a new facility in Smyrna, the Atlanta Braves played their first game at SunTrust Park April 14. Since that announcement, the region has seen an influx of new construction and businesses moving to the area.
"We have five Class A office towers being delivered, the first in Cobb in more than a decade – HD Supply's new HQ campus, Genuine Parts new HQ campus, Comcast, Riverwood 200 and Synovus at Overton Park," says Brooks Mathis, senior vice president of economic development for the Cobb Chamber. "Revenues for both commercial and residential permits are up significantly throughout the county. Multi-family, single-family and retail business, all are growing."
Adjacent to SunTrust Park, The Battery Atlanta is a mixed-use development that includes 400,000 square feet of retail and office space, including Comcast's new regional offices, an Omni hotel, three apartment communities, restaurants and a music venue.
"A big factor for the business case is to be in an area that is attractive for young and top talent," Mathis says. "Those qualities that are attractive for employees are live/ work/play, nightlife, walkability, etc. Also, the prominence of the stadium gives companies good recognition for the many folks visiting the stadium during the 81 home games and also those watching TV."
Cobb officials expect those home games plus The Battery will equal year-round visitors spending money in Cobb. According to the Braves organization, visitor spending will result in 873 jobs, providing $25 million in earnings, $8.9 million of which will be earned in Cobb County.
Other projected economic benefits of the new stadium include annual earnings for the more than 3,000 employees needed to staff the Braves organization, which will total $35.8 million, with more than 1,600 of those jobs being located in Cobb County. The construction process is said to support more than 5,200 jobs, generating $235 million in earnings.
"SunTrust Park and The Battery are huge wins for Cobb County," says Holly Quinlan, Cobb Travel and Tourism CEO. "We anticipate that the hospitality community, such as hotels, restaurants, attractions and the tradeshow and convention markets, will experience a big boost to their business."
---
Making the Team
Not a baseball fan? No problem. Marietta is now home to Atlanta United, the newest Major League Soccer team – and the only one in the South outside of Florida. Last year the city entered into a contract with the Arthur Blank-owned Atlanta United Football Club to build its headquarters and training complex on a 33-acre site off Franklin Road.
The $60-million project includes the team's 30,000-square-foot headquarters building and six soccer fields and is expected to bring more than 80 high-paying jobs to the area. Move-in was slated for April, while Atlanta United's Academy is already up and running on the property. The Academy seeks to develop young soccer talent in the state for kids ages 12 to 18, kids who may one day even play for Atlanta United.
Also as part of the deal, the city is constructing a public soccer park near the training facility. The Marietta City Council approved a $7.7-million budget for the Franklin Gateway soccer park, which will consist of three lighted, multi-purpose soccer fields on a 13-acre site.
Both soccer complexes are expected to bring an economic boost to the area. Already, the city is seeing increased tenancy rates in nearby office space, including The Home Depot's new IT Center that has brought 1,200 employees to the area, and three high-quality hotels built nearby.
Those hotels will be needed, too. In 2015, Cobb County experienced a 67 percent year-end occupancy rate in its hotels, according to Smith Travel Research (STR) – the highest-ever recorded for the county, Quinlan says.
"For every $1 spent in one of our county's hotels, $3 is spent in the community on dining, transportation, entertainment and more," says Quinlan, who also serves as the CEO of the Cobb Sports Alliance, which is affiliated with Cobb Travel and Tourism.
In 2015, tourism's economic impact rose from $2.7 billion to $2.8 billion and jobs remained at more than 30,000, she says. With the addition of these new sports facilities and the people they will bring to the area, tourism in Cobb County is projected to have an economic impact of more than $4 billion in 2020.
---
Youth Sports Mecca
Back in Bartow County, economic development officials see LakePoint as the embodiment of the phrase, "Build it and they will come."
"The jobs definitely follow the talent," says Melinda Lemmon, executive director of the Cartersville-Bartow County Department of Economic Development. "In 2016, 656 new manufacturing jobs were created and there was $155.4 million in new capital investment. Since the new year, we've had another announcement by [manufacturer] First American Resources that they will invest $24 million in a new facility in Bartow County and create 202 jobs. The correlation between LakePoint and this growth is definitely in quality of life."
With the annexation of the LakePoint property, the acreage of Emerson doubled, and in its wake came a revitalized residential market.
"Now people want to live in that area," Lemmon says. "Residential developers and others want to be in that vicinity, and there has been a positive impact on property values in that area. We call it the LakePoint effect."
Billed as "the premier sports vacation destination," LakePoint targets competitive youth sports and consists of five sports venues – Terminus Wake Park, the largest cable wakeboard park in North America; eight major league-sized baseball fields; Champions Center for basketball, volleyball and cheer; three multi-use fields for soccer, lacrosse, football, kickball, ultimate Frisbee and rugby; and 10 sand volleyball courts – two on-site hotels, three restaurants and LakePoint Station, an entertainment venue that features a rock-climbing wall, miniature golf, arcade games and more.
It sits on 1,300 acres, with only approximately 350 of those (25 percent) developed so far. The facility estimates that it will eventually see more than 6 million visitors a year.
"Certainly, LakePoint has been good economically for the community," says Archer. "It has given the community bragging rights, which I think is valuable, and it has opened up opportunities for young athletes in our community that weren't previously available."
---
Family Affair
Head north on I-75 from LakePoint's home in Emerson then follow U.S. Highway 411 west to Rome, where the Class A minor league Braves play and young athletes have unique opportunities of their own.
"The Rome Braves, in my opinion, put Rome, Georgia, on the map for being a sports community," says Floyd County Commission Chair Rhonda Wallace. "Our Little League teams from all over the community are asked to be on the field at every game, and they get to experience what it's like to be out there with what we call future stars; future stars play in Rome, Georgia."
Players like Braves' first baseman Freddie Freeman and former Brave Jeff Francoeur. Superstar Braves like retired third baseman Chipper Jones rehab in Rome, giving the community an opportunity to get to know the players on a personal level, Wallace says.
"Those players become part of our community, part of our family here in Rome, and we support them on up the line," she says. "The Rome Braves have 70 home games, which means 2,500 hotel rooms that are booked each year because of the Rome Braves. Not only the team comes, but their families come, major league scouts come and others who just follow the team, and that's just hotel rooms. It doesn't account for the experience of people eating out and shopping at the mall."
Built with voter-approved Special Purpose Local Option Sales Tax (SPLOST) funds, the 5,105-seat State Mutual Stadium opened in 2003.
"There was never a Plan B," Wallace says. "The plan was always to get a stadium with no debt. It is paid for, and we can all enjoy it. Each year the county and the Braves invest money into the stadium for upgrades like new video boards, lights and seating to make it look better and fresh."
The stadium is not only a great quality- of-life asset, it also provides part-time jobs for college kids and retirees, in addition to internship opportunities for local college students, Wallace says. But it's not only locals enjoying the stadium's hot dogs and popcorn.
"We attract people from a 50-mile radius to come to attend the ball games," she says. "It's fun to sit in the parking lot and look at all the different car tags. You would not have thought it would be like that, but it is."
Over the years, the community and the team have formed a great partnership, according to Wallace, with the stadium being open for use for local high school tournaments and collegiate events. The Braves also host an annual yard sale in March, proceeds from which support local nonprofits, including the Miracle Field.
The Braves Miracle Field was constructed on land adjacent to State Mutual Stadium through a partnership between the Atlanta Braves Foundation and the Miracle League Association, which provides opportunities for children with disabilities to play Miracle League baseball.
"I believe we're the only ball field that has the Miracle Field attached to the stadium ball field," Wallace says. "Being able to go out there and watch those children, I can't describe how good that makes you feel."
---
Winning Investment
Fast-forward 10 years, and once again, Floyd County voters agreed to raise taxes to fund a sporting venue. A 2013 SPLOST project, the Rome Tennis Center at Berry College is the nation's largest hardcourt facility and is comprised of 60 United States Tennis Association (USTA) standard, asphalt tennis courts and includes six NCAA regulation courts, three center courts for tournament and collegiate play, a clubhouse with an expansive viewing porch, open greenspaces, a family zone and more. All courts have lighting and shade structures.
"Our community made a bold statement by choosing to invest in our future and building the Rome Tennis Center at Berry College on the promise that it would be an economic development tool for our city," says Sammy Rich, Rome city manager. "The Rome Tennis Center of Georgia is about increasing economic impact. The facility allows us to not only keep our existing events, but it makes us more marketable and able to go after additional, larger tournaments as well."
Less than a year after opening, the center hosted the 2017 Men's and Women's Atlantic Coast Conference (ACC) Tennis Championships April 25-30. The competition featured 13 men's teams and 15 women's teams from 15 ACC schools and was televised nationwide on ACC Network Extra.
From tennis to baseball, Rome is solidifying its claim as a sports community.
"I think everybody looks forward to April coming around and the Braves being back in town," Wallace says. "It is just affordable family fun in a safe environment, and it would be sad if we didn't have the Rome Braves and the stadium. It's definitely brought lots of happiness to our community."