Eggs and Issues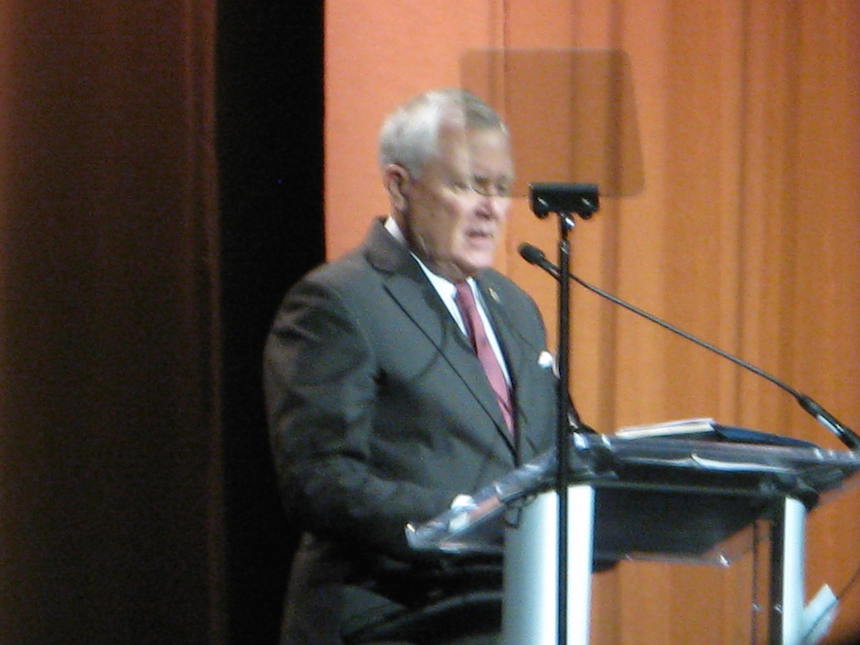 Gov. Nathan Deal addressed the Georgia Chamber of Commerce's Annual Eggs and Issues Breakfast in Atlanta last week, describing an optimistic infrastructure spending and job growth scenario for 2017.
"We've already started on a $10-billion, 10-year plan to build roads and bridges – the most aggressive plan since we first built the highways – which will revolutionize our transportation system," he said. Plans include $1 billion for freight mobility, funding for express lanes and a rural version of the Georgia Department of Transportation's successful HERO program to help motorists in jeopardy.
Georgia will also break ground on its Cyber Innovation and Training Center this year in conjunction with the National Security Agency. "Cyber crime is a bigger problem than drugs," Deal said.
Georgia's Economic Development Department, which was named No. 1 in the country, will continue growing. Several rural revitalization bills are expected to incentivize more development in small towns. Also, the Georgia Chamber is planning to expand in rural Georgia with a new initiative, Authentic Georgia.
Regarding education, 15,000 students have enrolled in Move On When Ready – the state's dual-enrollment program, said Deal, while 6,000 students and 157 companies are participating in new apprenticeship programs, and that number will rise by 2,450 students this year. "This is another star in our expanding constellation of excellence," he said.
Lt. Gov. Casey Cagle noted some of the challenges that remain. "Too few experience the prosperity – [in Atlanta] 25 percent are in poverty, and 14 percent have no insurance," he said.
The Atlanta Regional Commission anticipates growth of 7.5 million people over the next 15 years. Reducing poverty could "unleash economic growth unlike anything we've ever seen … which would set us apart. We can't let the past define us," Cagle said.
Education is "the great equalizer," he added. "We could have the most dynamic system in the nation … aligned with the needs of industry, but with individualized learning plans, accountability contracts and community resource centers to wage a war on unemployment and underemployment that will be helped by less regulations, lower taxes and a balanced court system."
Cagle also noted the need for more transportation planning as the ports of Savannah and Brunswick are now able to accommodate big container ships carrying "70 miles of rail cars" worth of cargo.
"Transportation funding puts us in a strong position to make hay while the sun shines," added House Speaker David Ralston.
"But there is still one sector of transportation that is underfunded – transit," said Ralston. He's proposed the Georgia Commission on Transit Governance and Funding that would study ways to "mitigate congestion and move freight more effectively to attract and retain world class companies," he said. "The commission will seek to create a roadmap to integrate transit – this is not an attempt to take over systems, but to find new partnerships."
Photo of Gov. Nathan Deal at the Eggs and Issues Breakfast by Ben Young