2017 Hall of Fame: Lasting Influence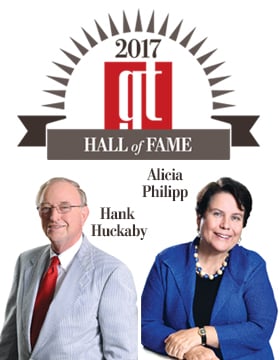 Hank Huckaby
Former Chancellor of the University System of Georgia
There is Hank Huckaby the man and Hank Huckaby the lifelong public servant; Hank who was the first in his family to attend college and Hank who, as chancellor of the University System of Georgia from 2011 until he retired at the end of 2016, has been an activist who made bold, positive changes in post-secondary education that have improved the academic experience for tens of thousands of Georgia students – and increased graduation rates by 14 percent.
Underlying both his personal and professional accomplishments is a key personality asset. "I don't let my ego get involved," he says. Looking back on his noteworthy achievements – in particular, successfully steering the university system through budget cuts and transforming the system into a national model – he insists that the key was surrounding himself with the right people.
"I'm willing to accept what I know and what I don't know. That's hard to do, but I think self-awareness and honesty about what you can do is important for people in leadership roles," he says. "I try to surround myself with people to fill in the gaps with the expertise, energy and education to support me and the organization. As I walk out the door, I'm proud of the strength, depth and commitment that we've built over the years."
As chancellor, Huckaby's focus on financial issues was broader than mere budget cutting. His aim was to move more money toward the academic enterprise and change the paradigm of education in America. Under his auspices, Georgia recently joined the nonprofit Complete College America program, a nationwide alliance dedicated to helping underrepresented populations complete certificate and degree programs.
"We're on track, but we have a lot more to do to meet our goal," he says. "One of the things that pulls at my heartstrings is our lack of needs-based aid for students who don't have enough resources to go to college. We have the HOPE program, but we are deficient at other ends of the spectrum."
Named after a Methodist minister, the Spalding County native came from a working-class family and is grateful that his father emphasized the importance of education beyond high school. While attending Young Harris College, Huckaby says, "I always considered that I went down the road less traveled."
That road soon lead him to teach at DeKalb College (now Georgia State University Perimeter College) and Emory University, to serve as the senior vice president of finance and administration at UGA, and then as a legislator in the Georgia House of Representatives. But it was while at college that he met the two people who have most influenced his life: Amy, his wife of 52 years, and Zell Miller, who taught American government during Huckaby's freshman year. The young Huckaby was later tapped to serve as budget director during Miller's eight-year tenure as Georgia governor and subsequently worked on Miller's successful senatorial campaign.
Underpinning Huckaby's leadership is a devout adherence to ethics and integrity, which, Huckaby says, resonated with him from his first day in seventh grade. His teacher told the class to expect a good year but there was one rule. "She wrote two words on the chalkboard – 'Do right,'" Huckaby says. "That has stayed with me ever since." – Ellen Berman
---
Alicia Philipp
President of the Community Foundation for Greater Atlanta
Alicia Philipp was only 23 years old when she became the first employee of the Community Foundation for Greater Atlanta in 1977. Her first job out of college was with Central Atlanta Progress, an association of downtown business leaders helmed at the time by Dan E. Sweat Jr.
"When I graduated from Emory in 1975, there was a really big recession in Atlanta at that time, and things were really tough," she recalls. "There weren't any jobs, and I had no connections in Atlanta."
As it turns out, Sweat was the only connection Philipp needed not just to move onto her next position as the first, and at the time the only, employee of the Community Foundation for Greater Atlanta, but onto a career that has benefited untold numbers of Atlantans and beyond.
"Dan really became my mentor, and he was just an amazing man," she says. "He was also the chairman of the board as a volunteer at the community foundation, so when this job came up, I said to him, 'I want that job.'"
Created in 1951, the Community Foundation for Greater Atlanta serves a 23-county region around Metro Atlanta and had just $7 million in assets when Philipp was hired. As of year-end 2015, the foundation held $920 million in assets, receiving more than $113 million from donors and granting out more than $140 million to some 6,800 nonprofits focused on things like community development, education, arts, well-being and nonprofit effectiveness.
"The thing that probably motivates me the most is the open minds and generous hearts of our donors," she says. "People really want to give back; not to have their name on something, not for any other reason than they really want to make this community a better place for everybody. It's so unselfish, and it's like wow, that's amazing."
Retaining the passion of her 23-year-old self, Philipp isn't quite ready to relinquish her title of "dean" of Georgia's community foundations, but someday she envisions a "triangular" life for herself spending time between her condo in Decatur, working on women's economic development issues in Guatemala, and visiting her daughter and first grandchild in Portugal.
"We are philanthropy; that's who this community is," she says. "It's part of our brand as a region and as a community. I'm honored to continue to help uplift philanthropy as a key part of this region." – Jennifer Hafer
---
Past Hall of Fame Inductees
2016
Arthur Blank
Co-founder, The Home Depot
Owner, The Atlanta Falcons
Alana Shepherd
Co-founder, Shepherd Center
2015
Bill Bolling
Founder & Former Executive Director,
Atlanta Community Food Bank
Saxby Chambliss
Former U.S. Senator
2014
John Lewis
U.S. Congressman
Civil Rights Leader
Robert Shaw
Chairman/CEO, Engineered Floors
Former Owner, Shaw Industries
2013
R. Charles "Charlie" Loudermilk
Founder & Chairman Emeritus, Aaron's Inc.
Monica Pearson
Former News Anchor, WSB-TV
2012
Otis Brumby (1941-2012)
Publisher, The Marietta Daily Journal & Neighbor Newspapers
Bobby Cox
Retired Manager, Atlanta Braves
2014 Baseball Hall of Fame Inductee
2011
Ray Anderson (1935-2011)
Chairman, Interface Inc.
David Ratcliffe
Former CEO/Chairman/President, Southern Co.
Franklin Skinner
Former CEO/Chairman, BellSouth Telecommunications
2010
Dr. Joseph Lowery
Minister, Civil Rights Leader
Bill Shipp
Journalist
Political Columnist
2009
Spurgeon Richardson
Former President/CEO, Atlanta Convention & Visitors Bureau
2008
Hank Aaron
Baseball Legend
Founder/Owner, 755 Restaurant Corp.
Mack Mattingly
Former U.S. Senator
Former Assistant Secretary
General (NATO)
Former U.S. Ambassador (Seychelles)
Carl Patton
Former President, Georgia State University
Herman J. Russell (1930-2014)
Chairman/Founder, H.J. Russell & Co.
2007
A.D. "Pete" Correll
Former Chairman/CEO, Georgia-Pacific Corp.
Bernie Marcus
Co-founder, The Home Depot
Philanthropist
William S. Morris III
Chairman/CEO, Morris Communications Co.
2006
James Blanchard
Retired Board Chairman & CEO, Synovus Financial Corp.
Zell Miller
Senior Strategic Advisor, McKenna Long & Aldridge LLP
Former Governor
Former U.S. Senator
Betty Siegel
Former President, Kennesaw State University
2005
Tom Cousins
Former Board Chairman, Cousins Properties Inc.
Vince Dooley
Athletic Director Emeritus, University of Georgia
2004
Tommy Irvin
Former Georgia Commissioner of Agriculture
Manuel Maloof (1924-2004)
Longtime DeKalb County CEO and Commissioner
Sam Massell
President, Buckhead Coalition
Former Mayor, City of Atlanta
J. Mack Robinson
Businessman and Philanthropist
Ted Turner
Founder, CNN, TNT and TBS
Environmentalist and Philanthropist
2003
Griffin Bell (1918-2009)
U.S. Attorney General
U.S. Circuit Court Judge
S. Truett Cathy (1921-2014)
Founder, Chick-fil-A
Philanthropist
Jimmy Carter
Nobel Peace Prize Winner
Former U.S. President
Rosalynn Carter
Former First Lady
Mental Health Advocate
Thomas B. Murphy (1924-2007)
Longtime Speaker,
Georgia House of Representatives
Sam Nunn
Former U.S. Senator
National Defense Authority
John C. Portman Jr.
Architect, Developer and Entrepreneur
Carl Sanders (1925-2014)
Governor (1963-1967)
Attorney
Dr. Louis Sullivan
Founding Dean, Morehouse School of Medicine
Former U.S. Secretary of Health and Human Services
Andrew Young
Former Mayor, City of Atlanta
Former U.S. Ambassador to the United Nations
Civic Leader