Georgia's Hospitals: Rural Hospitals In Crisis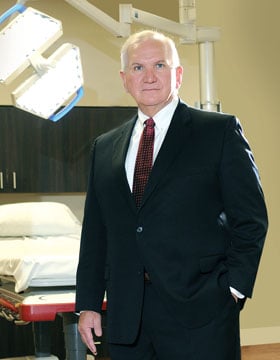 It's not quite walking in their shoes, but sitting at a conference table at Union General Hospital in Blairsville with the system's top administrators falls somewhere between a crash course in healthcare economics and a cold shower.
It's one thing to know that rural hospitals are in trouble – five in Georgia have closed in recent years, and others are struggling.
It's another to listen to the people on the frontlines trying to find a way out of that trouble for their facilities, their patients and their communities. It pretty much comes down to money.
"From a financial standpoint," says Lewis Kelley, Union General CEO, "we are faced with a very dynamic change in the environment, and the way we do business or have done business in the past is changing very rapidly."
Those changes include sharply reduced Medicare reimbursements, more uninsured patients and a boatload of bad debt, along with escalating costs, staffing shortages and changes associated with the Affordable Care Act (ACA) and other legislation, like the Budget Control Act of 2011 and the American Taxpayer Relief Act of 2012.
"We're a retirement community," Kelley says of the North Georgia mountain area his hospital system serves. "We are Medicare-dependent in large part, very dependent on federal programs for our operation."
Since 2010, Georgia hospitals have seen some $700 million in Medicare cuts due to legislative or regulatory action, according to the Georgia Hospital Association (GHA). By 2025, the figure will reach $12 billion. The cuts are hitting rural hospitals especially hard.
"Our costs are going up," says Steve Gautney, president and CEO of South Georgia's Crisp Regional Hospital in Cordele and chair-elect of the GHA. "We're really being challenged, particularly from reimbursement from Medicare. For most rural hospitals, Medicare and Medicaid make up 70 percent or greater of all the monies that come into a community to pay for things in hospitals."
Both programs are paid with a combination of federal and state funds. Medicare covers all citizens over 65; Medicaid provides funds for low-income individuals. Neither covers the entire cost of hospitals' expenses, although Medicare pays them at a higher rate – about 96 percent, compared to 86 percent for Medicaid, the GHA says.
"There's no new money coming into Medicare," Gautney says, "and through some of the penalty programs, Medicare is actually decreasing.
"Regulations from the federal government implementing the ACA and so forth have also driven costs up, and there is simply nowhere to go with the costs," he says. "New regulations and new stipulations that would drive your cost up – in most industries you can find a way to pass on that cost to the consumer in some way."
Not so for rural hospitals. "Used to be, we'd go to commercial insurers, who were paying on a percent-of-charges basis," Gautney says. "Nowadays there are fewer commercially insured patients out there – I believe as a result of the ACA and the exchanges – but there are fewer of them. The exchanges do not appear to be widely accepted in Georgia, and the cost of getting an insurance product on the exchange is prohibitive to most people."
Not all Medicare and Medicaid cuts come from the federal government. Jimmy Lewis, CEO of HomeTown Health, a business organization that works with rural hospitals, notes that Georgia has taken significant funding from the healthcare system since 1999.
---
Bad Debt
Compounding the reimbursement problem is an increase of bad debt. In 2014, Georgia hospitals wrote off some $735 million in uncompensated care.
Union General is seeing a dramatic growth in uninsured or self-pay patients – most of whom simply cannot pay their hospital bills. Patients who do have insurance have higher deductibles and increased co-pay costs, which they often can't afford.
Nick Townsend, the hospital's chief financial officer, says, "We write off about $4.6 million [a year] for Union General and another $800,000 for Chatuge," a smaller facility the hospital system operates in Hiawassee.
The hospital tries to collect, but typically there is no money to be had. "These are good, hard-working people who retired on minimum Social Security," says Kelley. "They can't pay their bill. Are we going to lock them up or throw them under the bus? We don't do that."
"The bad debt," Townsend says, "is a combination of people who outright can't pay – indigent or charity cases – or people who fall in the gap" that exists between Medicaid eligibility and the ability to purchase commercial insurance on the ACA exchanges.
That gap, say hospital advocates, is a back-breaker. And doubts about the future of the ACA itself, as a result of the November election, add to the uncertainty.
---
The Realities
Earl Rogers, GHA president and CEO, says 39 percent of all Georgia hospitals lost money in 2014 (the last year for which complete figures are available), but 66 percent of rural hospitals in the state lost money – an almost 10 percent increase from the previous year.
The association categorizes 62 of the state's 170 acute care hospitals as rural. Of those 62, says Rogers, "Some are doing reasonably well – those that have a sufficient number of physicians and nurses, especially specialty positions. Other hospitals are struggling, not doing so well."
The problems – primarily low numbers of patients with insurance – are faced by all hospitals to a certain degree but felt most keenly by those in rural areas, he says. In Georgia in 2015, there were about 1.4 million uninsured and 1.9 million on Medicaid, according to the Kaiser Family Foundation, and 1.3 million Medicare patients, according to the Department of Community Health Annual Report.
Georgia has one of the highest rates of uninsured people in the nation – about 16 percent of its citizens.
Jimmy Lewis calls rural facilities "an endangered species" and warns the next 10 or 12 months could be critical. "We have a rural hospital community that, due to a number of different issues, is in an extremely fragile state.
"The closed hospitals are symptomatic of problems much larger and more prevalent on the go-forward: No money. Georgia is one of the lowest-paying, per capita, health systems in the nation. For Medicaid – we're at the bottom of pay scale."
The GHA estimates there are 10 or 12 rural hospitals in Georgia in dire financial trouble.
"Some are at the point where they have to have a serious discussion with their county," says Executive Vice President Chuck Adams. Some hospitals are already getting county subsidies; others are not.
Rogers emphasizes that a lot of people in the state depend on rural hospitals – local residents, of course, but also travelers. "Smaller rural hospitals are the first place patients have to be taken to be stabilized if they are in an auto accident or hunting accident" away from home. "Access to care affects all Georgians."
---
Additional Burdens
The essence of the problem, rural hospital administrators say, is that they are being required to do more with less and held responsible for things beyond their control, including non-emergency cases in the ER and even patients' inability to care for themselves properly.
Hospitals are required by federal law – The Emergency Medical Treatment and Labor Act (EMTALA) – to care for anyone who shows up at an emergency room seeking treatment, regardless of legal status or ability to pay; and they have to absorb costs from uninsured patients who use the emergency room for non-emergencies. Some – called "frequent fliers" in the industry – show up between 25 and 50 times a year, others even more often.
"We are seeing a lot more people in our emergency department," Crisp Regional's Gautney says. "We are taking care of more people with no ability to pay."
The federal government also imposes re-admission penalties for Medicare and Medicaid patients, so that reimbursements take a hit when individuals released from the hospital are re-admitted during the next 30 days. Penalties can be especially hard on hospitals that serve large numbers of low-income patients who may have difficulty following physicians' instructions or taking medications after they are discharged.
HomeTown Health's Lewis says the average rural hospital needs $2.5 million per year in external subsidies, including Medicare and Medicaid, to survive.
He references two federal subsidies – the Disproportionate Share Hospitals and the Upper Payment Limit programs, which have traditionally helped hospitals with high populations of indigent patients; both are disappearing, largely as a result of the ACA regulations and timetable.
"It's more and more challenging to create a bottom line, an operating margin you can turn around and reinvest to stay current," says Gautney. "Things like for-profit nursing homes and home health services, these help us support the hospital. All these associated services can create enough to keep [the hospital] operational. If you only have a hospital, you're in trouble."
For any small hospital, Lewis warns, "You can't cut costs enough to make up the difference. It's going to take money and changing of some rules."
---
Healthy Communities
Hospitals are closely tied to the economic health of their communities and to economic development. The GHA says Georgia hospitals employed some 160,000 people in full- or part-time jobs in 2014, and hospitals' $19.1 billion in expenditures generated $43.6 billion in economic activity.
In smaller communities, hospitals are typically among the leading employers. Crisp Regional, for instance, employs about 800 people.
An area without adequate healthcare facilities is at a tremendous disadvantage in trying to hold on to existing industries or recruit new ones. "When you close a rural hospital or hospital in a community, any kind of economic development efforts are greatly diminished," says Rogers.
The tipping point for hospital viability has to do with numbers. "They've got to look at numbers," says Adams, a former rural hospital CEO, "the numbers of physicians and nurses, the numbers of caregivers. Nobody wants to close a hospital. It's a numbers game – number of population, number of insured vs. uninsured, amount of staff you have to keep. You have to be able to financially run the organization."
---
Solutions
Of course, results of the November election – a Republican president whose party controls both the Senate and the House – casts doubt on the future of the Affordable Care Act. President-elect Donald Trump has made no secret of his desire to dismantle it, as have lawmakers in his party; so that possibility will factor into the rural hospitals' situation.
Even before the election, it was apparent that there was an impending crisis. Gov. Nathan Deal established a Rural Hospital Stabilization Committee in 2014, under the auspices of the Department of Community Health (DCH). One committee recommendation was a four-site pilot program (Union General and Crisp Regional are two of the sites), based on a hub- and-spoke model; among other things, the program encourages the use of new and existing technology, such as Wi-Fi-equip-ped ambulances and telemedicine-connected school clinics, likely to become more common in the future.
But escalating costs and shrinking resources require bolder action – and more money.
Cindy Zeldin, executive director of Georgians for a Healthy Future, a consumer healthcare advocacy group, favors simply expanding Medicaid coverage through the ACA, as other states have done, arguing that Georgia is losing money to those other states: "There is a lever that is available for us to pull, and I believe we should," says Zeldin, "and that is to close the coverage gap and accept the federal money that's available to expand Medicaid. That would bring a lot of dollars to our healthcare delivery system. I see that as foundational."
The problem – apart from anything that might happen in Washington – is that Gov. Deal has declined to support such expansion, believing it would prove too costly in the long run; and the General Assembly, which has the final say, is not likely to go in that direction – although some Republican lawmakers have indicated a willingness to consider some form of expansion.
A pair of state-level options have emerged – one is a done deal. Senate Bill 258, the rural hospital tax credit bill passed by the General Assembly last session, is now in the implementation stage. The other is a series of proposals offered by the Georgia Chamber of Commerce that could provide alternatives to standard Medicaid expansion.
The tax credit allows individuals and corporations to make a contribution to rural hospitals during 2017 for which they would receive a 70 percent credit on their 2018 tax returns. Individual hospitals could receive up to $4 million, if sufficient funds are raised.
The law will be in effect for three years (unless the legislature revives it), with aggregate tax credits capped at $50 million the first year and increasing to $70 million by the final year.
The DCH is charged with determining the list of eligible hospitals, expected to be made public Dec. 1, and with determining the viability of hospitals that apply for the funds.
---
Chamber Proposals
Georgia Chamber President and CEO Chris Clark says his organization's Quality Healthcare Access Task Force worked with consultants to come up with workable alternatives to traditional Medicaid expansion in Georgia – seeking solutions that would help solve the problem and pass muster with state lawmakers.
"We said give us our own solution," Clark says. "It has to be affordable and has to benefit our hospitals and hopefully bring back some of those federal dollars. We do have a crisis in rural Georgia – the closing of hospitals, the low level of Medicaid reimbursement, the discontinuation of Disproportionate Share Hospital payments – that really impacts those on the frontline."
The task force came up with three recommendations, collectively labeled "The Georgia Way." All would require a federal waiver.
One would cover childless individuals who earn less than the federal poverty level amount – $11,880 for an adult; the others would increase eligibility to adults earning up to 138 percent of the poverty level amount, or $16,394 – one version of the plan would enroll beneficiaries in Medicaid, and another would put those with earnings above the 100 percent mark in a private insurance plan to be paid for by Medicaid.
The chamber has shared its findings and recommendations with state leaders and key legislators. Clark believes a bipartisan solution is possible.
"It's unacceptable for people to say we're not going to do anything when we have hundreds of thousands of Georgia adults who don't have healthcare insurance," Clark says. "Let's see what's most affordable and has the largest impact and work together – Republicans and Democrats and the business community and healthcare leaders – to find the right solution."
---
The Future
Despite the gravity of the rural hospitals' plight, there is a bit of optimism out there, as well as uncertainty.
"We hear a lot of doom and gloom," says Clyde Reese, former commissioner of the Department of Community Health. "I think we are making some progress on things that will help," like the hub-and-spoke pilot programs. "The tax credit will go a long way in that regard. I am optimistic about the future of rural healthcare. Not every existing brick-and-mortar acute care facility will survive, but we can make a difference in access to healthcare."
Still, hospital administrators are clearly worried, even those whose facilities are finding a way to make things work. "It's like a house of cards," says Gautney. "It feels tentative. If one thing takes a hit, we could be very much in the red – today we're not."
Union General's Kelley paints this picture of rural hospitals: "They're trying to survive, trying to break even, trying to provide good quality healthcare for people in these small communities," he says. "We're not aggressive, we're not attacking, we're not a big corporate machine trying to spread. At the end of the day, we hope we do the right thing for our people."
---
Georgia Trend 2016 Top Hospitals
Another Year of Transition
In 2016, hospitals and other healthcare stakeholders continued to adjust their strategies, structures and processes to deliver affordable healthcare. The scale and scope of data required to track hospital performance is huge, and in spite of massive investments in technology and process changes, the healthcare industry continues to struggle with how to rank and report exceptional hospital performance.
Georgia Trend groups hospitals into one of four categories: Teaching Hospitals, regardless of the number of patient beds; Large Hospitals (more than 250 patient beds); Medium Hospitals (100-249 beds); and Small Hospitals (less than 100 beds). For the purpose of this article, teaching hospitals are defined as those whose primary mission includes teaching and are certified by the Association of American Medical Colleges Council of Teaching Hospitals and Health Systems. Hospital bed size was obtained from the American Hospital Directory.
Hospitals were ranked based on their Total Performance Score, which is calculated by the Centers for Medicare and Medicaid Services using information on the clinical process of care, patient experience of care, outcome and efficiency.
Georgia Trend's rankings include only hospitals that participate in the CMS Hospital Value Based Purchasing (HVBP) program. Thus, VA medical centers, children's hospitals, critical access hospitals, long-term care facilities and other hospitals excluded from the HVBP program are not included in these rankings. The data download date for our analysis was July 27, 2016.
Hospitals vary greatly in the quality of care and services they provide. While hospital ratings can play an important role in choosing where to go for an evaluation or procedure, the highest-rated hospital may not always be the best choice for an individual consumer. Many factors are involved, and consumers should always consult their doctors before making a decision. – Robert Materna
---
TOP TEACHING HOSPITALS
Hospitals whose primary mission includes teaching and that are certified by the Council of Teaching Hospitals
1. Emory University Hospital, Atlanta
2. Emory University Hospital Midtown, Atlanta
3. Grady Memorial Hospital, Atlanta
4. Navicent Medical Center of Central Georgia, Macon
5. Memorial University Medical Center, Savannah
6. Augusta University Medical Center, Augusta
7. WellStar Atlanta Medical Center, Atlanta
---
TOP LARGE HOSPITALS
Hospitals with 250 or more patient beds
1. WellStar West Georgia Medical Center, LaGrange
2. Northeast Georgia Medical Center, Gainesville
3. South Georgia Medical Center, Valdosta
4. Mayo Clinic Health System in Waycross, Waycross
5. John D. Archbold Memorial Hospital, Thomasville
6. Southeast Georgia Health System – Brunswick, Brunswick
7. Hamilton Medical Center, Dalton
8. Northside Hospital, Atlanta
9. Athens Regional Medical Center, Athens
10. Piedmont Hospital, Atlanta
11. Gwinnett Medical Center, Lawrenceville
12. Emory Saint Joseph's Hospital of Atlanta, Atlanta
13. Coliseum Medical Centers, Macon
14. Floyd Medical Center, Rome
15. DeKalb Medical Center, Decatur
16. St. Joseph's Hospital, Savannah
17. WellStar Cobb Hospital, Austell
18. Candler Hospital, Savannah
19. University Hospital, Augusta
20. Midtown Medical Center, Columbus
21. Doctors Hospital, Augusta
22. Eastside Medical Center, Snellville
23. WellStar Kennestone Regional Medical Center, Marietta
24. Piedmont Henry Hospital, Stockbridge
25. St. Francis Hospital, Columbus
---
TOP MEDIUM-SIZED HOSPITALS
Hospitals with 100-249 beds
1. Washington County Regional Medical Center, Sandersville
2. Oconee Regional Medical Center, Milledgeville
3. Donalsonville Hospital, Donalsonville
4. Northside Medical Center, Columbus
5. Crisp Regional Hospital, Cordele
6. Cook Medical Center (of Tift Regional Medical Center), Adel
7. Colquitt Regional Medical Center, Moultrie
8. Union General Hospital, Blairsville
9. Appling Hospital, Baxley
10. Redmond Regional Medical Center, Rome
11. Northridge Medical Center, Commerce
12. Emory Johns Creek Hospital, Johns Creek
13. WellStar Paulding Hospital, Hiram
14. WellStar Douglas Hospital, Douglasville
15. Fairview Park Hospital, Dublin
16. Memorial Hospital and Manor, Bainbridge
17. Houston Medical Center, Warner Robins
18. Tift Regional Medical Center, Tifton
19. Northside Hospital Forsyth, Cumming
20. Cartersville Medical Center, Cartersville
21. Upson Regional Medical Center, Thomaston
22. Tanner Medical Center – Carrollton, Carrollton
23. Piedmont Newnan Hospital, Newnan
24. Tanner Medical Center Villa Rica, Villa Rica
25. Taylor Regional Hospital, Hawkinsville
---
TOP SMALL HOSPITALS
Hospitals with less than 100 beds
1. Coffee Regional Medical Center, Douglas
2. Burke Medical Center, Waynesboro
3. Archbold Grady General Hospital, Cairo
4. Evans Memorial Hospital, Claxton
5. Dodge County Hospital, Eastman
6. Gordon Hospital, Calhoun
7. Murray Medical Center, Chatsworth
8. Emanuel Medical Center, Swainsboro
9. University McDuffie County Regional Medical Center, Thomson
10. Barrow Regional Medical Center, Winder
11. Southeast Georgia Health System – Camden Campus, Saint Marys
12. Chestatee Regional Hospital, Dahlonega
13. Piedmont Mountainside Hospital, Jasper
14. Elbert Memorial Hospital, Elberton
15. Phoebe Sumter Medical Center, Americus
16. Southeastern Regional Medical Center, Newnan
17. Coliseum Northside Hospital, Macon
18. Clearview Regional Medical Center, Monroe
19. Northside Hospital Cherokee, Canton
20. Dorminy Medical Center, Fitzgerald
21. Perry Hospital, Perry
22. Irwin County Hospital, Ocilla
23. Meadows Regional Medical Center, Vidalia
24. DeKalb Medical Center at Hillandale, Lithonia
25. St. Mary's Sacred Heart Hospital, Lavonia