Georgia Fare: Macon Muscle Car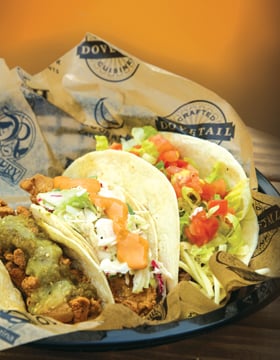 The little taqueria on Macon's Main Street has the open, airy feel of a cantina you hope to happen across on a long road trip – appropriate for a casual little place with a name that means "the way" in Spanish, but whose logo is Chevy's retro-cool coupe-pickup combo by the same name.
Equal parts frisky runabout and practical utility vehicle, it's a good symbol for this spot, which morphed from the owners' original idea for a place for a quick bite before concerts into a sit-down restaurant.
El Camino is the newest restaurant from Macon's Moonhanger Group, which also operates the music venue Cox Capitol Theatre next door. (Moonhanger also renovated downtown mainstay burger joint The Rookery, launched the ambitious Dovetail above it and rescued soul food icon H&H.) El Camino's dining category fits somewhere between "destination" and "drive-by." It sure is handy next to that theater – as well as on the way to lots of places downtown. It's quick, but it's also tasty enough, with a clever cocktail program, to make it a fun, dressed-down date night on its own.
With reclaimed wood booths upholstered in serape fabric, a circular Edison bulb chandelier and orange industrial metal chairs, El Camino has a stylish, pared-down atmosphere that proves you don't need a big budget for good taste. That translates to the menu as well, where in addition to all the usual Tex-Mex shout-outs – tacos, burritos, queso dip, guac and all the rest – you'll find smoked chicken wings with pickled celery, "Mexican street corn" (corn on the cob with cotija cheese, cilantro and smoked chile powder), creative salads like the Caesar Chavez (romaine hearts with jalapeño cornbread croutons), tortas (Mexican sandwiches, including one with fried green tomatoes), and, especially, a long list of interesting cocktails and inexpensive wines, many by the glass.
Components you might take for granted – corn chips, for example – are here warmed and served with a choice of creative salsas and sauces, such as fire-roasted poblano and lime crema. The guacamole and cheese dip are great, but the toasted pumpkin seed and pinto bean hummus, with smoked olive oil and pasilla negro (a dried red chile), was an earthy, belly-warming revelation.
The tacos are the little four-or-five-bite size, double wrapped in soft corn tortillas to sop every bit of flavor. They range from more traditional varieties such as pescador (fried catfish with jalapeño radish slaw) and el pastor (pork tenderloin with charred peach and poblano relish and salsa verde) to the sad little gringo (ground beef and shredded cheese).
None of this food carries the wide-eyed wakeup call of originality and authenticity, of, say, Decatur and Athens' Taqueria del Sol's astonishing South-of-the-border turnip greens and Memphis-style pork barbecue tacos, but this is very good, and so very welcome in downtown Macon.
Desserts are pretty basic – tres leches (three milks) cake or cinnamon churros. You might be better off with a cocktail, such as the house margarita (Zarco blanco tequila, Luxardo Orange Dry Triplum, fresh lime juice and agave, also available in strawberry, peach and passion fruit), or the tequila-based Old Fashioned (Centenario Anejo, Bitter End barbeque bitters, simple syrup, flamed orange). There's a good list of tequilas by the one-ounce pour, with orange and sal de gusano, as well as a few Mexican beers and local craft brews. A short, well-curated list of inexpensive wines by the glass includes Casal Garcia vinho verde and Tilia malbec.
That's the thing about El Camino: It will get you where you want to go.
---
El Camino Taqueria & Cantina
382 Second Street, Macon
478.257.6393
Hours: Lunch and dinner daily Tuesdays-Saturdays
Parking: Plentiful on the street
Dress Code: Any concert gear acceptable, from classical to grunge
---
More Lip-Smacking Smoked Chicken Wings
Southern Soul
St. Simons
Honey-laced Nelson Mandela wings (the recipe's a closely guarded secret) and Chili-Cheerwine smoked wings, which are served Saturdays and occasionally by special request (pleading helps).
The Pig & the Pint
College Park
Hickory smoked, with a choice of barbecue or Buffalo sauce.
Minero
Atlanta
Charcoal-grilled wings served in a paper bag, the better for you to toss them in Valentina hot sauce.