A Shift in Perspective?
Two referenda up for a vote this November plus funding for projects across the state could signal a seismic shift in focus toward more transit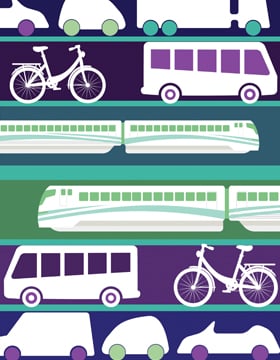 With morning gridlock that can last as late as 10 a.m. and an afternoon rush hour that begins as early as 3 p.m., Atlanta is infamous for its traffic. This November, however, Atlanta citizens and those throughout Fulton County will have the chance to vote on several referenda that could decide how the metro area will address its transportation issues far into the future.
Meanwhile, statewide, a number of projects big and small are already underway thanks to recent funding. All this makes for a potentially exciting next few years as Georgia continues to shift its perspective on transit and walkability in cities across the state.
---
The Nitty Gritty
Within the city of Atlanta, the two referenda are a half-penny sales tax for MARTA expansion and a 0.4 percent Transportation Special Purpose Local Option Sales Tax (T-SPLOST) for non-transit transportation projects, including the BeltLine. In other words, if the MARTA referendum passes this November, it would add 5 cents to a $10 purchase. And if the T-SPLOST referendum passes, it would add an extra 4 cents to a $10 purchase, generating roughly $300 million over a five-year period to fund projects citywide.
Those projects range from implementing mundane but necessary updates like traffic signal optimization and sidewalk improvements to more exciting projects like launching Phase 2 of the Atlanta Bike Share program and purchasing the remaining right of way on the BeltLine's 22-mile loop so it can move forward with more trails and transit. The funds would also support sidewalk and bikeway projects to connect intown neighborhoods to their public schools and nearby rail stations.
If the MARTA referendum passes, it would generate an estimated $2.5 billion over the next 40 years to help the region's mass transit make high-capacity rail improvements, build new infill rail stations within the city of Atlanta, buy new buses, add more frequent service and introduce new bus routes.
Passage of these sales tax referenda means increased revenue and profits for business and more jobs throughout the region, according to Hala Moddelmog, president and CEO of the Metro Atlanta Chamber.
"Should city of Atlanta voters approve both the MARTA and City of Atlanta TSPLOST referenda on Nov. 8, it will send a powerful message that Atlantans are fully committed to world-class transportation infrastructure, including transit, roads and bridges," Moddelmog says. "We expect the economic impact to be well over $10 billion based on conservative estimates, showing transit investment ROI [return on investment] to be over $4 for every dollar invested."
Meanwhile, those in the 13 other cities and unincorporated areas of Fulton County will get a chance to vote on a .75 percent sales tax come Nov. 8. If passed, it will generate up to $655 million through 2022 for transportation projects outside the city of Atlanta. Each of the other Fulton County cities will receive a percentage of the funds generated by the sales tax for a predetermined group of projects the community has deemed important. Even if voters in a particular city do not pass the tax but it passes in the county overall, those city citizens will still pay the sales tax, which amounts to 7.5 cents on a $10 purchase.
In North Fulton, Alpharetta would receive an estimated $63 million, Johns Creek $82 million, Milton $37 million, Roswell $93 million and Mountain Park $550,000. In South Fulton, Chattahoochee Hills would see $2.6 million, College Park $13 million and East Point $35 million. Union City would raise $20.5 million, Palmetto $4.4 million, Hapeville $6.5 million and Fairburn $13.7 million. Unincorporated Fulton would see an estimated $94.5 million to fund operational and safety improvements on roads throughout the county.
While many advocate passage of the referenda, critics are concerned that a 9 percent sales tax in the city and nearly 8 percent in Fulton may drive some people to purchase goods in other counties. Cobb County, for example, has a 6 percent sales tax. Supporters, however, say the higher sales tax is justified by the improved quality of life the completed projects would create.
---
Statewide Planning
Across the state, changing demands are shifting the narrative around transportation. It's still primarily about roads – building them, maintaining them and widening them – but viable mass transit options are increasingly on the table as well.
The Georgia Department of Transportation plans to have 11 projects worth $14 billion under contract over the next decade. Some of those projects are already underway, like the I-75/I-575 express lanes and additional lanes through Clayton and Henry counties. There's also the biggie: the $800-million Georgia 400/I-285 interchange overhaul that is scheduled to begin this month and is estimated to be completed in 2020.
"These projects represent a paradigm shift in transportation planning," says GDOT Commissioner Russell McMurry. "They create a network of expressways, and while this network provides capacity for single-occupancy vehicles, it's not just about cars. What's really great is the express buses will use the express lanes and connect with MARTA, the [Atlanta] Streetcar or the BeltLine, so it becomes a seamless transportation network that has never existed before."
None of this can happen, however, without the support of the Atlanta Regional Commission (ARC), the regional planning agency for the 10-county, 71-city Atlanta region. The commission, which helps foster local government collaboration and supports community initiatives focused on things like land use, workforce development and transportation, acts as "the friendly cop at the intersection trying to help transportation flow efficiently," says Doug Hooker, executive director. "We help counties work together in a way that makes sense for the whole region, rather than working in a vacuum."
Developing that transportation network now is key, as the Metro Atlanta region is expected to gain 2.5 million more people over the next 25 years. Fulton County crossed the 1 million threshold for the first time in 2015, and some estimates predict the city of Atlanta (population 448,000) will triple its population over the next few decades.
"There's not one single solution to traffic reduction, but when you connect an interstate to a state route to a transit system it becomes more of an integrated transit system, which will help propel this region and state forward to remain competitive with other states, and internationally for that matter," McMurry says. "Transportation is key to the economy over the next 10 years."
An expansion in mid- to high-rise housing, coupled with more businesses moving into the center of Atlanta, requires additional layers of transportation mobility as jobs and housing stack up, according to Paul Morris, president and CEO of Atlanta BeltLine Inc.
"Our job, on behalf of the city, is to serve as their agent reviving the center city with the BeltLine as the centerpiece," Morris says. "Transportation mobility is at the core of providing the opportunity for prosperity by giving access to and from jobs. We can't build our way out of congestion with more highways."
---
Transformative Initiatives
The internationally award-winning Atlanta BeltLine is a comprehensive transportation and economic development effort that will provide a network of public parks, multi-use trails and transit along a 22-mile railroad corridor circling downtown and ultimately connecting 45 intown neighborhoods to each other.
While well-publicized portions of the project have already been completed like the Eastside Trail and a one-mile stretch in West End, other bits have yet to be purchased, and the transit part will require more time and funds to build.
"It will take about 25 years to complete the project, and we're at year 10," Morris says. "In some ways, for some on the BeltLine, it's already finished; for everyone it will probably never be finished because it continues to expand and grow in scope and scale."
If the Atlanta T-SPLOST is given the green light by voters, the BeltLine would receive $65 million, the bulk of which would be spent acquiring the balance of the right-of-way for the 22-mile loop and connector trails to the outer neighborhoods. Today, the BeltLine owns about 60 percent of the right-of-way, according to Morris.
"This is about lifestyle choices," he says. "One of our principal obligations is to bring people opportunities to bike and walk in a safe environment free from cars and trucks. People want to recreate and navigate the city safely and not have to compete with cars."
Between the monies that would be generated from the T-SPLOST and the $250-million Renew Atlanta infrastructure bond program, which was passed in 2015, the city will have committed a half-billion dollars to expand and strengthen Atlanta's transportation networks, Morris says.
"To date, we've seen more than $450 million invested in BeltLine projects, including $50 million from donors – individuals and corporations – and that investment has already stimulated $3 billion in private development in many neighborhoods where people didn't think redevelopment would come," he says. "That's a seven-to-one return on investment. The Atlanta BeltLine has become for Atlanta one of the most transformative investment decisions a city could make."
---
Same But Different
The T-SPLOSTs up for a vote in November in both Atlanta and Fulton County are different than the 2012 T-SPLOST – a statewide effort that divided Georgia into 12 regions, each with a different set of projects; three of which passed the T-SPLOST. The rest of the state voted against it.
This time, the vote is narrower in scope geographically – just the city of Atlanta and just Fulton County – and the projects are very clearly defined.
"The public seems to understand the level of need to address our infrastructure in a meaningful and impactful way," says Atlanta Department of Planning and Community Development Commissioner Tim Keane, whose department oversees the Connect Atlanta Plan that will benefit from the referenda passing.
The first Connect Atlanta Plan was established in 2008 to guide Atlanta's transportation policy and investment with an eye toward an increased ease of mobility and continued economic growth while also focusing on quality of life for both local citizens and visitors to the city.
Connect Atlanta incorporates other entities, such as the BeltLine and MARTA, into its Comprehensive Transportation Plan (CTP). Connect Atlanta will use proceeds from a successful T-SPLOST, in addition to an expected $89 million federal match, to fund projects including 37 miles of sidewalks, 27 new intersections, nearly a dozen one-way to two-way street conversions throughout the city, green infrastructure improvements and 18 miles of new trails to connect nine existing MARTA stations.
Other cities across the state are eager to see how the vote turns out.
"Savannah, Decatur and Atlanta [all] face similar issues in their core centers," Keane says. "What Atlanta represents to the region and state is the opportunity to put these changes in place, which other municipalities can lean on and point to when trying to move the needle for their constituency."
---
Focus on Mass Transit
If approved, the sales tax hike for MARTA projects would raise the sales tax rate in the city to 8.5 percent and generate funds for MARTA expansion and other transit upgrades.
"Assuming a positive vote by the electorate here, we'll begin collecting the tax in the spring of next year," says MARTA General Manager and CEO Keith Parker. "The money will be used for three major things: We will substantially increase service with new routes, new locations and new equipment [buses]; there will be substantial improvements and expansion of the rail system; and third, our facilities – improvements in bus stop signage, improvements at rail stations, including platform changes, and the overall general look and feel of stations could undergo significant improvements."
The transit system's top priority, according to Parker, is addressing complaints the service doesn't run frequently enough, including weekends and at night.
"We will improve those things right away," he says. "The system lost millions of customers back six, seven years ago, when we went through the big recession. There was a huge reduction in revenue, and services were cut [like] bus routes and rail system frequency. By cutting that service, what was once a 30-minute trip, now it may take an hour to get to your destination. We've added a lot of the rail service back, and the next thing will be to add more buses."
Parker says he wants to move away from the current model of 40-foot buses and instead shape the services based on need. The transit authority would add some smaller mid-sized vehicles, which can get in and out of neighborhoods more effectively, as well as up to 60-foot vehicles that could be used for special events.
MARTA already has a phone app that lets riders see when the next bus is arriving, but plans call for the app to be upgraded so patrons can schedule a trip and have a driver pick them up at their desired location and drop them off at a grocery store, gym, bus stop or rail facility.
"It will have more of an Uber feel to it," Parker says of the app. "You could pay for your fare directly from your phone, so you can bypass the ticket vending machine. Everything becomes much more streamlined, more user friendly and easier to understand."
Passing the tax in November will help MARTA implement these changes more quickly, which is key now that there is demand on the private side to locate near MARTA – something that was unheard of even just a few years ago.
"Corporations want to locate or relocate near a MARTA station," he says. "Millennials want a lifestyle where they don't have to sit in traffic. One MARTA eight-car train can remove 1,500 cars off the road."
---
Significant Investment
As GDOT celebrates its 100th anniversary this year, it's interesting to note that a century ago its creation was in response to demand for more paved roads for the dominant transportation choice of the time – bicycles.
Integrating transportation choices is the goal of the state's new Go! Transit Capital Program, injecting $125 million into projects scattered across the state to buy new buses, build park and ride facilities, improve connections for bikes and pedestrians and enhance transit. The funding, administered by the State Road and Tollway Authority, represents the first time Georgia has made a significant investment in transit.
This year, funding was awarded for 11 projects in nine cities and counties: Albany, Athens, Atlanta, Savannah, and Gwinnett, Henry and Cobb counties, along with MARTA and the University of Georgia. Cobb County received funding for two projects, one, designed to help alleviate traffic around the Braves' new SunTrust Park, will provide for six buses in that area; the other funds 12 buses that will connect the Town Center area to Midtown Atlanta. Albany Transit System is funding a new state-of-the-art multimodal system.
MARTA's Parker, for one, understands that supporting transit options statewide can only be good for Georgia's future.
"We want to be seen as a state that's expanding highways and bridges, but we also see the real investment potential of public transportation," he says. "It's what makes the whole network function properly."