Fall foliage in Georgia's State Parks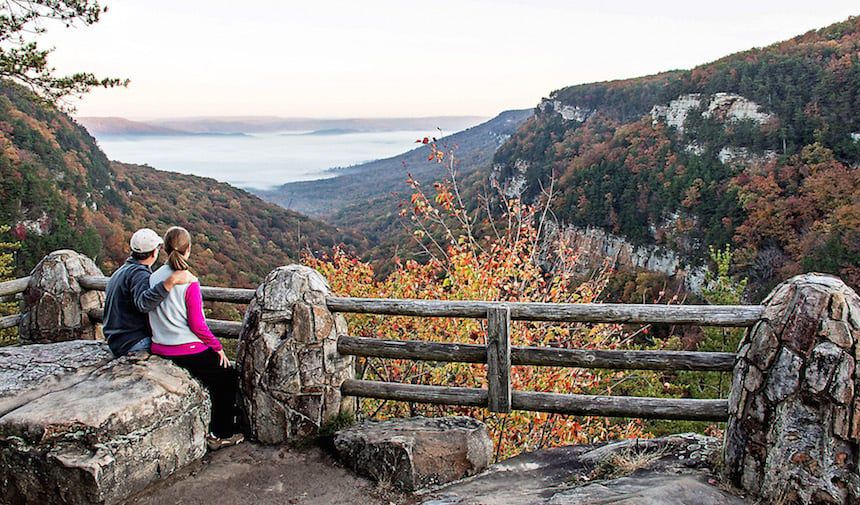 As fall rolls nearer and thoughts turn to leap peeping, get out your calendar and start making your fall foliage travel plans with this A to Z guide.
Maybe in the past you've ventured outside the state — North Carolina or even New England — for the best fall color. But beautiful oranges and reds can be found in Georgia, as well. Now, thanks to Georgia's State Parks and Historic Sites, which has put together an A to Z of info on leaf peeping in the state, you can see all the gorgeous fall hues without venturing far at all.
Amicalola Falls State Park (Dawsonville): Hike one of the highest waterfalls east of the Mississippi at 729 feet. Visitors can choose from an easy, hard-surfaced path to the closest views, or get your heart pumping on a hike from the bottom to the top on the West Ridge Falls Access Trail.
Black Rock Mountain State Park (Mountain City): At an altitude of 3,640 feet, Black Rock Mountain is Georgia's highest state park. The 2.2-mile Tennessee Rock Trail is a good choice for a short, moderate hike. For an all-day challenge, take the 7.2-mile James E. Edmonds Backcountry Trail.
Cloudland Canyon State Park (Rising Fawn): One of Georgia's most beautiful parks offers easy-to-reach rim overlooks and challenging hiking trails. A favorite hike takes you down a long, steep staircase to the bottom of the canyon, where you'll find two waterfalls. "Glamping" yurts are located off this trail and showcase beautiful views of the canyon.
Don Carter State Park (Gainesville): If hiking's not your thing, paddle a three-mile round-trip journey to Flat Creek Island, the northernmost island of Lake Lanier. Paddling is much more comfortable and enjoyable in cooler weather.
Extraordinary views from scenic overlooks. Some of the best overlooks of Georgia's mountains can be found at Black Rock Mountain, Cloudland Canyon, Fort Mountain, Vogel and Unicoi.
Fort Mountain State Park (Chatsworth): This park is best known for a mysterious rock wall along the mountaintop, plus a variety of trails. For the easiest walk, take the 1.2-mile loop around the park's green lake. For a challenging, all-day hike, choose the 8-mile Gahuti Trail.
George L. Smith State Park (Twin City): Despite its location in southern Georgia, the cypress and tupelo trees that line the lake turn an orangish-brown color in the fall. Paddle out and back from the park boat ramp to the Highway 80 bridge on a six-mile round-trip.
Haunted Hills Hayride at Victoria Bryant State Park (Royston) and Vogel State Park (Blairsville): During the last two weekends of October, hop on the hayrides and tour the spooky hills of these state parks. After the hayride, stick around for the bonfire and movie. Tickets are $5, in addition to the park's regular parking fee.
Indian Springs State Park (Flovilla): Dip your toes in the mineral-rich spring waters of Sandy Creek at Georgia's oldest state park.
James Floyd State Park (Summerville): The park's two lakes are perfect for fishing, or rent pedal boats and spend the day watching ducks on the water.
Kayak at one of the largest state parks – Chattahoochee Bend (Newnan) – where you can paddle on the southern portion of the Chattahoochee River.
Hard Labor Creek State Park (Rutledge): The park's 22 newly renovated campsites are open and provide the perfect spot to stay the night.
Moccasin Creek State Park (Clarkesville): Georgia's smallest state park sits on the shore of a gorgeous deep-green lake.
Newly renovated cabins include fresh, modern décor, flat screen televisions and updated kitchens and baths. Cabins are popular in fall, so book in advance online. Currently, renovated cabins are available at Crooked River (St. Marys), F. D. Roosevelt (Warm Springs), Hard Labor Creek (Rutledge), Indian Springs (Flovilla), Magnolia Springs (Millen), Fort Mountain (Chatsworth) and Vogel (Blairsville).
Open roads to bike on at Panola Mountain State Park (Stockbridge). The Arabia Mountain PATH winds through the park under the orange and yellow trees. Rent bikes from the visitor center for $10 per hour and pedal around without worrying about car traffic.
Pet-friendly cabins and a dog-walking club. The newest state parks club, Tails on Trails, launched in June and is a great excuse to hit the trails with your dog in the cool fall weather. Hike seven of the club's designated trails and earn a T-shirt and a bandana for your pooch. Check out pet-friendly cabins and extend a stay overnight with the entire family. Woof!
Quick Online Camping Reservations: Some state parks offer online site-specific reservations so you can select the site you want without an early arrival.
F.D. Roosevelt State Park (Pine Mountain): Many people are surprised to find hardwood forests and rolling mountains south of Atlanta. For a touch of history, drive to Dowdell's Knob to see a life-size bronze sculpture of President F.D. Roosevelt and great views of the forested valley.
Sweetwater Creek State Park (Lithia Springs): Just west of Atlanta you'll find 12 miles of hiking trails, a beautiful creek and small lake. For an easy walk, take the popular 1-mile Red Trail, which follows the creek to the ruins of an old mill.
Tallulah Gorge State Park (Tallulah Falls): Tallulah Gorge is one of the most spectacular canyons in the Southeast, and you can choose from easy or difficult trails. Hike along the rim to several overlooks with waterfall views, or get a permit from the park office to trek all the way to the bottom.
Unicoi State Park (Helen): Avoid Oktoberfest crowds in Helen by hiking a pretty 3-mile trail that leads from the park into town. You can enjoy lunch and window shopping before hiking back to the trailhead. Mountain bikers can zip past fall color on the park's challenging 7.5-mile bike loop.
Vogel State Park (Blairsville): The 4-mile Bear Hair Gap Trail makes a nice day trip for experienced hikers, offering great mountain color and a bird's-eye view of the park's lake.
Watson Mill Bridge State Park (Comer): Bike or hike through the longest covered bridge in the state, spanning 229 feet across the South Fork River. The Nature Trail meanders for 2 miles through serene nature, passing by the river's shoals and the old powerhouse sluiceway.
EXtreme Whitewater Rafting at Tallulah Gorge: During three weekends in November, you can watch expert kayakers plunge down the river during the bi-annual "whitewater release." Watch from the gorge's rim trails above.
Yurt glamping at six state parks is a rustic way to ease into camping. Instead of a tent, you're camping in a wood and canvas structure. Yurts sleep six people and include electrical outlets, bunk beds and a futon, a ceiling fan, heater and windows. Rates start at $75 per night. www.GaStateParks.org/Yurts
Zillions of ways to get outside and enjoy Georgia! GeorgiaStateParks.org
Featured photo taken at Cloudland Canyon. All photos courtesy of the Georgia Department of Natural Resources.