The Business of Giving
Community foundations across Georgia match donors with projects in ways that help improve the lives and livelihoods of community members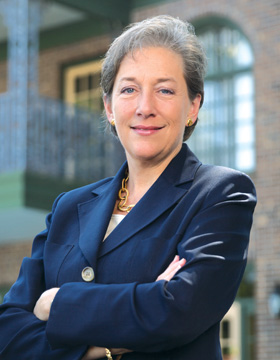 From the rolling hills of North Georgia to the lapping of the waves on coastal Georgia beaches, from the hustle and bustle of Metro Atlanta to the laid-back lifestyle of rural South Georgia, the state's geography is as diverse as the people who live here.
Just as varied are the needs of communities in different regions of the state and those who wish to make their communities better places. At those crossroads, you can find community foundations.
Community foundations are philanthropic organizations that support the needs of a certain geographic area. They are funded by multiple donors, often just regular folks whose donations are pooled with others to help improve the lives of their neighbors and neighborhoods. Those same donors may also have a voice in the ways grants from the foundation are awarded.
In Georgia, there are 13 community foundations, including the state's largest, the Community Foundation for Greater Atlanta. Created in 1951, it is also the 18th largest of more than 750 community foundations in the U.S.
"At its core, a community foundation connects the passion of donors with purpose," says President Alicia Philipp. "We help donors carry out their philanthropic passion, and we do that by helping them be strategic and knowledgeable about the community and specific nonprofits."
The Community Foundation for Greater Atlanta serves a 23-county region around Metro Atlanta, and as of year-end 2015, the foundation held $920 million in assets, receiving more than $113 million from donors and granting out $140 million to some 2,900 nonprofits.
"Community development, education, arts, well-being and nonprofit effectiveness, we're focused in those five areas where can we make a difference with our dollars," Philipp says. "In the past six years, we have worked with more than 50 nonprofits on how they can work with each other better, whether that's through combined back offices, mergers or MOUs [memorandums of understanding] to create deeper working relationships."
As an example, Philipp cites two refugee agencies her organization worked with, which in the end resulted in a merger of the agencies into a stronger, more efficient operation.
"Donors want to support strong nonprofits, and we want to help create strong nonprofits," she says.
Another key piece of a strong nonprofit is its leadership.
"We're really working around the fact that there's a silver tsunami of baby boomer retirements on the horizon, and this is happening in really key nonprofit organizations," Philipp says. "How do you get your organization ready for that? How do you deal with issues of succession? We care that there are strong nonprofits in our community, and strong nonprofits need strong leadership."
But the "silver tsunami" that threatens the future of Atlanta nonprofits is a boon to the Communities of Coastal Georgia Foundation.
"We don't have a big business structure here, our industries are retirement and tourism," President Valerie Hepburn says. "There are not a lot of locals who made their money here; our base is a lot of individual wealth."
As wealthy Atlanta CEOs and their counterparts retire to their second or third homes on the coast, Hepburn seeks to connect their resources and cultural knowledge with the community.
"As a community foundation, you look at the assets in your community and you look at the deficiencies in your community, and you figure out how to leverage those assets to at least minimize the impact those deficiencies have on future generations," Hepburn says. "We have a tremendous number of retired CEOs, and the question is how you marry that to enhancing the quality of life in the community."
The Communities of Coastal Georgia Foundation awarded 250 grants totaling $250 million and celebrated its 10th anniversary and more than $16 million in assets in 2015. CGF supports a "cradle-to-career development pipeline," funding summer camps and college road trips for inner-city kids.
"Education is a big part of our book of business," Hepburn says. "We're working for greater access to, and success in, education. Success in education is workforce development, which becomes economic development."
Beyond the altruism, each community foundation is also an economic engine for the communities they serve, Hepburn says.
"We are the public policy people who are pushing change and progress in our communities," she says. "We're the investors who are funding education, workforce development, economic development and improving the quality of life in our communities."
In addition to its focus on strengthening nonprofits in the Atlanta region, Philipp, who has led the Community Foundation for Greater Atlanta's efforts for nearly 40 years, cites the foundation's ability to "pivot," as a hallmark of its effectiveness.
As an example of this nimbleness, she recalls an event from 2006, when a set of Martin Luther King Jr.'s papers were going to be auctioned off at Sotheby's in New York. Philipp received a call from then-mayor Shirley Franklin, who asked for the foundation's help in securing the papers.
"Who knew who was going to buy them, so the mayor came to us and said, 'We've got to do this as a community,'" Philipp recalls.
In three short days, the foundation had collaborated with local leaders and a diverse group of donors to secure the $33 million needed to bring the papers home to Atlanta.
"Being able to step forward to do that was amazing," she says. "It was extraordinary. Today the papers are at Morehouse College and available for researchers, and some are part of a rotating exhibit at the [National] Center for Civil and Human Rights."
That same agility helped the Community Foundation of Northwest Georgia, which serves Bartow, Gordon and Whitfield counties, focus on grants related to relieving hunger in the area when hunger-related grant requests increased four- to five-fold during the Great Recession.
"What makes us unique is our ability to respond in a very direct way to the different needs at different times," says President David Aft. "We are able to be very nimble, which is a tremendous benefit of community foundations."
The Community Foundation of Northwest Georgia and its affiliates have supported such diverse endeavors as the aquatic center in Calhoun; land acquisition in Whitfield County for a wilderness park; a radiation therapy center at Gordon Hospital; and the renovation of the Emery Center, an African-American heritage and multicultural center. When a homeless shelter in Cartersville received a large grant from the Community Foundation for Greater Atlanta to purchase bikes so residents could get to a job or the store easier, the foundation made a donation to the shelter for the purchase of a bike rack and locks for storage and security.
"We're working with a couple right now as it happens, and upon their death, they have made a major commitment to [fund] spay and neuter services in [their] area," Aft says. "We connect people with a charitable interest to the mechanics and the programs that can turn those dreams into a reality."
Serving the area since 1998, the Community Foundation of Northwest Georgia holds more than 185 different charitable funds and has more than $40 million in assets. In 2015, the foundation made 664 grants totaling $3.1 million.
"It's easy to talk about the money, but money's just one part of it," Aft says. "Our goal is to build long-term financial resources for northwest Georgia, strengthen charitable organizations and help philanthropists get the most out of their work. When people come together to dream, and with a little bit of elbow grease, the impact is tremendous."
And the beauty of community foundations is you don't have to be Bill Gates or Warren Buffett to make a difference, according to Kathryn Dennis, president of the Community Foundation of Central Georgia.
A $103-million organization serving 21 counties, the foundation is focused on growing funds in each county it serves, strengthening neighborhoods and downtown revitalization.
As part of its Knight Neighborhood Challenge grant program, the Community Foundation of Central Georgia distributed a $450 grant that helped a community remove unsightly graffiti, while a $2,150 grant to a Mercer University professor purchased energy efficient light bulbs to replace porch light bulbs in a "Leave the Light On" campaign to make her neighborhood more inviting.
"What we found is if people had even a small amount of money to implement an idea they had to make their neighborhood better and bring people together, a whole new group of leaders emerge once they started getting involved," she says. "They realized they can do something on their own, that they didn't have to wait for someone else to come in and do it for them."
Another example of a small donation having a large impact is Lamar Gives 365. Piloted two years ago, the Community Foundation of Central Georgia asked donors in Barnesville and Lamar County to pledge $1 a day. The money is pooled, with half of it going into an endowment fund, while the other half is used for charitable donations.
Last year, Lamar Gives 365 had 164 members and made $25,000 in grants. This year, the fund boasts 205 members and has given away $27,000. Thanks to matching funds, the endowment fund now exceeds $125,000.
"This program has allowed us to build a community of donors and educate them on how a community foundation works," Dennis says. "It's a way to involve a lot of people who love where they live in charitable giving."
Long before she mounted her first mayoral campaign, Columbus Mayor Teresa Tomlinson and her husband Trip were supporters of the Community Foundation of the Chattahoochee Valley. The couple's fund began with a $250,000 contribution, and in the 13 years since, it has made 212 grants totaling nearly $370,000.
This is just one example of the value of establishing a community foundation fund. Good stewardship and thoughtful investing by the foundation has enabled this fund and others under its umbrella to have an impact far beyond the initial investment.
"Having a fund at the community foundation facilitates your thinking about how you can participate, how you can help," she says. "The community foundation is essential in this city's forward movement. It's an incubator of progressive civic thought; then it has the ability to arrange the partnerships that turn that thought into action."
In Columbus, those partnerships and funding from the foundation are joining forces to create The Friends of the Greenway Trail Fund.
"We have a lot of donors in Columbus looking at ways to better connect the city right now," says foundation President Betsy Covington. "The city agreed to fund the first link of the trail, and ultimately, there will be 27 new miles of trail paths, resulting in 60 miles of the RiverLink Greenway Trail throughout Columbus and Muscogee County. The trail system will give people opportunities to connect in different ways."
Founded with $600,000 18 years ago, the Community Foundation of the Chattahoochee Valley serves 11 Georgia counties and two counties in Alabama, Lee and Russell.
"We have assets of $120 million and have given away $120 million, which is a number I love because it illustrates we're useful to people," Covington says.
"My job is about creating raging philanthropists; to get people on fire about making a difference in their community."
With generous civic-minded people all across the state, practically every county in Georgia is covered by a community foundation that is working to make lives better.
---
Community Foundations in Georgia
Athens Area Community Foundation
Counties Served: Barrow, Clarke, Jackson, Madison, Oconee and Oglethorpe
Cobb Community Foundation
Counties Served: Cobb County (cities of Acworth, Austell, Kennesaw, Marietta, Powder Springs and Smyrna)
Community Foundation of Central Georgia
Counties Served: Baldwin, Bibb, Bleckley, Butts, Coffee, Crawford, Dodge, Houston, Jasper, Jones, Lamar, Laurens, Monroe, Peach, Pulaski, Putnam, Spalding, Taylor, Twiggs, Upson and Wilkinson
Community Foundation for the Central
Savannah River Area
Counties Served: Burke, Columbia, McDuffie, Richmond, Edgefield (S.C.) and Aiken (S.C.)
Community Foundation of the Chattahoochee Valley
Counties Served: Chattahoochee, Harris, Lee (Ala.), Marion, Meriwether, Muscogee, Quitman, Russell (Ala.), Stewart, Talbot, Taylor, Troup and Webster
Communities of Coastal Georgia Foundation
Counties Served: Camden, Glynn and McIntosh
Community Foundation for Greater Atlanta
Counties Served: Barrow, Bartow, Butts, Carroll, Cherokee, Clayton, Cobb, Coweta, DeKalb, Douglas, Fayette, Forsyth, Fulton, Gwinnett, Hall, Henry, Morgan, Newton, Paulding, Pickens, Rockdale, Spalding and Walton
Community Foundation for Northeast Georgia
Counties Served: Barrow, Clarke, Forsyth, Fulton, Greene, Gwinnett, Jackson, Madison, Oconee and Walton
The Community Foundation of Northwest Georgia
Counties Served: Bartow, Catoosa, Chattooga, Dade, Fannin, Floyd, Gilmer, Gordon, Murray, Pickens, Polk, Walker and Whitfield
Community Foundation of South Georgia
Counties Served: Atkinson, Bacon, Baker, Ben Hill, Berrien, Brantley, Brooks, Calhoun, Charlton, Clay, Clinch, Colquitt, Cook, Crisp, Decatur, Dougherty, Early, Echols, Grady, Irwin, Lanier, Lee, Lowndes, Miller, Mitchell, Pierce, Randolph, Seminole, Sumter, Terrell, Thomas, Tift, Turner, Ware and Worth
Community Foundation of West Georgia
Counties Served: Carroll, Haralson and Heard
North Georgia Community Foundation
Counties Served: Banks, Dawson, Fannin, Forsyth, Franklin, Habersham, Hall, Hart, Jackson, Lumpkin, Rabun, Stephens, Towns, Union and White
The Savannah Community Foundation Inc.
Counties Served: Bryan, Bulloch, Chatham, Effingham, Liberty and Screven