Georgia Fare: First Choice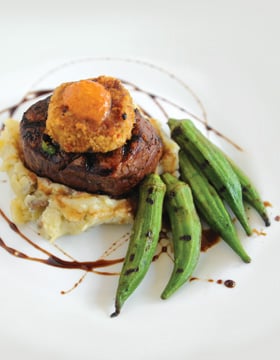 Ah, Last Resort Grill: It's an ironic moniker for the first choice of so many of my pals when we're in the Classic City. The reasons are myriad: The cheery, knowledgeable and attentive service by a corps of creative folks, from the waitstaff to the kitchen; the know-it-by-heart Southwest-meets-Southeast menu leavened with daily creative specials; and first-class wines and cocktails, even in this competitive scene.
With so many great choices in Athens, why do my friends insist on a pilgrimage to Last Resort, which has anchored the downtown corner of Hull and West Clayton since 1992? Somehow, it's the place that makes everyone nod "yes" when we're pondering the options.
Strict vegan? No problem! Voracious carnivore? They've got yer baby back. The persnickety orderer who wants the Deconstructed BLT salad without soft-boiled egg, or the egg, but cooked hard? They'll do their best – but incredibly, Last Resort makes everyone happy without a french fry or chicken finger on the menu. This seemingly effortless achievement of healthy-ish (but not severe) good food, with top-notch ingredients – comfort food that doesn't pander – is the restaurant's hallmark.
Added to all these factors, there's a certain nostalgia – to a time when this end of downtown Athens was a scruffy spot anchored by a thrift shop and the 40 Watt Club, the music scene was just taking off, and Last Resort, opened as a cabaret in 1966, was one of many places to hear live bands like Townes Van Zandt and Doc Watson. After the old Last Resort closed, the building sat empty for 10 years before re-opening with new owners as a restaurant.
Something about the Last Resort's staying power and consistency in its new incarnation also appeals – as soon as our group agrees to eat there, we can all begin looking forward to longstanding favorites, starting with the jewel-like display case of cakes and pies that greet you before the host does. Of course, at lunch there are burgers (turkey, beef or black bean) and enchiladas, as well as quesadillas and a daily quiche. But there's also posole, a satisfying pork-and-hominy soup, or the bacon-spiked meatloaf with black-eyed pea mash and sautéed greens.
At dinner, there's the firecracker beef tenderloin filet (grilled with black pepper and topped with a crab cake) and the praline chicken, stuffed with cheese and drizzled with honey-walnut elixir. The latter has been on the menu since day one, a remarkable achievement for a bill of fare that has constantly evolved (if slowly) over its 24 years. "I think we'd have rioting if we tried to take it off," says co-owner Melissa Clegg.
Athens native Clegg has been in the kitchen, creating dishes, tweaking menu wording and washing up as necessary since the restaurant's opening, one of four partners who also included REM's Bill Berry. Clegg first encountered the Last Resort building as a child in a singularly Athens fashion, when she went to see her mother onstage playing guitar in the all-female band The Working Muthas.
At 12, Clegg "begged and pleaded" her way into a job washing dishes at Sparky's, a local seafood restaurant. Later, after earning her degree at UGA's Terry College of Business and a short gig as a flying instructor, one of her old Sparky's bosses suggested they join forces to open a restaurant. That restaurant would become the Last Resort.
Along with helping build the Last Resort into a solid standby, Clegg was also the behind-the-scenes spark for a number of efforts, including luring Hugh Acheson, once a Last Resort chef (and manager) back from California to Athens to open Five & 10 with her in 2000.
After earning national recognition, Five & 10 moved to new digs, and the two again joined forces to open Cinco y Diez in the old spot. That creative Mexican bistro closed last year. ("It's a cuisine that people seem to have a certain relationship with," Clegg says, "and it's hard to overcome those perceptions.") Now Clegg hosts popups (including a once-a-week meat-and-three) and conducts her catering business there.
Like Athens itself, Last Resort's sum is somehow greater than its parts. Quirky, imaginative and fun, the place both recalls recent history and represents the current scene. But if you've never been, be sure to get there early before the line starts spilling out the door. It's no secret, no newcomer or groundbreaker – just an enduring, and endearing, favorite.
Last Resort Grill
174-184 W. Clayton St., Athens
706.549.0810
Lunch and dinner daily (including brunch)
Free in small, attached lot and metered on-street parking
Anything from soccer slides and Chuck Taylor high-tops to spike-heeled Louboutins – in fact, I've seen all of those at the same table
---
Another Athens Alum
Chef Whitney Otawka, formerly of Athens' dearly departed Farm 255 and Cinco y Diez, now plates her wares at Greyfield Inn on Cumberland Island, where she recently cooked lunch for visiting chef Jacques Pepin. "Just fabulous," she says.
This month she will be teaching kids to make pizza as part of the inn's children's summer camp (which allows thankful parents time to roam the paths and beaches solo), choosing many ingredients from the inn's own gardens. "It really is like Tom Sawyer's island here," she says. She and husband Ben Wheatley, also a Greyfield chef, will remain on Cumberland until spring 2017, when they hope to open their own restaurant in Savannah or Atlanta using the Latin flavor profiles they honed at Cinco y Diez following a transformative visit to Mexico.
"It changed the way we cook," she says. "I'm a California girl, and Ben's from Washington, Georgia. We want to use the same produce-driven cooking we used at Cinco, using all of our influences."