State of Atlanta's BeltLine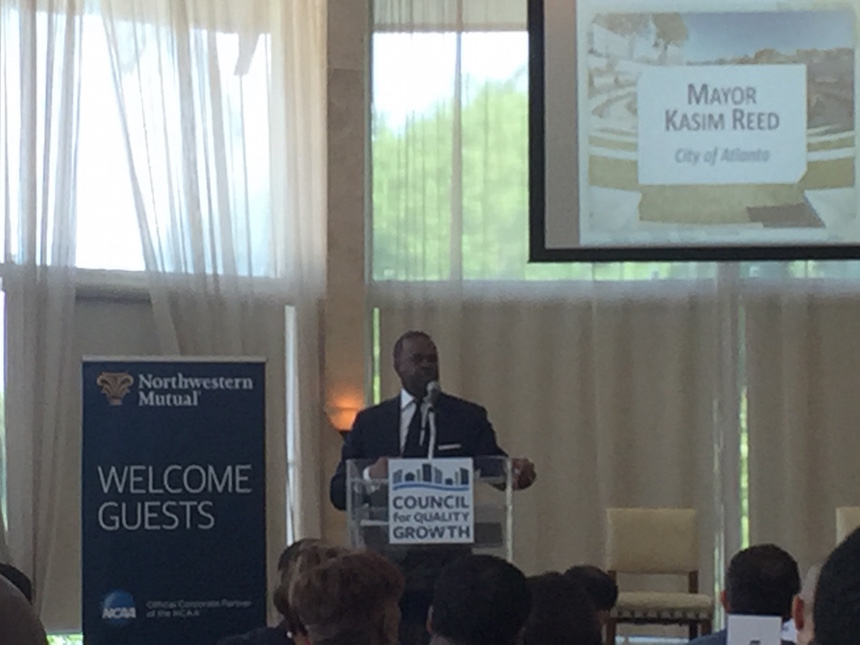 Proposed expansion plans for the 22-mile Atlanta BeltLine are jaw-dropping in their scale and reach. The plans were presented at the State of the BeltLine May 25 at Park Tavern in Atlanta by the Atlanta BeltLine Partnership in collaboration with the Council for Quality Growth.
Mayor Kasim Reed said he expected the BeltLine when built out to help boost the city of Atlanta's population to 1 million people. That's more than twice as many people as we currently have living here.
There's no doubt the BeltLine has been a huge hit. Paul Morris, BeltLine president and CEO, described how it has leveraged $449 million in investment to $3 billion in development – a seven-to-one return on investment. This is after finishing just one section (the Eastside Trail) and embarking on another (the Westside Trail). The Eastside Trail saw 1.3 million visitors in 2015.
"We want future generations to look back and say, who were these people that made this happen?" said Morris.
Next on the agenda are the Southeast Trail, the quarry – a 300-acre park on the Westside – and the extension of the Eastside Trail. Two corridors along the BeltLine – Murphy Crossing and Boulevard Crossing – have been targeted for commercial development to provide jobs and create local business opportunities.
The city also plans 46 miles of "complete streets" beautification and walkability projects from Boulevard to Freedom Parkway. Along with that, the BeltLine's goal is to add 700 acres of renovated greenspace, 1,300 acres of new greenspace and 1,100 acres of brownfield remediation. More than 6,100 permanent jobs have been created in the BeltLine area and a total of 30,000 are expected when it's built out. It will add 28,000 housing units, with about 5,600 reserved for workforce housing. The BeltLine already has an $8.8-million trust fund capitalized for affordable housing.
But the real mindblower is the plan to add 28 miles of crosstown streetcar tracks to connect to the 22-mile loop. Plans include a 4.8-mile line from Luckie Street to North Avenue, a 2.5-mile Atlanta University Center track from Luckie to the Atlanta BeltLine's Westside and many more. These light rail lines would solve so many "last mile" problems we've had with connecting active districts that are far flung from our bare-bones MARTA-heavy rail corridors.
Reed thanked Atlanta Public Schools Board Chair Courtney English, who received a standing ovation for negotiating the treaty between the city and APS over Tax Allocation District funds for the BeltLine. Reed noted the success of the BeltLine-adjacent Ponce City Market and recalled it all started when he visited Chelsea Market in New York and realized one of the developers on that project was the Atlanta-based Jamestown.
He thanked Washington, D.C., for the $18-million TIGER grant to continue the BeltLine and said he wants it to be ready in time for the Super Bowl, which the city will host in 2019. He lauded the Atlanta City Council for pushing for more affordable housing requirements and the real estate community for getting on board.
"We have a legacy of inclusion here," said Reed. "That's how we got here. That's why there's twice as many people here as there are in Birmingham. Because of the people in this room. Because we didn't turn on each other."
Photo of Atlanta Mayor Kasim Reed at the State of the BeltLine event courtesy of Ben Young.