Georgia Fare: Mountaintop Renewal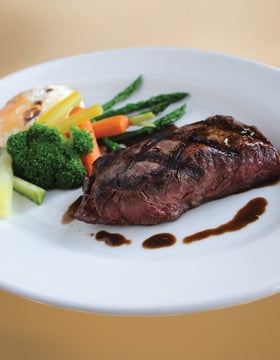 When you think of the pretty little North Georgia mountain town of Ellijay, you probably immediately think, "apples," "fall leaf-peeping" and "antique shops," plus nearby attractions like Amicalola Falls and Fort Mountain State Park.
If you haven't been there in a while, you might not immediately think "great food," and if you did, you might conjure up the colorful image of Col. Poole's yard dotted with plywood painted pigs, representing those that have received tasty treatment in his barbecue pit on the edge of town for generations.
However, like its neighboring mountain villages, Blue Ridge and Clayton, Ellijay's compact downtown square is rejuvenating, and its dining (and drinking) options expanding. This time of year, when it's already getting blasted hot in Georgia's urban centers and southern plains, you might consider a quick trip into cooler climes to roam the little shops and have a bite or two.
For casual options, the people's choice might be the jubilantly rustic River Street Tavern, packed to the raucous rafters on a recent Wednesday Wing Night, when flavors like lemon pepper, mango habanero and napalm go for a minimum order of six for $3.30. Sandwiches, salads, burgers and plentiful on-tap brews round out the choices. For breakfast and lunch, check out the serene Back Porch Bistro, where Belgian waffles, daily soups, paninis and the like are supplemented by specialties such as the German owner's occasional special platter of pride, with carefully selected sausages, liverwurst and Knackwurst, all featured on this laid-back, dog-friendly back patio.
Most surprising, however, is The 1907 Restaurant + Bar, an ambitious enterprise in a deep, narrow brick-walled storefront with a friendly patio (and roomy upstairs for private events). Here, the tabletops are cracked Formica "marble," but the bartender knows what a Manhattan is and what a dry martini means, and you'll find sit-down dinner-worthy entrées like lamb chops, beef fillet, diver sea scallops and even sautéed frog legs.
On two visits, we enjoyed specials like shrimp and soba noodle soup – a big bowl with tender shrimp and noodles in a delicate broth spiked with scallion and radish; another day, closer to St. Patrick's, we enjoyed "corned" beef (tasty, but maybe more like pickled beef). Salads like the Caesar and mixed green are clean, devoid of brown spots or wilted leaves, well-dressed (not doused) and the Caesar topped with crisp croutons. (The kitchen happily splits a salad on request.)
Standard sides like rich scalloped potatoes and al dente vegetables will remind you of food served in a good European neighborhood bistro. Still, Chef Philippe Gehin seems to like to play with lots of influences: Along with those frog legs à la provencale, you'll find shrimp and grits, and even open-faced fried chicken sliders with sausage gravy.
Among our favorites: delicately fried, tempura-like "firecracker" shrimp, served with a spicy ginger dressing over Asian salad in a martini glass; flavorful if not strictly "blackened" catfish; delectably charred lamb "lolli" chops; and the grilled, marinated flank steak – especially the shiitake sauce, a lip-smacking, old-school concoction of red wine, beef jus, mushrooms and Dijon mustard.
All three desserts are worth a try – the crumbly, ricotta-rich chocolate espresso cheesecake; the toasted pecan bread pudding; and the unusual but flavorful key lime parfait, layered with fresh fruit and berries.
Perhaps more than the food, we liked the excellent, accommodating service, the quiet space and relaxed pace, and the fact that Gehin came by our table each visit to ask how we liked our meals. We also enjoyed the price tag: A soup-to-nuts dinner for two, including a cocktail and glass of wine, bread, two entrées, salads, coffee and desserts, came to well under $100.
And the very best feature of The 1907: That this kind of place exists in this little mountain town at all.
---
The 1907
24 River St., Ellijay
706.635.1907
Hours: Call or check website for current hours, which may change seasonally from the current Wednesdays-Sundays, lunch and dinner
Parking: Plentiful on the street
Dress Code: Mountain-hiking casual
---
More Small-town Surprises
Southern Scratch Bakery
Washington
Not only baked goods, but innovative lunch fare from local providers, like Tink's Grass-Fed Beef.
facebook.com/southernscratch
---
Local Republic
Lawrenceville
Southern and international "fusion" with an emphasis on local ingredients and brews. Big patio with a mid-century vibe inside.
thelocalrepublic.com
---
Rico's World Kitchen
Buford
The "world comfort cuisine" includes chicharrones, po' boys, lumpia – Filipino-style egg rolls – and fried green tomatoes, all in a concrete-block dining room with garage doors opening to the patio.
ricosworldkitchen.com