2016 Georgia Logistics Summit recap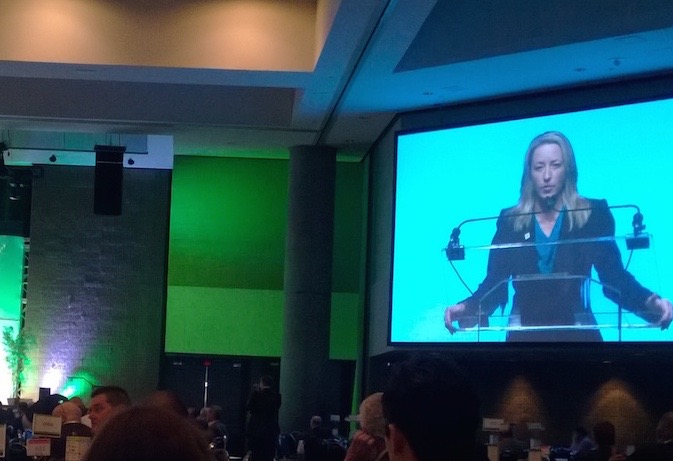 Each year more than 1,000 people gather for the 2016 Georgia Logistics Summit at the World Congress Center in Atlanta. This year's event, held April 19 and 20, featured a number of experts discussing the latest logistics trends.
Gov. Nathan Deal promised the Savannah Harbor deepening would continue on schedule. Caterpillar VP and Chief Procurement Officer Frank J. Crespo gave the keynote speech, while Georgia Department of Economic Development Center of Innovation for Logistics Director Jannine Miller touted Georgia's advantages and infrastructure investment plans.
Marc Gorlin, founder and CEO of Roadie, a delivery network; Ryan Morel, general manager of Market Development at Flexe, a business that's been called the "AirBnB" for logistics; Stephen Boswell, Internet of Things sales exec with AT&T; and Lawrence Corban, founder of Guided Systems Technologies discussed ways the logistics industry is changing thanks to technology disruptions including demand shipping, the Internet of Things and drone delivery.
GDEcD Commissioner Chris Carr joined a panel that included Troels Adrian, director of supply chain and advanced manufacturing with the Metro Atlanta Chamber of Commerce; Brandt Herndon, VP of business development for the Savannah Economic Development Authority; Stacy Watson, general manager for economic and industrial development at the Georgia Ports Authority; and panel moderator Kevin Shea, president of the Georgia Economic Developers Association. The panel members expounded on the state's advantages mentioned by Miller and discussed direct job creation over the last year.
"Innovation Centers are unique to Georgia, and we're proud of them," Carr said. "In terms of infrastructure investment, I hear we're five years ahead of other states. Georgia saw $221 million in investment to logistics services last year. Augusta had Textron/EZ-Go add 400 jobs. Norfolk Southern railroad is creating 284 IT jobs and investing $55 million. National Beef Packing announced 233 new jobs in Colquitt County."
Herndon noted that SEDA shares resources with 300 offices around the world and 15 development authorities and lauded Savannah's new film initiative, which offers additional tax breaks to productions that film in the area.
Adrian discussed how MAC now covers a 29-county area, "from Alabama to Barrow and Lamar to Bartow. We have a relationship approach – sell Georgia first, then Atlanta," he said.
Watson noted new logistics activity in Candler County, which crosses I-16 in east-central Georgia. CPE America, a specialist in concrete pumps, is moving its North American headquarters into a 42,000-square-foot building that's been vacant for 26 years. Also in Metter, Linzer Products, a paint supply company, is opening a manufacturing and distribution operation, creating 200 jobs.
Adrian mentioned Intelligrated, an automated material handling solutions provider, is expanding in Alpharetta, saying it's "not a distribution company but one which highlights a growing trend: supply chain being tech driven rather than tech enabled. The logistics sector is like technology in the '80s and '90s – ripe for disruption. There are a lot of upstarts and startups here – we're very excited and promote our symbiotic link to Savannnah."
Photo of Center of Innovation for Logistics Director Jannine Miller on the big screen at the summit courtesy of Ben Young