Millennials in Fayette County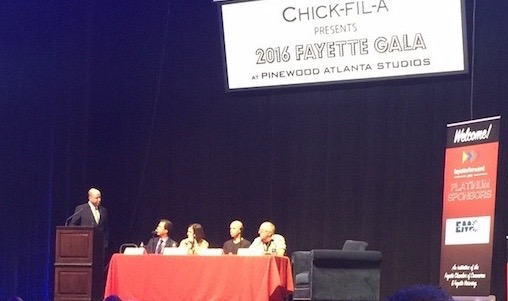 Fayette Forward was a powerful day-long seminar from the Fayette County Chamber of Commerce and Fayette Visioning at Pinewood Studios last month. The event was an opportunity to discuss the challenges Fayette County faces as the oldest county – median age 43.3 – in Metro Atlanta.
Just a few days before the event, The Citizen published an article by Fayette County Chamber of Commerce President and CEO Carlotta Ungaro noting that recent population growth in the county was 67 percent for those 65 and older, while growth at the other end of the lifespan, ages 0-4, dropped 8 percent from 2000 to 2010. Local industries are having trouble attracting talent and filling jobs, she wrote.
This event was an opportunity to explore the consequences and opportunities represented by those figures and featured a wide range of speakers including Dan Cathy, CEO of Chick-fil-A; Dhiru Thadani, AIA, architect and urbanist; Bud Peterson, president of Georgia Tech; and Knox White, mayor of Greenville, SC.
It also included a lot about those "m" words you hear bandied about these days – movies and millennials.
One panel featured the county's mayors, who were asked how they are trying to bring more young people to the county. Here are some of their answers:
Eric Dial, Tyrone: "We need to increase our water and sewer capacity, then we can be more creative in terms of mixed-use [housing]. With the closing of Tyrone Elementary, we are seeking to re-use it as a possible business incubator. We don't want the government to drive the market – let the private sector do it and get out of the way. We need to stop saying no. No should be the last result."
Vanessa Fleisch, Peachtree City: "Downtown has older housing stock and dilapidated infrastructure, so the goal is to raise property value and reinvest in ourselves. We're fascinated by Suwanee Town Center [a mixed-use area and 10-acre urban park]. I see Peachtree City has similar potential."
Ed Johnson, Fayetteville: "Change equals opportunity – we must get energized, not paralyzed. We can't sit by and let [demographic changes] happen. We must adjust our development plans to make it work, play and live. Our downtown development plan is critical. We must develop leadership and work with Fayette Visioning."
Gary Laggis, Woolsey: "We are unique – only one square mile. We need affordability and transportation. We're not that far away, and we do have millennials. They like the space, the nature, and have home-based businesses. We're a half-mile from the Horton Reservoir, which is an 800-acre lake with [2.8] miles of paths. Water attracts people. There is potential for eco-retail development."
Dan Langford, Brooks: "We have a new charter school, Liberty Tech. If we're 'chasing cool' as Dan [Cathy] said this morning, then this is the coolest: STEM-based, classical education with Aristotelian business and etiquette – it's very exciting. It opens this fall, and we are ready to welcome children of millennials.
Photo above, left to right: Steve Rapson, Fayette County administrator; Mayors Eric Dial, Vanessa Fleisch, Ed Johnson, Gary Laggis and Dan Langford, courtesy of Ben Young.