South Metro Atlanta: Turning South
Corporate moves, redevelopments and film production.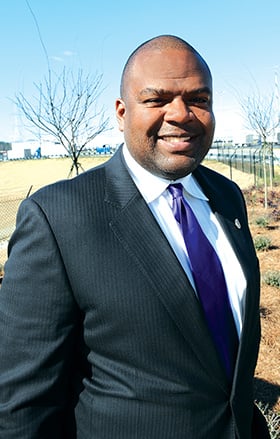 There was a time when Atlanta's South Metro region was considered an afterthought. It was a place you drove through or flew over on the way to somewhere else – like downtown or the top end of the city. No more.
These days South Metro – which includes the southern end of Fulton along with Clayton, Coweta, Fayette, Henry and Spalding counties – has become a hive of economic activity. Businesses are being lured here by lower costs and close proximity to Hartsfield-Jackson Atlanta International Airport and its burgeoning reputation as the world's next great aerotropolis. Instead of heading north when they leave the airport, those arriving to the city are increasingly turning south.
While it may not have caught up to its North Metro rivals, this southern region is rapidly transforming itself to compete in new and innovative ways. The level of economic activity has been kicked up a few notches with a wide range of development coming out of the ground.
"The quality and the types of development that we're seeing now in South Metro are being reshaped," says Michael Hightower, managing partner of The Collaborative Firm. "For the past year, we've seen a lot of additional interest focused on Hartsfield-Jackson. In particular, Porsche coming to this area has certainly enhanced other development opportunities."
As the world's busiest airport, Hartsfield-Jackson has long been a driver of Metro Atlanta's economy. Yet the area around the airport has often lagged behind the rest of the region in development. Changing that is the goal of the Atlanta Aerotropolis Alliance. Comprised of business and professional leaders from throughout the area, the group is working to bring new high-quality development to the airport environs.
The decision by Porsche Cars North America to build its new headquarters adjacent to the airport is often cited as one of the prime factors in kick-starting this kind of development. When executives with the European automaker opened the new $100-million Porsche Experience Center and headquarters, its presence near the airport was seen by many as a game changer.
"The Porsche relocation was an iconic type of deal that is really acting like a magnet," says Al Nash, executive director of the Development Authority of Fulton County.
The airport area has never attracted the type of class-A office and high-end retail and residential that can be found around international airports in other parts of the world. That is going to change, he says.
One indicator of that change is a new hotel next door to the Porsche site. Atlanta-based Capella Hotel Group will build a 214-room hotel – its first in the metro area – branded with the company's Solis Hotel name. Slated to open in 2017, the property at Two Porsche Drive on the east side of Hartsfield-Jackson (near the new International terminal) will include 6,500 square feet of event space and a rooftop lounge with views of the driving course at the nearby Porsche Experience Center.
In recognition of the changing nature of development around the airport, two of the area's community improvement districts, the Airport West CID in Fulton County and the Airport South CID in Clayton County, merged to form the Atlanta Aerotropolis CID. By joining forces, these self-taxing districts will be able to fund projects like road construction, water system improvements, public safety initiatives and beautification.
---
Rethinking Development
The southside has also lagged behind in generating new jobs, and nowhere has that been felt more than in Clayton. That has also begun to change. Unemployment has come down from 8.1 percent in December 2014 to a more reasonable 6.6 percent at the end of 2015, according to Courtney Pogue, director of the Development Authority of Clayton County. "That's one of the largest percentage changes in the Atlanta metro."
Lately, the county has gotten serious about attracting new business and industry, and with that has come the recognition that it needs mass transit. In 2015, voters approved a referendum to use sales tax money to expand MARTA bus service. Clayton is the first new county to add the service since 1971.
Clayton's sales tax will rise from 7 percent to 8 percent and generate proceeds of about $45 million per year. Half the money will pay for bus service. The other half is earmarked for a future commuter rail or bus rapid transit. The county has not had public transit since its own bus service was dissolved in 2010 due to lack of funds.
"With MARTA coming back in and really being fully operational here, it's definitely very attractive to a number of employers," Pogue says. "One of the first things they ask about is the access to public transportation. So MARTA really helps us to recruit businesses to the area."
Public transit, coupled with easy access to multiple interstate highways, will prove increasingly attractive to businesses looking for a diverse and trained workforce as well as a low cost of doing business.
When the military announced in 2005 that it was closing Fort Gillem, it was a shock to the local economy. Since the base officially closed in 2011, the county has been working hard to transform the abandoned post into an economic asset.
"What's taking place at Fort Gillem is really driving the marketplace," Pogue says.
Grocery giant Kroger invested more than $175 million to create a new state-of-the-art distribution center in Forest Park on the 1,000-acre Fort Gillem property. The 1-million-square-foot distribution center, which is located on a 253-acre parcel, serves existing operations in Alabama, Georgia, South Carolina and Tennessee. The center is expected to produce 120 jobs at the Forest Park facility, including warehouse, security, transportation management and other maintenance positions.
The city of Forest Park partnered with the Forest Park/Fort Gillem Implementation Local Redevelopment Authority to redevelop the former army base.
"That's really changed the dynamics of logistics and transportation within the South Metro area," says Pogue. "It's definitely bringing a number of other companies that want to be around Kroger."
The authority plans to turn the military base into a manufacturing, distribution, warehousing and business park complex offering more than 7 million square feet of space. The effort could potentially transform the area into a logistics and transportation powerhouse for South Metro, he adds.
Reuse and redevelopment has become a guiding principle throughout South Metro. Newnan in Coweta County took an abandoned 200,000-square-foot Rite Aid distribution center in the Shen-andoah Industrial Park and quickly found a new tenant, Custom Molded Products (CMP), which supplies pools and whirlpools.
"We took back the distribution center, and that left us with three buildings and about 800,000 square feet of space," says Greg Wright, president of the Coweta County Development Authority. "We had those filled in about 14 months. That was really a big one for us. Our economy is so diverse from an industrial standpoint that if we lose one big one like that, others step in and take up the slack."
The county's industrial manufacturing base has remained steady over the past few years. Niagara Bottling Co. built a 450,000-square-foot facility at a cost of nearly $80 million. Elite Foam, another local mainstay that produces specialty flexible polyurethane foam used in bedding, announced an expansion last year that added 150 new jobs. The company purchased the former Insteel building and expanded its production lines both there and at an existing facility in Newnan.
---
Strong Markets
In Henry County, industrial real estate is making a big comeback in the form of about 3 million square feet of speculative buildings in the first half of this year. Developers are now willing to build and know that the economy is strong enough to ensure that someone will bite.
"It's a sign of the overall strength of the economy and certainly the strength of the market in Henry County," says Charlie Moseley, executive director of the Henry County Development Authority. "Obviously it has to do with several factors, including our location along I-75, good access and proximity to the port, while also accessing the Metro Atlanta workforce."
Big national developers such as Trammell Crow Co. and Ridgeline Property Group have large class-A industrial buildings under construction in the county.
"It gives us a lot to work with in terms of product," says Moseley. "Henry County is fortunate. We have some land that we can build product on, and we have some good product available."
Fayette County's economic upswing is reflected in a surging residential real estate market and a growing demand for workers.
"Our home prices are picking up, and that's often an indicator people look at," says Carlotta Ungaro, president and CEO of the Fayette County Chamber of Commerce. "I know our employers, particularly ones that we talk to the most, are once again struggling to find employees. So that's a sign that the economy is picking up as well."
One big driver of that upsurge – both in Fayette County and throughout South Metro – has been the film industry. Attracted by generous tax credits for film production, Metro Atlanta has garnered the nickname "Hollywood of the South."
As more and more productions have come to the region, several permanent film studios have sprung up. These facilities have created both permanent infrastructure and a reason for the many behind-the-scenes craftsmen and technical specialists to set down permanent roots.
Fayette was able to capture one of the biggest of these when Pinewood Group set up shop in the county. The company, which has production facilities around the world, is best known for making some of the biggest movie blockbusters of recent decades including the James Bond, Harry Potter and Marvel Comics superhero epics. Now these box office spectaculars increasingly have a "made in Georgia" label.
Pinewood Atlanta Studios, which opened in 2014, offers state-of-the-art sound stages on a 288-acre site that was once a family farm. A former school building across the highway now serves as offices for the production company. So many production crews are clamoring to film in Georgia that the studio is adding more sound stages – a projected 27 when the entire project is completed.
"Every time you go by, there are cranes and another [soundstage] cropping up," Ungaro says.
One side effect of all these productions has been something of a housing shortage. Crews coming into town for a short-term assignment are having a hard time finding temporary quarters while they complete work on a film project. That problem is likely to be addressed soon with Pinewood Forest, a nearby mixed-use development that is slated to include retail, commercial, residential and hotels. Initial plans call for more than 1,000 multi-family residential units, single-family homes and townhouses, along with a couple of boutique hotels.
All this development within the city of Fayetteville is likely to spur still more development in the surrounding community, according to Ungaro.
The film industry has very specific labor needs, and Georgia is seeking to provide a steady supply of trained workers through its new Georgia Film Academy. One of the first locations selected for the school was the Pinewood Production Centre next door to the studio complex. Academy programs are designed to train the skilled workers like set builders, camera operators, on-set production assistants, craft services and other specialty technicians who appear "below the line."
"They have developed some specific programs to get people trained up quickly to address the needs of the labor market in the film industry," Ungaro says. "They also teach some of the more specific movie skills, like understanding the site selection process for film and organizing and pulling all those things together."
Education of a different sort is helping drive economic development in Spalding County. At the Griffin campus of the University of Georgia, a 14,500-square-foot Food Technology Center is under construction and slated to come online later this year. The $5.5-million facility will house the Food Product Innovation and Commercialization Center and offer resources for food companies developing new products or improving production techniques. The center facilitates commercialization of food products by providing access to food scientists and a host of labs and production facilities for both startup ventures and existing food companies.
"It took us 15 years, but we finally have broken ground on the center," says David Luckie, executive director of the Griffin-Spalding County Development Authority. "We think it will create jobs and capital investment. Not just for our community, but for all of Georgia. It's the only one like it in the southeastern United States."