Georgia Fare: High Roller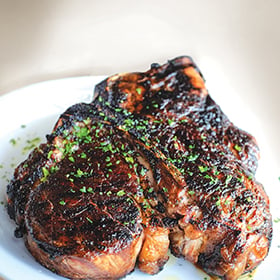 Many years ago, on a tour of Las Vegas for a story I was researching on the Rat Pack's old hangouts, my husband and I found ourselves in a place called the Golden Steer in one of several booths marked as favorites of Frank, Dean, Sammy and the rest.
There, white-haired uniformed waiters expertly mixed martinis, served up sizzling New York strip and ribeye and bore platters of the most divine Lyonnaise potatoes I've ever encountered. In the decades that had passed since the legendary entertainers packed the old Sands Hotel, two cultural icons had gained outsized stature: Old Blue Eyes' voice and this kind of old-school steakhouse.
Today, both icons are still growing – tributes to what would have been Sinatra's 100th birthday were nearly as widespread as what has become an urban staple: the gloriously retro steakhouse, with a mid-century vibe and cocktails shaken to a Dino-till-you-drop soundtrack. You'll have some kind of signature martini, some kind of wise-cracking waitstaff and some kind of eye-popping tab at the end.
Still, if you had told me just a few years ago that one of these hip, swaggering paeans to cow meat would open in Braselton – in a newly refurbished live/work/play development of an old department store, no less – you might as well have said you'd fly me to the moon.
And yet, here we are. The old Braselton Brothers department store is now a charming collection of small shops, with Cotton Calf Kitchen its anchor. Inside, the smart décor (exposed brick, modern chandelier, cowhide accent chairs) reminds you of the kind of sophisticated suburban watering hole pioneered by East Cobb's Seed. Just wait for the first strains of the Chairman of the Board, however, and that first sniff of charred, dry-aged Angus beef, and you'll know exactly where you are.
The mature waitstaff adds confirmation, including a bartender who will only gently stir a Manhattan, lest a shaker ruin the rye's clarity, and a waiter whose initial friendly gruffness gives way to insider tips about the small-batch gin once he's decided you're OK. At the bar, two local women perched next to us, chatting nonstop as the staff wordlessly began setting plates and mixing drinks. After only a brief consultation ("The usual?" and their nods), the two set into the meal they admitted they ordered at least once a week: the petite New York strip and filet mignon, with steak fries neatly criss-crossed like a 3-D tic-tac-toe board.
On our first, post-holiday weekday visit, we arrived early to find the place nearly empty. Scanning the menu, we wondered whether price might be a factor: The 16-ounce New York strip is $49; the 32-ounce, bone-in "tomahawk" ribeye is $88; the 48-ounce "Porterhouse for two" is $96. Most single-serve steaks, chops and entrees hover around the $30 and up mark (served à la carte).
These prices reflect the new normal for high-end steaks, as any recent visitor to an upscale Atlanta steakhouse can tell you, but we wondered how well they would play in Braselton. Sure enough, by the end of our dinner, both the bar and dining room were nearly filled with well-dressed couples and foursomes diving into Cotton Calf's delicacies.
Old-school steakhouse sides are present and accounted for, including creamed (or sautéed) spinach, Lyonnaise potatoes and creamed corn. Chef Javier Viera (from Communitas Hospitality, which includes Atlanta's Hobnob and G's Midtown) updates the classics with a big selection of smaller plates.
In the cauliflower Parmesan soup, real vegetal flavor shines through what often becomes a too-creamy, too-cheesy sauce-like concoction. The delicious deviled eggs are beet-dyed Easter pink and topped with a generous dollop of UGA's famous farmed sturgeon caviar, along with basil microgreens, chives and red onion. Those big steak fries are perfumed with truffle oil and served with bacon ketchup. (The Lyonnaise potatoes, crisp from bacon fat, were quite good but could not touch the memory of the Golden Steer's thin-sliced potato disks draped with caramelized onions.)
Ah, and the steaks: Served to an excruciatingly defined level of doneness, they were perfectly cooked on both visits, with enough char and marble that the steak-centric diners in our group wondered how soon we could make the 90-mile round trip from Atlanta again. I found the baked Chilean sea bass browned and tender – but truthfully, no match for the bovine house specialties.
The few misfires included the bar menu's lamb lollipops – small, Frenched chops that didn't achieve the proper exterior charring – the overly rich "Southwestern" creamed corn; and an adequate but unremarkable Caesar, topped with white anchovies on request. In some cases, I wished for just a little more restraint in the sides – a lighter hand with pork, cheese, cream and oil. Desserts, however, are just fine: The apple tart and key lime pie are right-sized, flavor-packed reasons to linger with a cup of coffee before you make your way home.
What I like best at Cotton Calf is the mix of professional polish and small-town Southern hospitality. High rollers, meet high cotton.
---
OLD-SCHOOL STEAKS THAT TAKE THE PLATE
Bennie's Red Barn
St. Simons Island
Along with wood-fired "cowboy" steaks, you'll find local fish and conch fritters
benniesredbarn.com
Bone's
Atlanta
The gold standard – you can still get a shoe-shine and grits fritters
bonesrestaurant.com
Downtown Grill
Macon
The little red brick building, down an alleyway, is still a sentimental favorite for cocktails, steaks and wild Georgia shrimp cocktail
macondowntowngrill.com