South Metro Atlanta takes off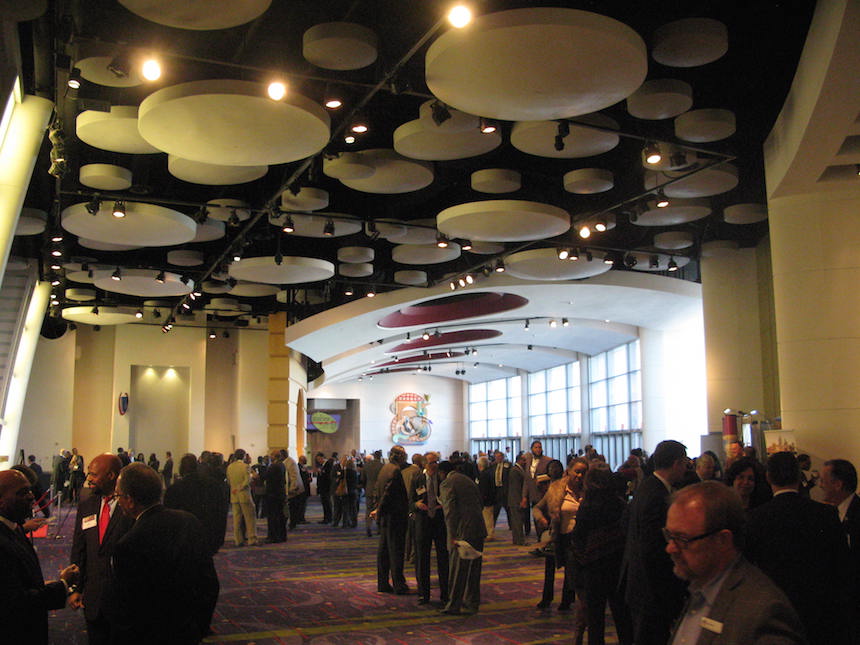 Aerotropolis was the buzzword at the South Metro Development Outlook event at the Georgia International Convention Center (GICC) last month. The annual event, put together by the Collaborative Firm, was bolstered this year by a lot of airport activity and the prospect of MARTA train service to Clayton County.
One of the highlights of the event was the announcement of a new InterContinental Hotel to be designed by John Portman and Associates and built on Hartsfield-Jackson Atlanta International Airport property. This is in addition to two other recent hotel announcements, the Solis Hotel at the Porsche facility and the Renaissance Atlanta Airport Gateway Hotel adjacent to the GICC facility. The momentum builds on Porsche's decision to locate its North American headquarters and driver experience track nearby two years ago.
Joe Folz, vice president, general counsel and secretary of Porsche Cars North America and former chair of the Atlanta Aerotropolis Alliance, articulated the vision of the group as he passed the chairmanship to Pedro Cherry, senior vice president of the Metro Atlanta Region for Georgia Power.
"We have visited many other aerotropolises around the country – Washington, D.C., Dallas-Fort Worth, Denver and Memphis – that have been successful," Folz said. "Unlike them, we are the biggest airport in the world, but our nearby communities haven't benefited. We eventually expect to outperform these other cities in terms of benefit, as well as international airport centers like Paris, Frankfurt, Seoul and Amsterdam."
Partners in this endeavor include Georgia Power, Chick-fil-A, Duke Realty, Prologis, Woodward Academy, Delta, Hartsfield-Jackson Atlanta International Airport, the various cities and counties surrounding the airport and well as other business and community organizations.
"We've seen a lot of activity already, with the new International Terminal, the gateway expansion, Screen Gems, the redevelopment of Fort Gillem and Fort McPherson, the Pad on Harvard [a new mixed-use residential community in College Park], the Delta Flight Museum and the Porsche headquarters. And on April 5, we will break ground on the first five-star hotel south of Atlanta," Cherry said.
He also discussed the "future of the aerotropolis" in which Atlanta adopts strategies that have made other airport districts successful. "The top two aerotropolises in the world – Paris and Amsterdam – reveal lessons: invest in transportation and transit, and build regional partnerships. We are planning catalyst sites to drive investment, including College Park, the GICC area, Mountain View, Hapeville, Fort Gillem, Fort McPherson and our MARTA stations."
For more information on the explosive growth in Atlanta's South Metro region, see the Our State feature, "Turning South," in the April issue of Georgia Trend.
Photo of the South Metro Development Outlook event courtesy of Ben Young.