Paving the way to success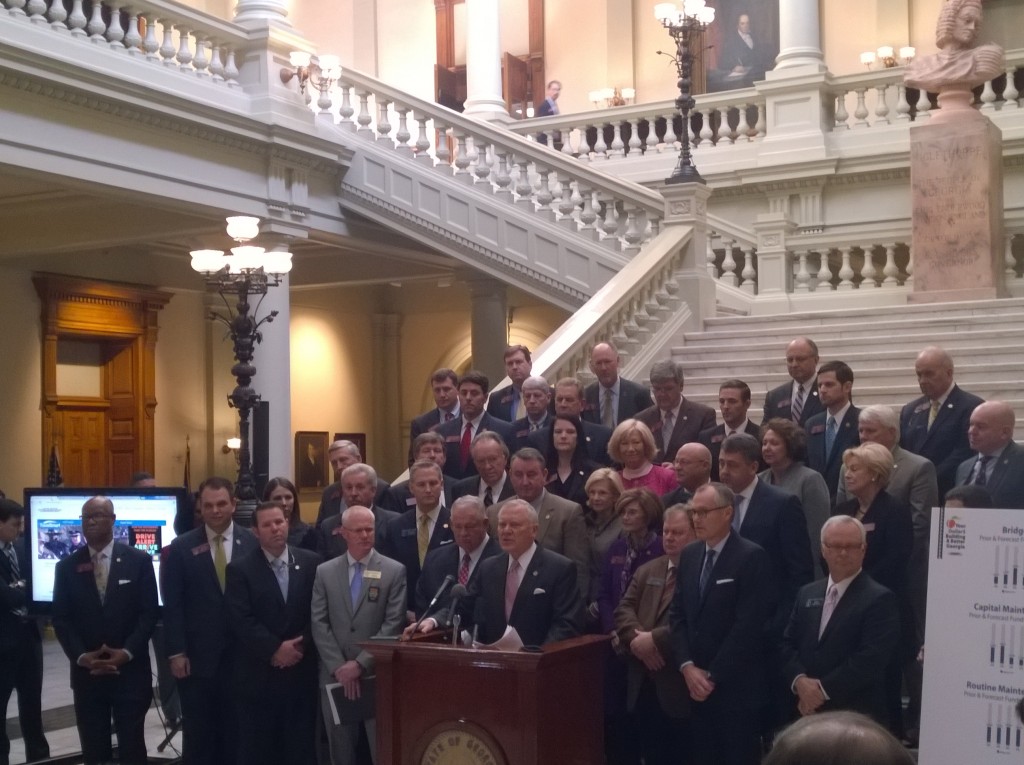 Gov. Nathan Deal announced big infrastructure maintenance projects – including a 10-year list and an 18-month list – at the Capitol last month, sailing on a windfall from new transportation taxes passed in the 2015 session. While perhaps not as sexy as new projects like the I-75 managed lanes towering above our highways or the Interstate 285-Georgia 400 redesign, the most expensive transportation project in Georgia, these investments are perhaps more important.
That's because funding for crumbling roads built years ago has itself crumbled, the result of falling oil prices, more efficient cars and the alternative fuel boom. Possibly the main reason the governor pushed so hard for a funding solution last year is that the roads need maintenance so badly.
The 18-month list represents $2.2 billion in investment throughout the state, which will deliver a $4 return for every $1 spent, Deal says. In addition, the state has rolled out an online accountability measure, garoads.org, that will provide transparency to project spending. "We could no longer kick the can down the road," said Gov. Deal. "Legislators on both sides of the aisle took action."
About 60 percent of the projects will repair roads and bridges. GDOT Commissioner Russell McMurry laid it out – 2,500 miles of roads will be resurfaced, more than 100 bridges will be replaced and 300 bridges will be repaired. "Using the recent successes of the innovative Design Build and Finance method on the I-285/400 project and Northwest Corridor project as a blueprint, we will continue to deploy similar strategies," said McMurray.
The same week, the governor unveiled a new guide to help use those roads, the 2016 Georgia Travel Guide. Representatives from the travel industry presented a check representing $3 billion, the total of state and local tax revenue generated from tourism expenditures, to the governor. Deal noted this "crucial sector" makes up 10 percent of the state's workforce, has a $57.1 billion economic impact and has a "positive effect in nearly every community."
This year's guide, available at ExploreGeorgia.org, celebrates a Year of Georgia Music and features Luke Bryan, Zac Brown, Claire Campbell and David Barbe, among other artists, history and venues. Georgia Department of Economic Development Commissioner Chris Carr touted the state's "abundance of unique experiences that set us apart from other destinations."
"The Year of Georgia Music allows us to shine a spotlight on these artists and on the places that inspired them to create their unique sounds," said GDEcD deputy commissioner for tourism Kevin Langston, "and also the places where travelers and locals alike can discover tomorrow's breakout artists performing today."
Photo by Ben Young