In The Zone
How Georgia's communities are using special funding tools to fuel development.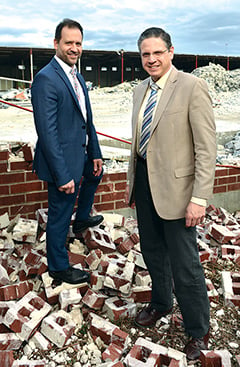 Transform is a word we use a lot," says Shawn Gillen, Doraville city manager. And for good reason: When General Motors built an automobile manufacturing facility inside Doraville city limits 70 years ago, the town that sprang up around it reflected its primary economic engine. And when that facility shut down in 2008, the city that it supported suddenly found itself without an identity – and with a whole lot of vacant land.
Eight years later, Doraville and its shuttered GM site are entering a new stage of development, fueled in large part by a zoning tool called the tax allocation district (TAD), which is a geographically defined area that uses public dollars to fund certain large-scale – oftentimes price-prohibitive – developments. Doraville plans to use its TAD to create a transit-oriented, mixed-use development called the Assembly, a nod to the former General Motors plant's official name, Doraville Assembly.
TADs aren't the only tools being used to transform local communities, though. Opportunity zones (OZs), enterprise zones (EZs) and special public interest (SPI) districts are also helping cities and counties across the state jump-start their own economic development.
---
TADs
For Doraville, establishing a TAD was integral to its redevelopment's success.
"One of the main reasons that it was a viable option for us is that there is a tremendous amount of infrastructure hurdles to get over here," explains Gillen. Between the site's 100 acres of concrete and asphalt, lack of adequate stormwater and water/sewer facilities and formidable environmental remediation needs, it's essentially a blank slate. A very large, very expensive blank slate.
"There isn't another tool like the TAD that will allow these things to get built without the cost of the land making it unmarketable," he says.
In a TAD, redevelopment activities are financed with public dollars through the pledge of future increased property taxes. The idea is that as the redeveloped property attracts investment and growth, property taxes will rise. That additional tax revenue – any amount collected above the TAD's base rate – will then be funneled into a special fund set up for the development. And because taxing jurisdictions like cities, counties and school districts will not receive those additional property tax funds for the life of the TAD (which is typically 25 to 30 years), they must all agree to participate in the TAD. Once the TAD's term expires, all affected taxing jurisdictions will once again receive the full amount of property tax revenues.
Since their introduction by the Georgia legislature in 1985, TADs have become an increasingly popular funding tool throughout the state. In 2003, there were only six TADs in Georgia; by 2015, there were more than 60. And they've made a sizable impact as well. In the city of Atlanta alone, TAD bonds have leveraged $2.3 billion in private investment and funded the construction of 8,000 housing units and 4.2 million square feet of commercial space since 2001, according to Invest Atlanta, the city's economic development agency.
TADs are the drivers behind such massive projects as Atlantic Station, the award-winning redevelopment of a 100-year-old Atlantic Steel mill site located on the edge of Midtown Atlanta. Remediated and redeveloped for $2 billion over the course of six years, Atlantic Station, which opened in 2005, traded its 138 acres of brownfields for a healthy density mix of commercial, office and residential space.
A TAD is also being used to spur development along the BeltLine, which traverses 45 intown Atlanta neighborhoods. Though the majority of Georgia's TADs are scattered around Metro Atlanta, TADs have also been established in Augusta, Macon, Rome and Savannah.
In Doraville, city leaders and planners are just getting started, relatively speaking. "It's a long-term project," says Doraville Community Development Director Enrique Bascuñana. "It's not going to be developed overnight." Bascuñana estimates a phased 15- to 20-year timetable for the Assembly project, though promising developments have already been announced.
Nalley Nissan purchased a 20-acre portion that will become two car dealerships (Nissan and Infiniti) and a collision center. And Third Rail Studios, a full-service film production company, claimed the site of an existing building that it will retrofit into a film and television production studio, complete with sound stages, support mill shops, vendor spaces and administrative offices.
Overall, the Assembly is designed to be a walkable urban development tightly integrated with its nearby MARTA Doraville station. The site's master plan features pedestrian-oriented streets with 10- to 12-foot sidewalks; bike routes; plenty of greenspace; and a reimagined railyard anchor called the Yards, which will feature dining, shopping and entertainment options.
---
OZs and EZs
Though not technically a zoning district, OZs are another tool that cities throughout the state can use to stimulate growth. OZs are managed through the Georgia Department of Community Affairs (DCA) and are defined as areas with significant blight that are in need of some substantial redevelopment.
With an OZ designation, these areas can offer attractive tax breaks for businesses that choose to expand or relocate inside the OZ's boundaries. Businesses that add at least two new, full-time, permanent jobs inside the OZ can receive the maximum tax credit of $3,500 per employee per year for five years, which can be applied to the businesses' state income tax liability and withholding tax. There are no qualifying factors for the type of business, either; if there are at least two new jobs, there is a tax break.
"An OZ is a tool that [communities] can use because they can entice businesses," says Cherie Bennett, Georgia DCA planner. "It's a way for a community to get a business to come into an area that they're trying to revitalize anyway."
Communities often pair OZs with a sister designation, the EZ, which is a locally designated and managed distinction that can offer many other benefits to relocating companies, including waived building inspection or regulatory fees and local property tax exemptions.
Though EZs are managed locally, they must all meet the criteria listed in the state's Enterprise Zone Employment Act of 1997. The act stipulates that EZs must show general blight or distress, underdevelopment, an unemployment rate that is 10 percent higher than the state rate and pervasive poverty.
In fact, having a designated EZ or urban redevelopment plan is required for an area to become an OZ. Other OZ criteria include a location within or adjacent to a Census block group with 15 percent or more poverty and evidence of significant blight – a criterion that the Georgia DCA has doubled down on in recent years. Blighted buildings are truly rundown, unsafe or poorly maintained, not just outdated or ugly buildings in need of a paint job.
A prime example of the type of buildings that the Georgia DCA considers blighted – and the city of Atlanta's shining example of a revitalized OZ – is City Hall East, which was rechristened as Ponce City Market a little under two years ago.
"That was definitely a building that you could say was blighted," says Bennett. "I remember driving past that building for years and years and years and thinking, 'Oh my gosh, what is ever going to happen to that great, historic building?'"
As it turns out, that building became Atlanta's largest adaptive reuse project to date and one that is drawing national attention for its creative reuse of a massive abandoned space. Originally constructed in 1926, the gargantuan brick structure (the largest of its kind in the Southeast) was first a distribution hub and retail location for Sears, Roebuck & Co. In 1990, Sears sold the building to the city of Atlanta, and a sliver of its space became City Hall East for nearly two decades before finally sputtering into complete vacancy in 2010. And then things started to get very interesting.
Developer Jamestown bought City Hall East from the city in 2010 and spent the next five years – and nearly $325 million – gutting, rehabilitating and rebranding its 2.1 million square feet of interior space. Officially opened mid-2014, Ponce City Market's transformative rebirth is undeniable, and it has quickly become both a thriving community hub and significant economic driver for east Atlanta.
Some of Ponce City Market's earliest tenants were, not surprisingly, businesses looking to bring new jobs inside the City Hall East OZ, which circles the Ponce City Market property and was established in 2011. Currently, the building's office tenant roster includes athenahealth, MailChimp, Cardlytics and HowStuffWorks – each receiving the OZ's job tax credit, and each contributing to the steady growth around Ponce City Market, the BeltLine and the neighborhoods they touch.
The City Hall East OZ is just one of many OZs spanning the state. At press time, there were 135 OZs in the state of Georgia, reaching from Blairsville to Valdosta. DCA also reports EZs in more than a dozen cities in Georgia, including Augusta, Columbus, Savannah and East Point.
---
SPI Districts
Introduced in the late 1970s, SPI districts are nothing new in the city of Atlanta – but their urban-design-focused regulations are certainly bringing a refreshed look to developments from Midtown to Downtown and could serve as a model for other regions in Georgia looking for a new economic development tool to put in their arsenal.
The SPI designation is intended to preserve the character of an area (or protect its proposed character) while encouraging pedestrian traffic and interest. SPI regulations focus on activating the street level – a phrase that essentially means making buildings that line main corridors visually interesting and generally inviting to pedestrians, says Charletta Wilson Jacks, director of Atlanta's Office of Planning.
This emphasis on activated street levels translates to an enhanced focus on fenestration – or glass facades – along the first (and sometimes second) floor of a building. It also means pulling buildings closer to the street, constructing wider sidewalks, incorporating street trees to create a tree canopy and placing parking lots behind or adjacent to developments, never directly in front.
For a mental picture of an activated street level, consider the area between Buckhead (SPI District 9, or SPI-9) and Midtown (SPI-16): "If you take a ride down Peachtree Street, the missing piece in the puzzle is the Brookwood area. … That's the missing piece between Buckhead and Midtown," says Wilson Jacks. While Midtown and Buckhead's newest developments feature glass-fronted, pulled-in buildings and wide, pedestrian-friendly sidewalks, Brookwood's businesses and shopping centers are usually placed further back from the street, with parking lots separating the buildings from the main road.
All in all, there are 17 SPI districts in Atlanta stretching from Buckhead to Greenbriar and from Berkeley Park to Memorial Drive/Oakland Cemetery, Candler Park and Inman Park. The Office of Planning or interested neighborhoods can initiate the creation of an SPI district, or they can initiate conversations together. Whichever way it begins, the process involves a great deal of collaboration among the Office of Planning, area business owners, community organizations such as community improvement districts or citizen advisory councils and other affected organizations.
"There's collaboration in all of our major rezoning efforts," says Wilson Jacks. "You have to have community investors on board, particularly if their properties are impacted. Georgia is a property rights state, and you want to be sure that those property owners buy into the regulations that you are proposing."
While SPI designations are reserved for areas with a defined character or motivating public interest – Downtown Atlanta for its historic buildings, wealth of tourist attractions and distinct urban feel; Buckhead for its world-class shopping; and Memorial Drive/Oakland Cemetery for its historic significance and artistic vibe – other zoning designations like neighborhood commercial and mixed residential- commercial can create the same urban-design feel without the density requirements of an SPI district.
These zoning districts are ideal for areas that would benefit from the dynamic aspects of urban design without the generally high-density requirements of an SPI district. A good example of this would be the BeltLine, says Wilson Jacks, where a myriad of quality-of-life zoning designations are being implemented to create a pedestrian-focused, mixed-density urban environment.
---
Common Goals
Though each of these development tools – TADs, OZs, EZs and SPI districts – have their own unique mechanisms and requirements, they all share a common goal: to help Georgia's communities develop new opportunities for economic growth and better respond to increasing demand for walkable, affordable, viable activity centers.
Accomplishing this goal means embracing the principles of urban design: planning for multimodal forms of transportation, including car, bicycle, transit and foot traffic; allowing for a mix of commercial, residential and office uses within developments; incorporating affordable multifamily housing options; and creating environments with a sense of place that will attract businesses, employers and residents.
"The emphasis is really focusing on a better-quality built environment," says Gillen. "One of the things that we approach is, 'How do we make this sustainable environment that can last the next 100 years?' It's not only the way things are going in planning theory, but it's the way the market is driving.
"We've got more and more people moving into a smaller space, and we have to make sure that we grow and develop as a city to accommodate that in a way that doesn't have such a negative impact on the environment."
---
ALPHABET SOUP
TADs, EZs, OZs and SPIs. Here's a crash course on what these zoning designations are and how they can help you.
TADs : Tax Allocation Districts are geographically defined areas that use public dollars to encourage investment, often large-scale redevelopment projects, in an underdeveloped area. Sometimes called TIF (tax increment financing) districts, TADs typically last for 25-30 years. There are currently more than 60 TADs in Georgia.
EZs: Enterprise Zones are districts where property taxes are abated for a period of 5 years then are gradually increased over the subsequent 5 years. The area must meet at least three of the following five criteria: pervasive poverty; unemployment rate at least 10 percent higher than the state or significant job dislocation; underdevelopment; general distress; and adverse conditions; and general blight.
OZs: Opportunity Zones are areas that are within or near an area with 15 percent or greater poverty and where an EZ or urban redevelopment plan exists. OZs offer several incentives, including a job tax credit of $3,500 per job created. The zone also requires the lowest job creation threshold of any job tax credit program, requiring only two jobs to qualify. There are more than 130 OZs in Georgia.
SPIs: Special Public Interest districts are areas where zoning encourages pedestrian-friendly development while preserving the character of the community. There are 17 SPI districts in Atlanta.