2016 Economic Outlook for Georgia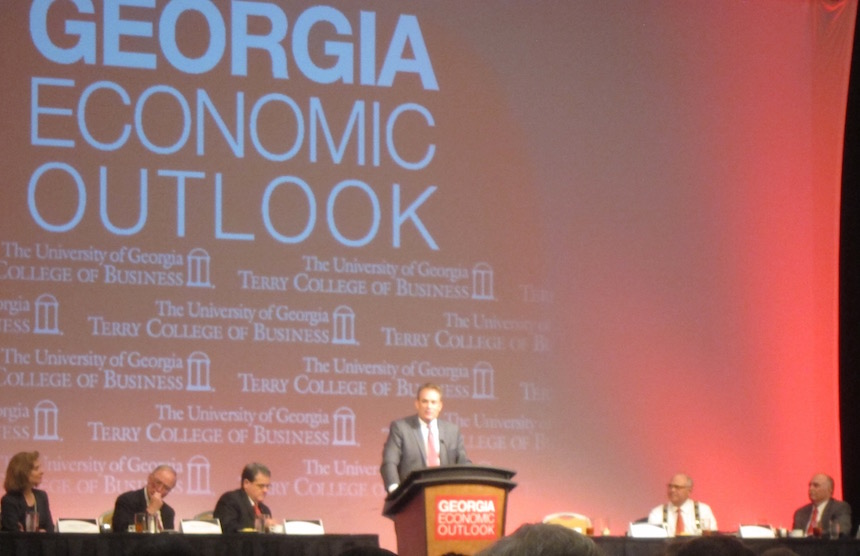 Georgians can look forward to a brighter 2016, predicted economists at the University of Georgia's Economic Outlook events held around the state last month. Speakers at the Atlanta event included UGA's Terry College of Business Dean Benjamin Ayers and Mark Vitner, managing director and senior economist at Wells Fargo.
Vitner first presented a national perspective, including his prediction that the Federal Reserve would raise interest rates – which they did the very next week. In addition, he said that the energy sector should see a slowing in the drop of oil prices this year and predicted that we will see the biggest increase in federal spending since 2009, in part because the transportation bill in Congress has been finalized.
In terms of the global economy, however, "It's a mess," Vitner said. "The manufacturing sector is in recession," though he said that domestically we're in better shape than globally. "There will be more jobs and better-quality jobs and an 11 percent increase in the single family housing market." In addition, he said Georgia leads the East in high-tech growth – and its high-paying jobs.
Ayers talked about the outlook in Georgia, opening with the good news that personal income will rise 5.7 percent while the state GDP will increase 3.3 percent. Contributing factors include the number of economic development projects in the pipeline and the housing recovery.
"We'll see faster population growth and lower gas prices," Ayers said. "Non-farm job growth will slow but still outperform the U.S. We will see better jobs, more full time and higher wages."
Ayers also pointed out some of Georgia's strengths that will continue to help grow our economy. "We're a great place for headquarters. We have the airport plus talent, a strong business community and a high concentration of college-educated workers and research universities."
He called out our strong life sciences sector, including the CDC, American Cancer Society and Kaiser Permanente's 900-job campus, and predicted that other new high-tech and health IT companies will bring thousands of jobs over the next decades to join those already here.
And he reminded us that "Georgia's in a sweet spot of [auto] assembly plants, suppliers, ports, rail and companies," with Kia, Mercedes and Porsche in the state, plus Volkswagen in Chattanooga and Volvo in Charleston.
Risks to the economy this year include cuts in active duty military – 3,400 at Fort Benning and 1,000 at Fort Stewart. "When you add civilians and support economy, the impact is substantial," Ayers said. "Another risk is Georgia's public education system. For the state to compete nationally, an emphasis on education will be critical."
But he ended on a high note, pointing to economic development wins – announcements, expansions and relocations – over the last couple of years and the jobs they're bringing to the state, including:
Baxalta, Covington, 1,500 jobs
Chime Solutions, Morrow, 1,100 jobs
Alcon, John's Creek, 550 jobs
GM IT-Innovation Center, Roswell, 1,000 jobs
Suniva, Norcross, 500 jobs
ADP, Augusta, 450 jobs
Mercedes-Benz, Atlanta, 800 jobs
Sage Software, Atlanta, 400 jobs
CSM Bakery Solutions, Sandy Springs, 120 jobs
Wells Lighting, Millen, 200 jobs
Courion, Roswell, 100 jobs
Osmose Utilities Services, Peachtree City, 100 jobs
TSYS, McDonough, 450 jobs
Fiserv, Alpharetta, 500 jobs
Unisys, Augusta, 700 jobs
Applied Systems, Atlanta, 150 jobs
Looks like a happy new year for Georgia's economy.
Photo above of Ben Ayers, dean of UGA's Terry College of Business, courtesy of Ben Young