Talking Transportation in Georgia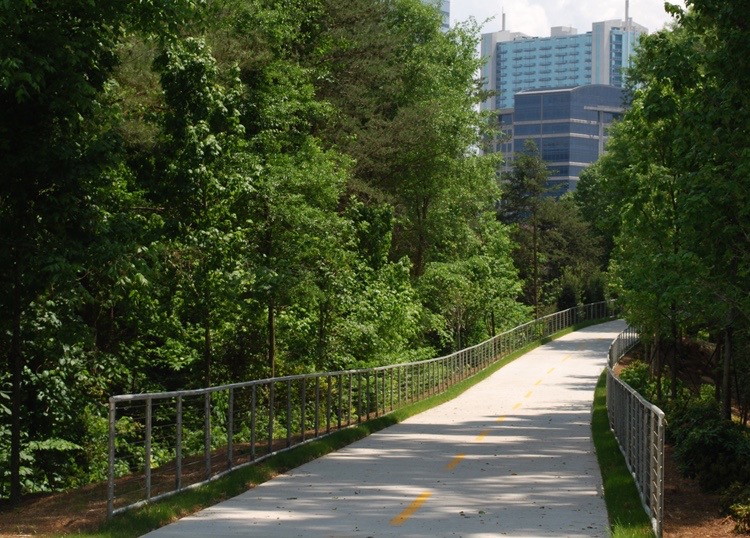 Transportation people are gearing up for a busy 2016, as evidenced by the more than 700 professionals who attended the Transportation Summit at the Georgia World Congress Center in November. The event was sponsored by the Georgia Transportation Alliance, Georgia Chamber of Commerce, the American Council of Engineering Companies of Georgia (ACEC) and the Georgia Department of Transportation (GDOT).
At the Summit, Marietta's Heath & Lineback Engineers Inc. took top honors in the Georgia Partnership for Transportation Quality Preconstruction Design Awards, for the first phase of PATH400, a 5.2-mile trail through Atlanta's busy Northside. As the name indicates, the trail winds under Georgia 400 in an innovative use of space. PATH400 was one of nine category winners honored. See the complete list of winners here. GDOT Director Russell McMurry lauded the project as a model of collaboration – a new buzzword in this sector.
Look for other collaborations to spring from the Partnership for Public Facilities and Infrastructure Act of 2015, which allows state and local agencies to expand the use of public-private partnerships – or P3s – beyond highways and reservoirs.
At another gathering in September, the ACEC convened three state leaders to talk P3 at the Georgia International Conference Center. Speaking on the panel were State Road and Tollway Authority Director Chris Tomlinson, MARTA CEO Keith Parker and GDOT P3 Program Delivery Director Joe Carpenter.
"This law will give departments and agencies new flexibility. It's all about timing," said Tomlinson. P3s can expedite slow-moving government projects as well as make those projects more attractive to government funding, he says.
P3s won't work without incorporating operating maintenance into the deal, however, "if you want to move the needle for reducing congestion and moving freight, not just in Atlanta but across the state," added Carpenter.
P3s are essential to transit-oriented development, Parker said. "We now have six transit-oriented developments underway and a full-scale department to handle them. We do a long-term lease instead of a sale, redo the station, have the developer redo the excess parking. In the case of Brookhaven, it's local and national developers, and it's spectacular: 300 apartments, a library, 25,000 square feet of retail, 100,000 square feet of office space, with 20 percent affordable housing. Now we're seeing MARTA become a national model."
GDOT has been lean, growing more efficient through P3s, Carpenter said. "We continue to rely on consultants as we continue to shrink."
While P3s are a great new tool for the transportation toolbox, they aren't the whole answer. "The present reality is that there still isn't enough money, so there aren't enough P3s," said Carpenter.
Photo of PATH400 courtesy of the Buckhead CID