Lake Oconee: Forward Momentum
Recreation, homebuilding and manufacturing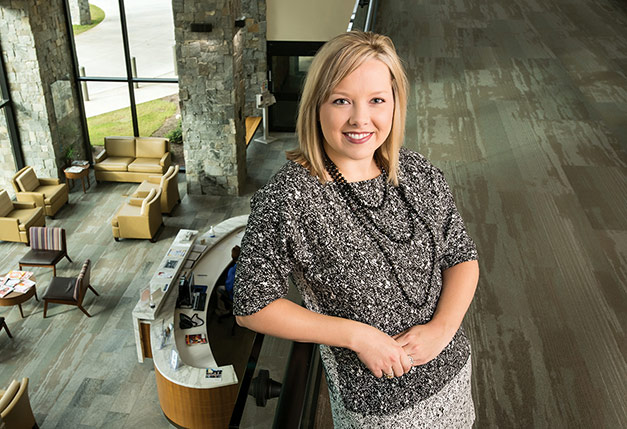 Georgia's Lake Oconee region is a land of contrasts. From million-dollar lakefront homes to high-tech industrial plants to picturesque Main Street towns, this is a region that has known hard times and economic resurgence.
The three counties of Greene, Morgan and Putnam sit near the 15,000-acre Lake Sinclair and its big sister, 19,000-acre Lake Oconee, both created when the Oconee River was dammed in 1979. These lakes have long been one of the prime draws for tourists and residents seeking the pleasures of life on the water.
The lakes have also been a major factor in the ongoing transformation of this once rural and agricultural area. The economic rebirth is helping pull these counties and the surrounding region up from a lingering malaise.
The signs of economic recovery are found in big manufacturers that have put a real dent in the unemployment rate.
Caterpillar's $200-million plant in Athens is up and running with plans to boost its head count to more than 1,000. Most of those new hires are coming from the surrounding region including these three counties.
Another big jobs engine is the $1-billion Baxalta Inc. plant (a spin-off from Baxter International). Located in the Stanton Springs development east of Covington, the project is adding another 1,500 workers at a regional industrial park supported by surrounding counties. The global pharmaceutical company's plant will produce immunoglobulin therapies for patients with immune disorders and albumin products, which are used as plasma-volume replacement therapy in critical care, trauma and burn patients.
The sprawling campus is also home to the recently completed 52,000-square-foot Georgia BioScience Training Center. It is providing education for Baxalta and other life sciences industry employees and was a key component in recruiting the company to Georgia.
All this new activity has been welcome in a region that has endured some staggering economic blows in past years. There was the closure of Plant Branch, a Georgia Power electricity-generating plant, last April. The coal-fired plant was having a hard time meeting new, more stringent federal clean air standards without costly new investments in scrubbing equipment to remove banned particles from smokestack gases.
When Plant Branch finally shut down just before the EPA's deadline for Mercury and Air Toxins Compliance, it meant the end of 229 jobs, but it was felt especially hard in the Putnam County treasury where it provided a bulk of the county's tax collections.
Yet other mainstays of this region have hung on, and a new economic prosperity has arisen from a reliance on the area's natural resources. Here's where the lakes come into play. Over the years, a rising tide of traffic has been streaming from Atlanta, drawn by the beauty of the area and the many recreational opportunities.
While acknowledging that some businesses have closed, Valerie Duvall, director of the Greene County Development Authority asserts, "All of our other industries really rooted down, and a lot of them expanded during the times that were bad."
A prime example is Reynolds Plantation. The resort has driven both tourism and a growing residential real estate market. The development has also come back nicely from its own close call a few years ago, when it was placed in receivership after failing to pay a $45-million note in 2011. The value of the property soon asserted itself when Reynolds was sold to insurance giant MetLife. Since then the company has been pouring money into the development, renovating and upgrading golf courses, club houses and the Ritz-Carlton Lodge.
"We are doing a lot of capital improvement back to the property, reinvestment back into the property," explains Reynolds Planation President Rabun Neal. Along with rebuilding all the courses, a new restaurant just opened inside the gates.
With more than 70 homes under construction this fall, Reynolds now boasts more than 2,500 residences in the community. And a majority are owned by full-time residents. The resort's second home market reflects one of the unique factors that has driven growth here.
"When we refer to our second home market, it is entirely different from other second home markets," says Neal. "People are here on Thursday, work from here on Friday and maybe Monday and go back into Atlanta on Tuesday. The closeness and ease of being on this side of Atlanta makes our second home market extremely strong."
Lake Oconee's proximity to Metro Atlanta has endeared it to many corporate executives and other professionals. They are able to enjoy a lakefront home with all the amenities of a resort, but still commute into the office when needed.
That fact has made Reynolds a powerful economic engine. While employing more than 1,000 workers at the resort and the Ritz-Carlton, its construction projects have brought twice that many in the form of contractors, construction workers and others.
Much like Georgia Power in Putnam, Reynolds Plantation accounts for the majority of Greene County's tax revenue.
---
Health and Education Innovations
The concentration of people here has also brought along other development. St. Mary's Good Samaritan Hospital recently opened its new Lake Oconee location, less than a mile from the Reynolds Plantation entrance.
The facility, a $48-million 25-bed acute care critical access hospital, was named the 2014 Small Hospital of the Year by the Georgia Alliance of Community Hospitals. With a modernistic design featuring stacked stone and soaring windows exposing an interior of steel beams, St. Mary's has a very un-hospital-like look, says Duvall.
Along with expanded healthcare, growth has also helped expand the local education system. One notable example is Lake Oconee Academy, which also sits not far from the main entrance to Reynolds Plantation. This pre-K-10th grade charter school (which will soon offer all 12 grades) has garnered state and national recognition for the excellence of its college preparatory programs.
A National Blue Ribbon School, the academy was able to start from scratch in creating a school dedicated to academic achievement, according to Otho Tucker, the academy's CEO. "You create the climate, the culture, the educational programs. You have no history. So whatever you're doing becomes the focus, the vision, the mission of the school. You're not trying to change something, you're trying to create something. That's much easier than changing for many people."
The goal of the school, which draws its 740 students from throughout Greene County, is to prepare students to get into college. Beyond that it also wants to ensure they are as well prepared academically as students anywhere in the country.
---
Booming Business Base
While healthcare and good schools are important in attracting new business, another prime factor is that people just like to live here.
"As odd as it may sound, we've had folks who would come through and visit Madison, fall in love with it and decide that they wanted to bring their business to our area," says Bob Hughes, president and economic development director for the Madison Morgan County Chamber of Commerce.
One of those was Aalto Scientific, a California bio-technology company and leader in the medical diagnostics industry. The company moved its headquarters to Putnam County this year. The move came after owner Steve Mauro visited the region and decided to buy a house on the lake. Aalto's $9-million facility in Eatonton's Rock Eagle Technology Park will improve logistics and turnaround time for the company's in vitro diagnostic products while creating 80 jobs.
Other new companies have also moved into the area recently. Among them, Virtually New Certified Products (VNCP), which opened in Greene County's Union Point Industrial Park. The company manufactures small appliances for sale at big-box retailers.
Other companies have completed expansions. Logistics company a2b Fulfillment has doubled the size of its climate-controlled warehouse over the past year. North American Pipe Corp., a division of Texas-based Westlake Chemical Corp., completed a $5-million expansion of its facility as well.
Businesses have found much to like about this region.
When Ayal Latz brought a2b Fulfillment to Greensboro almost a decade ago, he wanted to buy rather than lease a building to house his rapidly expanding third-party logistics business. At that time the company was still relatively small, but the potential for growth was there and there was no advantage to being closer to Atlanta.
"It's because of the type of logistics that we do," says Latz. "A2b primarily ships direct to consumer. So we do a lot of small parcel shipping, and as such there's really no advantage to being in the metro area. So most of our packages are picked [up] and taken to Atlanta every day, but we don't have to reside in Atlanta and have that congestion and that higher price point on real estate and labor."
At that time, the Lake Oconee region had yet to become the destination that it is today. In fact, the stalling economy and closing industries had left a large number of skilled workers unemployed.
"When we moved here we didn't really have the need for many people, but as we grew it became a win-win situation for us and the community," he says. Since then the company has expanded its operations and added both workers and product lines. In addition to logistics, it also provides call center services for customers.
"We've seen an uptick in manufacturing and light industry in the past year and a half," says Morgan County Manager Michael Lamar. He notes big regional developments such as Baxalta and Caterpillar and more local enterprises such as the Mannington Mills expansion and the new agritourism-oriented Farmview Market.
"We have a really attractive quality of life along with an able and ready workforce that's fairly well educated," he says. "And we're just not that far away from Atlanta, but we don't have some of the urban issues in terms of traffic and congestion."
Consider that Mannington Mills, the world's leading manufacturer of luxury vinyl tile, added 220 jobs and invested $65 million into its operations in Madison. A little over a year later, they shelled out another $50 million to expand their facility by another 550,000 square feet and add an additional 200 jobs.
"They will become our largest employer," says Hughes. "For a community the size of Morgan County and Madison, that's huge."
Over the past couple of years, investments like these have just kept on coming. Local mainstay Georgia-Pacific did a $65-million modernization of its plywood plant near Madison that will ensure 450 jobs stay here.
Another promising new business, Farmview Market, represents a new take on the region's oldest industry – agriculture. The combination specialty grocery, butcher shop, a casual café and open-air farmers market is set to open this fall, providing a way to connect local farmers with consumers. It is also keyed to the agritourism trend and a resurgent interest among consumers to buy food directly from those who produce it.
Its creator Keith Kelly says the idea came to him a few years ago when his agricultural products business began a small company garden for employees.
"We thought it would be good to get our employees some good fresh food," he explains. "I began to look around and realized that getting really, really fresh local food was kind of a thing of the past. People didn't grow gardens like they used to do."
The company has major farming operations in Southwest Georgia and many connections with farmers throughout the state. Research showed that large numbers of people were interested in buying direct from producers and would travel to a destination that offered both the food and an experience as well.
While the pace of industry and real estate has quickened, retail, particularly of the small-town, Main Street variety, has been slow to follow.
"There's two points of view that I'm hearing from the people out in the Lake Oconee area," says Roddie Anne Blackwell, president of the Eatonton-Putnam Chamber of Commerce. "There's tremendous energy and a turning of the tide in property sales and people contacting builders. Some of the retailers are still reporting things are really slow. The tourist industries have had a good summer, the restaurants, the boat rentals, that kind of thing. The businesses like home furnishing and things you just put off are still slow."
In downtown Eatonton you can find empty storefronts, but locals are working hard to bring in new businesses and find new ways of attracting visitors.
"We have seen in just this year three businesses open downtown," says Carrie Vanderver, director of Eatonton Main Street. "We have seen expansion and seen new things opening, and we're feeling a lot of movement forward. We've had a lot more calls. Last year when I started this job, there were no calls wanting information about starting new businesses or wanting to see buildings. In the past week I've gotten three or four, so there seems to be more interest in getting started."
Those calls are good news and an indication that for this small town and the Lake Oconee region, times are getting better.