School Smarts
Georgia's boarding schools offer a solid education and teach self-reliance in a collaborative atmosphere.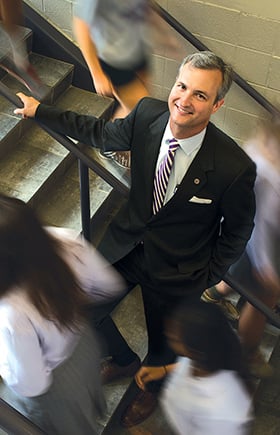 For most boarding school students wistfully unpacking their luggage for the first time, those initial pangs of homesickness do not last long.
"The schools typically try to keep you confined to campus for the first six weeks and immerse you in intensive activities," says Win Stewart, a Macon native who graduated from Darlington School in 1997. "They fill up your afternoons and weekends with as many engaging activities as possible to help you develop relationships quickly. It's a little like corporate teambuilding. The end result is that by cutting the umbilical cord and the helicopter parenting, you mature faster than your friends back home, some of whom have never been away longer than a church trip."
Or, as Rabun-Gap Nacoochee alumnus John Harrison says, "It's like going away to a really fun, action-packed summer camp that happens to include classes."
The words "immerse" and "intensive" crop up in just about every conversation about these institutions that look like college campuses with the discernible air of the ivory tower, or, in the case of Riverside Military Academy, like a heavily fortified castle. Their 24/7 collaborative culture creates an inclusive environment that encourages a sense of independence.
"You eat, sleep, breathe and learn in the classroom and in your dorm with the same people," says Brent Bell, head of school at Darlington, "so there's a real depth to all of those relationships – student to student, student to faculty, and even the relationships between students and their families grow stronger because they end up talking about things that really matter. There is a more concentrated focus on the essentials. The independence you get from a boarding school education makes every relationship in your life richer and more fruitful and meaningful."
Moreover, that cloistered sense of community soothes the nerves of parents, he says, noting that 40 percent of the school's faculty and staff live on campus, as well.
"People ask me how I can leave my daughter at the school without worrying," says Sheila Ebri, a Brunswick resident whose daughter, Bernadette, attends Darlington in Rome, "but, as someone who is a product of boarding schools myself, I know there is more supervision there than there is at home. She can't get away with any game playing. The honor code is taken very seriously, and I know that she has round-the-clock access to adults who genuinely care about her, who will advocate for her in every way. So I can sleep peacefully at night because of the close relationships."
Such independence-building experiences, along with the vaunted academic rigor, also make the transition to college much easier, proponents say. "Let's put it this way," Harrison says. "I knew how to do my own laundry and ironing and keep my room clean by the time I went to college. I was already very self-reliant, so I could focus that much better on my classes."
---
A Broader Perspective
Georgia claims six boarding schools, all clustered in the northern half of the state, where they make use of mountains, rivers and lakes for sports and recreation. The only one in Metro Atlanta is Brandon Hall School, founded in 1959 and emphasizing STEAM (science, technology, engineering, arts and mathematics) in Dunwoody, on the banks of the Chattahoochee River. Most of these preparatory academies boast a 100 percent college acceptance rate, or close to that, and serve as feeder systems for the Ivy League, and they all tout their cosmopolitan diversity due to large contingents of international and out-of-state students.
"The economy has grown more global," Stewart says. "I think you get a broader perspective when your roommate is from Germany and your next-door neighbor is Korean."
All of the schools, except the Advanced Academy of Georgia in Carrollton, also accept day students at a lower tuition rate.
"There's a strong effort to integrate the day and boarding students," Stewart says, "and the families of day students tend to pitch in and reach out to give the boarding students a feeling of being at home."
The admissions processes for these schools are similar to those of colleges, where entrée depends on standardized test scores, transcripts, essays and letters of recommendation. Accordingly, some students qualify for financial aid and scholarships.
---
Grounded in History
Georgia's oldest residential school is Rabun Gap-Nacoochee School, which was founded in 1903 by Andrew Ritchie, a native son who went to Harvard and wanted to offer mountain children the same advantages New England preppies enjoyed. His association with the Carnegies, the Rockefellers and the Woodruffs of Coca-Cola, along with the Presbyterian Church, helped him realize his dream, and today the school, with around 400 students on a 1,400-acre campus, is one of the largest institutions of its kind in the country. It also claims the largest ratio of boarding to day students in Georgia, with more than half of students, representing 35 countries, nesting in the dorms.
"About 70 percent of our kids are here on financial aid," says Head of School Anthony H. Sgro.
The campus includes a working farm and Environmental Stewardship Program that charges students with implementing more efficient resource consumption. Students can tend a beehive that is monitored by NASA – this living educational tool produced 170 pounds of honey last fall – and swing on a trapeze and perform other breathtaking aerial tricks in the cirque program. "Cirque freaks out our insurance company," Sgro says with a laugh, "but we keep it super-safe, with mats everywhere."
Darlington School, with approximately 800 students from 30 countries and 25 states on more than 400 acres, was established in 1905 in the shadow of Lookout Mountain. Darlington's founders, John Paul and Alice Allgood Cooper, named the school in honor of his former teacher, Joseph James Darlington. It boasts several accomplished alumni, including artist Cy Twombly, former Gov. Ernest Vandiver, football coach Will Muschamp and writer Calder Willingham, who penned the screenplay for The Graduate.
"We call it 'Dar-world,'" says Bernadette Ebri, a junior who studies piano in the school's year-round music conservatory and dreams of becoming a surgeon. "We're more like a family than a school."
Tallulah Falls School (TFS), with more than 400 students, sits on 500 rolling acres with buildings made from local fieldstone. The school is in the throes of a growth spurt, just completing $20 million in upgrades, with plans for a new multipurpose gymnasium and theater for the middle school.
"When I first came here," Larry Peevy, TFS's president, recalls, "most of the international students were from only three countries. Most boarding schools depend on international students as a cash cow because they pay in full. I froze the number of international students we accept but did outreach to get greater diversity, so we now have 65 international students from 17 countries."
The school disbursed more than $2.5 million in financial aid for this school year, with help from the Lettie Pate Evans Foundation.
"What makes us really different is that we are not tuition-driven," Peevy says, "We charge according to need so that any student from any socioeconomic background desiring a good education can study here. We meet families where they are financially."
That egalitarian spirit infuses the campus ethos, he says.
"We aren't teaching our students to pursue status and celebrity," he says. "We want to help them reach their highest potential, doing what they love. We preach happiness more than anything else – how to be well-adjusted in your career and family and how to find gratification in your abilities. That's just who we are."
A dual enrollment program with Truett-McConnell College enables Tallulah Falls students to earn college credits.
---
Challenging Expectations
Students also get a taste of college life at the Advanced Academy of Georgia, which, as part of the University of West Georgia (UWG), is not a traditional boarding school but provides a residential experience to juniors and seniors who can earn 60 college credits while still in high school.
"Our students are highly motivated go-getters who proceed to Harvard and the Massachusetts Institute of Technology," says director Adriana Stanley. "Forty-six percent of our graduates last spring had a 4.0 GPA."
The students attend class with undergraduates and participate in college-level research that takes them to national and international conferences. Ajay Pillai, '08, who enrolled at the academy at age 13, then went on to UWG, became the youngest person ever to graduate from a University System of Georgia institution with a four-year degree.
About 35 percent of academy grads choose to stay and finish their studies at UWG.
Founded 108 years ago, Riverside Military Academy, with 530 students from 29 countries and 30 states, is one of only a dozen all-boy schools left in the country. Since the nearby Brenau Academy recently transitioned to a new format, it is Georgia's only single-sex boarding school.
"We're not what people think," says James Corbin, dean of enrollment management, "We're not a reform school for the well-to-do. During the Vietnam era, a lot of schools took the 'military' out of their titles and began admitting females, but we haven't run from our original identity."
And that mystique, he says, is forged in discipline. At Riverside, where handshakes are firm and posture is straight, many cadets advance to West Point and the Naval Academy, and 107 of last year's graduates earned $5.2 million in non-HOPE scholarships. "If an adult visiting the campus isn't greeted courteously and offered assistance," Corbin says, "somebody will be doing some pushups."
So cadets learn decorum, and they learn it fast.
"In this day and age there are few absolutes, and everybody gets a trophy," Corbin says. "Our culture emasculates men and objectifies women, and there is constant self-worship in social media. At Riverside, we cut through all the white noise and teach students that you get what you earn and earn what you get. Students learn what it's like to be part of something bigger than themselves, and the results are simply amazing."
---
GEORGIA'S BOARDING SCHOOLS
Advanced Academy of Georgia
Co-ed
Boarding only: Grades 11-12
Tuition*: Out-of-state and international $14,308/semester; In-state $4,500-$5,000/semester
1601 Maple St.
Carrollton
www.advancedacademy.org
Brandon Hall
Co-ed
Boarding: Grades 7-12
Day: Grades 6-12
Tuition: Domestic $60,800; International $69,354
1701 Brandon Hall Drive
Atlanta
www.brandonhall.org
Darlington School
Co-ed
Boarding: Grades 9-12
Day: Grades Pre-K-12
Tuition: Domestic $46,750; International $52,750
1014 Cave Spring Road SW
Rome
www.darlingtonschool.org
Rabun Gap-Nacoochee School
Co-ed
Boarding: Grades 7-12
Day: Grades 5-12
Tuition: Domestic Grades 7-8, $51,610; Grades 9-12, $46,610; International Grades 7-8, $56,910; Grades 9-12, $51,910
339 Nacoochee Drive
Rabun Gap
www.rabungap.org
Riverside Military Academy
Boys school
Boarding and day: Grades 7-12
Tuition: Domestic $33,500; International $37,750
2001 Riverside Drive
Gainesville
www.riversidemilitary.com
Tallulah Falls School
Co-ed
Boarding: Grades 7-12
Day: Grades 6-12
Tuition: Domestic $27,600; International $35,800
201 Campus Drive
Tallulah Falls
www.tallulahfalls.org