Georgia 400: In The Zone
Mixed-use developments, technology and regional collaboration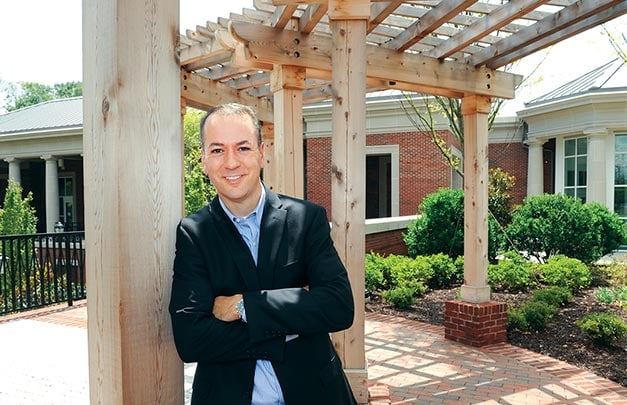 For years Johns Creek has enjoyed a reputation as an attractive residential community in the shadow of larger cities along the Georgia 400 corridor such as Alpharetta, Roswell and Sandy Springs.
"I consider us a 'tweener community' because we're gently nestled in between I-85 and Georgia 400," says Johns Creek Mayor Mike Bodker. "That can be a blessing and it can be a curse. The blessing, from my perspective, is I think it improves quality of life. We're sort of fully developed in that high quality of life."
Upscale residential neighborhoods, strong public schools and premier country clubs enable Johns Creek to remain a desirable location for prospective homebuyers. Yet city officials seek to enhance the community's quality of life with an ambitious plan for a city center. The proposed mixed-use development known as The District would encompass 728 acres and feature public parks, retail, entertainment venues, residential units and corporate offices.
"We want to do it on a scale that hasn't been done yet," says Bodker. "You go to most of these town centers [and] they're 20 acres or less. Avalon is an exception at [almost] 100. We're going to be an exception at over 700. That's Midtown [Atlanta]-sized."
According to Bodker, the ultimate goal of the project is a downtown city center, which remains vibrant during three windows of time: regular business hours during the workweek, weekday evenings and the weekend. In order to achieve this goal, The District would need to appeal to the city's workforce, Johns Creek residents and individuals from other areas of Metro Atlanta looking for a weekend destination.
"It takes three different things from a mix standpoint and activity to make that work," Bodker says. "Nine to five is about workers. Five to whenever during the week is about residents congregating in this city center. The weekend's a whole different ballgame, and you've got to have programming and you've got to have the right places for them to visit.
"Most city centers and downtowns – they're not hitting on all three because they just can't do it. Suwanee hits on two out of three. Downtown Atlanta hits on maybe one out of three. We're going to try to purpose-build [and] purpose-design this thing from the get-go to hit on all three."
Urban Design Associates conducted reviews of the proposed city center, received feedback from city residents in public meetings and submitted concepts for the project. Johns Creek's city council approved a $250,000 contract for these initial concepts and design plans in December 2014.
Following a public meeting where citizens can offer feedback of the design proposals, Bodker expects to receive a revised set of design plans by the end of 2015. Bodker remains optimistic that development of an initial tract of the center by private businesses could begin after a review of the revised plans. The city plans to develop the parks and greenspace portion of each tract within The District.
Since approximately 80 percent of the land in Johns Creek, a city of more than 82,000 citizens, is currently residential, Bodker and the city council believe that The District is necessary to jumpstart commercial development and provide long-term economic sustainability.
"I think Mike is on the right track," says Al Nash, executive director of the Development Authority of Fulton County. "[Johns Creek] has to continue to grow if they're going to support the needs of the city."
---
Technology Hub
While Johns Creek moves forward with plans for The District, the city of Alpharetta continues to benefit from the addition of Avalon, a large-scale mixed-use development that opened last fall and features national retailers like Anthropologie and Crate & Barrel and local outposts of Atlanta restaurants like Bantam + Biddy and Antico Pizza Napoletana.
"People want to work where they want to live," says Alpharetta Mayor David Belle Isle. "By creating this walkable space with Avalon and the new downtown and reinvestment in our existing downtown, that's created this culture that's attracting and really making the city known for the employer side of what we have."
With businesses occupying approximately 65 percent of the city's land, Alpharetta serves as a workplace destination for individuals across the Georgia 400 corridor. With more than 600 high-tech companies operating inside the city limits, the city adopted the slogan "Technology City of the South" in an effort to build on its reputation as a desirable location for high-tech businesses.
"There's a huge concentration of really good, solid high-paying employers here," Belle Isle says. "We double in size in the daytime. When we go to bed, we're 62,000 people, but when we wake up, we're 120,000. About 44 percent of our workforce is in the field of technology."
In July, Primetals Technologies USA, a joint venture of Siemens and Mitsubishi Heavy Industries, announced plans to open its U.S. headquarters in Alpharetta. Established in January, the company offers a variety of services in iron and steel production, automation and environmental technologies. The company will invest more than $2 million in the Alpharetta location and bring 140 jobs to the city, according to Belle Isle.
Other cities along Georgia 400 remain popular for both commercial and residential development.
"We love to see the fact that these executives picked the area because they want to live here, and they're obviously very interested in the schools and the school district," says Steve Stroud, executive director of economic and community development for Roswell Inc. "We've got amenities that no other communities have, and that continues to draw people to all of North Fulton."
Roswell City Walk, an upscale multifamily complex developed by Lennar Corp., is slated for completion by the end of the year. Located within walking distance of shops, restaurants and galleries on Canton Street in the city's historic district, City Walk serves as an attractive housing option for both millennials and retirees.
"The City Walk project is a great example of the trend we're seeing around Metro Atlanta, and that is pockets of density," Stroud says. "It used to be a bad word in Roswell and North Fulton, but the demographic is showing that it's people over 50 who want to downsize from the cul-de-sac and truly are renting [these apartments]. City Walk is leasing at the fastest pace of any project in the country for Lennar with 320 units and over half of them leased with the construction not complete."
The climate for economic development remains robust in Cumming and the southern portion of Forsyth County, just beyond North Fulton. In 2014, 23 businesses announced plans to either relocate or expand their operations in Forsyth County, which resulted in the addition of 1,047 new jobs and $103.9 million in capital investments.
"[Last year] was the best year we've ever had in terms of economic development and job announcements," says James McCoy, president and CEO of the Cumming-Forsyth County Chamber of Commerce.
McCoy credits Business First, the county's $3-million, five-year economic development strategic plan, as a major factor behind the area's success last year and through the first six months of this year. Projections indicate that the county is on pace for a slight improvement in announcements, new jobs and capital investment. The Business First initiative began last year and will continue through 2018.
"We're seeing a significant uptick in leads, and we can draw a lot of leads from Business First, particularly with international companies," McCoy says.
---
Regional Cooperation
When Mercedes-Benz USA decided in February to relocate its headquarters from New Jersey to Sandy Springs, the announcement generated headlines throughout Metro Atlanta. The company intends to employ between 800 and 1,000 individuals in a 250,000-square-foot campus on a 12-acre tract of land adjacent to Georgia 400. In addition to tax incentives and a decrease in cost of living, Mercedes officials selected Sandy Springs due to the available space and the quality of life benefits throughout the region.
"They wanted a campus," says Nash. "That was important to them – not a building, but a campus feel. They wanted a balance to attract young people who wanted to live in Buckhead and employees who wanted to live in Alpharetta. Education became a crucial piece of that."
Although Sandy Springs landed Mercedes-Benz, the company's arrival will likely impact the other cities along the corridor, especially when it comes to homebuying and renting properties in the region.
Alpharetta is already seeing this trend bear out, and in Roswell, Stroud anticipates an uptick in retail business and residential home sales once the second phase of the company's move is complete in 2017.
"What happens in Sandy Springs with Mercedes is only a benefit to Roswell," Stroud says. "And it's a benefit for the future."
Bethany Usry, vice president of Progress Partners of North Fulton Atlanta, the economic development initiative of the Greater North Fulton Chamber of Commerce, agrees that the addition of Mercedes will create economic growth opportunities up and down the corridor.
"While Mercedes may be located in Sandy Springs, a lot of the employees are going to be living in a number of communities in North Fulton," Usry says. "I think the other thing is it's also going to potentially bring some ancillary businesses that could locate in some other cities besides Sandy Springs."
The corridor will also benefit from MARTA's planned extension of its Red Line north to Alpharetta – the first expansion in 15 years – that would bring five more stations along a new 12-mile track. The North Fulton Community Improvement District has a Blueprint 2.0 plan that includes suggested stops at Encore Parkway and Windward Parkway, and many of the feasibility studies have already been completed, according to the CID's executive director, Ann Hanlon.
Transportation and infrastructure are just two of the advantages corridor officials tout to site selectors and companies. Everyone in the area agrees that one of the greatest benefits is invisible, but vital – the sense of collegiality and cooperation among mayors, city managers and economic development officials.
"It's really one community that's bigger than our city," says Belle Isle. "And we recognize that. It all works together. We are able to do what we do because Milton and Roswell and Johns Creek are around us. They get to do what they do because we're here providing a lot of the amenities."
Stroud says this sense of regional support is definitely a factor in the corridor's recent growth.
"I think the other thing that you're seeing much more than ever in this growth spurt is collaboration and cooperation between the jurisdictions and the districts," Stroud says. "[It's] very unique. We all want [prospective companies] in our city, but we want them in the region, and I think that is a different approach than has been taken in the past."
While the cities that make up the Georgia 400 corridor possess a wealth of advantages over other communities in the competition to attract companies looking to expand or relocate, the region must overcome several impediments to future growth. Many cities currently lack the large chunks of Class A office space preferred by companies and site selectors.
"I've spoken to a number of brokers who have mentioned that when they're looking for large blocks of available space, they're finding it more challenging to locate those," Usry says. "But I think that opens the opportunity for some of those build-to-suit or spec products."
In addition to a shortage of office space, the ability to maintain a talented workforce in the restaurant and hospitality industries remains a struggle in cities like Roswell. "With 200-plus independent restaurants, it's a challenge to find good talent," says Stroud. "I think that's our No. 1 challenge."
---
LOCAL FLAVOR
Art Scene: Undaunted by the onset of the recession, Gary Handler explored potential expansion opportunities for Vinings Gallery, the Smyrna-based art gallery he launched along with co-owner Denard Stalling in 1999.
"I had been thinking about a second location in 2009 and 2010," Handler says. "Ironically, during the worst time in [American] business, we were doing well. We were not much affected by the turn of the economy. I really felt that this was a great time to expand, so when things started to turn around we'd be one step ahead."
When Roswell-based painter Ford Smith decided to shift his business toward a national clientele through his website in 2012, Handler and Stalling jumped at the opportunity to extend their business into a city with a robust local arts scene. Today, Smith's former storefront on Elizabeth Way, adjacent to Canton Street in the heart of Roswell's historic district, serves as Vinings Gallery's North Fulton location.
"There was a buzz about that area," Handler says. "If we could get a space right in the middle of it, then we were going to get a lot of visibility and it was going to be a good location. It's just got character."
Mary Kinzel Means, co-owner of Taylor Kinzel Gallery, one of five galleries located within historic Roswell, believes the gradual addition of popular local restaurants, antique stores and galleries transformed the area into a regional shopping and entertainment destination.
"I think the biggest change now is that we're really busy on the weekends," says Means, who opened her gallery with co-owner Patrick Taylor in 2003. "We get a lot of out-of-towners on the weekends now that we didn't have before. We have a lot of intowners come up on a Saturday and bring their families. This is the kind of place they come and spend the day. There are just not a lot of places like that in Atlanta where you can go eat lunch outside and wander around for the day."
Means credits the collaborative efforts of the Roswell Art District, a group of local galleries that promotes fine art within the community, for raising the area's profile among prospective clients across Metro Atlanta.
"We advertise together, we have the art walks together and we really promote the area together," Means says. "We help promote the restaurants, [and] they promote us. It's a strong merchants association here, and we really understand how important it is to keep everyone healthy and thriving and attracting more business." – Scott Blusiewicz