Gainesville | Hall County: Full Speed Ahead
New homes, shopping and healthcare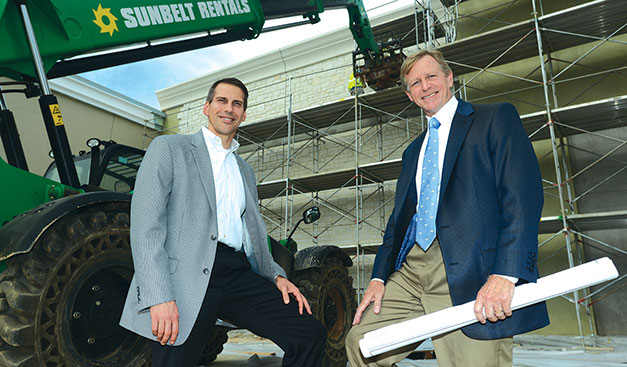 The center of the economic, if not geographic universe in Northeast Georgia can be found in Gainesville and Hall County. This fast-growing region is where you come to do all your serious shopping, banking and receive medical care. Increasingly, it is also the place where big companies and international corporations have settled and executives are making their homes.
Bisected by Interstate 985, Gainesville is a relatively easy 45-minute commute to Atlanta. That has made living in increasingly pricey houses that line the banks of Lake Lanier ever more attractive. This and other assets largely mitigated the impact of the recession. Although the economy slowed, deals got done and companies expanded. A few years ago those engines were idling, but these days they're running wide open, according to local officials and business leaders.
"Yes, it's slow and steady, but that's good," says Kit Dunlap, president and CEO of the Greater Hall Chamber of Commerce. "We've had many of the big industries that have expanded."
She proudly shares the news that once again Hall County has the lowest unemployment rate in the state – an honor it has held for several months now.
"I think there is also pent-up demand," she adds. "And we're seeing a great deal of hiring and expansion because of it."
There is no better indicator of how well the local economy is doing than the steady business of commercial real estate.
"We are seeing both the small and the larger user coming into the market," says John Drake, who oversees business development and speculative buildings in Georgia for Pattillo Industrial Real Estate. "We have both multi-tenant facilities and a spec building there in Gainesville, so we do get to see a lot of different size users – whether it's manufacturing or distribution."
Pattillo has been developing industrial buildings in Hall County for more than 25 years, and during that time the market has attracted more than its share of business, according to Drake.
Two of the biggest sectors locally have been food service and auto industry-related manufacturing and distribution, he adds.
---
Bustling Activity
Just how well the local economy is doing is reflected in the chamber's busy year last year, when the chamber's economic development office assisted with 21 projects that produced 1,420 jobs and more than $206 million in capital investment, according to Tim Evans, the chamber's vice president for economic development.
"We've got over 1 million square feet of commercial and industrial development underway in Hall County, and that's just from the 21 projects that we've worked on," Evans says. That doesn't include the burgeoning healthcare industry that has been churning out a new hospital and medical office space to support it.
One of the biggest of these expansions came from longtime Hall County resident Kubota Manufacturing of America. The Japanese company is expanding its presence in Gainesville in what some are saying is the largest earthmoving project in the state.
"The Kubota project at Gateway [Industrial Centre] was initially about $85 million in capital investment," says Evans. "There's more investment to come, more facilities to come. They're planning about another 600 jobs, which will bring them to 2,000 jobs in Hall County."
Kubota purchased 180 acres within the park to build a 502,000-square-foot facility, where it will manufacture its RTV series utility vehicles. The company will also retain and enhance its existing plant at Gainesville Industrial Park North. The company is a big job generator for the region, employing 1,300 people in Hall County and another 870 at a plant in Jackson County. With this expansion, Kubota Corp. will likely employ more than 2,900 workers in the two counties.
Another local fixture, the Wrigley Co., is also expanding its operations in Flowery Branch to the tune of $60 million in capital investment. It's in the process of hiring 170 new employees after production of its Orbit gum was moved here from Toronto.
All those new jobs have made Hall County an employment center, and with that has come – finally – retail development. North Lake Square, a large retail center on Dawsonville Highway, is taking shape anchored by national retailers such as Academy Sports + Outdoors, Hobby Lobby, Chipotle and other chains.
The new development will go a long way to remedying Hall's status as "under-retailed."
"When I moved up, I noticed that for the size of the area it was fairly under-retailed and started looking at sites and basically learned that the reason was topography," says Tim Knight, president of Knight Commercial Real Estate LLC, which is developing North Lake Square. "When you get up into Gainesville and Hall County, you're starting to get into the mountains so it's hard to find developable sites. Everything is either a hill or a hole."
Developers have also faced challenges in persuading retailers that the unusual terrain created by Lake Lanier would allow the right number of shoppers to get to them.
"It's a little convoluted, but with retailers I have to show them the demographics, the traffic generators such as the colleges, tourism, banking and finance and housing," says Knight. "I have to show them where their customers are coming [from]. You have to show them the traffic patterns."
Many potential shoppers are busy snapping up homes here in fast-growing communities such as the active-adult Cresswind at Lake Lanier. This amenity-rich lakefront development will have some 950 homes when fully built out. Over the past three years, it's been the No. 1 selling subdivision, averaging about 140 home sales annually.
Southwest of the city, the 400-acre Mundy Mill development is on track to build 1,100 homes along with 1,200 apartments. It's also approved for 806,000 square feet of office and warehouse and 885,000 square feet of commercial space. The community is anticipating an influx of families with the new development.
The upsurge in real estate has put local permit officials into high gear. Back in 2010, the county issued just one new single-family residential permit. The next year, the number rose to 47. In 2012 there were 95, and as the pace quickened in 2013 it jumped to 160. Then last year the city set an all-time record with 265 permits.
"We are on track in 2015 to shatter that number," says Rusty Ligon, community development director for the city of Gainesville. "During the first six months of 2015, we've already issued 188 permits for new homes."
The economic rumblings of a few years ago are now long forgotten as development of all kinds is springing up through the city.
"We weathered the storm extremely well," says Gainesville Mayor Danny Dunagan. He notes that the city has been able to give raises and merit pay to its employees – unlike many other municipalities in the state.
The city has benefited from strong retail growth such as the new Kroger Marketplace store that opened last year on Jesse Jewell Parkway. At 123,000 square feet, it's the largest Kroger in the state and anchors a new shopping center, New Holland Market.
Hall County's international reputation has been enhanced by the Lake Lanier Olympic Venue. The site of the 1996 Olympic rowing and kayaking competition, it is now managed by a nonprofit, Gainesville-Hall '96, and supporters are raising money to maintain and expand facilities.
"We're the only venue from '96 that is still operating for its intended purpose – rowing and kayaking," says Morgan House, a former national kayaking champion who serves as venue manager.
Lake Lanier hosted the 2014 USA Canoe/Kayak Sprint National Championships and recently won the 2016 Pan American Canoe Sprint Championships, an Olympic qualifying event, and the 2018 Dragon Boat World Championships.
---
Growing Needs
Oakwood sits astride I-985 just south of Gainesville, and in recent years it has enjoyed considerable success in attracting business and industry.
Performance Food Group is in the process of expanding its operation by building a 520,000-square-foot distribution warehouse that is expected to open in June of next year.
Local officials see the stirrings as signs of good things to come and a clear indication that the city knows how to treat business right.
"I think for us we have a very positive business environment," says Oakwood City Manager Stan Brown. "Our council has been very supportive of creating jobs and supporting business."
That welcome mat has helped produce a tax base that is fully 86 percent commercial and industrial.
"I would say that location is important for us," says Brown. "We are just outside of the Atlanta metro, but still influenced by the area – being on Interstate 985 and having State Route 53 coming through and having Lake Lanier in close proximity. We also have rail – Norfolk Southern comes through the middle of town. That's the same line that runs from Atlanta to Charlotte and the whole eastern seaboard."
Workforce is always the first question any new company asks about an area, and Lanier Technical College has been helping provide the answer for nearly 50 years. Now it's about to get a new and expanded $80-million campus to help meet the training needs of a diverse industrial and business community.
While a site hasn't been identified yet, work is expected to get underway next summer with the new facility opening sometime in 2018.
"It would house the programs that we have currently, as well as allow us to grow into other areas such as hospitality and tourism," says President Ray Perren. "That would include culinary arts to help support the hospitality industry here in northeast Georgia. With Lake Lanier and the mountains, that's a significant industry."
A larger campus will likely mean its student body will increase beyond the current 3,700. Lanier Tech is also planning to expand its allied health program to better serve the county's growing healthcare industry. New programs could include an associate degree in nursing that would allow graduates to take the registered nursing license exam. Already, about 44 percent of students are enrolled in some kind of healthcare-related program, and that percentage is likely to rise with expanded programs.
The new campus will also include a simulation center where students can work in an environment that mimics a hospital. They will be able to get realistic experience in situations that range from an emergency room to the patient admissions office.
"It will allow us to provide simulated labs so that our students can get as close to hands-on experience as possible before they go out into a real-life clinical setting," says Perren.
Along with its regular program offerings, Lanier faculty have been busy providing customized training programs for local companies. After Georgia Quick Start provided pre-employment training for workers at King's Hawaiian, Lanier stepped in to provide ongoing training in industrial maintenance.
---
Economic Driver
In Flowery Branch, Mayor Mike Miller likes to say that the town has "weathered the storm" both figuratively and literally. During the recession it held the line on taxes, with city staffers doing more with less.
"We had savings from our staff that allowed us to really put some back for a rainy day, and we had some rainy days," he says.
In the midst of the recession, a culvert failed during a rainstorm. Repairing it became a $1-million project during the worst economic times.
"We got through it, and at this point we're financially in a very good place," says Miller.
They are so good in fact that the city is getting ready to build a new city hall and community center. The project will include a plaza for downtown events.
South Hall near Braselton has become something of an epicenter of healthcare. Fueled by the opening of a new Northeast Georgia Health System (NGHS) hospital, a host of medical office construction is underway to accommodate a growing tide of doctors and medical services that want to locate near the hospital.
The newest of these – Highpoint Medical Center – is a large medical plaza right across the street from the hospital. Developed by the Norton Agency, the 22-acre campus is projected to include several buildings totaling more than 250,000 square feet. The first phase is a two-story, 42,000-square-foot facility that will house physicians and support staff for the Longstreet Clinic and Northwest Georgia Diagnostic Clinic.
The NGHS campus is also home to a 100,000-square-foot medical office building, which includes an urgent care center, imaging center, endoscopy suite, outpatient lab, physical therapy services and more than 20 physician offices.
"When we looked at our service area, particularly in the Braselton area, we saw a void there a number of years ago," says Carol Burrell, president and CEO of NGHS. "That's what prompted us to pursue and ultimately open the new hospital. There are a number of things that go into evaluating a community's quality of life, and healthcare is probably at the top of that list right along with education."
Hall's large and highly rated healthcare system has become not only an economic driver, but also a prime attractor for corporations seeking to relocate to the area. Executives in particular want to live in an area with good healthcare, and Northeast Georgia is one of the best in the nation according to national ranking services.
When it opened in April, the hospital's emergency department was treating its very first patient within 10 minutes. Since then the number of patients at the 100-bed facility has averaged in the "high 40s" on a daily basis. By the end of the year, the daily census is expected to be in the 65 to 70 range.
The hospital's seven operating rooms were busy with a dozen surgeries performed on the first day. Most of those cases were orthopedic procedures – a specialty for the hospital.
The new hospital accelerated a process that has been gathering steam for some time now. Physician practices such as those of the Longstreet Clinic have been spreading out and opening offices through the region.
"We have been in that market for years," says Mimi Collins, CEO of the Longstreet Clinic, noting its doctors have been in the Braselton area for more than five years.
The clinic has been busy recruiting new physicians to fill out the practice at the new medical building. Like everywhere else in Hall, this facility will be bustling in an economy that never seems to stop.
---
LOCAL FLAVOR
Gainesville Gardens: Some years ago, Charles and Lessie Smithgall were looking for a way to preserve the beautiful estate they owned as greenspace for Gainesville and Hall County. They talked to different organizations and decided that the Atlanta Botanical Garden had the right idea. The couple donated 185 acres. Although Charles Smithgall passed away, Lessie is still living on a 17-acre plot she kept for herself.
Thus was born the Atlanta Botanical Garden Gainesville, A Smithgall Woodland Legacy.
"We took the first couple of years and worked with a landscape planning firm and designed a master plan," says Mildred Fockele, who serves as vice president of horticulture.
In 2004, the botanical gardens built a 5,000-square-foot greenhouse and four-acre nursery to begin to grow the plants and the collections that would bring the gardens to colorful life.
"Botanical garden collections are like paintings are to an art museum," says Fockele. "So collections are really our DNA, and collections are what distinguish a botanical garden from a public park or a nature center."
Since then six acres of gardens with a mile-and-a-half-long walking trail has opened up the beauty of these plants and trees to the public, along with a 5,000-square-foot visitor center, event space and a model train garden. There's also an amphitheater with lawn seating that can handle more than 2,000 people, where you'll not only enjoy the beauty of nature, but you can also hear live music by the likes of Emmylou Harris and The Temptations. – Randy Southerland