Tifton | Tift County: The Road Most Traveled
Retail, Distribution and Agriculture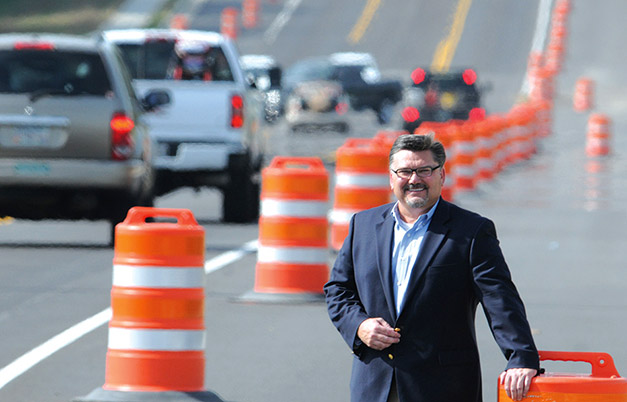 If you ask in South Georgia where all the roads lead, the likely answer is Tifton. The county seat of Tift County, with its confluence of U.S. highways 41, 82 and Interstate 75, is a regional hub for healthcare, retail, agriculture, manufacturing, warehousing and distribution, as well as a major stopping point for motorists on their way to Florida destinations.
A tour around town with Tifton-Tift County Chamber of Commerce President and Executive Director of the Development Authority Brian Marlowe reveals pretty quickly that Tifton's appearance belies its small size.
The view east or west from the overpass at the intersection of U.S. 82 and I-75 shows commercial development as far as the eye can see, much of it fairly recent. Locally owned businesses along with nationally known names like Starbucks, Publix, Harley-Davidson and Olive Garden dot the landscape as cars and trucks vie for highway space. Tesla even has a multiport charging station here.
"Tifton is very fortunate with the leadership we now have in place, and not only now but what we've had over the years" that has enabled present advantages, Marlowe says. "Infrastructure, zoning, having available land and buildings … it's hard to sell a product if you don't have something to show someone. I think our leadership looking ahead 20 or 30 years ago did a very good job of positioning us to accomplish the things we're accomplishing today."
Manufacturing and distribution continue to expand, led by companies such as Heatcraft, which produces refrigeration units for stores like Walmart and Publix; Target Distribution and Kelley Manufacturing, an agricultural equipment maker, and American Textile Co., a producer of bedding products; and food processor Bell Plantation, which has about 200 workers and plans to grow to 400 and diversify its product lines.
Pennsylvania-based American Textile opened manufacturing operations in Tifton in 2011 and in 2014 unveiled a second facility, increasing the company's footprint to well over 400,000 square feet with a national distribution center and a bed pillow operation for southeast distribution.
Company President and CEO Lance Ruttenberg says Tifton "has met every expectation of ours for a manufacturing location" and adds that "there are nothing but very good things to say" about the community's economic development leaders and the workforce.
Tifton leaders aren't letting grass grow under their feet (with perhaps the exception of turfgrass; see the Local Flavor sidebar on page 84). In almost every area related to economic development, efforts continue to bear fruit.
The U.S. 82 retail corridor east and west of I-75 has grown to the point there is little available land left for expansion, according to Marlowe. The city, county and the development authority have responded by partnering with the state to develop two new corridors: expansion of the formerly two-lane Carpenter Road and a re-direction of Hunt Road that will connect with Carpenter. Hobby Lobby already has plans for a Hunt Road site, says Marlowe, and "there are several national retail chains that will follow Hobby Lobby."
---
Enhanced Cityscape
Even as activity continues out by the interstate, downtown Tifton is not being allowed to lie fallow. According to Mayor Jamie Cater, the city is in the last of three phases of downtown redevelopment spanning almost a decade, designed to make the central district more pedestrian-friendly and attractive by adding trees, outdoor seating, brick pavers and antique-style lighting. Even alleyways have been upgraded, and popular restaurants include Mi-Lady Bakery, Giggles Café, The Local Kitchen and Bar (with a chef who came from The Cloister at Sea Island) and La Cabana, a popular Latin eatery that Mayor Cater says has been going strong for almost 20 years.
"Tifton is unique when it comes to restaurants," Marlowe says. "Last year Restaurant Business magazine named Tifton the No. 1 city in the state of Georgia [for opening] a restaurant. We're No. 14 in the country, and part of that is because restaurants average over a million dollars a year in gross sales in Tifton; and that's competing with some of your largest cities in the country."
The 1906 Myon Hotel building that housed municipal offices threw a scare into city leaders a few years back when it was discovered that structural deterioration had brought the building almost to the point of collapse, rendering it immediately uninhabitable. City tenants scrambled to relocate while officials debated how to proceed: new construction or restoration.
"We renovated," says Cater. "There was talk about tearing it down, but you don't tear a historic building like that down. That's just not wise." City Hall is now back in operation in the building, its historic architectural integrity intact. Its preservation has served as a catalyst for other downtown restoration projects, some of which include space for loft living.
The mayor credits local citizens for voting for SPLOST V. "That gave the Downtown Development Authority about $2 million to work with to bring people downtown, to get new businesses and help current businesses," he says.
---
Staying Healthy
One of the things prospects look at when considering a company location is quality of life, and medical resources are an essential part of that. Marlowe describes Tift Regional Medical Center (TRMC) as "a major asset." The 191-bed acute-care hospital is the flagship for Tift Regional Health System (TRHS) and a major economic engine with approximately 2,000 employees and a nearly half-billion dollar impact on the local economy.
"We know that having a strong healthcare facility is important in attracting and retaining business and industry for our community," says Christopher Efaw, vice president of outreach and development for TRHS. "That's why we work closely with the Tifton-Tift County Chamber of Commerce and the Tift County Development Authority in reaching out to employers."
A demonstration of that occurred some years back when Tift Regional and the development authority worked to grant a wish expressed by industrial employers to establish WorkSmart Occupational Health, a TRMC-operated medical facility on Tifton's west side in close proximity to the county's manufacturing and distribution commercial parks. The idea, says Marlowe, was to have a place nearby where employers could send people for drug testing or minor immediate medical treatment and "avoiding a wait in the emergency room."
Tift Regional has recently expanded surgical specialties for the entire community, including plastic/reconstructive surgery, robotic GYN procedures and lap-band weight-loss surgery. The heart and vascular center was renovated and ex-panded, and a new, larger laboratory was added. TRMC's Anita Stewart Oncology Center is also expanding, according to Efaw, "and will be upgrading its radiation therapy suite within the next year to keep pace with cutting-edge cancer care."
And, as Efaw points out, "When people from surrounding counties come to Tifton to utilize our hospital, they are also using Tift County's gas stations, retail shops, restaurants and more."
---
Production Agriculture
Of course, you can't talk about Tifton and Tift County without talking about agriculture.
"Agriculture is the No. 1 industry in the state of Georgia," says Dr. Joe West, chair of the chamber board and assistant dean of the University of Georgia's College of Agricultural and Environmental Sciences Tifton campus. "It's by far the No. 1 industry in South Georgia, and our campus, being right in the heart of what we call 'production agriculture,' is a major player."
Agricultural research in the labs at UGA Tifton have gained it worldwide recognition. "We have about 85 Ph.D.s, 65 with the University of Georgia and 20 with the USDA Agricultural Research Service," West says. "We've got almost 500 people who work at the experiment station, so economically we have a big impact in this community; and we benefit from this community's support."
The last economic impact study for UGA Tifton was about five years ago, says West, and at that time it indicated about $90 million, just based on multipliers from salaries, taxes and local purchases. An updated study is slated for this summer. Also scheduled is a separate economic impact study of the UGA Tifton Campus Conference Center, which plays a role in both the agricultural and tourism/hospitality categories of the local economy.
The conference center hosts hundreds of meetings and thousands of visitors each year, who often stay in the city's more than 1,100 hotel rooms, says Tyron Spearman, Tifton-Tift County tourism director. The center and other points of interest like the Georgia Museum of Agriculture (formerly the Agrirama); the Tifton Terminal Railroad Museum; numerous festivals and athletic events for soccer, aquatics, baseball and softball; and conventions such as the United Methodist Church's and Lions Clubs' help generate additional impact, also estimated at about $90 million, Spearman states.
Spearman's assistant, Angela Elder, is current president of the nonprofit Plantation Trace Regional Travel Association. "We work with our region to partner up," she says, "and do some larger opportunities in the visitors centers and take advantage of things like the Sunbelt Ag Expo [in Moultrie, which hosts 100,000 people annually that spill over into Tifton hotel rooms]. You've got to take advantage of that and get your name out there."
Another name being noticed in scientific circles is traditionally agriculture- focused Abraham Baldwin Agricultural College (ABAC). This summer ABAC broke ground on a new $8.5-million laboratory sciences building that will house eight labs for biology, chemistry, tissue culture and anatomy/physiology. With more than 80 percent of ABAC students enrolled in science, technology, engineering and math fields, the new lab space will be a welcome addition to ABAC's campus when it opens in fall 2016.
If Tifton and Tift County have economic challenges, they are the kind many other communities might envy.
"We've had so much success over the last few years that we're out of product, out of buildings," says Marlowe. "So we're getting ready this summer to break ground for a new 100,000-square-foot spec building on a 116-acre tract that we purchased a few years ago. We also have an option on 395 acres [with 3,000 linear feet of rail frontage] immediately contiguous and south of the 116 acres, so we have room to grow."
---
LOCAL FLAVOR
Turfgrass And Truffles: If you went down an alphabetical list of the areas of research being conducted at the University of Georgia Research Campus in Tifton, you would find two starting with "T" that might surprise you: turfgrass and truffles (pecan truffles, that is).
Turfgrass is considered part of ornamental horticulture, which in 2013 totaled $562 million of Georgia's total farm gate value. Turfgrass makes up just more than 16 percent of that.
"Our turfgrass breeding program is very, very successful, and because of that there is a really viable turfgrass industry in South Georgia," says Dr. Joe West, assistant dean of UGA Tifton. "Within 20 minutes of here are some very large turfgrass farms."
The 69th annual Southeastern Turfgrass Conference was held at UGA Tifton earlier this year and drew an estimated 180 attendees from across the country, but Tifton turfgrass isn't confined to American shores. The World Cups in South Africa and Brazil were played on Tifton-developed turfgrasses, and negotiations are underway with Japanese business interests for the sale of two turfgrass licenses for the 2020 Olympics in Tokyo, says West.
Back on American soil, last year's Super Bowl in Phoenix took place on Tifton-origin turf.
"That tells you how global it is," says West, "and then if you look at all the sports venues, golf courses, lawns throughout the Southern U.S., a lot of them have Tifton turfs. It's a huge and very successful program on our Tifton campus."
The research on pecan truffles is more of a niche in the overall array of agricultural commodities, but it is growing, thanks to recent emphasis on local-grown or Georgia-grown products. Chefs prize truffles for both flavor and presentation, but European truffles are hugely expensive and are generally served only at the most upscale restaurants.
Years ago UGA plant scientist Dr. Tim Brenneman began researching truffles growing among the root systems of pecan trees in South Georgia orchards. The thing is, not every orchard has them, and even when they are found, not every tree has them. They grow along roots beneath the soil surface, so initially the only way to find them was by manually scratching in the dirt, a labor- and time-consuming process. More recently, dogs are being trained to sniff them out, but even that is a hit-and-miss proposition. That makes them expensive domestically as well.
Research at UGA Tifton is centering on inoculating pecan tree seedlings with the truffle fungus, which should result in more consistent truffle production and thereby create a niche side product for pecan producers. Brenneman's vision is the creation of a tourism cottage industry whereby farm or plantation guests could go out into an orchard and gather truffles themselves, then return them to be prepared by a chef as part of a fine-dining evening meal.
"That should be a good commercial opportunity for somebody to capitalize on these truffles we have down here in South Georgia," Brenneman says. – David Shivers