Causes And Effects
Georgia's nonprofits rely on charitable giving, but the most successful have a lot in common with business.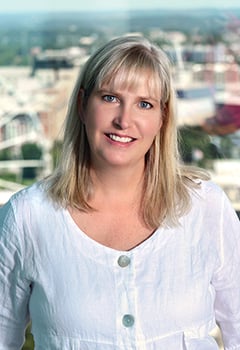 It had been a rough year for Jen Hilburn and the environmental advocacy group she heads, but the Altamaha Riverkeeper had something big to celebrate in May: The state Department of Transportation denied an out-of-state energy firm's request to build a pipeline that would have trenched through 12 Georgia counties and crossed the watersheds of five major rivers, posing a threat to wildlife and water quality.
"We are a last-stand organization, the last voice for our rivers," says Hilburn, savoring the win at the Riverkeeper's 140-square-foot office in Darien.
The Altamaha group worked with other Riverkeepers and environmental interests to defeat the 360-mile Palmetto Pipeline, which would have transported gasoline and ethanol from South Carolina along the Georgia coast to Jacksonville.
The victory was sweet for all the pipeline's opponents, but perhaps especially so for the Altamaha Riverkeeper, which, like many small operations, has limited funds and resources and felt the effects of the recent recession. But this Riverkeeper, founded in 1999, has been through some tough times of late: changes in leadership and an overall downsizing that trimmed the staff to Hilburn and a couple of part-time volunteers.
"We had to overcome some challenges," she says. One of the biggest had to do with raising money, something that can be especially difficult for a regional advocacy group that needs money for legal challenges and court fights.
"We're not a heavily funded organization," Hilburn says. "We have to make sure every one of those dollars is focused on what we want to do: Support our water quality and flow."
Fundraising events bring in some money, supplementing donations from devoted river lovers and the occasional grant. "They help us buy gas for the boat," she says – the one she uses to travel the Altamaha and its tributaries, collecting water samples and monitoring the rivers' health.
"There's no cute spotted owl on my arm, no cute panda bear," she says, nothing warm and fuzzy to appeal to donors' emotions, just the mission of protecting the state's biggest river.
---
One Of Many
Nonprofits in Georgia come in all sizes, serving an endless variety of causes.
Larger organizations like CARE USA or the American Cancer Society are national in scope, with a broad base of supporters and a sophisticated mechanism for raising money. Smaller, more geographically focused groups have to work harder for recognition and funding.
Georgia's nonprofit community encompasses 38,000 entities, according to Karen Beavor, president and CEO of the Georgia Center for Nonprofits, which helps groups with management, governance and training. Some 27,000 of the state's nonprofits are 501(c)(3) organizations, as designated by the Internal Revenue Service (IRS). This classification includes foundations – like The Arthur M. Blank Family Foundation or Captain Planet Foundation – that typically give out money, and charitable endeavors that raise money to fund their work.
The IRS recognizes some 38 different categories of "501c" nonprofits covering a broad spectrum, Beavor points out, everything from sororities and fraternities to homeowners' associations to political action committees to professional associations. But it's the "c-3" groups that most of us know and contribute to.
Those that have more than $25,000 in annual receipts – "the large reporters," Beavor calls them – are required to file a federal 990 tax form; about 7,500 nonprofits in Georgia fall into this category.
There are clear differences among Georgia's nonprofits, to be sure, but some commonality as well. Beavor uses a business analogy to explain. "Is UPS like Waffle House? Yes and no. They both have executive leadership, they are trying to sell a service or sell a product. They are similar, but the context in which they view their business, the type of business that they're in, the complexities of the business can be very, very different."
Nonetheless, there are some basic requirements for any nonprofit, regardless of size or mission. "First you need a clear strategy," Beavor says. "What is the organization trying to do? Then you need leadership, the talent to get you there. And revenue."
The difference between success and failure for a nonprofit is similar to what determines the fate of a business.
"There are things you can control," Beavor says. "Maybe you don't have a great strategy or 'asking model' or you don't have the right management capability or right talent. But sometimes there are external forces that you are not in control of – like a giant recession, or government funding that is a large part of your business completely shifts or changes."
Nonprofits don't have shareholders they reward with dividends; they have stakeholders, people who contribute to them and people who benefit from their work. But, like businesses, nonprofits have to be results-oriented. "You need credibility, you need to build confidence," Beavor says. "You have to build a track record to get grants; you have to market to your clients just like everybody else would."
And, she notes soberly: "Most small businesses do fail." As do some nonprofits.
Still, the nonprofit economic sector showed growth even during the recession, and employment in the sector grew as well.
---
The Big Names
Georgia is home to some A-list nonprofits with a national or international reach. Habitat for Humanity, which builds and rehabs housing throughout the world, was founded in Americus in 1976. Its operational headquarters are still there, although its administrative headquarters have moved to Metro Atlanta.
The American Cancer Society, a 100-year-old organization dedicated to eliminating cancer, moved its national headquarters to Atlanta from New York.
CARE USA began in 1945 to send CARE Packages to post-war Europe but has evolved into a humanitarian organization fighting poverty in 87 countries; it moved its headquarters to Atlanta in 1993. Michelle Nunn, a founder of Hands On Atlanta and the 2014 Democratic candidate for U.S. senator, became its president and CEO in July.
Organizations of that size have resources that smaller groups can only dream of. Habitat had cash contributions of $161 million for FY2014, up from $154 million the previous year.
The cancer society reported $971 million in total revenues for 2013 – substantial, but down from pre-recession levels that topped $1 billion. CARE had $150 million in private contributions; the figure jumps to $308 million when you factor in funds from Care International, according to the 2014 annual report.
---
Smaller Successes
Yet in the world of smaller nonprofits, even modest gifts can make a big difference – like $3,500 scholarships that help the Hambidge Center in North Georgia provide retreats for artists at its 600-acre enclave in Rabun Gap.
"Artists come for two weeks or two months," says Jamie Badoud, the center's executive director. "It's a creative respite. We accept individuals from all creative pursuits. We let them do what they want – with no deadlines – but they generate a lot of work away from distractions."
Artists are provided with private live-work studios but come together to share an evening meal.
The center has a colorful history: It was founded in 1934 by Mary Hambidge, a native of Brunswick who became a successful vaudevillian, performing with her pet mockingbird as a whistling duo. She met Jay Hambidge, a writer and artist, and traveled extensively with him. After his death she came back to Georgia, devoted herself to weaving and established the artists' refuge.
Badoud, who has a background in art and accounting and is a former executive director of Art Papers, says his business experience is a help in his work. He and the center have been successful in creating scholarships that pay for an artist's bed and board and provide each with a $700 stipend.
"Three years ago we had 12 scholarships; now we have 44," he says with considerable pride. The geographical isolation provides an ideal setting for the center, but it also keeps it somewhat out of prospective donors' sight. So Hambidge puts on weekly events – artists' talks, nature hikes, gallery events – to draw in the public.
Badoud believes some organizations take the wrong approach in their fundraising. "Too many nonprofits have a 'save us' attitude, expecting people to do things for them. The nonprofit community needs to be more fiscally responsible – put things in place, invest in the work you are doing. You have to prove yourselves, whether you are a $50,000 or $500-million organization," he says.
"You need to be responsive to donors. Let them know what you're doing with their money," he adds. "Show them the results. Show them you are doing good work. Wow them. Show the challenges of the organization, but take the opportunity to show appreciation."
Such tactics can lead to more successful fundraising: "Think long term," he says. "Think about keeping the donors."
---
Keeping The Focus
When or whether to change an organizational mission is something boards and leaders grapple with. Some groups, like CARE USA, have grown and evolved in response to need and opportunity. For smaller groups, the decision about staying with the date you brought to the nonprofit dance can pose a problem, especially if there are potential donors dangling checks and urging different directions.
Riverkeeper organizations are particularly protective about any attempts to use their name in commercial or "greenwashing" endeavors, but there are some occasions when a funder would like to nudge the organization toward a slightly different emphasis.
Jen Hilburn has a simple litmus test easily adaptable to any cause: "Everything I do, I ask 'Is this the best thing for the river?' I can't make tradeoffs. I have to stay true to my river."