Where Farming Meets Fun
Georgia agritourism is a $194-million industry and a boon to many family farms.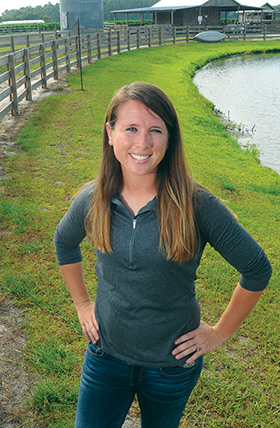 Agritourism. While the industry may be as old as Georgia's fertile soil, the term is just sprouting, relatively speaking.
Janice Hale, operator of Hillcrest Orchards in Ellijay, added tourism to her business portfolio in 1993, during a rough patch for north Georgia apple growers. "That was before agritourism was a word," says Hale.
Western apple growers had perfected cold storage and were flooding the market with low-prices, just as Georgia's crops were being harvested.
"North Georgia apple producers had to turn to alternative ways to bring income to the farm," says Sarah Cook, the Center of Innovation for Agribusiness's special projects coordinator.
If drastic times call for creativity, Hale totally went full-fledged avant-garde. Today Hillcrest visitors not only can pick apples, they can pick their fun: visiting the petting farm, taking a wagon ride through the orchard, visiting the Moonshine Museum, or watching live bands and cloggers at the farm's annual Apple Pickin' Jubilee.
"What is agritourism, you ask?" replies Cynthia Norton, the Georgia Department of Agriculture's agritourism manager. "It is reaching into a peach tree and plucking that perfect piece of fruit and biting into the flesh to feel juice running down your chin."
Or an apple tree, of course.
Norton was just beginning; she rattles off nine more ways agriculture is changing the way tourism managers do business. Here's how she characterizes agritourism:
"It is getting lost with a group of friends; laughing and giggling, trying to find your way out of acres of corn," she says. "It is sleeping in a barn loft under an old quilt; impatiently waiting to be able to get up in the morning and feed the farm animals. It is a long trail ride on horseback through the woods, the meadows, and the shore, anywhere. It is sitting on a veranda with a glass of wine made from the fruit growing just a few feet away. It is seeing the wonder on a child's face at the feel of the roughness of a cow's tongue across his hand, or the fuzzy head of a sheep, or the tug of a goat nibbling your shirt tail."
---
The Real World
Whatever its definition, agritourism is picking up steam, particularly in Georgia. State officials say at least 600 licensed Georgia businesses can be classified as part of the agritourism industry. A University of Georgia study estimated that agriculture- and nature-based tourism generated $194 million in revenue, creating 5,200 jobs and a $351 million economic impact. A new study is planned in 2015.
"What's important to realize is that in some cases, the extra income from agritourism has been what has kept the family farm operating. It has enabled children who go off to college to come back to the farm and be part of the business," says Kent Wolfe, who directs the University of Georgia Center for Agribusiness and Economic Development.
Bo Warren, Georgia's Center of Innovation for Agribusiness executive director, says if there's an agritourism "sweet spot," it's a farm operation that supplements its farm income with tourism income.
Like Hillcrest. Or White Oak Pastures in Bluffton, where cattle roam freely and eat native Georgia grasses on the Harris family's 150-year-old certified organic farm. White Oak visitors can attend educational workshops, sit down for lunch or supper, choose from grown goods sold in the farm store, and spend the night.
"White Oak Pastures is not Disney World. It is the real world," owner Will Harris says in his marketing material.
Harris has established a niche championing both animal welfare and the local food movement, which helps small family farms market their products to the general public. To demonstrate that White Oak's operation is transparent, and to provide a new revenue source, Harris now invites guests to lodge in a cabin or in the pond house.
Agritourism is sort of like revisiting Americana's roots – and returning home with a full belly, a cooler full of Georgia-grown goods and a valuable education. And it's new money in the pockets of farmers and their supply chain.
"Opening up your farm and inviting a family to stay for the weekend. And providing a place where visitors can get up the next morning to gather eggs or help with farm chores, and then sit down to eat a farm-cooked meal. Now that's innovation," Warren says.
What agritourism does, Warren says, is bridge the gap between the consumer and farmer. "People have always wanted to know where their food comes from and who produces it, and agritourism gives them that opportunity, he says.
And, boy, do farmers love telling their stories.
---
Planting Seeds
Twenty-six-year-old Jessica Bolesta expected to be three years into a physical therapy career by now. Instead, depending on which day it is, she's driving a tractor pulling an old cotton wagon filled with schoolchildren, cooking and packing squash casserole, harvesting bell peppers or anything else that her family's 1,000-acre farm requires. And raising a young daughter.
Life just couldn't be much more fulfilling, Bolesta says. "It's a long way from what I studied in college, but it's working for us," she says.
Bolesta manages Raisin' Cane, the three-year-old agritourism component of Ken Corbett Farms, a family operation sprawled over three south Georgia counties. Along with a produce stand, corn maze, miniature farm town and farm tours, Raisin' Cane and its companion business Kim's Kitchen grow, package and sell ready-made meals on site, at two satellite locations and online.
Ken Corbett is Bolesta's father; her husband, mother and two brothers also work in the family business. The Echols County-based farm spreads into Lowndes and Madison counties; Raisin' Cane's nine acres are in Lowndes.
"I saw the need for this kind of business in this area," Bolesta says. "Yep, we kind of took a risk."
The farm hosts Valdosta and Lowndes County school system elementary students, along with many of their Brooks, Lanier and Echols county neighbors. The tours' growth from 400 schoolchildren in 2013 to an expected 12,000 students in 2015 is largely due to Valdosta entrepreneur Wesley Langdale's desire for every child in the area to grow up appreciating agriculture's important role in society.
Raisin' Cane's pigs, donkeys, chickens, ducks, goat, lamb, horse and rabbit are all part of the hands-on learning show.
"We're trying to get every kid to see a working farm in action," Bolesta says. "We give them a seed that they plant in our garden, we show them things that are growing, and we talk to them about forestry and how trees are crops, too. And it's amazing how many of the teachers have never seen a cow up close."
The Langdale Co.'s educational sponsorship of field trips to Raisin' Cane is a model for business owners who want to help cultivate their community's future workforce, says Beth Oleson, the Georgia Agritourism Association executive director.
"It is a great example of outside industries seeing the benefit of children spending time on a farm, understanding the time and demand to grow and care for a commodity – and the general nature of an agriculture setting," she says.
---
Icing On The Cake
Just north of Gainesville, Jaemor Farms has grown from peddling peaches from a hand-held tray beside the highway in the early 1900s to selling local produce in a 25,000-square-foot open-air market and bakery. It also has a new satellite farm market in Commerce.
Jaemor hosts field trips, has a popular annual corn maze, presents workshops on topics ranging from seed-to-table to raising honeybees, and has a strawberry festival in the spring and peach festival in the fall.
"We were local before this local grown movement was the cool thing to do," says Jaemor President Drew Echols. "However, with today's consumer being more interested in their food, and farming in general, this curiosity has certainly helped put us more on the map within the last five years or so." In 2014, about 750,000 people visited Jaemor, which retails about 85 percent of its produce.
"Being able to grow a lot of the fresh produce items that we offer is special. Folks getting to go out on the farm, seeing our fields, having their pictures taken; and wearing lots of smiles is the icing on the cake," Echols says.
As the Georgia Agritourism Association's president, Echols readily encourages his peers to join the movement.
"For the farms that do not have a roadside market, agritourism as a small business or value-added product is certainly a great business venture," he says. "Folks are searching for places to go. Why not open your farm gates and barn doors to them?"
---
Paying For Itself
Everyone's foray into agritourism is a little different, but the premise is nearly always the same: Today's farmer has to be more resourceful than ever.
After all, it's not 1946 anymore. That's when Hale's father bought an apple orchard at the Blue Ridge mountains' base and proceeded to make a good living. "Apples grown here were the first on the market in the whole country at that time. So the price was very good," Hale says.
Decades later came the deal-breaker: Larger grocery stores demanded to be supplied with apples year-round – and Washington and California made that happen. Hillcrest's profits began diminishing every year.
"Something had to change or we would have to go out of business," Hale says. "We started small with school tours and a petting farm. Each year, we've added more activities for our visitors. Our business continues to increase each year with more and more visitors."
Often called on to advise agritourism startups, Hale recommends that they begin small, try to avoid borrowing money, mix with visitors and love what they do. "It's not just farming anymore. It's dealing with thousands of people who know nothing about what happens on the farm," she says. "I made the commitment to myself when I went into agritourism that it would have to pay for itself. That's why we've added a few things each year. We've operated debt-free, and that's a good feeling."
One more thing: Don't copy your neighbor. "I traveled around the country looking at other agritourism operations," she says. "It's fine to copy and adapt ideas from someone else's farm. Just not from your neighbor. That's just tacky."
---
Opening Doors
Georgia farmers who've embraced agritourism have friends in high places. The Georgia Department of Agriculture, Georgia Department of Economic Development and University of Georgia all devote human and financial resources to supporting the industry, ranging from technical support to marketing.
Former longtime chef-to-the-governor Holly Chute showcases Georgia commodities throughout the state, Southeast and sometimes across the globe – promoting the state as a culinary and tourism destination.
"I just took several bottles of local Georgia wine to France and wowed the chefs there," says Chute, executive chef for Georgia Grown, a Department of Agriculture marketing and economic development program. "When we are able to outsource [show] products elsewhere, it opens all kinds of doors."
In April, she presented a hands-on cooking class in New York to international tour operators using all Georgia-grown products. Her menu included honey-pecan chicken, shrimp meatballs, boiled peanut hummus, Asian beef skewers and blueberry panna cotta.
Chute expects the Big Apple and France trips to pay dividends. "The tour operators target international vacationers, so the potential reach is huge," she says. "It's exciting to source a lot of great projects and [educate] chefs, the media and consumers that we're not a stereotypical Southern state and that we've got a lot to offer."
---
Frozen In Time
For decades, chamber of commerce officials have lamented the fact that tourism is an overlooked economic development driver. Jerry Connell, the Adel-Cook County Chamber of Commerce president and CEO, says it's agritourism, now, that deserves more awareness.
Spreading the word about local commodities and agriculture-inspired leisure activities is the driving force behind the Georgia Grown Trails systems that are blooming along highways in rural communities, says Connell.
"There are a lot of small, local, family-owned places up and down the highways – u-pick farms, vineyards and wineries, farm tours, specialty stores, bed-and-breakfasts. All of these places are getting attention that they previously didn't get," he says.
Since early 2014, the Georgia General Assembly has approved Georgia Grown Trail 37 (Ga. Highway 37 from Clay to Clinch counties), Trail 41 (Ga. Highway 41 from Lamar to Lowndes counties) and Ga. Grown 301 (U.S. Highway 301 from Screven to Charlton counties).
The scenic-highway promotion provides billboards, highway markers, web marketing, visitor information center brochures and other material that focus on Georgia's historic small towns, rural landscape, and on agricultural operations and their products.
The agritourism movement, Connell says, is a merger of creativity, hard work and nostalgia.
"Agritourism spots are kind of frozen in time," Connell says. "It recreates that childhood experience that bonds one generation to another – although we didn't have corn mazes back in the day."