Pooler: Coming Into Its Own
Housing, retail and a revitalized downtown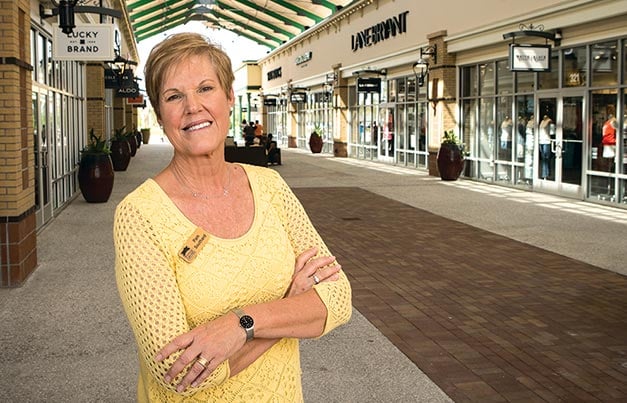 Pooler, in western Chatham County, has been on the economic fast track for quite a while now. Sure, there was a slowdown during the Great Recession, but that period provided this city of 21,000 with some moments to step back and reflect on where it wants to go and just what shape it wants development to take.
Once regarded as something of a backwater overshadowed by its better known neighbor, Savannah, just 20 miles east, the city is now accustomed to getting more looks and being the first stop for people seeking a good place to live and for businesses seeking an inviting location for expansion.
"We have bounced back from the recession that hit everybody and are moving forward," says Pam Southard, coordinator of the Pooler Chamber of Commerce and Visitors Bureau. It's hard to argue when you take a drive through this community and see all the activity.
Recently, Pooler has been in the news both for those that pick it as home – a big new Tanger Outlet Center – as well as those that considered it, but ultimately went elsewhere. The state-owned megasite development at the intersection of I-16 and I-95 was again on the radar of an international car company seeking an expansive area to build an assembly plant. This time it was Volvo, and while the auto manufacturer selected South Carolina, the site is just one more example of the many assets that have made Pooler a growth center for the state.
During the last General Assembly session, Georgia demonstrated its faith in the site's potential by setting aside $17.7 million to build a training center for workers of a potential large factory.
The site is already home to Mitsubishi Hitachi Power Systems Americas Inc. The international firm is putting the finishing touches on its merger with the thermal power generation systems of Mitsubishi Heavy Industries Ltd. and Hitachi Ltd. The company manufactures and services massive, fuel-efficient gas and steam turbines. The plant opened in October 2010 and houses more than 440,000 square feet of high technology manufacturing space and equipment.
---
Roofs, Retail
Pooler has long been one of the fastest growing cities in the state. Subdivisions have sprung up throughout the city and surrounding area, drawing an increasing number of new residents. Many work for companies such as Gulfstream. There is also a surge of military families stationed at one of the big outposts such as Hunter Army Air Field or Fort Stewart.
Gulfstream Aerospace employs 10,000 people, says Steffany Farmer, a realtor and owner of Better Homes and Gardens Real Estate Legacy. "Obviously a lot of them are engineers and that really helps drive the economy of Pooler and drive home sales," she says. "If you're walking around a neighborhood and you ask, 'Where do you work?' a large percentage of your neighbors will say Gulfstream."
All those rooftops have attracted a significant amount of retail and commercial development to the city – particularly to the fast-growth corridor along Pooler Parkway at I-95. Today there are about 20 hotels and motels there, along with The Home Depot, Walmart, Sam's Club and a bevy of restaurants and other national retailers. Pooler folks no longer have to drive into Savannah to do their shopping.
Further evidence of these solid demographics came earlier this year with the opening of Tanger Outlets Savannah, near the junction of I-16 and I-95. The $220-million development was 95 percent leased with more than 85 stores on its first day and is expected to employ about 1,500 people. A project of Ben Carter Enterprises and Tanger Factory Outlet Centers, it is one of 44 locations that Tanger has opened in 24 states and Canada.
Even though it just opened, plans are already underway to expand the 377,000-square-foot development. The second phase may include yet another hotel, along with restaurants and a community center on a 40-acre plot surrounding the outlet mall.
Well-established local employers such as Nordic Cold Storage on Jimmy DeLoach Parkway are also growing. The company announced that it was seeking to expand its facility by 173,500 square feet. It also entered into an agreement with the city of Pooler to extend a reuse water line from the city's treatment plant to its cold storage warehouse. This meets the needs of this heavy industrial user without taking from the city's supply of fully treated drinkable water.
This area has attracted other businesses as well. Nashville-based Tennessee Commercial Warehouse gained approval to build a truck transfer storage space for 400 tractor trailers.
---
Building Boom
As businesses were streaming out to Pooler Parkway, the old city center went into something of a decline. Some years ago, the state highway department split Highway 80 into a divided roadway with a narrow strip of downtown – including city hall – in between. The last few years the city has been quietly buying up property in the area that was either abandoned or occupied by dilapidated strip malls.
"I've been in office about 11 years, and ever since we've been talking about we need to do something to historic Pooler," says Mayor Mike Lamb. "We started making plans for a future police department [station], which grew into a police department and city hall complex. When it's done, we'll have a centerpiece that we could build off of in all directions."
Back in April, Pooler announced that it would be undertaking major rebuilding and revitalization projects for the city. The grand new three-story city hall and separate court building will rise at the back door of the old municipal building. Developers who want to bring in new businesses will get support from the city.
"We're kicking it off as a revitalization of the Highway 80 corridor," says Pooler City Manager Robbie Byrd, as the sounds of demolition work on a nearby building filter in through his office window. "We could have gone to the [Pooler] Parkway, but if we did that we would just have abandoned old Pooler."
Work on the new $17.3-million municipal and justice buildings got underway this summer. It will be home to city departments that have been scattered around the area or crammed into the old city hall.
The police department will occupy the first floor with other agencies on the second. The top floor will house the council chambers and mayor's office.
The new structure will be situated almost on top of the existing facility. In fact, construction of the broad front steps and columned front entrance won't be completed until after the old building is finally demolished. Until that's completed, city workers and visitors will have to enter through what will become the rear entrance of the building.
"The front steps for the new building are actually going to be where my office is now," says Byrd.
Court will no longer be held in city hall, but will move to the new building just across the parking lot.
The goal is to create a main street overlay district that will be able to offer a variety of incentives for people and businesses to move back into the old city center. Byrd and other city officials see old buildings being renovated and given new facades. With permit fees such as those for water hookup eliminated, renovating downtown buildings should be much more attractive.
"It took years for the city to accumulate the whole block," explains G. Holmes Bell IV, chairman and CEO of Hussey Gay Bell, the firm building the new complex. "And all the people and all the growth has been out around Pooler Parkway, and to a lot of people it would have made sense to locate the city hall out there. But with a lot of thought and a lot of meetings, it made a lot more sense to revamp all of historic Pooler by centralizing this project right here in the middle of the city."
The project reflects the growing realization of many cities that they must find ways to rejuvenate their central cores if they want to prosper.
"It would encompass a common thread of removing a lot of the blight that's there now," says Bell. "It would also rejuvenate the entire area with the new restaurants and retail as well as residential units that it's really lacking now."
While city officials are open to many different kinds of businesses taking up residence in the downtown, they are already talking to pharmacies and grocery stores. They see the area having great appeal to eateries, too.
"Restaurants tend to save the most money because we're going to be waiving the water and sewer hook up and building permit fees," explains Byrd.
The area will also get new sidewalks and streetscapes in an attempt to attract pedestrians.
"We're kick-starting the revitalization process with the construction of city hall," says Byrd.
---
Housing Options
Both home building – and buying – are going strong in Pooler. Although many are attracted to Savannah's historic southern charm, they soon discover that housing within the city itself is often more limited than what can be had farther out in the county. Many of them end up coming to Pooler.
In the 12-month period ending April 2015, there were 660 home sales in Pooler with about 40 percent representing new construction. In a sign that the market was clearing out the remnants of the real estate collapse, just 7 percent were foreclosure sales, according to Farmer.
The higher the price point the more likely the sales are to be new construction. Above $200,000, new homes represent more than 61 percent – indicating that the market for building has improved significantly, she adds.
When Farmer and her family moved to Pooler in 2006 there was little home construction taking place. Although the first two new neighborhoods had gotten underway as early as 2000, the real building boom was yet to appear.
The activity was fueled by higher paid professionals working at companies around Chatham County who wanted bigger homes with more amenities. In the early years, they could also find property at a lower price here than elsewhere, but even that has begun to shift as well.
"That's how it used to be and that is what drove people out to Pooler," says Farmer. "Now if you have the same home for sale in Pooler or on the Southside of Savannah, chances are you'll pay more for it in Pooler."
The rapid building has eaten up the available land, and that has driven the cost of property up for builders, she adds.
Pooler also provides a hometown feel that people seek in a place to live that is imbued with Southern hospitality. Yet it's also close to everything most people want, according to the chamber's Southard.
"If you want to go to downtown [Savannah], you're 15 minutes away," she says. "South Carolina and Hilton Head are just a half hour. It's two hours to Florida. That diversity plays a big role in the people coming to Pooler. You still have that small rural effect, but it's still very close to the city."
---
LOCAL FLAVOR
Honoring The Mighty Eighth: Traveling along Interstate 95 in Chatham County near Pooler, you're likely to see the sleek frame of a B-47 Stratojet parked next to a sprawling building. The sight often prompts tourists on the way to Florida to stop and take a tour of the National Museum of the Mighty Eighth Air Force.
The museum honors the men and aircraft whose daily bombing raids brought Hitler's Germany to its knees during World War II. Some of the biggest and most impressive exhibits are planes – like the restored B-17, Mikoyan-Gurevich MiG-17A and F-4C Phantom. Yet within its walls is a vast collection of artifacts contributed by former airmen and their families, as well as sophisticated interactive exhibits. These seek to explain not just what happened in the war, but also why and what it was like for the men who served.
"A lot of people come in to an Air Force museum, and they're going to say, 'All I'm going to do is look at airplanes!' But that is not our primary purpose," says John Telgener, a trustee of the museum. "We explain the role that the Eighth Air Force played in the strategic bombing campaign during World War II, flying out of England into German-occupied Europe. Until we destroyed that, the feeling [was] that we would never bring the conflict to an end."
The Eighth Air Force played a decisive and costly role in winning the war. Of the more than 210,000 men of the Eighth who went into combat, more than 26,000 died and thousands more were shot down and captured. The Eighth lost more men in combat than the entire Marine Corps.
This year the museum expanded its exhibits to better tell the story of the Mighty Eighth. A Daylight Strategic Bombing exhibit illustrates the unit's primary role of serving daylight bombing raids against German targets to complement the British Royal Air Force's nighttime bombing campaign.
An upgraded Prisoner of War exhibit tells the story of the airmen from the Eighth who were shot down and endured the harsh conditions of Nazi POW camps.
Video is used in exhibits like the Mission Experience, which puts visitors into the shoes of one of the young men and through a flight briefing, explains Telgener. "You see what it's like to prepare the planes before battle and how the ground crew kept them running. Then you see what it was like to get in a big bomber and fly over Germany and do this."
In the Combat Gallery is a restored B-17 nicknamed City of Savannah. It was the 5,000th airplane processed through Hunter Army Air Field.
The Escape and Evasion exhibit features a replica of a safe house in the French countryside. It includes the secret rooms in which resistance fighters hid downed airmen and the compartments for radios used to communicate with Allied forces.
An exhibit on the Tuskegee Airmen honors the famed African-American flyers, and one on the Fly Girls of World War II highlights the Women Air Force Service Pilots (WASPs).
Pooler was selected as the museum site because of its close proximity to Hunter Army Air Field, where the Mighty Eighth was organized on Jan. 28, 1942, and the ready availability of land.
"It was before the big building boom," says Pearl Fyderek, the museum's marketing director. "The location was fantastic for us. We are right on I-95, so we catch people going back and forth from Florida to the North." – Randy Southerland