Perimeter Area: Business Bull's-Eye
Transit, highway construction and corporate HQ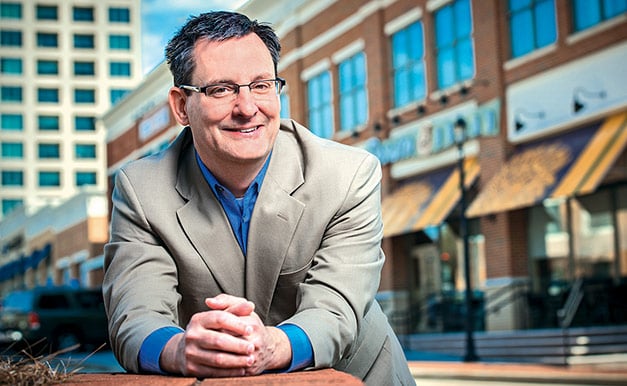 Central Perimeter on the northern arc of Atlanta's I-285 ring has long been the epicenter of the region's office market. It was here, across both Fulton and DeKalb counties, that big corporations migrated to be close to the northern suburbs where executives like to live, as well as the main highways that connect the rest of the city.
It was once a place of midrise office towers and corporate campuses that you could only get to by car.
Now times have changed. If anything, the attraction for companies is still evident in the rush of new firms moving here in recent years and others that are on the way. It is Georgia's largest concentration of Fortune 1000 headquarters. Yet it's also becoming a place where people want to live – as well as work and shop.
"The Central Perimeter area is the new downtown," says Tom Mahaffey, president and CEO of the Sandy Springs/Perimeter Chamber of Commerce. It's a bold claim, but this regional booster can make the case for it.
He points to the new wave of corporate headquarters – like Mercedes-Benz, Cox Enterprises and State Farm – that have zeroed in on the region because of its ever more vibrant quality of life. Then there are the other big firms that have already planted a flag here, including AirWatch, UPS, First Data and Newell Rubbermaid. All told, there are more than 123,000 people working in the area.
Apartments and condos are springing up here to serve a working population that no longer wants to spend its off-job hours in a car. Mahaffey counts more than 2,300 units already either permitted or under construction.
"With those [residential developments] and the other companies looking to move their headquarters to Sandy Springs, we're a very vibrant, energized community," Mahaffey says.
Another important factor is the ready availability of transit. The sprawling State Farm campus now taking shape in Dunwoody is proof of that, say local leaders.
"Transit gives us the best of both worlds in attracting young people who want to be able to experience the Downtown or the Midtown and then the workers who want to live in the northern suburbs," says Al Nash , executive director of the Development Authority of Fulton County, as he points out the four MARTA stations that dot the area and provide easy access to the city.
---
High-rent District
When State Farm announced that it would locate one of its three national hubs in Central Perimeter – the other two are in Dallas and Phoenix – the company made it clear that mass transit was a deciding factor. The campus will be home to 3,000 new jobs over the next several years, and many of those staffers will be using the MARTA station next door.
The insurance giant will eventually house 8,000 employees at what is projected to be a massive mixed-use complex on 17 acres. KDC is developing the 2.2-million-square-foot project, which will include 585,000 square feet of office space for State Farm. There will also be 100,000 square feet of retail and entertainment space and a 200-room hotel. The project is set to be built in phases over the next decade, and State Farm will lease space as it adjusts to meet customer needs.
"We continue to use a flexible real estate strategy so that we can make adjustments to respond to customers' changing needs," says Justin Tomczak, State Farm media relations spokesman. "As we review our facilities, our goal is to utilize existing offices and talent, with a goal of retaining skilled employees."
The new location will also enable the company to attract the types of workers it needs to staff these operations.
"We believe that this transit-oriented development is a benefit to the Dunwoody community," he says. "We are improving access to public transportation through increased connectivity between the Dunwoody station and the development and adjacent sites."
In the meantime, the company has gone a long way toward curing the region's once-high office vacancy rate. More than 400,000 square feet was leased to the company at the long-vacant 64 and 66 Perimeter Center East buildings.
State Farm has good company here. Cox Enterprises is well underway on building out its own corporate home for subsidiary Cox Communications. A new 19-story building is under construction adjacent to its headquarters, which was completed in 2001, on a 28.8-acre tract of land known as Central Park.
"Three MARTA stations in the area serve Cox employees with door-to-door shuttle service provided by the company," says Elizabeth Olmstead, Cox's senior manager of public relations, who adds that the company actively encourages employees to use alternative transportation.
---
Big Draws
When Mercedes-Benz was in search of a new location for its North American headquarters – currently in New Jersey – it turned south to Georgia, drawn with promises of generous tax breaks. Once here, it needed a metro location that was right for a major corporation and its executives. The luxury car maker selected Sandy Springs for its new headquarters for up to 1,000 employees on 12 acres at Georgia 400 and Abernathy Road. During construction, the company plans to camp out in offices at Sterling Pointe II, one of the few remaining big blocks of vacant office space left in the Perimeter.
Perimeter is also home to many smaller firms as well. In fact, business consultant UHY Advisors came to the area half a dozen years ago to be close to the mid-size and Fortune 500 clients who need their services.
"It makes it really easy for us to get in and out to them," says Frank Fenello, managing director with UHY. "We often run a lot of events through our office, so it's a great central location for our clients to get to us."
Like many larger companies, UHY chose Perimeter because it was close to home for most of its staff.
All of that corporate activity is a good indicator of improvements in other areas as well, say local officials.
"From a budgetary standpoint, the property tax digest is slowly making a comeback," says Michael Starling, economic development director for the city of Dunwoody. "Vacancy is way down in our office market. Our business licenses are up, and our hotel/motel taxes are also up. So really the activity from the business side of things is very good."
Just five years ago, more than 40 percent of office space was vacant. Now that indicator has fallen to less than 15 percent.
While State Farm took the largest blocks of space, a number of other, smaller firms have also been attracted to this area. The region has profited from a desire by businesses to locate as many of their operations and employees in a single place as possible, rather than spreading them out.
"The fact is we have rapidly become one of the top locations for corporate and regional headquarters in the state of Georgia," says Sandy Springs Mayor Rusty Paul. "That these companies are choosing Sandy Springs doesn't happen by accident. It's because we have the infrastructure, the high-end workforce, great quality of life and some of the lowest municipal taxes in the region."
The mayor, like other leaders, is quick to come back to the fact that Perimeter is just an easy place to get to and get around in. Crisscrossed by both I-285 and Georgia 400, plus a complete network of side streets and backroads, Perimeter is easily accessible by the rest of the metro area. Then there are those four MARTA stations that have made it easy for the young millennials favored by high-tech companies to get here and then back to their urban enclaves in Buckhead and Midtown.
"They know the employees they're trying to attract today – the millennials – are very transit oriented," says Paul. "They like to live in an urban environment. So we have a lot of them who live here, plus those who live in Midtown or around Grant Park and in the Old Fourth Ward. They can take MARTA rail and get here very easily."
Real estate investors are showing increasing interest in Perimeter. The "King" and "Queen" buildings, the two iconic office towers looming over the Atlanta Perimeter and Georgia 400, were recently snapped up in a deal worth almost $500 million. The towers are part of the 2-million-square-foot Concourse Corporate Center development.
Much of the interest in office space has been driven by accelerating rental rates, which have demonstrated one of the strongest periods of growth in about 25 years. In addition, while several new projects are planned for Perimeter, none have come out of the ground yet. That fact has produced something akin to a shortage of Class A space for a growing number of companies who are coming into the area or trying to expand.
---
Tax Benefits
Much of the success of Perimeter is owed to progress in road building and streetscapes. Over the past 15 years, the Perimeter Community Improvement Districts has been a catalyst for that. Funded by a voluntary tax on local commercial property owners, the CID has been investing money into a wide variety of transportation projects. These funds have jumpstarted many efforts that would have taken much longer to get underway just waiting for government alone, according to PCIDs President and CEO Yvonne Williams.
"We have the capacity to unite [local government] entities in an effort to really build the core of this corporate district," she explains. "We have done that successfully with huge infrastructure investment. Those investments have been back to back – every two years – hitting the ground with delivery of multimillion-dollar projects."
All that pushing has helped launch one of the biggest road-building projects in the history of the state. Almost $1 billion is being channeled by the Georgia Department of Transportation into constructing a new I-285 and Georgia 400 interchange.
Plans call for adding lanes and fly-over ramps to create more traffic capacity and more collection areas so cars no longer bottleneck in the area.
"It is the largest surface transportation project in the history of Georgia," notes Williams. "It is a true public-private sector partnership to accelerate that project and hasten its completion."
The $38-million Perimeter Center Parkway Flyover Bridge across I-285 was another major gateway improvement in 2007. The bridge and the adjoining parkway, which saw $8.4 million in improvements, provide a multimodal connection between the southern and northern portions of the Perimeter market, improving access to Perimeter's commercial, retail and medical centers and the Dunwoody MARTA station.
"That has become a huge attraction because it lines up with the Dunwoody transit station, and that is where the entire $1-billion State Farm campus is under construction," Williams says. "Perimeter will begin to have huge [employment] hubs around our transit stations."
While Central Perimeter is not exactly the first thought when it comes to a tourism and convention destination, the region is seeing a major expansion of its hotel stock. It is attracting a wide variety of meetings and even tourists who see it as a good staging area for trips to other parts of Metro Atlanta.
"Our hotels stay very busy during the week with corporate travel," says Jennifer Cruce, executive director of Sandy Springs Hospitality and Tourism. "Their challenge is the weekend and leisure travel, but we're close to Atlanta and we're close to 400 and 285 and we have MARTA out here. So we're a good place to stay and go into the city or travel north and go to the mountains. We're a nice little hub-and-spoke destination."
The businesses in the area are using local hotels for both meetings and to put up out-of-town clients who come into the city. For many of them, it truly has become the center of activity and action – the new downtown.
---
Local Flavor
MARTA's Many Assets: Transit-oriented development in the Central Perimeter area has become a catchphrase in recent years as local governments – and MARTA – have caught onto the reality that people, particularly those young millennials, like to live near transit.
"Increasingly transit is viewed as an asset," says Amanda Rhein, senior director of transit oriented development at MARTA. "Historically when economic developers and site selection consultants were looking at different sites for headquarter relocations or just new offices, they would check the box for MARTA, but it wasn't really meaningful. Now I think MARTA is really viewed as an asset and a necessity."
A study by the University of Georgia's Carl Vinson Institute found that the greatest benefit provided by MARTA was through increased labor force mobility. For most riders, public transit is the best way to get to a job, and Perimeter has four stations for them to use.
Of the 3,400 riders who use the Dunwoody station every day, approximately 73 percent were traveling for business or work, according to transit authority data. The largest group – 38 percent – are in the 25 to 34 age group, according to one study.
Significant job growth has taken place along MARTA lines. Approximately 28 percent of the metro area's jobs are located within one half mile of a MARTA station.
A big part of that interest in mass transit is being driven by the metro area's roadway congestion and the need to have a real alternative for employees to get to work.
"We have to get the employers and the developers to embrace transit," says Sandy Springs Mayor Rusty Paul. "If we could get a 15 percent [increase] in MARTA ridership, it would have a major impact on mobility both for vehicle traffic as well as transit. The road and street network is overutilized, and MARTA is underutilized."
The reality is that highly in-demand workers who have a choice about where they want to work don't want to spend hours a day in a car anymore. They'd rather be at home or in a walkable neighborhood.
"It's really about quality of life," Rhein says. "They want to be in a place where there is a true sense of place, and transit can help provide that."
The transit agency has a lease agreement with Emory St. Joseph's Hospital, which plans to develop three parcels around the Medical Center station. One is already set to be medical office space.
"The other two at this point are undeveloped, so they do represent an opportunity for near-term transit-oriented development that would add to what is already at the medical center," she says. The agency has developed a set of guidelines for companies that want to build near the stations to ensure that the development is indeed transit-oriented.
The station in Dunwoody is essentially landlocked with little property available for development. State Farm is in the process of building a new entrance to the station that will make it easer for employees to get back and forth from the trains.
"We're looking for development that is vibrant, pedestrian oriented and genuinely integrated with transit," Rhein says. "We're looking for development that is denser than the surrounding area with a mix of uses. Ideally you have transit origins and transit destinations such as offices, housing, retail and hotel. We're looking for a vibrant public realm." – Randy Southerland