Effingham County: Picture Perfect
Workforce readiness, industry influx and movie making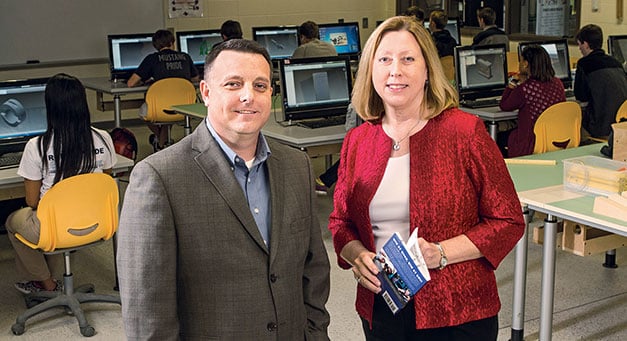 Barbara Prosser sees a bright red chassis in the automotive learning amphitheater of the Effingham College and Career Academy and envisions a Model A Roadster emblazoned with the school emblem.
"It can be used for parades or to advertise out front," says Prosser, CEO of the charter school.
But first her students have to build it. The two-seat open car is just one facet of their hands-on education.
The academy itself is already a vehicle for bringing industry to Effingham County, whose county seat, Springfield, is not quite 30 miles northwest of Savannah.
"It's reaping a lot of benefit for industrial recruitment," says John Henry, CEO of the Effingham County Industrial Development Authority (IDA). "We utilize it in our prospect visits now."
The school, which has grown from approximately 185 students when it opened in 2010 to more than 500, is on Highway 21 between Springfield and Rincon and adjacent to the Effingham campus of Savannah Technical College. In addition to receiving a high school education, students can also earn college credits through dual programs with Savannah Tech.
The location is also across the street from the nearly full Effingham County Industrial Park that includes Portuguese power substation manufacturer Efacec.
Henry says corporate visitors from Asia and Europe have been impressed that the academy is part of Effingham's well-regarded public school system. Students from both county high schools are able to attend.
"Workforce preparedness is one of the biggest issues facing any community in the nation today," he says. "We hear about the soft skills, and we hear about a lack of skilled workers available nationwide for any industry."
A community like Effingham that prepares for industry needs is "ahead of the game," Henry says. "The direction that Effingham County is headed right now is 'Let's grow our own.'"
The academy focuses primarily on high-growth careers and on the industries in the area that need workers, offering programs in culinary arts, healthcare science, architecture, graphic communications and design, engineering and technology, web and digital design, logistics and transportation. A law enforcement services program in one of the high schools is moving to the academy, which will add about 60 students, and plans are in the works to launch an aircraft structural assembly program this year. Discussions to add STEM programs in the fall of 2017 call for a possible building expansion.
Already, the 44,000-square-foot academy is so full that the former school store has been converted into a simulated doctor's office for the healthcare programs.
The chairman of a multibillion-dollar Chinese company was so taken by a visit to the academy that he invited Prosser to China, where she was part of the county delegation in 2013.
"We want to build a workforce that is not only educated, but also has experience," Prosser says. "The career pathways offer experiences to the students and also offer work-based learning opportunities, where they can be paid for experience in that pathway or for their knowledge on a job."
Students pursue certificates, such as one in aircraft assembly. About 50 students work at Gulfstream, a major business partner. Students in logistics and distribution have worked with the nonprofit organization First Books to ship 500,000 books to children in need around the United States from their working warehouse.
The academy hosts job fairs for current employers and in 2013 hosted Lt. Gov. Casey Cagle's Business and Education Summit.
"We're known as the town hall of education and industry for Effingham," says Prosser, who helped establish a workforce development committee through the Effingham County Chamber of Commerce. "The employers are coming to us. They want us to know that they're hiring and [ask] how many seniors will be graduating."
---
Creating Options
Henry says it's important that students in Effingham County have options to work in the county. He cited a 70 percent out-commuter rate, with many residents working at Gulfstream or the port and its infrastructure in Savannah. The county has a population of more than 54,000, but only 9,000 to 10,000 jobs, a number he wants to see grow.
"It's a complete loss of human capital and that investment that we made if those students can't return to this community and have a good viable job to come back to," Henry says.
Effingham's identity as a bedroom community is a drain on local governments to provide services.
"It's imperative that the IDA and the entire community work to increase industry and commerce in the county to offset those residential tax burdens," Henry says. "And we've made a lot of strides with it."
With the recession over, he says the number of lookers has increased threefold over the past two years, with 80 percent to 90 percent international. Henry says many projects are not port-related or even interstate highway dependent.
He has plenty of land to work with, including a 2,600-acre industrial parcel known as the Research Forest Tract. The site has megasite potential but is still in the planning stages.
Because the county has to provide so much infrastructure to undeveloped industrial sites, the county has steered away from distribution and call centers. "We get more bang for our buck from manufacturing," Henry says.
That ostensibly included making movies. However, ambitious plans for a 1,560-acre movie studio complex have so far brought mostly drama to the county.
A hostile takeover last year resulted in a new name, new CEO and new focus. Medient Studios became Moon River Studios, a nod to the Breakfast at Tiffany's song written by Savannah native Johnny Mercer.
Jake Shapiro, a member of the original management team who is now CEO, hopes to have the first building operational by early summer.
He says the previous plans were "grandiose and ego driven," including a glass suspension bridge that was estimated to cost $2-3 billion, and Shapiro says, "never would have happened. They were just wasting everybody's time and money."
A Wall Street veteran, Shapiro proposes a $90-million full-service film studio and production facility that will bring 527 jobs. The county built a road and will provide necessary infrastructure for the complex.
Rick Lott, executive director of the Effingham County Chamber of Commerce, appreciates what he calls the "more realistic plan." Once soundstages and other buildings start "coming out of the ground," he says, "then everybody here will breathe a sigh of relief and know that we've got a brand-new future ahead of us in the county.
"It's one thing to have industry coming into an area – and we really need more industry here – but something like a movie studio, oh my gosh, it's so sexy. It's not only the revenue coming into the county from the production of films, but it's studio tours."
Lott says other soundstages in the region have been booked far in advance, "so it really does seem like a 'build it they will come' situation."
Director Penny Marshall has already committed to film the felicitously named Effa in Effingham County. It's a biography of Effa Manley, the African-American sports executive who became the first woman inducted into the baseball hall of fame. With a budget of $21 million, Shapiro says the film could produce $60-80 million in benefit for the region.
"What's amazing about Savannah and Effingham County is tremendous diversity, both in terms of architecture and topography," Shapiro says. "We've got shoreline at Tybee Island and mountains nearby. Atlanta can pass for any big city in the world; Savannah can pass for the Lower East Side of Manhattan or Chicago. For a filmmaker, it's an ideal location."
Movies produced by Moon River could even be screened in Springfield, thanks to the reopening in April 2014 of the Mars Theatre. It closed in 1957, forcing residents to seek their entertainment outside the county. Locals such as Gussie Nease led fundraisers, and the city stepped in with a $1-million infusion.
Open every Thursday, Friday and Saturday and for special events, the state-of-the-art multi-use facility shows first-run movies and classics and hosts live performances.
"I think it's going to serve as a wonderful catalyst for business growth in Springfield and the county," Lott says.
The concerts have attracted people from as far away as Hilton Head and Charleston, while movie audiences are mostly local.
"It's good to see life back in town after dark," says Springfield City Manager Brett Bennett.
Restaurants typically open only for lunch are now feeding customers on nights when the theater is open. A new locally owned restaurant is even expected to open this summer in a building that has never housed a restaurant before.
"I think it's a direct result of the Mars Theatre," Bennett says, noting that new retail businesses have already opened. "It definitely has sparked more of an interest of people wanting to be downtown."
Springfield also has spruced up the stretch that it calls "between the lights" with the first phase of its streetscape improvements, notably moving utility wires underground and adding street lamps.
The city of nearly 3,000 residents is also enhancing its natural resources.
The Springfield Ebenezer Greenway is preserving 275 acres in and around Ebenezer Creek, a blackwater creek designated a National Natural Landmark for its cypress-gum swamp forest.
The location is historically significant, too, as the site of one of the most tragic events of the Civil War. At Ebenezer Crossing, hundreds of freed slaves who had been following Gen. William Sherman and his caravan drowned trying to cross the creek when the Union Army pulled up the pontoon bridges they had used to get across. The public outcry that followed the event led President Abraham Lincoln to enact No. 15 of Sherman's Special Field Orders, which divided confiscated land into 40-acre parcels for formerly enslaved peoples.
---
Laid-back Living
In Rincon, the county's largest city, leaders also are boosting the quality of life while maintaining its status as one of the rare Georgia cities with no property tax.
On the heels of announcements to build a much larger Kroger store and a new Chick-fil-A restaurant, Rincon decided to hire a retail coach/consultant to help market the city commercially.
City Manager Wesley Corbitt says the consultant will look for chain stores that would be a good fit for Rincon's demographics.
According to the last traffic study about 18 months ago, he says, "We have something like 30,000 cars a day that go in front of our town on the streets, and that's a lot of people."
Rincon is also setting aside land for recreation. Freedom Park was built on a 20-acre field the city bought downtown. It has a stage and hosts Oktoberfest and a huge July 4 celebration.
Four new ballfields were added last fall at Macomber Park for a total of eight fields, making it "one-stop shopping for recreation," Corbitt says.
Rincon has also added firefighting equipment and staff to improve its fire protection rating, thus lowering insurance premiums for its citizens. The city also is upgrading its antiquated water infrastructure. With the housing market back up to at least 100 permits a year for new homes, the city is also looking into expanding its water and sewer lines. "We're running out of lots inside the city limits," Corbitt says.
Permits for houses in Springfield, Bennett says, have also "picked up tremendously."
The chamber's Lott says that with projections of population growth in the county nearly doubling in the next 10 to 15 years, Effingham is ready except in one major area.
"The one piece that's missing – and it's a hard fix – is the transportation," he says. "Highway 21, which is the main artery between Effingham County and Chatham County, is already very congested."
Lott says the deepening of the Savannah harbor in the coming years carries a mixed blessing.
"It's going to bring us lots and lots of business, lots of new folks, but it's going to put a lot of additional trucks on the highway," he says.
A plan to build a new parkway by creating a roadway or modifying an existing roadway to take trucks off Highway 21 requires state and federal funding.
While Lott says city dwellers are used to traffic, "here in the country, you don't think that's supposed to be the norm."
Still, with all of its charms, Effingham County could be called picture perfect.
---
Local Flavor
White Lightning: "The sheriff called me one morning and said he'd found a moonshine still in the upper part of Effingham County and would I like to have a little piece of Americana for the museum?" says Betty Renfro, secretary of the Historic Effingham Society, which runs the Effingham Museum and Living History Site in Springfield.
So she said yes, and the society became the owners of a quirky piece of local history. For a while, the large still was a popular attraction at various historic society and museum events until it was too fragile to keep setting up and taking down.
Now it has its own building on the Living History Site, which also includes three houses and a barn from 1790, a depot from 1908 and a replica one-room schoolhouse, just across the fence from the two-story brick Effingham Museum located in the old county jail.
Although the moonshine building has "its own little jugs and little tubs," Renfro says, the still is laying off the hard stuff.
"We will not make anything with it," she says. "One of our gentlemen usually finds some white lightning that he can put in a little baby-food jar. Everybody can smell it, but they don't get to taste it."
If the still's not in operation, where does that passed-around moonshine come from? Renfro's keeping the gentleman's secret. "I'm not telling anybody," she says. – Karen Rosen