Georgia Logistics Summit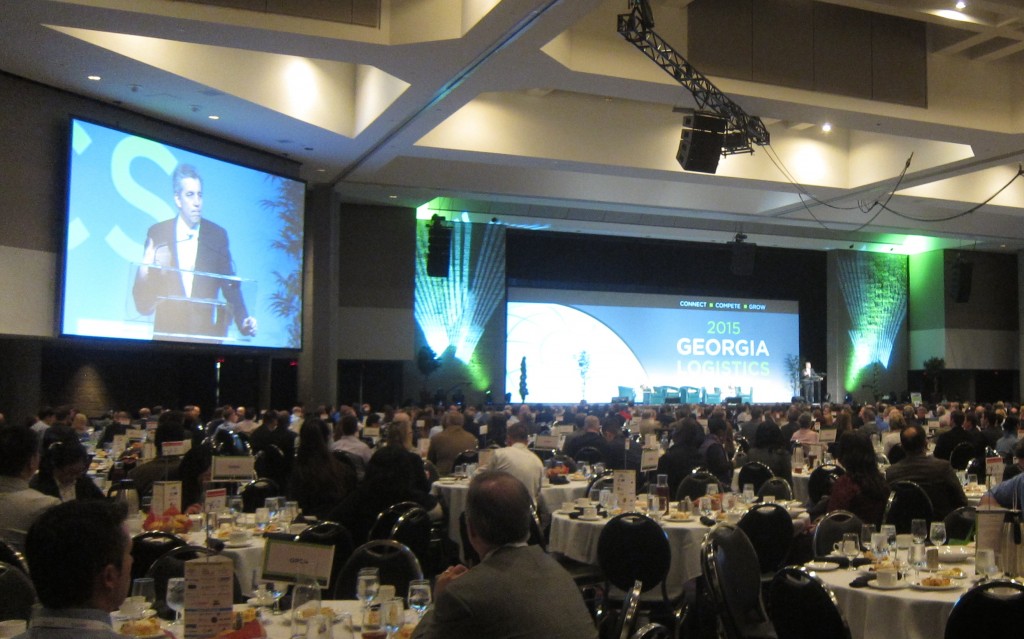 No April fooling, it was a good day at the Georgia Logistics Summit, Wednesday, April 1. The legislature had passed a transportation bill at midnight the night before, and Gov. Nathan Deal enthusiastically touted Georgia's bright logistics future.
Industry leaders expressed optimism as well. "It's a big step forward," Curtis Foltz, executive director of the Georgia Ports Authority, said about the transportation bill's passage.
"It's fantastic that it passed and speaks volumes that we're serious about growth in the south," added Charles Tarbutton, president of the Georgia Railroad Association.
"It's good they got it done," agreed Ed Crowell, president of the Georgia Motor Trucking Association.
When asked if the bill was enough, their optimism waned; however, the fact that something got done this year added a celebratory tone to the second day of the summit.
All three leaders, as well as Miguel Southwell, general manager of Hartsfield-Jackson Atlanta International Airport, bragged on Georgia's existing transportation assets and growth plans. The airport, which continues to drive international investment in Georgia, has plans to pick up more flights to Latin America and is pursuing partnerships with companies like UPS and FedEx to build more cargo facilities, Southwell said.
In breakout sessions on e-commerce, industry leaders from The Home Depot and Macy's/Bloomingdale's discussed the move to brick-and-mortar storefronts doubling as fulfillment centers. An intermodal panel took a hard look at how West Coast union troubles have negatively impacted train freight. Everywhere there were discussions about how to coax millennials into logistics work. A projected workforce shortage could slow truck freight significantly. A representative from West Georgia Technical College discussed duplicating Germany's apprenticeship programs, but a larger cultural force was acknowledged – boomers don't want their children to learn a trade, and it's a difficult trend to reverse.
Overall, the summit was an excellent showcase of Georgia's assets and an overview of the ways the logistics industry is meeting the challenges of the 21st century. – Ben Young
Photo above: Keynote speaker Craig Menear, president and CEO of The Home Depot, noted that keeping product in stock is the underlying key to business success. Photo by Ben Young.