Savannah: Room To Grow
More tourists, the port expansion and a business boom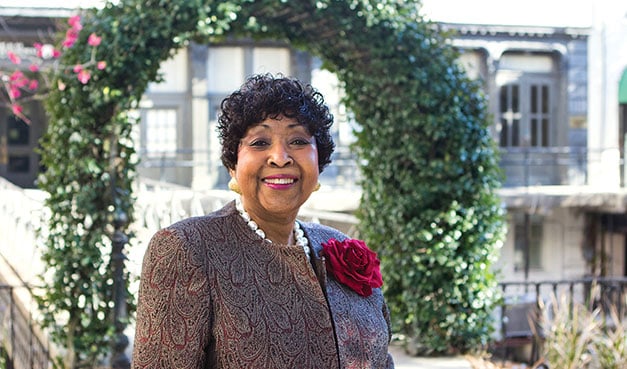 On the heels of the most successful year in Georgia seaport history, and after two painstaking decades of planning and politicking, Savannah's harbor expansion is becoming a delectable reality in 2015.
Indeed, the major sectors of Chatham County's economy – ports and logistics, manufacturing, tourism, healthcare and government – advanced in 2014, largely in record-breaking fashion, says Trip Tollison, the Savannah Economic Development Authority (SEDA) president and CEO.
"In every business, whether it's a small business or a large company, you are touched by one of those sectors," Tollison says.
Savannah Mayor Edna Jackson is unabashedly giddy about her community's prospectus – and its outlook.
"It is an exciting time to be mayor of our world-class city," says Jackson, who served three terms as an alderman before being elected to head the riverside community in 2011.
In October, Jackson took a privately funded trip to Shanghai, China, where she spoke about communities benefiting from preserving heritage and promoting cultural opportunities as economic development tools. And, like the charmingly dressed tour conductors who dazzlingly rattle off every bit of the Hostess City of the South's history, and then some, Jackson lives to tell the Savannah story.
"With all that Savannah has going on right now," she says, "who wouldn't want to be in my shoes?"
---
Five Feet of Prosperity
As carefully as its planners arranged Georgia's first city, where sidewalks are paved with white seashells harvested from the Savannah River bottom, the Georgia Ports Authority (GPA) has operated with ambitious foresight.
An essential link in Georgia's logistics network, the harbor project is among the Southeast's largest 21st-century economic development ventures to date. The U.S. Army Corps of Engineers estimates that deepening the inner harbor from 42 to 47 feet and extending the entrance channel by seven miles, along with other navigation improvements, will produce $174 million in annual net benefits to the United States.
On Jan. 29, a deafening cannon shot from atop Old Fort Jackson on the Savannah River symbolically commenced the historic undertaking, which fittingly began with the recovery of the Civil War ironclad CSS Georgia from the river's bottom.
"Our ports are obviously exceptionally healthy," says GPA Executive Director Curtis Foltz. "The subtle piece that most Georgians don't understand is that the growth allows us to reinvest those earnings in expanded facilities, new equipment and new technology to the tune of $100 million-plus a year."
Georgia taxpayers have advanced $266 million for the project; the bulk of the balance, about $400 million, is assured by the federal government. The construction and associated environmental mitigation will enable larger ships to load and unload in Georgia after trekking through a newly expanded Panama Canal, which is slated for completion in 2016.
Port expansion project aside, the GPA has budgeted $1.3 billion in capital investments over the next 10 years. Inland, the Jimmy Deloach Parkway Extension, connecting the port with Interstates 95 and 10, will be completed in summer 2016. The thoroughfare trims eight minutes off trucks' travel times to and from the port.
The Home Depot, Target and other retailers will greatly benefit from efficiencies created by the harbor and road projects, as will manufacturers and distributors of major exports ranging from automobiles to poultry to carpet.
The Port of Savannah is the fourth-busiest container harbor in the country and the second-busiest on the East Coast, while the Port of Brunswick is the nation's No. 1 automobile importer. More than 1,900 new port-related jobs were created in 2014, a number that multiplies throughout the logistics chain, which also includes the railroad industry.
Foltz says Georgia's ports have particularly benefited from manufacturing expansion, retail resurgence and a labor quagmire adversely affecting West Coast trade.
"We're not reporting growth on a down year. All the growth is after record activity last year," he says.
---
Local Investments
Several small businesses and local entrepreneurs are making their mark on Savannah in 2015. Savannah hotelier Richard Kessler is slated to break ground this spring on a $220-million, 430-room successor to his popular local boutique properties the Bohemian Hotel and Mansion on Forsyth Park.
The Savannah City Council changed the height limit for Kessler's Plant Riverside, a six-story West River Street redevelopment of a decommissioned power plant site. The project sets out to accomplish a long-established community goal of viably connecting the river with Martin Luther King Jr. Boulevard and Jefferson and Montgomery streets, while preserving the site's architectural and industrial history.
It's a private venture with significant public investment; Savannah taxpayers are putting $14 million into the area's infrastructure, including a 1,300-foot Riverwalk extension.
A rising Savannah entrepreneur by way of New York City, John Morisano has opened a new restaurant, The Grey, in an area of town that was once off the beaten path. He says public officials' and staffers' cooperation, buy-in and expertise are compatible with developers' willingness and ability to pursue their visions. Bureaucrats and community leaders find reasons to make projects happen, rather than the contrary, he says.
"They appreciate what we are doing, they support it and … they get it, which means all the difference in the world when you are preparing to make an huge investment," says Morisano.
Located in a former Greyhound bus station off Martin Luther King Jr. Boulevard that had been vacant since Café Metropole closed in 2002, The Grey's menu features chef Mashama Bailey's take on portside Southern cuisine, including specialties like seafood boudin and braised eel.
Morisano says his multimillion-dollar venture, his first investment in the food and beverage industry, isn't as crazy a notion as it may appear to be.
"I'm not investing in a restaurant as much as I've invested in the building and the people. I've mitigated the risk," he says.
In reverence to history and details, Morisano repaired the 1938 structure's terrazzo flooring, spruced up the Masonite walls, installed retro light fixtures and added furniture representing the era of buses as a viable transportation option.
While the Art Deco interior and artwork by Savannah artists including mixed-media specialist Marcus Kenney provide an elegant aura, an inviting courtyard offers a comfortable setting for diners seeking a casual experience.
"Preservation," says Morisano, "was top priority."
Other new popular nearby eateries are Ampersand, Liberty Street Grill, Granite Restaurant and Bar, and the Collins Quarter. 39 Rue de Jean, a sister property to 39 Rue de Jean in Charleston, S.C., is expected to open this year.
Meanwhile, akin to the power plant and bus terminal restorations, Hugh Acheson transformed a former ice factory into The Florence in 2014. The Italian restaurant pays homage both to the European city and a Savannah staple, the "Waving Girl" statue of Florence Martus, who greeted ships entering and leaving Savannah between 1887 and 1931.
Other hotels have also joined the historic area, including The Brice, an 1860s building that's served as a Coca-Cola bottling plant and most recently the Mulberry Inn, which Kimpton Hotels converted into a $17-million, 145-room boutique gem; the 162-room Homewood Suites located in the mixed-use River Street East development; and the boutique Cotton Sail Hotel, which adds 56 guest rooms to the mix.
"[There is] a huge boon in smaller, boutique-style hotels, a retail renaissance in downtown and in the suburbs, and an emerging new and dynamic culinary experience," says Visit Savannah President Joseph Marinelli. He credits the growth of SCAD, new flights to the nearby Savannah/Hilton Head International Airport and a long-term push by his organization to attract travelers who spend more and are more likely to come back for the hotel room boom.
---
Jet-setting
Indeed, Marinelli and Tollison are spending a fair amount of their time these days not only recruiting economic development, but celebrating it. SEDA made 15 new business and expansion announcements representing a $305-million investment in 2014. Among them another product expansion by Gulfstream Aerospace Corp., a steadfast Chatham County job-producing machine.
Last fall, Gulfstream officials announced they would be adding a new business jet product line. The $43.5-million G500 is expected to enter service in 2018; the $54.5-million G600 is slated to be unveiled in 2019. Both will feature optimized speed, cabin comfort, performance and safety.
"We built two new facilities to support the production of these aircraft and have made tremendous investments in research and development over the years," says Gulfstream President Larry Flynn. "All of these advancements have given the company and our employees good reason for excitement."
Gulfstream's product support business is also growing; about 100 jobs are being created in 2015 at a new aircraft refurbishment paint facility in Brunswick, and a new, consolidated distribution center will house nearly $900 million in parts and materials inventory.
"Gulfstream chose to relocate to Savannah in 1967 because of a number of benefits the region offered – an extensive transportation infrastructure, an available workforce, the airport and good weather for flight testing," Flynn says. "All of those benefits are just as critical today as they were then, and we chose Savannah twice for major expansions in the last seven years as a result."
More recently, SEDA announced California-based OA Logistics/JLA Home's decision to open a 1.1-million-square-foot e-commerce fulfillment center that will add at least 200 jobs in 2016.
Additional economic development highlights from 2014 include:
• The Chatham County Commis-sion's adoption of a job retention and creation initiative;
• Savannah taxpayers' passage of the Freeport inventory tax exemption;
• SEDA's hiring of Hollywood filmmaker Ralph Singleton to market Savannah as a location for film production;
• JetBlue's entry into the Savannah market, with three daily flights;
• Establishment of a new regional joint development authority with Chat-ham, Bulloch, Effingham and Bryan counties; and
• Hosting 16 foreign delegations and coordinating five missions through the World Trade Center Savannah initiative.
"We've taken some pretty big steps to work together on a regional scale, which is very important to us," Tollison says. "I'm not aware of any community in the state of Georgia outside Metro Atlanta working together with 13 development authorities to focus on international opportunities."
---
World-class destination
Like Jackson, Marinelli jumps at the opportunity to tell the Savannah and Chatham County story. He may be the best one for the task: tourism visitors (more than 12 million) increase each year, as do what they spend when visiting (more than $2 billion) and how long they stay (2.4 nights and counting).
Hotel occupancies in 2014 were just over 70 percent, with occupancies for Savannah's Historic Landmark District being near 80 percent.
"That's significant," Marinelli says, "especially when you consider nearly 40 percent growth in hotel room inventory over the last 10 years."
Marinelli says he expects Tybee Island's visitation, which jumped nearly 20 percent in 2014, to benefit from a recently completed beach renourishment initiative that has widened and extended the island's beaches.
"Tybee has more restaurants than ever before and a vacation rental offering to meet any taste and budget," he says. "Add to that a number of signature special events like the Tybee Island Wine Fest and, of course, Pirate Fest in October, and you have the perfect complement to its historic neighbor to the west."
While some economic benefits of tourism are obvious, some aren't; Flynn says Savannah's worldwide distinction as a premier place to visit complements Gulfstream's presence in the community.
"Having our headquarters in Savannah helps us be wonderful hosts," Flynn says. "Visitors come to us from around the world, whether they are suppliers or customers, and, fortunately, we have a world-class city to show off."
Indeed, Gulfstream offers tourists a front-row seat to see its jets take off and land at Savannah/Hilton Head International Airport.
"I don't think you could get much better plane spotting than that while waiting for your flight," Flynn says.
---
LOCAL FLAVOR
A Spicy Endeavor: Somewhere in the crosshairs of technology and history, innovation and agriculture, and Australia and the Deep South, are Ross Harding and Howard Morrison.
The energy-consultant business partners are knee-deep in western Chatham County soil, instigating a revolution, of sorts.
The two men, evidently, are Georgia's only commercial ginger farmers.
Ginger? Indeed; their small company – Verdant Kitchen – grows, harvests, bottles and comes up with various uses for the zingiber family of spices: ginger, turmeric and galangal.
Similar to a knarled tree root but much smaller, the tropical Asiatic and Polynesian perennials produce a pungent, flavorful flesh that is often called a superfood because of the antioxidants. The spices also are increasingly used in alternative medicine for combating inflammation and stomach aches.
As Harding and Morrison see it, organically growing the zesty roots is more a question of, "Why not?" than, "Why?"
For starters, as the owner of history-rich Lebanon Plantation, Morrison has an abundance of farmland; and, certainly, there's relatively little competition this side of ginger-prevalent Hawaii.
As it turns out, the Savannah climate resembles that of Harding's native Australia, another ginger-producing hotbed, where the gardening enthusiast acquired a hankering and affection for the multipurpose roots.
Finally, there's this crucial fact: Deer don't eat ginger.
"Oh, that was huge – a really, really big deal," Morrison says with a laugh.
Verdant Kitchen – a farming operation and modest U.S. Department of Agriculture-certified processing facility – is somewhere between a continual science experiment and a full-fledged entrepreneurial endeavor.
"It really began as an innocent exploration of opportunities," Harding, a former chemist, says.
The company's spices, beverages, baked goods, candies and snacks are made in its Atlanta facility and carted to regional farmers' markets and sold online and in specialty gourmet and grocery stores. Among its popular products is Ogeechee Gold Ginger Ale, so named because of Lebanon Plantation's location along the Little Ogeechee River.
Lebanon, as it turns out, was at the forefront of agricultural experimentation when it was granted by King George II to French colonists in 1756. In the early 1900s, Morrison's grandfather conducted trials with Satsuma oranges, pecans, carnation cows and mule deer from the American West.
"What we are really doing with this ginger business [is] we are trying to become the subject-matter experts with respect to all aspects of ginger, turmeric and other Southern spices," Morrison says. – Kevin Hogencamp