Growing Businesses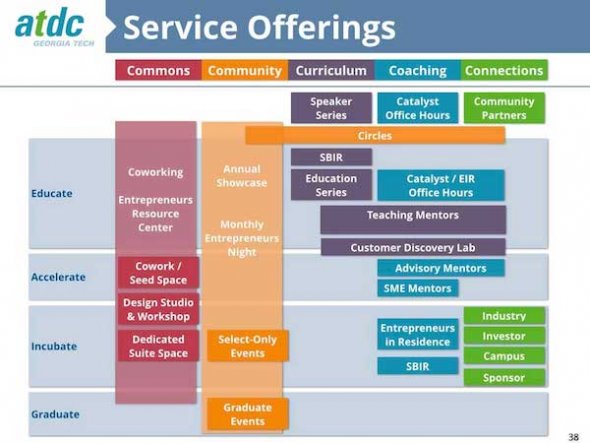 As the economy continues to grow and Georgia remains the No. 1 state to do business, entrepreneurs are increasingly seeking out business incubators to help get their fledgling companies soaring.
From mentoring to funding to managerial support to regulatory navigation, Georgia's business incubators in universities and technical colleges or those run by economic development entities and private individuals have a successful track record with companies as diverse as biotech enterprises, a creamery, a home healthcare business and high-tech startups.
While most incubators find a niche and generally stick with it, sometimes an evolution takes place. At the University of Georgia, for example, the Georgia BioBusiness Center – a biotech incubator – last week joined with UGA's Technology Commercialization Office to form the Innovation Gateway. The goal: to steamline the path from laboratory or field to market. Which, when you right down to it, is the goal of all business incubators.
"The optimal approach for moving a discovery from the lab to the market can vary depending on the type of technology and stage of development," Derek Eberhart, Innovation Gateway director, said in a press release. "In some cases, the best route for a promising technology is licensing to an established company, while in other instances, the best way to nurture the nascent technology is launching a startup company. As Innovation Gateway, we can more effectively and efficiently help researchers and companies navigate either of these pathways and ensure that groundbreaking discoveries emerging from UGA research will reach their fullest commercial potential."
Learn more about how business incubators are helping drive the state's economy in this month's Georgia Trend feature "It Takes a Village." – Karen Kirkpatrick
Pictured: The offerings of Georgia Tech's incubator, the Advanced Technology Development Center