Moving The World
From the ports to the interstates to the world's busiest airport, Georgia is a national leader in getting stuff from A to B and beyond.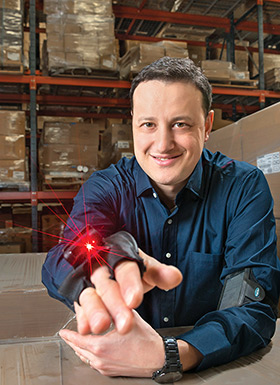 Most people never give a thought to how all those products – from hairdryers to lawn mowers – get to their local Walmart or Home Depot. Yet to travel from factories that may be thousands of miles and dozens of countries away to a hometown store requires a vast and complicated network of warehouses, ships, trucks and trains.
Increasingly, the infrastructure and the technology are concentrated in Georgia.
"The retail industry relies on logistics to get their products to their stores so they can sell them," says Page Siplon, former executive director of the Georgia Centers of Innovation who now serves as CEO of TeamOne Logistics. "Logistics is also connected into agriculture [and] manufacturing, both on the inbound as well as on the outbound side. Getting products to customers is what logistics is all about."
While logistics and the industries they serve struggled during the recession, the pace has quickened recently with a recovering economy.
"We're seeing a lot of growth from companies in general, and it could be a manufacturer, a trucking company or a freight forwarder," says Garret Lazenby, principal with Sterling Risk Advisors, an insurance and risk management firm that works with a number of transportation and logistics companies.
All areas of the industry are responding to growing demand for their services from all kinds of businesses – anyone who needs to transport goods from one point to another is a logistics customer.
---
Big Business
The truth is logistics in all its forms is big business in Georgia. The state is the fifth largest overall logistics employer in the nation and rising fast. The Georgia Centers of Innovation has identified more than 12,300 logistics providers that employ more than 140,000 people. In addition, there are more than 33,000 logistics-consuming companies that critically rely on the efficient flow of freight to operate their business, according to the Center of Innovation for Logistics.
By some estimates the industry generates as much as $15 billion for the state, and all signs point to continued growth.
While Atlanta tends to be the epicenter of the industry with companies large and small nesting there, you can find logistics suppliers in nearly every city and town.
"It's in every nook and cranny – really every part of the state," Siplon says.
It's easy to see why.
Georgia has a long history of moving products from one place to another. Atlanta was originally called Terminus, due to its location at the zero mile post on a new rail line headed for the Midwest. These days the metro area boasts two Class 1 railroads (CSX and Norfolk Southern), large intermodal facilities and a well-developed interstate highway system.
Then there are the other two vital connections to the rest of the world – Hartsfield-Jackson Atlanta International Airport and the Port of Savannah.
When it comes to heavy cargo like autos, equipment and commodities – the kind that comes in large containers – the seaport has been a big and ever-growing source of development and a major spark for the growth of logistics here in the state.
As the world's busiest airport, Hartsfield is also a portal for cargo entering and leaving the U.S. From chickens bound for processing in China to toys headed for store shelves in America, the runways have been a major connection to the rest of the world.
"Whether they are manufacturers or distributors or retailers, folks in all parts of the supply chain are able to have great access to the eastern half of the country from those two gateways," says Dave Williams, vice president for infrastructure and government affairs with the Metro Atlanta Chamber of Commerce. "The connection is just extraordinary."
---
Just In Time
Close proximity to Hartsfield-Jackson and a well-developed road and interstate system are always high on the list of must haves for companies and no less so for logistics firms.
When United Arab Shipping Co. North America was seeking a location to consolidate its operations, the firm decided that Gwinnett County in Metro Atlanta provided the qualities it was seeking.
"We narrowed it down to Charlotte and the greater Atlanta area," says Anil Vitarana, company president. "One advantage of Atlanta was really the availability of real estate. We wanted to have close proximity to the big city and a nice airport, but we didn't want to be in the city."
The company's shipping operations required staff to travel frequently and also meet with out-of-town clients. Access to the airport and international flights was critical, he says.
Although the company is focused on the shipping business, technology enabled the company to handle operations without actually being at or near ports like Savannah, he explains.
Atlanta also provides a location that is easily accessible for the company's workforce. While about 50 of its 160 employees decided to relocate from other offices, most were hired locally.
The company was able to pick up most of these workers from another shipping company that left the market.
"They were already in the business and already trained, so I would say that was a bit of a stroke of luck," says Vitarana. "We are in the shipping business, and Atlanta, although there is a lot of logistics activity around here, the steamship industry is not one of the businesses that has been here for a long period of time."
Such new and emerging logistics industry trends will be on display at the sixth annual Georgia Logistics Summit at the Georgia World Congress Center March 31 and April 1. In 2014, the summit hosted 2,200 attendees from 38 states and 11 nations, making it one of the biggest logistics events in the country. This year promises to be even bigger as logistics professionals assemble to hear from expert speakers from across the industry.
In an industry that spans the globe and involves such a vast array of companies and countries, technology has been a critical factor in driving efficiency and profit.
"You've got to be above the bar on technology," says Lazenby. "So if you don't have technology in your operation, you're just not going to be able to survive from a cost standpoint to servicing your customers. So technology has really become something that you have to do."
The rise of "just-in-time" delivery of parts and products and the emergence of "omni-channel" logistics, in which retailers such as The Home Depot seamlessly blend e-commerce, wholesale and traditional retail, has helped drive the use of computer software and automation.
"Companies like Amazon are really blazing that trail and dragging with them companies like Home Depot," says Siplon. "Their customers are really demanding next-day and now even same-day delivery."
Going online to order a hammer that shows up at your door a short time later is a technological feat that few consumers are able to appreciate. Technology must be able to find the right item in the warehouse, pull and package for shipping and then be able to confirm shipment for the customer. It has to be done not just once, but hundreds and perhaps thousands of times a day.
The explosive growth of online orders has forced a total redesign of warehouses and their operations.
"It becomes a challenge for warehouse and distribution centers, in that warehouses traditionally were designed to be pallet operations or case operations or detailed pick operations," explains Tim Brown, academic program director of the Supply Chain & Logistics Institute at Georgia Tech.
These days, warehouses have to be able to serve the "onesie and twosie" orders that serve consumers rather than the large cases that were typically ordered by stores.
These problems have been good news for Georgia and its flagship engineering university, Georgia Tech.
"Because of that knowledge base at Georgia Tech, companies like Peach State Integrated Technologies have established their key operations here," says Brown. In addition, material handling vendors – like Interroll – that make the equipment used inside these warehouses have also set up shop in the metro area. A prime reason has been access both to customers and to engineering talent.
Interroll built a 93,000-square-foot state-of-the-art North American manufacturing operation and showroom in Paulding County.
Atlanta has also become something of a world hub for logistics and supply chain software. Manhattan Associates, the nation's leading provider of these software solutions, set up shop in suburban Vinings after moving to Georgia from Manhattan Beach, Calif.
They were followed by smaller competitors including RedPrairie, which provides software to help manufacturers, distributors and retailers manage their workforce, inventory and transportation.
Technology is essential to creating an efficient supply chain that can move products to where they need to be when the customer needs them. There are few better examples of "just-in-time" delivery than large automakers such as Kia. These companies have cut costs by only buying the parts they plan to use and not paying to store large amounts of excess inventory.
"You can't just do it with clipboards and spray paint," says Siplon. "You need great logistics fulfillment systems. You have to have great warehouse management systems. You have to have great visibility into the supply chain in order to meet those demands."
That need has given rise to growing partnerships between big retailers and technology companies with solutions. There are currently 400 logistics technology companies in Georgia providing various forms of software and solutions to manufacturers, retailers and everyone in between.
---
Focus on Fulfillment
Few people know how difficult and time-consuming warehousing and distributing products can be. Ayal Latz was running a small family-owned toy company in Greensboro, Ga. The business manufactured one product and acted as a distributor for other product lines using its own warehouse and fulfillment service.
Operations consumed valuable time and energy that could have gone into marketing and sales efforts to expand the business.
"As a company, we were likely missing opportunities to penetrate the marketplace because so much of our focus was on the back end," concedes Latz. "We were also wrestling with the fixed costs associated with leasing space, buying and maintaining equipment, and of course, labor. I knew there had to be a better way."
The answer was a spinoff – a2b Fulfillment.
"So I thought, why not leverage what I've already built, which was a fairly good process, and offer these services to companies just like me," he says.
a2b Fulfillment quickly picked up its first clients from among other small toy companies that had the same need for scalable product distribution services. Today, a2b processes orders for consumers and retailers of all sizes, including the big-box stores. The company offers order fulfillment services and customer care solutions from an in-house call center along with product refurbishment, light assembly and co-packing, as well as a host of technological solutions such as order management and payment processing.
a2b's own warehouse reflects the technological advances that have swept across the industry in Georgia. The company employs an advanced and paperless warehouse management system that manages every movement within the facility. Each a2b worker carries a mini-computer either on their arm or mounted to a forklift. They also wear bar code scanners on a finger to ensure full use of both hands.
Customers have access to their products through a customer portal called OpsView, which provides real-time data on inventory both in-house and expected for delivery, according to Latz.
One of the challenges of logistics has long been the quality and availability of data. It was hard for companies to know exactly where their products were in the supply chain and when exactly they might be arriving in the warehouse. That made forecasting demand and how much inventory a company really needed a crap shoot at times.
While the information existed in databases along the supply chain, merging information together typically didn't happen. A shipper might have information on a package's delivery, but its owner couldn't readily access it or really know where it was at any particular time. Now that's starting to change.
"This is the perfect time to combine the advantages of all those other solutions by making sure that the transactional data from all those different parties is good and is delivered in a way that everyone who needs to see it can see it in the format they need," says Cindi Hane, vice president of product management with Elemica, which bills itself as a supply chain operating network provider.
Elemica's cloud-based solutions allow users to access multiple sources of information from systems all along the supply chain.
"And then get that data in a way that everyone can understand it, and you can be confident that the data is of high quality," says Hane.
---
Workers Needed
One big boost to the logistics industry is moving closer to reality on the Georgia coast, where the Savannah Harbor Expansion Project (SHEP) has finally reached the construction phase.
"The issue is that ships are not being able to take full advantage of their capacity when they come to Savannah because of the limited draft [which determines the minimum depth of water a ship needs] today," says Curtis Foltz, executive director of the Georgia Ports Authority. "With the deepening project, shippers that want to move their entire shipment through Savannah will be able to do that."
With an estimated price tag of $750 million, the dredging will mean the new class of ships will be able to enter the port fully loaded – cutting the cost of cargo for shippers and customers alike.
"In particular there are export commodities that are, generally speaking, much heavier than imports," Foltz says. "Many of the exports – whether forest products, kaolin clay or poultry – want to come through our ports, but some have to go to neighboring ports because the ships just can't handle all the volume of freight."
Maintaining the state's lead in the logistics industry is a challenge. All those companies still need people to get a product from point A to point B. In some sectors, there simply aren't enough workers to do the job.
By 2016, the country is going to need at least a million additional workers in the logistics industry but will be short by as many as 800,000, according to one U.S. Department of Labor study.
One of the most critical shortfalls can already be seen in trucking. Companies simply can't find enough drivers to haul all the loads their customers would like. In addition, federal regulations limiting the number of hours drivers can work without taking time off has only made the problem more severe.
"The truck driving industry has about a 110 percent turnover rate," says Siplon. "In effect, they lose more people than they hire every year. It's over a 100 percent churn through the year for large trucking fleets. It's about 93 percent for smaller fleets but a huge problem. We don't have enough drivers."
Eventually, technology may also provide an answer to driver shortages with automated self-driving vehicles such as those being pioneered by Google and research universities like Georgia Tech. That solution, however, is still years, perhaps decades in the future, says Siplon.
In those years and decades to come, how well Georgia is able to address the demands of workers and infrastructure will determine whether the state continues to play a dominant role in getting goods where they need to go. But for now, to get from A to B the route will most certainly pass through Georgia.