Macon | Bibb County: It's Better In Bibb
Industry Influx, Higher Ed and Tourism.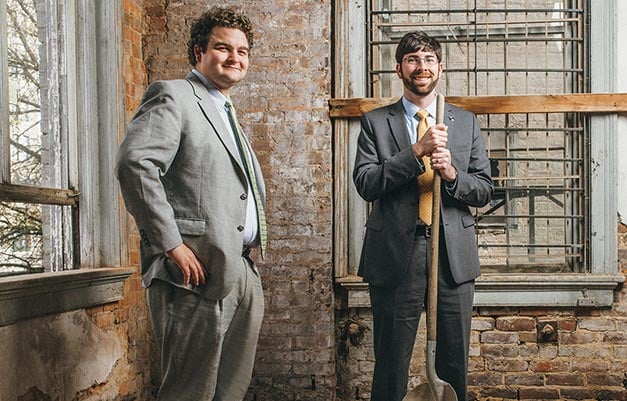 It's been a long time coming, but Macon is back. From a resurgent business community to a fast-developing and now trendy downtown, this Middle Georgia city is on the upswing.
Economic developers like Pat Topping, senior vice president of the Macon Economic Development Commission, measure the upswing in numbers. In 2014, the level of development rose by 20 percent after a similar increase from the previous year.
There are a lot of companies out there looking, and we're getting our fair share of looks," says Topping.
Getting looks from companies seeking a location to expand is good, but winning deals is even better. Macon and Bibb County have gotten their share of those as well.
One big deal was the decision by Kumho to build a 1-million-square-foot plant to make tires for the auto industry. Once it's up and running, the $400-million facility will employ more than 450 workers.
"This was a project that was probably six years old, and then the global economy put everything on hold," says Topping. "Then earlier this year, Kumho came back and recommitted to Macon."
Construction work on the facility should be completed later this year, with the first tires set to be shipping in 2016.
Aspen Products is spending $13 million to build a paper products plant here. The company signed a lease on a 200,000-square-foot building in Macon's Airport Industrial Park and is expecting to put 200 employees to work.
Michigan-based Mr. Chips, a pickle brining operation, recently opened up a $10-million facility employing 50 workers. The producer of pickles and relish for the institutional and fast-food market will also be buying cucumbers from local farmers, adding to their economic impact.
Healthcare is also a vital part of both the economy and the quality of life in Bibb. Navicent Health System, formerly Central Georgia Health System, employs 7,500 in Bibb County, while its three facilities in Bibb and Peach counties have a combined annual economic impact of $1.4 billion. Navicent has been named one of the top hospitals in the state by U.S. News & World Report, and Navicent President and CEO Ninfa Saunders has garnered national attention, including being named 2014 CEO of the Year by the Georgia Alliance for Community Hospitals.
---
Town and Gown
Business life has been made a little easier by the January 2014 consolidation of city and county government. Macon/Bibb is completing the consolidation of departments and removing some of the layers of bureaucracy that can make starting a business more difficult.
"When you have one entity instead of two political entities that you have to be concerned about and work through, it makes it easier," says Mike Dyer, president and CEO of the Greater Macon Chamber of Commerce. "When you have one, it makes it more effective and efficient."
Businesses are attracted to Macon thanks to some solid assets. Chief among them is a strong system of local colleges and universities that have helped produce a trained workforce.
"Workforce is one of the key factors that companies are looking for," says Topping. "So to be able to demonstrate that we've got some training programs that are developing the workforce in the areas that we're trying to recruit has been a real big help."
Macon has a wealth of colleges – both public and private – to boost its educational reputation, as well as its workforce. In addition to Middle Georgia State College (the result of the recent merger of Middle Georgia College with Macon State College), Wesleyan College for women and Mercer University round out local higher-ed offerings.
In recent years, Mercer has become a powerful engine for economic development in Macon. Not only do students, faculty and staff spend money throughout the region, the institution has focused on revitalizing the two-square-mile area surrounding the school.
Known as the College Hill Corridor, the neighborhood is filled with some of Macon's most beautiful and historic homes. Over the years, sections had fallen into the sort of urban blight and crime that once prompted college officials to warn students about venturing outside the campus at night.
But those days are long gone. Mercer has put more than $10 million into revitalization of the three surrounding neighborhoods, including more than $1 million spent during the past three years to rehab a mixed-use development known as Mercer Village, adjacent to the Huguenin Heights neighborhood.
"We broke ground on our first phase in 2010, and we were open in the 2011 school year. Then we immediately did phase II, which was going to be similar with on-the-ground-floor retail," explains Jim Daws, president of Sierra Development, which developed and built the village.
Today, The Lofts at Mercer Village is a 13,750-square-foot mix of upper-floor apartments and ground-level restaurants, coffee shops and a bookstore.
Across the street from the apartment tower is Mercer's Center for Collaborative Journalism, a partnership between the university and the Knight Foundation to reinvent journalism education by adopting a "teaching hospital" approach to training aspiring journalists. The 186-year-old Macon daily, The Telegraph, and Georgia Public Broadcasting have co-located to the center.
Students from Mercer's journalism program are now working side-by-side with reporters learning by doing a good bit of the legwork for newspaper and public radio reports. It's a lot more than just fetching coffee.
These students are producing real reporting by working on real stories destined for publication or broadcast. Mercer junior Jane Hammond has broken several big stories and reported on a number of other important issues. She was one of the first to break the news of the Atlanta Braves' move to Cobb County for National Public Radio, she covered the Mercer basketball team's upset of Duke and she did a four-minute radio feature on concussions in youth football.
The success of Mercer Village has sparked a similar development that will be rising soon just across Mercer University Drive from the Bears' football stadium.
The eight-acre site will include a four-story building for student housing with 96 units, a 94-room hotel, a retail area, offices and restaurants. Mercer is spearheading the $40-million to $50-million project. The Macon-Bibb County Commission agreed to kick in the funds for a pedestrian bridge with public access across Mercer University Drive.
"That will be the landmark gateway into Macon," says Daws. "When you come into the city, you come by the bus station one way, or a car wash another way. This will be a huge transformation."
Daws admits that he's happy that after years spent building apartment complexes and other developments in distant cities, he's able to focus his work at home in Macon. Even when banks lost interest in condos and apartments during the recession, university student housing continued to be a deal that could attract loans.
"Lenders are looking at whatever trend the university has demonstrated," says Daws. "Obviously Mercer's student body is growing. The endowment is growing. Mercer is pointing to grow. So when the lenders see that, they are receptive."
"As of right now we have $96.8 million that has been invested in the corridor, and this is only a two-mile area," says Heather Holder Pendergast, executive director of the College Hill Alliance. She adds that 12 percent of those funds came from the Knight Foundation, with the rest coming from private sources.
"We have done a pretty good job of leveraging as much as we can parts of those plans that inspired the growth and development that we wanted," she adds.
The area has seen a steady rise in its fortunes. From 2002 to 2011, property values increased 57 percent in College Hill compared to 30 percent in Bibb County as a whole.
Over time College Hill has become one of the city's most vital and distinctive neighborhoods and a model for efforts now being considered for other areas of the city.
The Knight Foundation invested more than $18 million since 2006 in the city, and "the opportunity and the idea is to create a great place that will attract talent here," Pendergast explains.
"A sense of place should be an accelerator to attract and retain talent as an opportunity to create diverse neighborhoods like Beall's Hill and to really further engagement of our citizens," says Beverly Blake, program director at Macon's branch of the John S. and James L. Knight Foundation.
One of the most remarkable transformations in College Hill has taken place in the Beall's Hill neighborhood near Tattnall Square Park and the Mercer campus. The Knight Foundation provided the funding for an initial redevelopment study and then partnered with the city, Mercer and the Macon Housing Authority to begin the long process of redeveloping a crumbling area that was once one of Macon's most prominent integrated neighborhoods.
Renovations began in earnest in 2001 when Macon put together $12 million from a federal HOPE VI grant, tax credits and other city funds to demolish the aging and dilapidated Oglethorpe Homes public housing project and replace it with higher-quality, low-income apartments and single-family homes. Since then about $20 million in renovations have taken place in the neighborhood.
Leading those efforts has been Mercer University, which launched an incentive program for faculty and staff that provides $20,000 for a down payment in exchange for a five-year commitment to live in the neighborhood. The city of Macon also has a down-payment assistance program for those moving into the area.
Over the last seven years, this public-private partnership has produced a renaissance within the neighborhood. Homes have been refurbished, and down payment programs have attracted a number of new residents, including Mercer faculty members. At the same time, the area's diversity has been preserved by avoiding the gentrification that drives out older and often poorer longtime residents.
"It has been top of mind since we started working in Beall's Hill," says Blake. "The No. 1 priority was to create an affordable neighborhood, because we know neighborhoods only improve when new people move into them."
---
Downtown Goes Upscale
Macon's downtown is also undergoing a transformation of its own. Just a couple of decades ago, the downtown area consisted largely of empty storefronts. The once-thriving business district had been almost decimated by a changing economy and the move of stores to the Macon Mall and other shopping centers. These days the downtown is thriving with restaurants, shops and even a high-end European-style market.
"It's really an interesting time to be in downtown Macon," says Josh Rogers, president and CEO of NewTown Macon. "It feels like we're probably past the tipping point, although we have a long way to go. Probably the most significant development has been in the past two years, 154 loft apartments that have been constructed in downtown."
NewTown Macon has financed 70 percent of these new apartments, such as the 70 lofts that now occupy the upper floors of the old Dannenberg department store building.
The Dannenberg and other developments have been aided in large part by liberal use of historic tax credits and by NewTown Macon's $5-million bond. The agency loaned some $3.8 million to developers to rehab buildings worth about $14.4 million, according to Rogers.
After years of struggle, this mixed-use development, which includes a health club and the Ocmulgee Traders market on the ground floor, is something of a showcase for downtown. (See page 65 for more on Ocmulgee Traders.) Nearly all of the apartments are already leased.
"Our biggest struggle right now is keeping up with demand from people who want to live in downtown," says Rogers. "We just did a market study that said that we could add 250 units year, and we're only averaging 75 a year. Increasing our production is really critical to capitalize on that."
These new apartments have converted more than 150,000 square feet of vacant space in downtown in the last two years.
"There has never been a program in downtown Macon's history since the mall emptied our tenants that has revitalized that much space that quickly," Rogers says.
With more people living downtown, that means more people on the streets in the evenings and shopping in the stores and eating in restaurants. That creates a feeling of activity and safety, he adds.
"You're seeing more in the way of new businesses addressing the needs of residential growth in the area," says Alex Morrison, executive director of the Macon-Bibb County Urban Development Authority. "They're bringing a lot of the economic influences closer into the heart of the city."
Downtown Macon is becoming more attractive to the kinds of young professionals who want the excitement and convenience of a walkable urban area. While a couple of years ago, the demographic living here was about 80 percent young professionals, now there are more older people including empty nesters who want the same big-city conveniences, says Rogers.
---
Enticing Tourists
Macon is also becoming something of a tourist attraction, with more travelers making side trips into the city while on their way to and from Florida on I-75.
"Most of the visitors I'm seeing are from another state," says Nicole Thurston, executive director of the c. 1853 Cannonball House. "Many of them are from the north, and we get some people from Atlanta."
A surprising number are from out of the country, including Europeans on tours of America. Most are also over 55.
" That's why we're trying to find new ways to get new people and breathe new life into the house," says Thurston, who took the helm of the historic property late last year.
Macon is getting a big boost to its tourist attractions with the opening of the new Tubman African American Museum after nearly 15 years of struggling to raise the needed funds. The $18-million, 49,000-square-foot space, which replaces a smaller location, is set to open this year.
Construction started in 2001, but only the exterior was completed before progress came to a halt. In the aftermath of 9/11 fundraising fell short, and then the recession stopped the project completely.
After some successful fundraising, including a large grant from the Peyton Anderson Foundation and a pledge from NewTown Macon, the project got a sizable vote of confidence when Macon voters approved a Special Purpose Local Option Sales Tax (SPLOST) with $2.5 million in funding for the museum.
"It passed by a three-to-one margin," says museum executive director Andy Ambrose. "I think the inclusion of the museum and other kinds of critical attractions and resources were really a sign of the community getting behind us."
"For the first time we've got some really good momentum to move forward with fresh thinking and ideas," says Dyer. "Everybody seems to have bought into the direction in which we're going, so there is some palpable feeling of energy."
---
LOCAL FLAVOR
General Store: Just a few years ago nobody could have imagined a grocery store amidst all the empty shops in downtown Macon. And they certainly couldn't have dreamed of a European-style grocery and gathering spot like Ocmulgee Traders.
Owned by Steve and Laura Bell, the multilevel store was one of the first shops to open in the newly renovated Dannenberg building on Poplar Street.
The couple, who also run an advertising company called Smart Creative Media, grew up in Macon and had heard stories of the city's downtown heyday. They lived in an intown neighborhood and longed for the day when more hip local restaurants and other businesses could open and survive.
They even entered the Macon Mogul business contest, which offered seed money and free rent to support a great business idea. They submitted three ideas including one for a grocery store, which garnered the most positive interest. Though they didn't win, they went forward with their plan.
"We didn't really think the grocery store would be the one that got all the reaction," says Laura.
Steve launched a Facebook page called "Bring a Trader Joes to Macon." Within 24 hours, it had gained 1,000 likes. The couple's efforts attracted the attention of the College Hill Corridor, which wanted to bring a grocery store to the area as part of its redevelopment efforts.
Just when they couldn't find the right location, a space opened up in The Dannenberg, which was quickly leasing out its apartments.
"When we saw the space, we said this would be perfect," says Laura. "So we started the ball rolling. As soon as people heard about the grocery store, all the apartments filled up."
Today Ocmulgee Traders is the heart of the Dannenberg, housing not just a broad assortment of Georgia-grown goodies, but also a deli and coffee shop perfect for meeting friends and neighbors. Pull up a chair and set a spell. – Randy Southerland