Dublin | Laurens County: Small Town, Broad Reach
Healthcare, Convenience and Global Outlook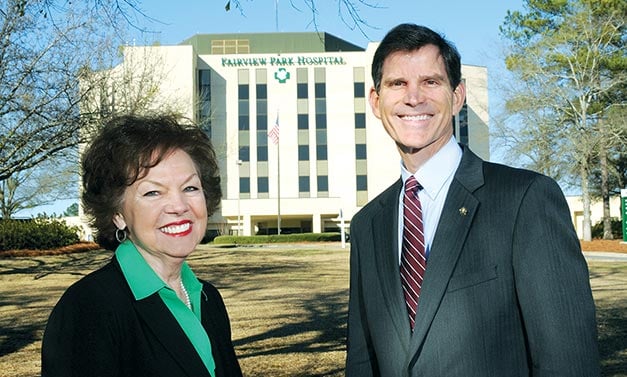 When Don Avery needed major surgery, he had the luxury of choosing from several top hospitals in Georgia and Florida. But rather than travel to Atlanta, Tampa or Jacksonville, Avery decided to undergo hip replacement surgery at Fairview Park Hospital, an HCA-owned facility in Dublin.
"I have an uncle who's an orthopaedic surgeon at the largest practice in North Florida," says Avery, president and CEO of Fairview Park. "HCA's got hospitals all over the country. I stayed here not because I had to, but because I felt like I was going to get the best care. We're nationally certified. We're an accredited joint replacement center."
For three consecutive years, the Joint Commission, the nation's leading accrediting body of healthcare facilities, has named Fairview Park a Top Performer on Key Quality Measures. Additionally, Fairview Park received an "A" grade for patient safety by the Leapfrog Group, which annually evaluates hospital safety in more than 2,500 hospitals throughout the nation. Among the nearly 70 hospitals in Georgia analyzed by the Leapfrog Group in 2014, only 18 received an "A" grade and 11 of these top-rated hospitals are located in major cities such as Metro Atlanta, Augusta, Columbus and Savannah.
With 190 beds and a staff of physicians and nurses that can capably provide medical care in nearly every area other than open-heart surgery and neurosurgery, Fairview Park serves more than 250,000 patients annually from a 10-county region within Middle Georgia. As a result, smaller hospitals in adjacent counties such as Dodge County and Emanuel County frequently transfer patients to Fairview Park.
"We feel like it's important not just to be available for those people that live [in surrounding counties]," Avery says, "but those hospitals oftentimes don't have the resources or services that we have. It really helps those other hospitals who don't have the resources."
In addition to Fairview Park, the Carl Vinson VA Medical Center is also located in Dublin, which provides Laurens County with a sizable array of physicians, healthcare services and facilities that few rural communities can match.
"We're truly blessed to have Fairview Park and the VA hospital," says Willie Paulk, president of the Dublin-Laurens County Chamber of Commerce. "We have 100 doctors in this small town. We double [in size] every day from people who come in to work and for one-day treatments."
---
International Appeal
In addition to the wealth of quality healthcare services, a convenient location between Macon and Savannah on I-16 and close proximity to Hartsfield-Jackson Atlanta International Airport and the Port of Savannah provide Dublin and Laurens County major advantages to attract site selectors and corporations.
"When we're talking to clients, we say, 'Look, we're 100 miles from the busiest airport in the world. We're 100 miles from the fastest-growing port in the country, and we're connected via interstate access,'" says Brad Lofton, president of the Dublin-Laurens County Development Authority. "So we're really in the catbird's seat when it comes to location, location, location."
The advantageous location has helped the county become a magnet for international companies looking to expand into the U.S. In July, Valmiera Glass, a Latvia-based fiberglass manufacturer, announced plans to open its first U.S. headquarters and manufacturing facility in Dublin. The project will create 150 jobs and consist of a $20-million investment. Three months later, another international manufacturer, AWEBA Group of Aue, Germany, committed to open its North American headquarters in Dublin. The company, which manufactures tools and dies, will invest $6 million into the Dublin facility and create 52 new jobs over the next five years.
"2014 was really a banner year for us, particularly on the international front," says Lofton. "If I have any specific message that's really neat and different about Dublin, it is our ability in the last five to 10 years to recruit international investment. For a community of 50,000 people, I'm not sure there's a better example of anybody in the state, especially per capita, for recruiting international investment."
The successful recruitment of Valmiera Glass and AWEBA Group came on the heels of previous wins with Erdrich Umformtechnik GmbH & Co.KG, a German-based automotive supplier, and Dinex, a Danish automotive exhaust and emissions manufacturer, in 2012. After moving into a building owned by the Dublin-Laurens County Industrial Development Authority, Dinex began operations with a workforce of approximately 50 employees, according to Lofton. The company is expected to eventually increase its workforce to 250.
Erdrich opened its Dublin plant in the summer of 2013 and employs 35 people, with plans to expand its workforce to 178. Together, Dinex and Erdrich are expected to invest a combined $54 million into their Dublin facilities.
Buddy Adams, chairman of the Laurens County Board of Commissioners, credits the community's commitment to economic development as a major reason for the county's recent success in attracting international companies to the area. Specifically, the county's residents passed a Special Purpose Local Option Sales Tax (SPLOST) in 2011, which included funds for economic development.
"When we passed our last SPLOST, we passed $15 million for economic development," says Adams, a Laurens County native. "It showed the state economic development people that we're here and that we want to do business. We're willing to work with anybody, locally, statewide, nationwide or worldwide to get our development and our jobs here and get people to move here. Passing that $15-million SPLOST bill, I think, was one of the biggest things that happened to us lately."
---
Downtown Development
In recent years, renovation efforts resuscitated many historic buildings in downtown Dublin, including the Fred Roberts Hotel, which now consists of a combination of retail, office space and condominiums for a diverse clientele of young professionals, retirees and middle-aged folks who have downsized.
"If an industry prospect was looking at Dublin, [we felt that] if we didn't look after our downtown, [then] that doesn't say much for our community," says Dublin Mayor Phil Best. "We had several public-private partnerships over the last few years and have had millions of dollars spent, and because of that we've created about 140 jobs in the downtown area."
Renovations are underway at perhaps the most recognizable historic building in downtown Dublin, the seven-story First National Bank Building, which opened in 1913. Georgia Military College, a two-year liberal arts college with nine campuses across the state, will open a Dublin campus in the building upon completion of the project in September.
The college will occupy the first five floors of the building, and the remaining two floors will be available for retail and office space. In addition to 250 students, the college expects to add three administrative positions and 50 adjunct faculty positions at the satellite campus within five years.
"It probably has not been occupied in the last 25 years, and it probably hasn't been used for professional space in the last 40 or 50 years," says Charlie Garbutt, president of Garbutt Construction, the Dublin company that is performing the $3.5-million renovation. "It is the elephant in the room in downtown Dublin. It wasn't easily solved as to how that building was going to be revitalized, and it was too big for one private business."
The project represents the culmination of what seemed like an interminably long effort to develop the iconic landmark, known to locals as "Dublin's Skyscraper," into a functional facility for the 21st century.
"To see a success like the skyscraper lets other entrepreneurs know that they can also have success renovating historic buildings," says Joshua Kight, executive director of Dublin's Downtown Development Authority (DDA). "It sort of exemplifies the private-public partnership in downtown Dublin. As we've upgraded the physical environment of downtown, it's made private investors feel very positive about investing their own dollars into the area."
"We've been involved in trying to make something happen with that building for 20 years," Garbutt says. "It's pretty exciting for downtown. We do a lot of work with Georgia College, and we see what students can do for a community, especially downtown. When you put 250 college students in downtown, it's going to make things happen economically for the businesses of downtown."
"The impact is going to be tremendous," Kight agrees. "The students coming into town from other counties as well as the faculty and administrative positions will help our downtown businesses. I also expect the property values of the buildings around the skyscraper to rise. The increased foot traffic around those buildings will increase their property value, and the impact of another college in town will result in more college-educated individuals in the community's workforce."
---
Civic Cooperation
Locals agree that the wealth of quality healthcare facilities and services, the fortuitous location along I-16 and the vibrant downtown are all advantages when selling the area to industry leaders. Yet perhaps the region's most important asset is intangible: a spirit of cooperation and trust among local government and economic development officials. Lofton noticed this valuable advantage shortly after joining the development authority in August 2014, following stints in Myrtle Beach, S.C., and Valdosta-Lowndes County.
"Everywhere I go throughout this state, the first thing that anybody mentions to me is 'You've landed in a phenomenal community that has great leadership.' That just seems to be the common denominator everywhere I turn when it comes to Dublin. What I picked up early on in Laurens County is that there is a service-above-self atmosphere here that just sort of infiltrates this whole community."
According to Garbutt, who founded his construction company in Dublin in 1976, the relationship among city and county government officials was not always harmonious, but everyone realized cooperation was imperative in order for the community to experience economic growth.
"I just think it's leadership that understands the importance of the community working together as a team as opposed to being very territorial," Garbutt says. "What's good for the city is good for the county, and what's good for the county is good for the city. I think it's everybody understanding they can do a whole lot more together as a team than they can as individual entities. The leadership of the city and the county understand that."
Paulk believes that maintaining an upfront relationship with the community's citizens enables the city and county to enhance its positive reputation among large corporations such as Best Buy, which opened a regional distribution center in Dublin in 2001, as well as small businesses.
"The one thing we have stressed for 30-plus years is shop local and it turns over seven times within your community," Paulk says. "If you let people know what you need and they realize that they're a part of it, they'll come to your aid."
---
Overcoming Obstacles
Despite the successful renovation projects in downtown Dublin and a track record of landing industrial facilities from both national and international companies, Laurens County must confront several potential obstacles in order to continue to experience economic growth. Maintaining a skilled workforce remains a top priority for local officials.
"If there's any challenge we've got in Middle Georgia, it's being able to find skilled welders and skilled CNC machine operators and skilled manufacturing folks," Lofton says.
"We compete often with Atlanta for manufacturing. So if you locate in Dublin, you've got the benefit of one – and they're fantastic – but only one technical college. If you locate in Metro Atlanta, you've got the benefit of 26 technical colleges. There's a perception that by locating in more of a rural area, you're going to have a hard time attracting and finding skilled labor. I think that may be our only Achilles' heel, and that's a challenge."
In order to meet the challenge of expanding its pool of skilled laborers, Laurens County Schools and Dublin City Schools opened the Heart of Georgia College and Career Academy in August. The academy, which is a partnership between these school systems as well as the school systems in Bleckley and Wheeler counties, enables ninth graders to prepare for careers in engineering and industrial management. Over the course of four years, students have the opportunity to earn a high school diploma, credit toward an associate degree and an industrial skill. Students split the school day between technical classes at the career academy and classes at their local high school.
While increasing the skilled-labor force remains a challenge, there is an abundance of space at multiple sites for industrial development within the county. In addition, the development authority has available space in five different facilities, each with at least 29,000 square feet. One of the facilities, the former Mohawk Industries plant, contains more than 867,000 square feet of available space.
Yet the most intriguing site in terms of potential economic development lies along I-16 adjacent to Exit 58. The Heart of Georgia megasite contains 2,100 acres of land currently being developed for the county by Seattle-based Plum Creek Timber Co. The site, which also boasts short-line railway service, is larger than the site on the border of Clarke County and Oconee County that Caterpillar developed for its plant in 2013. Laurens County officials are optimistic that the mega-site could attract a similar development.
"We've got one of the only megasites [in the state] that's being developed," says Adams. "That is big, too. I think that is really going to pay some dividends for us."
With their leaders' thoughts always on ways to improve the economy and quality of life in the area, Laurens County residents and visitors alike have big dividends coming from all sides.