Walking the Walk in Midtown Atlanta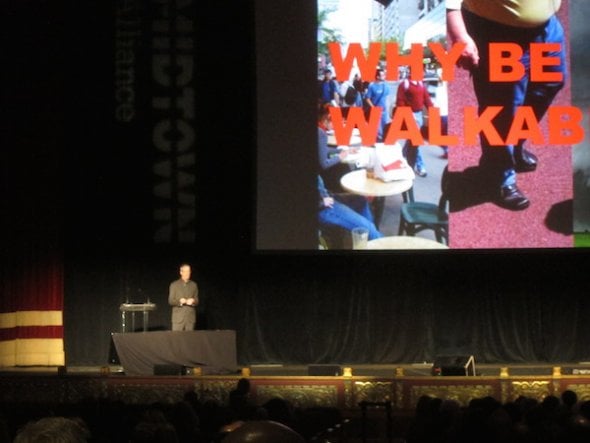 Is Midtown Atlanta ready for new urbanism? Jeff Speck, author of the book Walkable City: How Downtown Can Save America, One Step At a Time, seems to think so. "I used to give Atlanta a hard time, but the fact is that you've come a long way in the last decade," he says. "People now move here with no intention of having a car."
Now, take it further – "stop building lanes and re-stripe instead," he told the crowd of 800 gathered for the Midtown Alliance's annual meeting at Atlanta's Fox Theatre last week, recommending fewer lanes and more parallel parking on the street. "More parallel parking equals more street–level business," said Speck, showing how a row of parked cars between sidewalk tables and the road draws more customers by creating a safer place. He also recommended putting retail into the ground level of parking decks and adding it to bridges to create safer spaces, boost the local economy and bring pedestrians into Atlanta districts.
Midtown Alliance President Kevin Green released statistics that showed the 1.2-mile Midtown district ranks 86 on the Walkability register, provides 16 percent of the city's jobs and packs an $19.2-billion annual economic whallop. Its appeal to Gen-Xers and millienials – who, combined, make up two-thirds of the district's population – is apparent, as the district enjoys a population growth rate that is five times the rest of Atlanta. NCR is moving up to 3,600 jobs to Midtown's Technology Square by early 2018, eight mixed-use development projects are underway and 14 more are in the pipeline. "The opportunities for Midtown have never been more compelling," Green said.
Plans for the district include 11 more miles of bike lanes, the connection of the Atlanta BeltLine's Eastside Trail to Piedmont Park and an Atlanta Streetcar connection through Midtown on North Avenue.
Also at the meeting, Federal Reserve Bank of Atlanta President and CEO Dennis Lockhart handed over the 2015 chairmanship of the Midtown Alliance to Joseph Bankoff, chair of the Sam Nunn School of International Affairs at Georgia Tech's Ivan Allen College. – Ben Young