Gwinnett Clean & Beautiful Celebrates 35 Years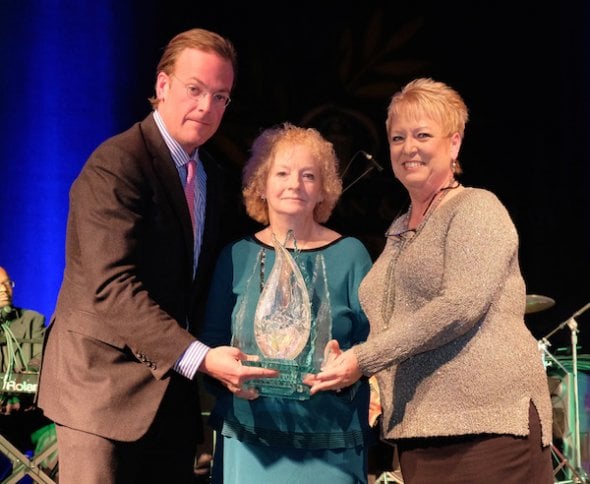 The environmental nonprofit Gwinnett Clean & Beautiful celebrated its 35th anniversary last month at the Gwinnett Center with an awards dinner to honor individuals, organizations and corporations in Gwinnett County for environmental stewardship.
Nearly 400 people attended the event, where the following awards were among those presented:
Founders Award: The Lawrenceville Women's Club is the organization that convinced the Gwinnett County Board of Commissioners to establish Gwinnett Clean & Beautiful in 1980.
Green Business Leader of the Decade: Marsha Anderson Bomar has more than 40 years of leadership in transportation and community development and served as the first female international president of the Institute of Transportation Engineers.
Green Industry of the Decade: Okabashi Brands Inc. manufactures shoes, sandals and flip flops that are 100 percent recyclable, contain 25 percent recycled materials, are produced in a zero-waste manufacturing process and are made locally in Buford.
Public-Private Partner of the Decade: Gwinnett Village Community Improvement District was established in 2006. The model it has created to spur investment and revitalization in aging communities has since been implemented around the country. Over the course of the last nine years, the Gwinnett Village CID has built sidewalks, enhanced intersections and expanded transit to ensure safe and convenient transportation for all in the area.
Green Community Organization of the Decade: Lake Lanier Association has been working since 1966 to protect the high water quality of Gwinnett County's source for drinking water, while preserving this valuable legacy for future generations.
Green Educator of the Decade: Mason Elementary School has continually provided real world opportunities for engaging students in problem solving; implemented environmentally sound practices; and demonstrated knowledge, actions and behaviors that improve our environment and reduce society's impact on our natural world.
Green Government of the Decade: Gwinnett County Government leaders and visionaries provide clean water; keep our neighborhoods clean and graffiti-free; build and maintain parks for playing, getting fit or enjoying nature; preserve clean streams for paddling and fishing; provide recycling and transit options that help keep the air clean; and so much more for nearly 1 million Gwinnett County residents.
Environmental Legacy of the Decade: Louise Radloff has dedicated almost 40 years of her life to improving the Gwinnett County community and developing tomorrow's leaders. She inspires others to action through her own leadership and environmental stewardship, which includes: fostering environmental education; establishing recognition programs for school custodians; protecting greenspaces by personally pulling tons of trash from Tribble Mill Park; improving water quality by leading volunteer teams to remove tires, paint cans and household trash from area streams; and so much more.
Congratulations to all the winners for keeping Gwinnett Clean & Beautiful for 35 years!
– Karen Kirkpatrick
Pictured: Gwinnett Clean & Beautiful Chairman of the Board Bartow Morgan, left, and Executive Director Connie Wiggins, right, present the Environmental Legacy of the Decade Award to Louise Radloff, center.
Photo credit: Glenn Martin of Martin Photography/Gwinnett Clean & Beautifu