Building Opportunity in Metro Atlanta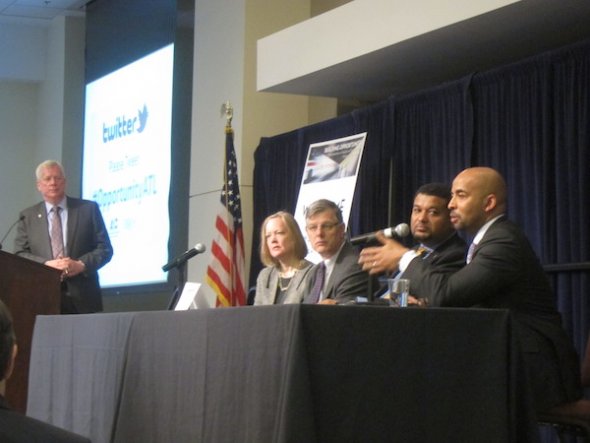 The Atlanta Regional Commission hosted a packed house Wednesday, Jan. 21, for Building Opportunity: A Conversation on Poverty and Transportation in Metro Atlanta. The program title is a mouthful and so is the subject, which revealed that sprawl has acccelerated the region's poverty problem by pushing the poor into inaccessible areas. There are additional difficulties of using transit in the city and much ingrained mistrust that must be overcome to cultivate an inclusive vision to realize the region's potential.
Rebecca Burns, deputy editor of Atlanta magazine and author of the article "Sprawled Out in Atlanta," opened the program with a presentation showing how poverty has shifted from the inner city to the suburbs as younger and older suburbanites move back into the city. The gentrification of housing projects in the inner city, as they were replaced with mixed-income communities, relocated many poor people to the suburbs. There are pockets of high poverty as far flung as Walton, Spalding and Douglas counties, as well as in Clayton, Gwinnett and Cobb, while the bulk of social services remain available elsewhere – in the larger cities.
A panel moderated by John Berry, CEO and executive director, Society of St. Vincent de Paul, Georgia, and featuring Nathaniel Smith, chief equity officer for Partnership for Southern Equity; Michael Rich, Emory University Center for Community Partnership executive director; Keith Parker, general manager and CEO at MARTA; and Burns, followed her presentation.
Parker talked about the ways the introduction of light-rail into downtown helped improve the troubled Wilmore neighborhood on the south end of Charlotte, N.C., when he worked there. "Crime plummeted. House prices doubled," Parker says. "I like to say I had a greater impact on teen pregnancy than any other CEO in the city. When we did the Welfare to Work program, we found that public transportation is the tool to breaking the cycle of generational poverty."
Smith added that businesses suffer from "economic inefficiency" because of poor transit. "We're leaving a large segment of our talent behind," he says. "We must break out of this dream of perfection and look at the root causes of the problem, which are bad policy."
Rich added that transit is "only part of the solution. In terms of economic mobility, Metro Atlanta is No. 1 in the lack thereof – lower than many undeveloped countries. The policy of low tax and low spending is not working. We need a cross-sector, collaborative approach that includes community voices. If we can cultivate these intermediary organizations and create a comprehensive approach to target problem districts using public and private resources, then it won't take 20 years to solve our transportation problems."
Smith stressed the importance of building affordable housing strategies into ongoing transportation and land-use plans. Burns noted the role of streetscapes in last-mile transportation investments. "I'm the only one in my neighborhood that uses MARTA because most people won't walk under the Boulevard/Dekalb Avenue bridge, and I don't blame them," she says.
Parker noted that MARTA is in fact the second-safest public transit system in the country and represents a significant environmental and economic good deed on the behalf of the user. "If one person in a two-car household shifts to transit, that does more to reduce their carbon footprint than anything else and saves them about $9,000 a year." 
– Ben Young
Pictured: From left, panel moderator John Berry, CEO and executive director, Society of St. Vincent de Paul, Georgia; Rebecca Burns, deputy editor, Atlanta magazine; Michael Rich, executive director, Emory University Center for Community Partnerships; Nathaniel Smith, founder and chief equity officer, Partnership for Southern Equity; and Keith Parker, general manager and CEO, MARTA.
Photo Credit: Ben Young